Discover tools to help track your company's DEI metrics in our HR Software Guide.
What are DEI metrics?
DEI metrics are the strategies used to measure an organization's diversity, equity, and inclusion efforts. These metrics can preemptively assess current strengths and weaknesses, but they're most useful for benchmarking progress made in key DEI categories over time.
Certain metrics, such as workforce demographics and pay rates, should be included in every organization's DEI metrics toolkit, regardless of industry or business size. DEI metrics can collect either quantitative or qualitative data about employees, applicants, and even third parties.
Learn about other ways to quantify your HR goals: Top 26 HR Metrics to Track
Why are DEI metrics important?
DEI metrics are important for compliance with non-discrimination regulations, but more than that, they're great pulse checks for organizational health.
In Culture Amp's 2022 Workplace DEI Report, 71% of respondents expressed that their organizations are doing more programming for DEI than what's required for compliance, and 74% believe senior leaders in their organizations are doing enough to support their DEI efforts.
However, despite the enthusiasm for and general growth of DEI programs, inconsistencies in how DEI is measured are making these programs less effective. According to the same Culture Amp study, only 27% of those surveyed believe their organization knows how to measure the efficacy of its DEI programming.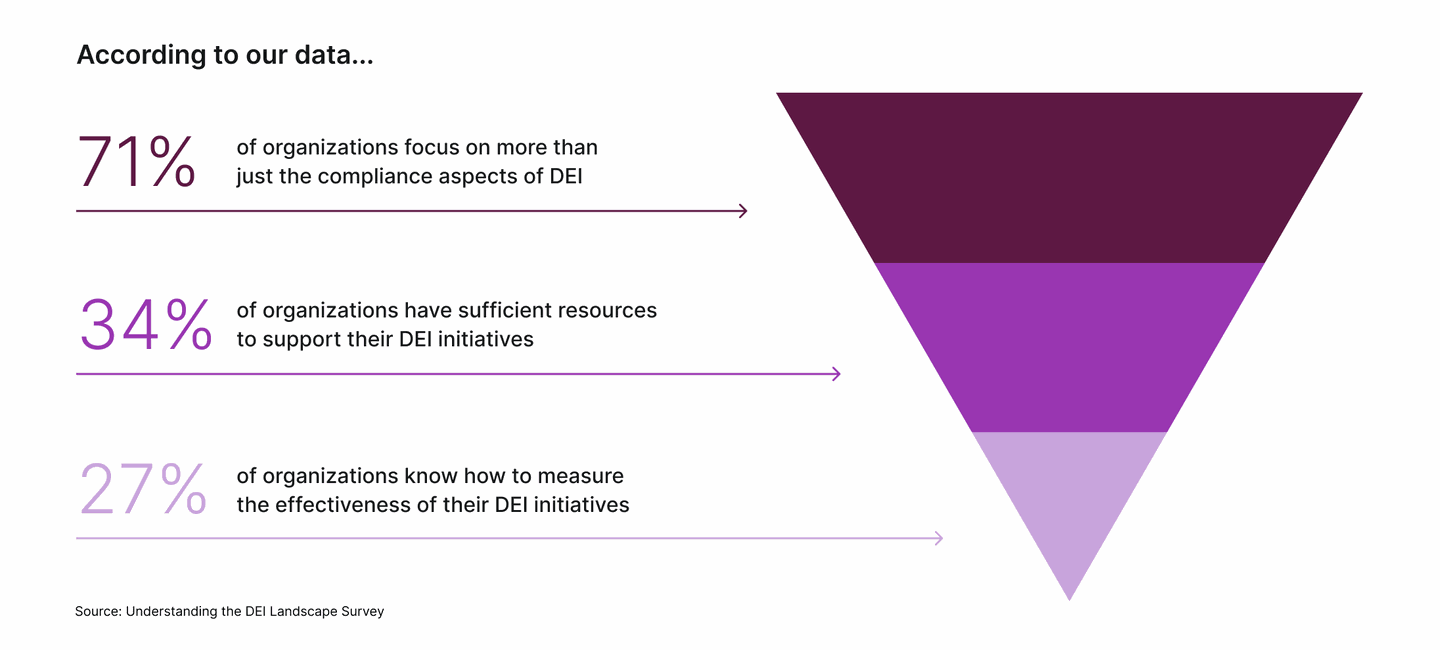 DEI metrics, when used regularly and across your entire workforce, help leaders track how well they're doing with meeting quantifiable goals while also providing feedback on the general success of the organization across different DEI data points.
DEI metrics to consider for your DEI program
Not every organization will want or need to use the same DEI metrics. If you're operating a smaller organization with 10 or fewer people, employee resource groups (ERG) may not be practical. If you're operating an organization with an international workforce, additional metrics should be considered, both at localized and global levels.
To get your organization started with DEI metrics, consider incorporating these measurement categories into your DEI program:
Workforce demographics
Workforce demographics capture employee characteristics like age, gender, race, ethnicity, sexuality, disability status, religious background, and education. HR teams and business leaders can draw big-picture statistics from these data points to understand the makeup of their workforce across different demographic categories.
In many cases, this data is collected during the applicant lifecycle through online application forms; however, for legal reasons, demographic disclosure questions are always optional to answer.
Leadership demographics
While an organization may have a relatively diverse workforce overall, it's possible the leadership team does not reflect that same diversity. As a more specific instance of workforce demographics, leadership demographics are used to measure the percentage of different identity groups among people in senior leadership roles. Leadership demographics are best used as correlational metrics related to greater workforce demographics as well as advancement and promotion rates.
Recruitment and hiring
Does your organization have a tendency to turn away applicants of diverse backgrounds? Is your applicant pool diverse and/or reflective of the communities where you work? Are your hiring panels and managers from diverse backgrounds?
For many organizations, the answers to these questions are "I'm not sure," or "I've never thought about it," because they have not consistently used recruiting metrics in their hiring process. More detailed recruiting metrics can help your organization do diagnostic work if there's a problem with your applicant or new hire talent pools.
Retention and turnover
Your organization may do a great job of hiring people from different backgrounds, but are those employees sticking around for more than a year? Do they feel supported during their tenure with the company?
Breaking down turnover rates by demographic identity is a helpful way to measure where DEI problems are lurking. You can also take a more qualitative approach, conducting exit interviews and sending out regular employee surveys to get a feel for how employees of different demographic groups and tenure lengths feel in their roles.
DEI events
If your organization is large enough to host dedicated DEI events, it's important to measure employee participation and engagement with these kinds of initiatives. In employee resource groups, analyze how many different groups you have, how many people have signed up for each group, and how many people regularly attend ERG group events and interact in ERG group chats.
For company-wide DEI events, measure attendance and demographic percentages of that group, as well as how attendance changes over time. Most importantly, send follow-up surveys to get feedback on the strengths and weaknesses of DEI programming; these responses will likely reveal areas where new programs should be developed to meet the needs of underrepresented groups.
Event participation isn't the only initiative-focused metric you should consider for your business. It's also worth considering the outcomes of a leadership training or mentorship program for marginalized employees.
Employee development
When measuring your organization's overall advancement and promotion rate, take a look at the numbers through different demographic lenses.
If a performance gap between groups is leading to unbalanced promotion rates, it's time to look deeper into your workforce and performance analytics. Asking these questions is a crucial step in correcting inequity:
Are they being offered as many opportunities to try new skills and tasks as other employees?
Do they have the support resources they need from their managers and the company?
Have they received appropriate training?
Are there external factors, such as health challenges or disabilities, that could be impacting their performance?
Compensation
Pay rates should be analyzed at the role- and department levels, but it's also essential to consider the lenses of different demographics, years of experience, and tenures in the role or with the company.
Compensation is a good correlational metric to analyze alongside recruitment, retention, and development rates. Looking at these metrics together can help you identify similar groups of people who are not getting the same growth opportunities as others.
Employee satisfaction
Employee satisfaction can be measured both quantitatively and qualitatively. With an employee Net Promoter Score (eNPS) survey, for instance, the employee gives a quantitative rating of their satisfaction with the company and explains why they gave that score. The numeric data can be aggregated to determine an overall employee satisfaction score, while individual responses can be grouped based on themes, employee tenure, demographic information, and other factors.
Ranked method metrics can also be helpful; for example, ask employees to score different statements, like "I feel supported by my manager," or "I have clear opportunities to grow with this company," on a scale from one to five. From there, business leaders can examine overall scores to determine which areas need the most improvement.
Also read: 8 Important LMS Features for Your E-Learning Program
Accessibility
Accessibility is important for both physical office spaces and remote working tools. The Americans with Disabilities Act (ADA) requires most employers to provide equal opportunities for employees with a wide range of physical and mental disabilities. Examples of common disabilities include:
Autism Spectrum Disorder (ASD)
Deafness or hearing loss
Blindness or low vision
Post-traumatic stress disorder (PTSD)
Mobility disabilities
Cognitive disabilities
Some accessibility standards are mandated under the ADA, but there are ways to push those standards even further to create a truly inclusive workplace.
To check the accessibility of your office building, consider hiring an external consultant. An accessibility specialist can assess spaces like office parking lots, doorways, sidewalks, and bathrooms, then provide recommendations for ways to make them more accessible.
For web properties, including regular accessibility audits as part of your key performance indicators (KPIs) will help ensure your content is accessible to all users. Tools like WAVE, Monsido, and accessiBe can help you determine if font size, website colors, video/audio, and other website features are easy to see and use.
External demographics
External demographics are also important to analyze, helping you determine if you're actually reaching the right audiences in the right way. Examples of external demographics that you can measure include:
Customer demographics and brand sentiment.
Supplier demographics.
Demographics of regions where the business operates compared to demographics of the business itself.
DEI resource allocation
Organizations that want to truly commit to DEI must provide adequate financial and personnel resources to support that goal. The DEI committee, HR department, leadership team, and finance department should work together to create a reasonable budget for DEI efforts. This will help make sure enough money can be allocated for events, training, and other DEI programming. From there, spending should be tracked to determine if the company is utilizing and making the most of all available resources.
Ramping up your DEI program? Learn about Cultivating Cultural Competence in the Workplace.
How to measure diversity, equity, and inclusion
Diversity, equity, and inclusion can be measured manually with spreadsheets and formulas, or with human resources information system (HRIS) software that includes people management components.
More specific instances of DEI measurement, such as accessibility, may require third-party experts or tools to measure success. Regardless of what tools or resources you choose to measure DEI, selecting the right categorical DEI metrics makes a major difference, both for measuring current DEI data and growth goals and targets.
Looking for tools that can help you manage your people and processes? Our HR Software Buyers Guide can help you in these areas and more.
1

Rippling
Rippling is the first way for businesses to manage all of their HR, IT, and Finance — payroll, benefits, computers, apps, corporate cards, expenses, and more — in one unified workforce platform. By connecting every business system to one source of truth for employee data, businesses can automate all of the manual work they normally need to do to make employee changes.
2

Paycor
Paycor's HR software modernizes every aspect of people management, which saves leaders time and gives them the powerful analytics they need to build winning teams. Paycor provides a full suite of HCM solutions with a single source of truth for employee data, so users never have to switch platforms, log-in to multiple systems, re-key data or open multiple spreadsheets. Everyday processes become simplified, allowing organizations to focus on their most important work.
3

Deel
Deel's full-suite of HR tools allows companies to manage the entire employee lifecycle—from recruitment and onboarding and beyond—in 150 countries. All this from a single, easy to use interface. US and Global Payroll allows you to pay any type of worker in 100+ countries, and all 50 states, in whatever currency you choose. And with 200+ in-house legal experts and entities in 120+ countries, using Deel means you'll always be compliant with local regulations.
Technology Advice is able to offer
our services
for free because some vendors may pay us for web traffic or other sales opportunities. Our mission is to help technology buyers make better purchasing decisions, so we provide you with information for all vendors — even those that don't pay us.