Workday versus Oracle for human capital management (HCM) can be a difficult yet worthwhile comparison to make. Both are major players in the HCM software space and offer three modules for:
Human resource management
Talent management
Workforce management
Within these modules, both Workday and Oracle HCM provide specific tools for workforce analytics, compensation management, benefits administration, recruiting, and payroll. However, their approaches to these tools differ, so the right software will depend on which approach aligns more with a company's approach to HR management.
What does Workday Offer?
Workday provides CHROs with high-level insight into how hiring, firing, retention, and individual employee performance drive revenue growth.
Visual workflows and drag-and-drop tools make team reorganizations and big-picture updates fast and easy. This helps keep HR and company leadership organized and informed with the most up-to-date information. When a company experiences a lot of change in a short period of time, Workday's visualization tool makes it easy to clearly conceptualize organizational and reporting structures.
Workday's cloud infrastructure gives HR employees access to analytics and benchmarks. Using analytics within Workday, HR teams can assess their processes and identify areas for improvement.
Workday is not meant only for HR's use, nor is it designed to be a top-down tool through which HR staff communicates to employees. Rather, it's a collaborative, cross-functional platform that facilitates and empowers employee self-service. All company employees can access their performance, benefits, and even recommended learning all from a single interface.
Why Workday may not be the best fit
While Workday encourages collaboration and data integration across departments, it lacks a native social collaboration tool, such as instant messaging. To fill in this gap, customers must integrate Workday with a social collaboration tool of choice. This is a plus if a company is already wedded to a particular social app that it doesn't want to abandon, like Slack or Microsoft Teams. However, integration issues could arise between Workday and third-party software.
Unlike Oracle, Workday also does not offer its own ERP system, nor does it have CRM, manufacturing, or supply chain management solutions that integrate with the HCM suite. This means that with Workday, integrations with third-party tools are necessary to fill in the gaps, and a customer's current ERP and CRM systems may not be compatible with Workday.
What does Oracle HCM Offer?
Oracle Cloud HCM was born out of Oracle's reaction to the industry's increasing adoption of cloud-based software. This suggests that changes to Oracle HCM will not necessarily be innovative but rather reactive to remain competitive in the market.
However, Oracle HCM is a strong contender. It relies on the strong Oracle name and is a consistent, reliable product. Oracle HCM's interface is built on the foundation of Oracle's cloud database and connects data sources across an entire business in areas such as accounting and finance.
With this kind of data integration, it's easier to measure the impact that HR has on other areas of the company. For example, connecting HR data with accounting gives leaders an overview of how much the workforce costs so they can assess whether they can afford to grow the team.
The employee interface includes company news, analytics for individuals as well as teams, and AI-driven action suggestions for learning and development. Receiving personalized learning recommendations not only gives employees a better user experience, but it's also a way to keep employees engaged with their work.
Why Oracle may not be the best fit
Companies that value employee engagement and feedback will be disappointed with Oracle Cloud HCM in this regard, as it does not offer employee engagement tools like Workday's Peakon Employee Voice tool. Oracle HCM users will need to connect the software with external engagement tools, such as Assembly or Kudos to promote active listening, employee engagement, and inclusivity within the organization.
Also read: Assembly vs. Kudos: Feature Comparison
Oracle's solution also lacks tools that support diversity, equity, and inclusion not only in a company's current workforce but also in its prospective employees. Unlike Workday's recruiting and hiring features, Oracle doesn't include features that actively mitigate bias and promote diversity, equity, and inclusion.
Workday vs. Oracle: Workforce Analytics
Analytics and predictive modeling tools help companies analyze strengths and opportunities in their HR management processes. They also help companies forecast human resource needs based on a range of potential extenuating circumstances, such as an economic downturn or a hiring crisis.
Workday
Workday's adaptive workforce planning tools integrate HR, finance, and operations. This provides HR with a 360-degree view of workforce plans to see how a scenario, such as an anticipated hiring crunch in the company's industry, will impact each area of the company.
Workforce planning with Workday gives HR leadership insight into the total cost of the workforce — for things like salary, benefits, and reimbursement policies for travel — from a historical perspective. HR management can use this information to build predictive models and identify how to make better use of the company's human resources.
Using historical data in Workday's workforce planning tools, companies can decide where to best invest resources — be it recruiting pipelines or hiring campaigns — and how to expedite timelines for hiring budget approval.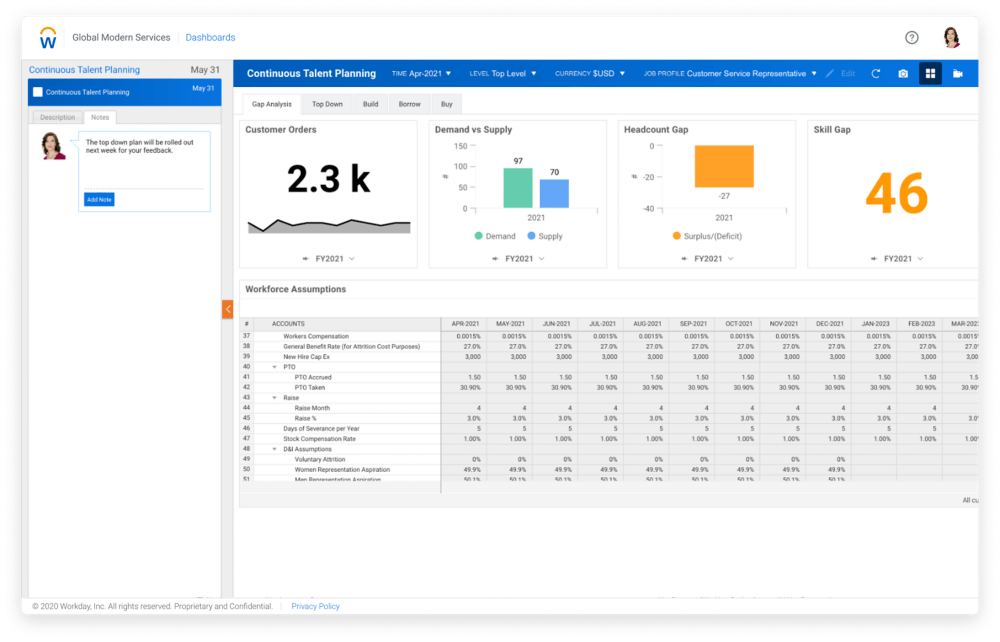 Oracle
Oracle HCM includes workforce modeling tools that draw from native data intelligence tools to anticipate possible hiring and reorganization needs based on potential business situations.
The workforce predictions tool visualizes data and generates insights based on past hiring and employment data. HR executives can predict high performance and future openings, giving the HR team a head start for hiring.
Oracle HCM approaches workforce modeling with companies' long-term succession planning in mind. As a result, it's great for companies that have set organizational structure and career pathways because it helps them anticipate employee upward mobility into higher-level positions.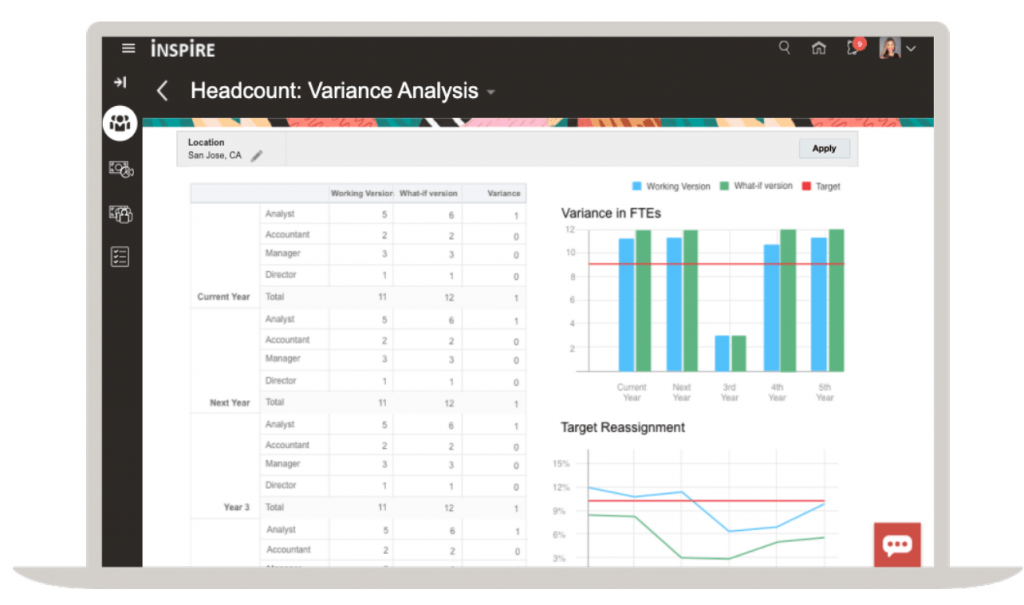 Which to choose for workforce analytics?
It's a tie. Here's why: Workday and Oracle's ability to meet a company's workforce planning analytics depends on a company's approach to HR management.
Workday HCM approaches workforce planning with a focus on fiscal and timing factors. Therefore, Workday is better for hiring optimization.
Oracle HCM, in contrast, approaches HR management with a focus on long-term employee growth at a company. This makes Oracle a better choice for succession planning.
Workday vs. Oracle: Compensation Management
Compensation is an important factor in attracting and retaining employees. Compensation tools in an HCM solution help a company assess how competitively it pays its employees and whether it needs to invest more in employee compensation through raises or bonuses.
Workday
Workday's approach to compensation strategy emphasizes collaboration and transparency. Administrators and managers can collaborate on a data-informed merits process and configure rules for rewards and other employee incentives to arrive at the most attractive compensation package.
Allowing for collaborative compensation-building takes multiple stakeholder perspectives into account. Plus, setting compensation rules at the outset makes promotion processes more fair and equitable, as Workday's pay equity dashboard will show. At the same time, the collaborative approach runs the risk of creating more work for all parties involved in compensation structures.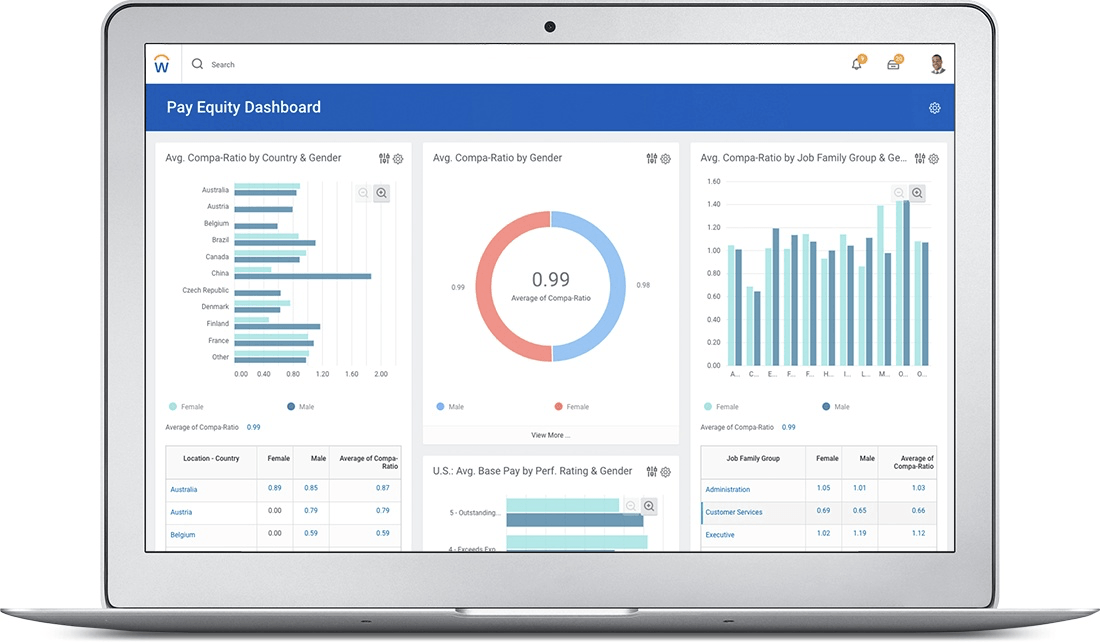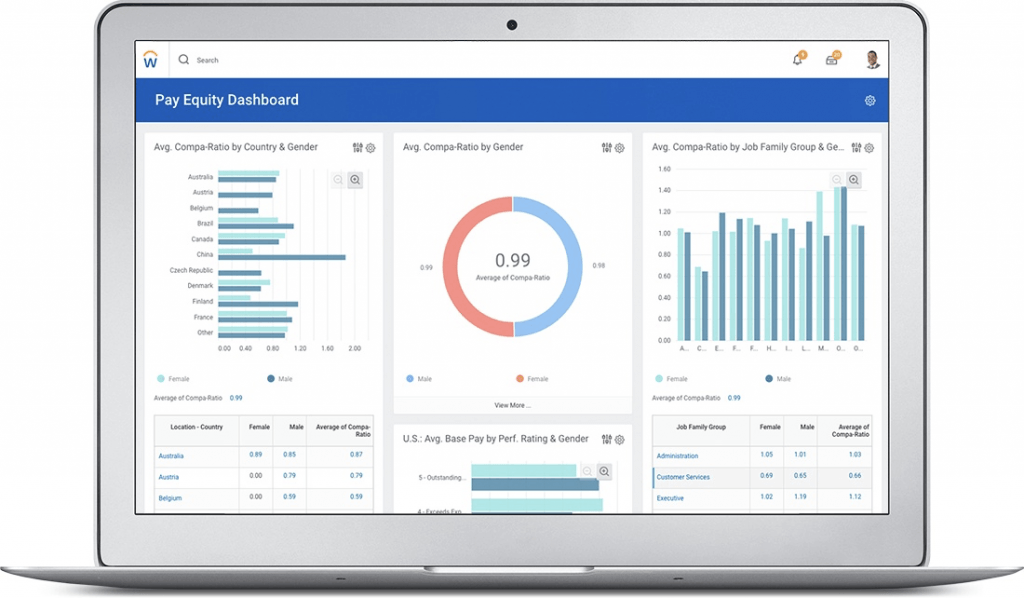 Oracle
Oracle HCM approaches compensation in a way that caters to high-level management and HR professionals, though in different ways.
Oracle gives access to high-level compensation metrics that interest business executives. Such metrics include base salary, bonuses, and extras to help make the most informed compensation-related decisions. Its budget modeling tool provides an overview of total employee salary and wage spend based on different scenarios.
In Oracle HCM's administrative portal, HR teams can set up flexible compensation rules that are in line with overall business strategies based on criteria like department and level. A variety of automation features take the guesswork out of compensation decisions. The software system automatically calculates components of each employee's salary based on where they are located and alerts HR managers to anomalies in salary allocation.
Given these features, Oracle HCM is more rule-based when it comes to compensation tools. Rules and the automations that rely on them are what allow Oracle HCM to save HR professionals time to take on more strategic tasks.
Oracle HCM has an advantage over Workday because it hooks up with employee performance data from the performance management product in the Oracle HCM suite.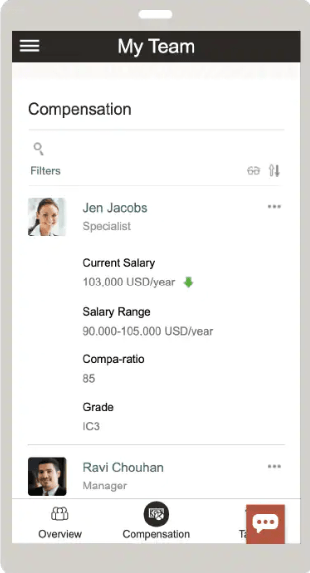 Which to choose for compensation management?
Oracle. Here's why: The compensation features in both solutions are similar. Depending on a company's approach to setting up and administering compensation packages, both solutions are worth evaluating. However, Oracle HCM's integration of compensation and performance management facilitates quicker approvals for rewards like employee raises.
Workday vs. Oracle: Benefits
HCM software solutions should make it easy for employees to select and review benefits and also for HR staff to monitor and analyze benefits use.
Workday
Workday emphasizes organization and high-level data analytics in its benefits administration features. The benefits management solutions in its HCM module help HR decision-makers oversee plan offerings, enrollment levels, and their effect on overall business financials. Because all of this information is stored in a centralized location, HR teams reduce their reliance on manual audits and lighten their periodic tax reporting work.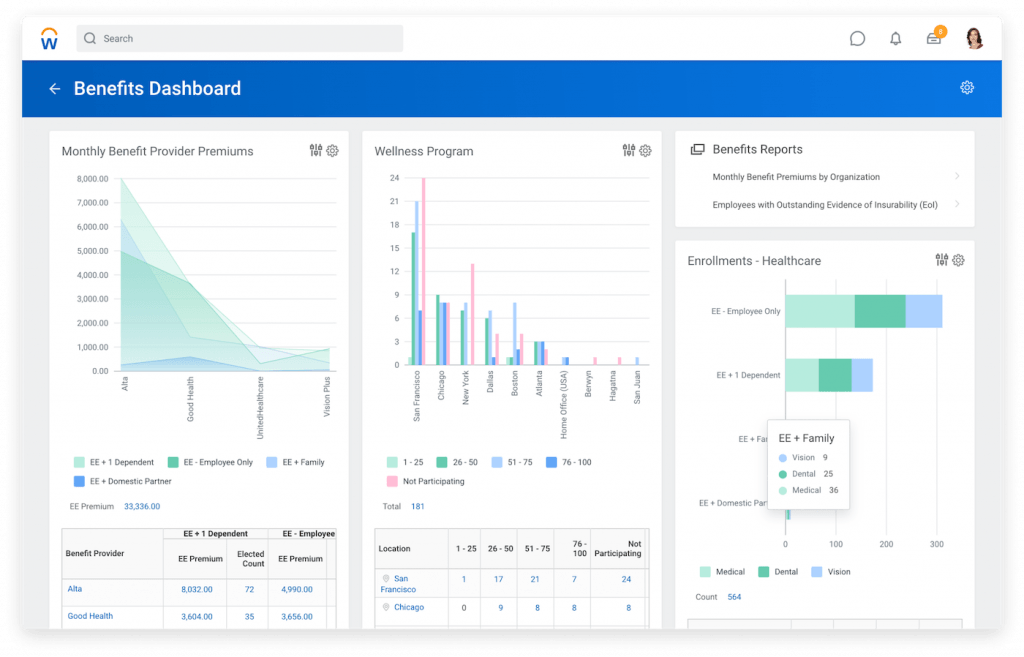 Oracle
Oracle, on the other hand, emphasizes employee self-service and benefits program customization. It provides a portal for individual employees to sign up for their own benefits while protecting employee privacy and freeing HR pros to complete higher-priority work. Using Oracle, HR teams can provide customized benefits plans and automatically calculate and manage plan rates for each employee group.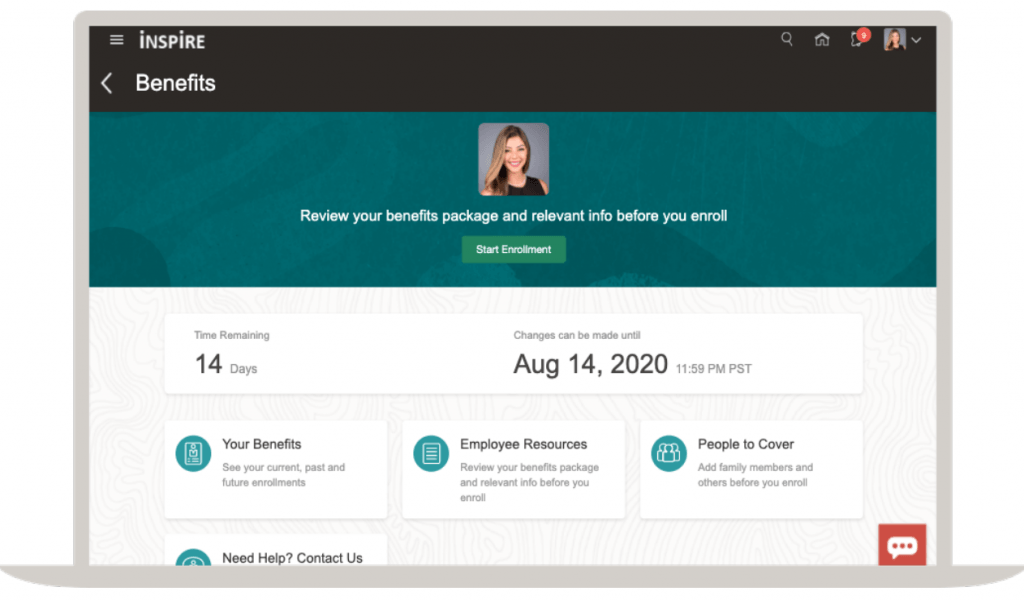 Which to choose for benefits administration?
Workday. Here's why: Both solutions are comparable in their benefits administration offerings, except their emphases are different. The right solution will depend on which features a company prioritizes more.
Workday's differentiating feature is that it integrates with more than 300 benefits administration software tools, while Oracle's benefits administration integrates with Oracle Payroll only. So, unless a company already uses Oracle's other products, it may encounter difficulty integrating various software tools into Oracle Cloud HCM.
Also read: Top HR Management Systems (HRMS) Software for 2023
Workday vs. Oracle: Recruiting
Workday and Oracle both emphasize the financial importance of employees as talent resources and company revenue drivers. Since HR intersects with revenue, Workday and Oracle both connect to external financial databases.
This advanced contextual data lets executives make better-informed decisions regarding salaries, hiring, and benefits. However, their approaches and strengths are different when it comes to their recruiting features.
Workday
Workday's recruiting tools target adaptability. They pull historical data from performance management tools to pinpoint the most valuable skills and habits of high performers. Recruiters can use this information to continually iterate job descriptions and recruitment strategies to find the best-fit candidates for a changing workforce.
Its recruiting tools also help employers attract a more diversified workforce. It removes bias at every step of the hiring process by masking identifying details on resumes and providing internal and external diversity metrics. This gives companies an idea of where they're at currently in terms of a diverse workforce and goals to strive for.
However, hiring new employees isn't always the answer. Workday gives companies tools to identify opportunities for existing employees to advance. For instance, Workday applies machine learning and analytics to help companies understand the skills that current employees already possess in order to better identify skills gaps that inform hiring or training opportunities.
In this way, Workday's approach to talent management allows companies to incorporate each individual employee into a bigger strategic picture and invest in their development with the company.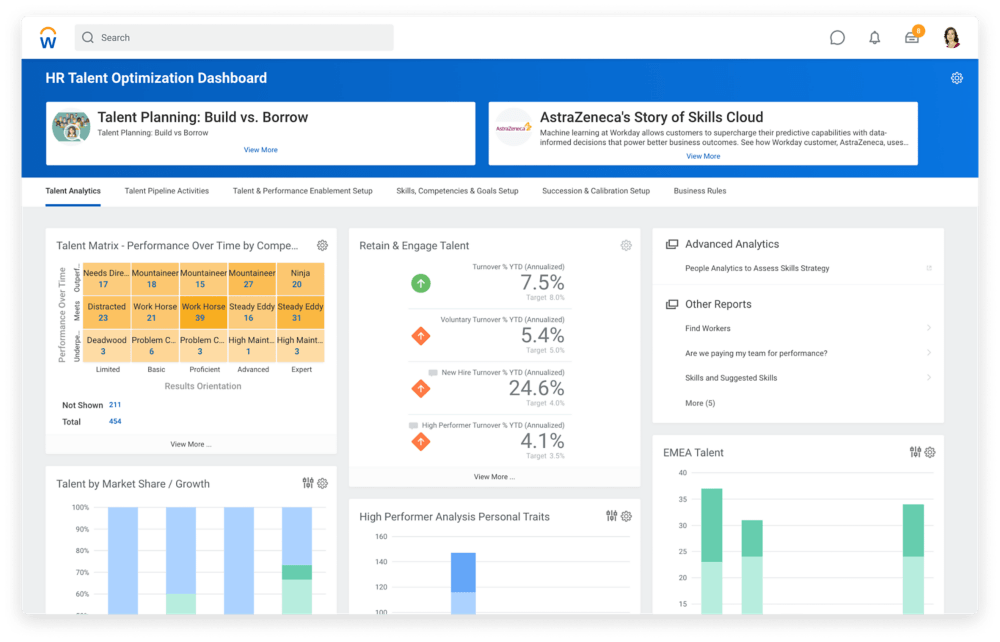 Oracle
Oracle's recruiting tools encompass the full employee acquisition cycle to help companies hire for vacancies quickly and efficiently. It provides templates and leverages data from past roles to expedite the hiring process.
It also provides candidate recommendations, using AI to match candidates with sought-after skills for a given role. Recruiters can split candidates into pools based on skills and keep them all informed with conversational chatbots or real-time messaging.
Oracle's talent management tools focus more on automating and simplifying core HR processes to empower employee self-service and take some administrative burdens away from HR staff.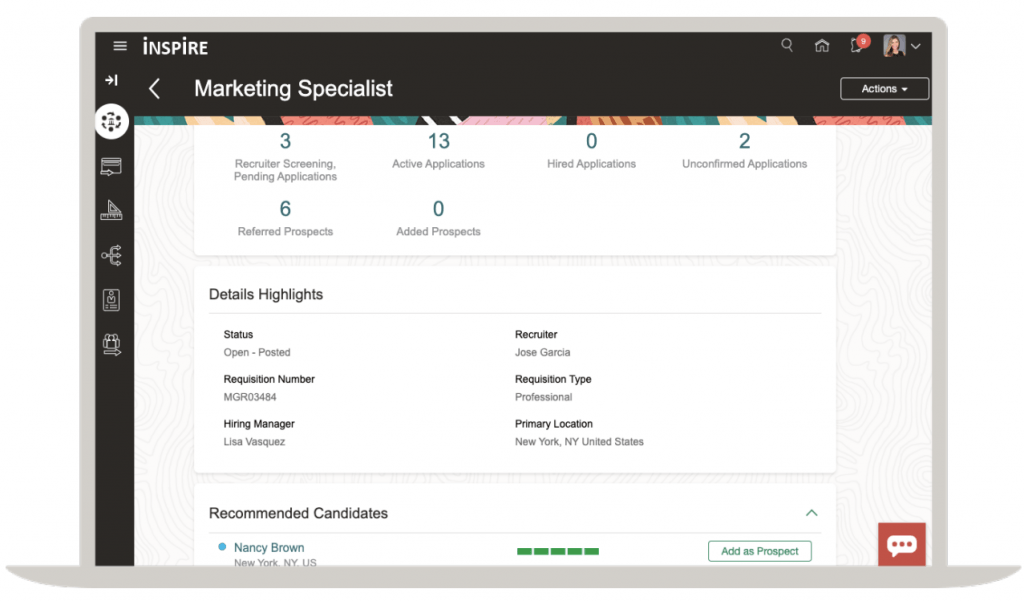 Which to choose for recruiting functions?
Workday. Here's why: Oracle prioritizes efficiency for HR users without promoting an optimal candidate experience. Workday's recruiting tools, in contrast, help HR teams adapt their recruiting strategy over time and promote the company's DE&I efforts.
Also read: Top Human Capital Management (HCM) Software for 2023
Workday vs. Oracle: Payroll
Payroll is a pillar function that affects employee livelihood and satisfaction, and it connects HR with accounting and financing. It's therefore essential to have an HCM solution that facilitates accurate, compliant payroll administration.
Workday
Workday offers native payroll for the U.S., Canada, U.K., and France. However, it also integrates with other payroll software solutions to manage payroll in other countries. HR users can view Workday payroll dashboards by groups and individuals. This makes it easy to ensure standardization across roles and spot any discrepancies that need to be addressed.
Workday's direct connections with recruiting software automatically transfer employee data to payroll. That way, there's no delay in payment for the new employee. Payments and compensation changes are managed directly in Workday's payroll tool, which syncs with data in the compensation tool. Workday's real-time general ledger visibility flags HR to pay issues before they occur, ensuring continuously compliant payroll.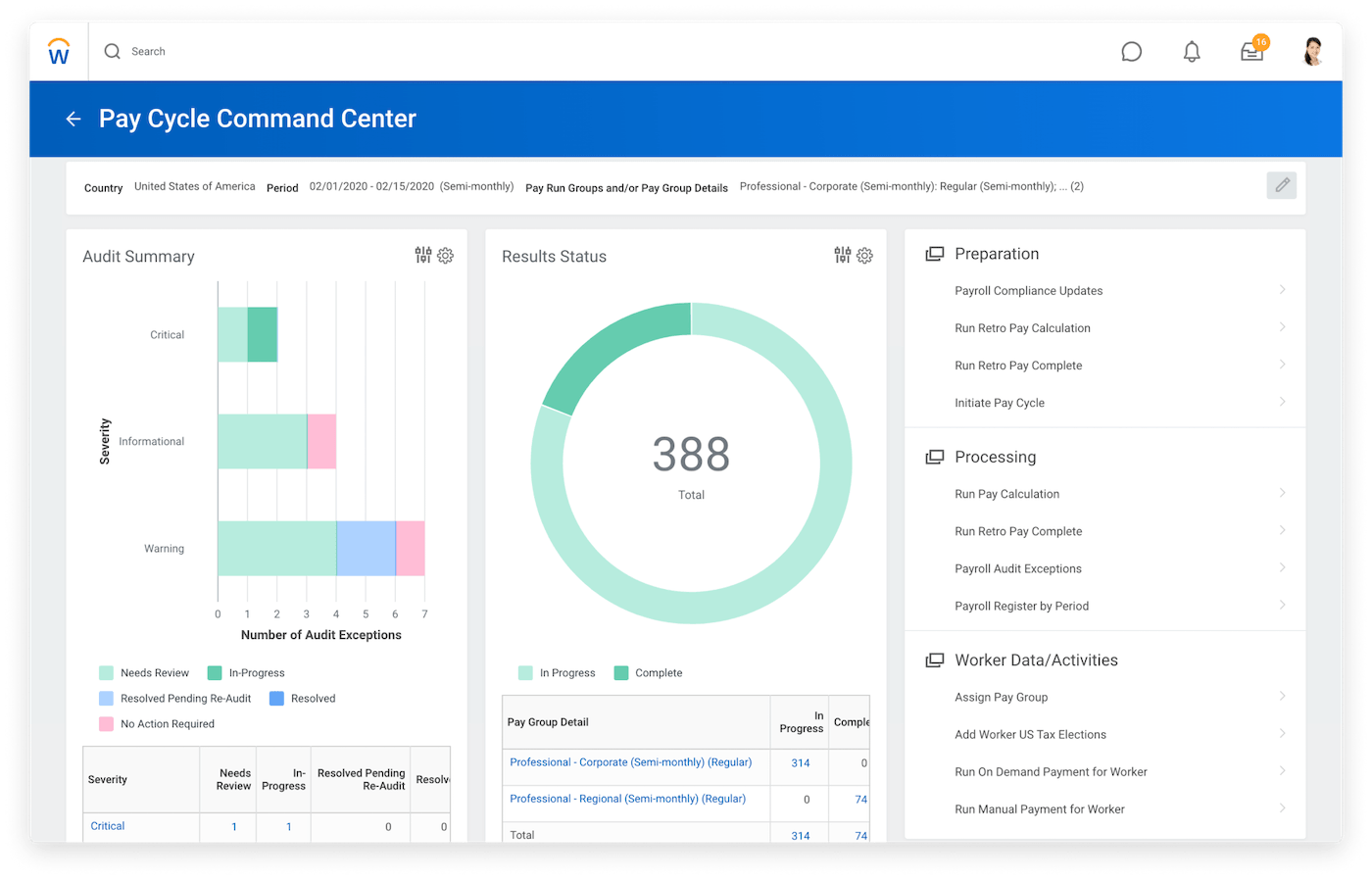 Oracle
Oracle's payroll system includes core features that work for the U.S., Canada, U.K., Mexico, and several Middle Eastern countries. India will be added in 2023 and France in 2025.
Payroll management and compensation tools communicate with each other as well to avoid duplicate work. Payroll administrators can also be assured that payroll is running in a compliant manner, as the system automatically updates based on global, national, and local tax regulation changes.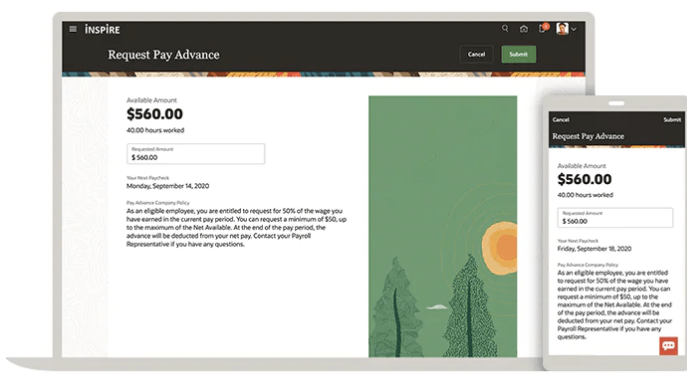 Which to choose for payroll?
Workday. Here's why: Those two offer comparable payroll features, Workday allows companies to remain proactive and adaptable. Plus, HR can make changes to payroll at any time, and the system will continuously recalculate.
Workday vs Oracle HCM: Which HCM Is Right For Your Business?
Human capital management software is complex, and so is the purchase and implementation process, no matter which solution a company chooses.
Oracle Cloud HCM's features are likely a better fit for companies that have a large, distributed workforce because Oracle deploys more automation and self-service in its HCM suite of products. Automation and self-service save HR staff, managers, and employees time, but it also contributes to siloed, less collaborative work environments. Smaller companies may find it does not adapt quickly enough to their rapidly evolving needs.
Workday's offering appeals to smaller and more nimble companies that prioritize flexibility, adaptability, and collaboration. As a company matures, however, collaboration will become more difficult to sustain as teams grow larger and reporting structures grow more complex. HR teams will therefore need more automation to streamline tasks that were once easier to do with a smaller workforce.
If you're still not sure which solution is right for your company, check out our HR Product Selection Tool for top recommendations based on your company's needs.

Top Human Resources Software Recommendations
GoCo is modern HR, benefits, and payroll, built for flexibility and ease-of-use in mind. Manage records, performance, time off, onboarding, benefits, and more all in one place. GoCo is a secure, compliant hub for sending, digitally signing, and organizing your sensitive HR documents and data. Unlike other HRIS platforms, GoCo is built to be flexible enough to support existing processes, policies, and providers, so you don't have to change the way you work just to adopt a modern HR system.
Stop chasing your company data! Workzoom consolidates and automates your people management into a single solution for a per-employee per-month price. Leverage best practices in all areas of people management so you can save time and money and get back to work.
monday.com Work OS is the flexible, no-code Human Resources software that allows HR managers to manage the entire employee lifecycle in one place. Track the recruitment process, onboard new employees with the help of pre-made templates, safely store personal information, plan team-building activities, and use automations to speed up and simplify all these workflows and many more.
Need a Little Help?
Talk with a software expert for free. Get a list of software that's great for you in less than 15 minutes.
Technology Advice is able to offer
our services
for free because some vendors may pay us for web traffic or other sales opportunities. Our mission is to help technology buyers make better purchasing decisions, so we provide you with information for all vendors — even those that don't pay us.