ADP and Paycom have widely different origin stories, but they've arrived at fairly similar offerings for human capital management and payroll solutions. ADP started out in 1949 as a manual payroll processing corporation, while Paycom got its start as one of the first digital payroll processing companies in 1998 during the first digital tech boom.
These tools both offer time and attendance, payroll, hiring, and talent management software. ADP's offerings work great for small and medium-sized businesses and enterprise companies. Paycom's solution targets medium to large enterprise companies. But the size of your business isn't the only factor you should keep in mind when comparing ADP vs. Paycom. This article covers HR management features, payroll capabilities, time and attendance modules, and talent management software for each software.
No two companies will have the same HR needs, and with the nearly endless software choices out there, you may feel overwhelmed in your comparison. We can help you cut hours off your research process by matching you with up to five HR software vendors that meet your specific needs. Your free consultation only takes five minutes. Click the image below to get started.
ADP HR management software and services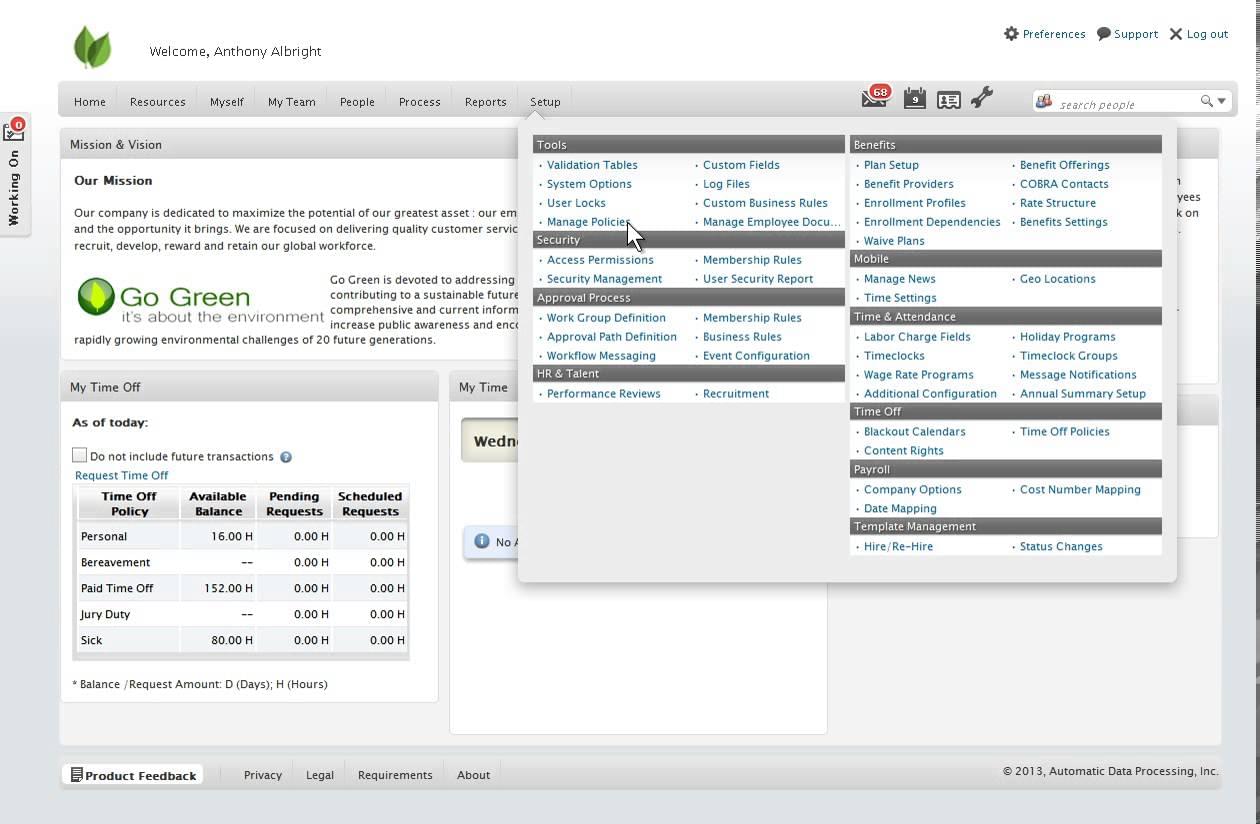 ADP offers several HR management tools that you can purchase individually or include in the larger HR platform. The benefits administration tools will connect with your existing tools like payroll, HR, and ERP software, and include data tools that help both the company and the individual employee choose the best plans. Choose from retirement, group health insurance, business insurance (including worker's compensation), and liability benefits administration.
ADP offers access to help from a network of HR professionals for HR tasks big and small. Use their resources to build your employee handbook, write job descriptions from thousands of examples, check out best practices libraries. There's also ready-made checklists, templates, and documents for essential HR tasks.
ADP also offers custom HR services for anything that your team may lack, like benefits, time and attendance, employee issues or engagement, talent acquisition, compensation, and succession. Or hire an ADP HR professional as a dedicated member of your staff to manage HR tasks.
Paycom HR management software
Paycom's HR management tools are organized around document management and process automation to give employees self-service access to their HR documentation and speed approvals across the board. Assign tasks, collect electronic signatures, change document permissions, and reduce paper usage through the app's tools. And because employee data and forms reside in a central software that gets updated regularly, your regulatory compliance risk is significantly decreased.
Paycom's HR management tools connect directly with the payroll modules, which means that HR professionals can approve benefits and the changes populate in payroll automatically. The benefits tools are self-service, giving employees anytime access to their plans, and include a tool to help employees calculate their take-home pay with different deductions. The HR management tools also include helpful features like manager self-service portals, surveys, COBRA benefits administration, and 401(k) reporting.
How ADP manages payroll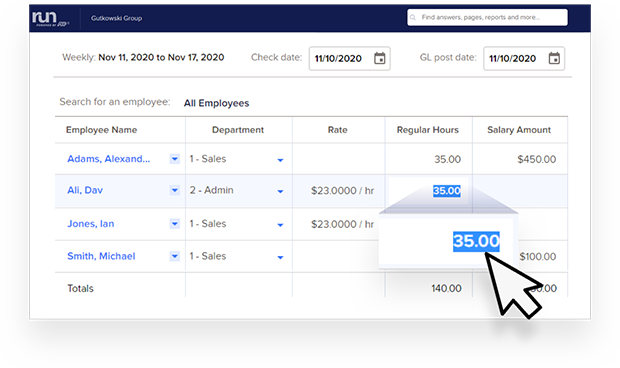 ADP provides payroll services for small businesses and medium-sized enterprises in the US and across the world. You can purchase payroll as a stand-alone module to integrate with your existing HR or time and attendance systems, or you can purchase ADP as a total HR platform. Employees can access their pay stubs and work history through a self-service mobile app or browser-based employee portal.
ADP will calculate taxes and pay them on your behalf for small businesses, or enterprises can purchase this service as an optional add-on.
ADP offers several employee pay options:
Direct deposit
Paper checks
Print your own checks
ADP debit card (some third-party fees and restrictions apply)
How Paycom manages payroll
Paycom offers payroll and business finance services for medium to large enterprises. Paycom has cloud capabilities with data proliferation, meaning you don't have to enter payroll data over and over again across the app. Payroll managers will enjoy using the Payroll Grid to manage and delegate payroll tasks to complete more tasks before payroll day and have multiple people working on the tasks at once.
Paycom offers several financial tools that help improve your company's financial security. Use real-time analytics and reporting to manage garnishments, accruals, turnover, and wage totals. The financial tools provide automatic tax calculation, debit of payroll taxes, deposit on due date, and tax filings. After each filing you receive a copy of every return. Paycom will also manage any wage garnishments to reduce your company's liability.
Paycom includes several payroll extras like expense reporting and reimbursements from a mobile app. Employees can track expenses with photos of receipts, use the mileage tracker to keep track of gas money, and automatically add reimbursements to payroll all from the app.
ADP vs. Paycom for Time and attendance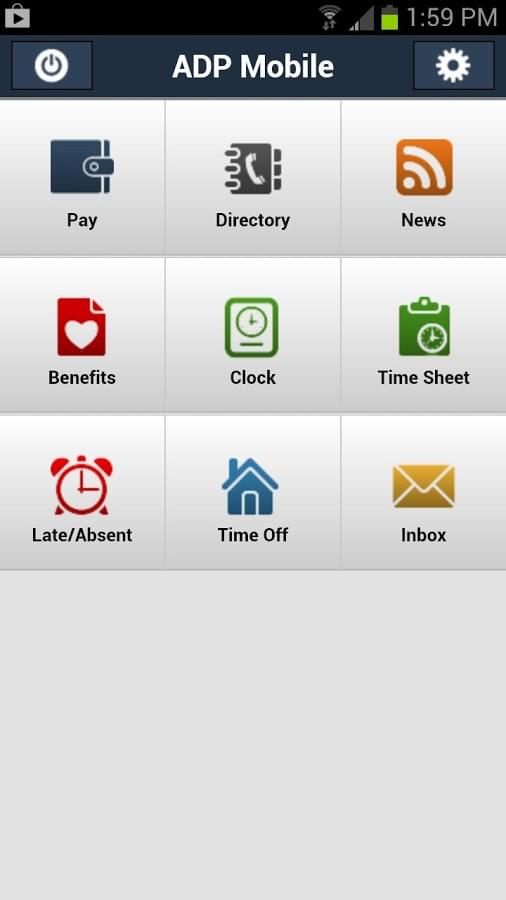 ADP gives you several options to manage your time and attendance, including using your existing third-party time clock. The ADP time and attendance system lets individuals clock in at a computer terminal, mobile device, or on time clock hardware. The tools automatically track and calculate time worked and port that information over to payroll services.
ADP manages time-off and vacation requests through a self-service portal that cross-references with payroll. Companies can delegate approvals and requests through the manager's dashboard, where managers track current staff, address needs for upcoming shifts, and complete ongoing time approvals. The tools also include regulations control for breaks and documentation for audits.
Paycom's time and attendance works similarly to ADP's. Employees clock in and out in a Paycom app, and administrative controls keep everyone honest. Once time is approved, those numbers sync across the app, preventing double-entry from time and attendance to payroll. HR can set up custom rules that align with your attendance policies including rounding, working after midnight, and holiday pay.
Because all of the data for Paycom time and attendance is digital, you can pull reports to understand attendance and working trends across departments and for individuals. This analysis can help HR teams and managers build policies that improve productivity and reduce inconsistencies.
ADP vs. Paycom for talent management
ADP offers two systems for talent management: a recruiting and hiring module and a management and growth module. The recruiting and hiring tools help teams automate manual tasks, build great job descriptions, post to job boards and manage the digital papertrail associated with hiring. These tools also include onboarding, screening options, compensation benchmarking through the ADP Data Cloud, and help hiring and retaining contractors and freelancers.
The ADP talent management and growth performance module includes tools to promote leadership and learning across the company with goal setting and performance metrics. The tools promote real-time coaching of individuals and continual feedback between managers and their direct reports. Connections to the ADP Data Cloud can provide compensation benchmarking and improvement plans, as well as succession planning and growth.
Paycom has a full applicant tracking system where you can build job descriptions, submit them across over 8,000 free job boards, and track applicants throughout the hiring process. Set up qualification questions for each of your job descriptions to get to the right applicants sooner. Use the customizable database to build a backlog of qualified passive candidates and contact them when you're ready to fill those positions. Paycom also offers onboarding checklists to reduce manual tasks and speed time to work.
Paycom has two software extras that help you protect your company's finances and reputation through the hiring and onboarding process. When you purchase the tax credits software, Paycom will automatically search for tax credits your team is eligible for, saving you money and time every year. And the background check software searches several government databases to ensure your hire is as good as they look on paper.
Paycom claims to have the most advanced talent reporting in the industry. In addition to a searchable database for every applicant, the tools can cross-reference data across years and EINs. A particularly helpful feature from Paycom is that you can schedule reports to publish automatically.
Find the right human resources software
ADP vs. Paycom offer a lot of the same features, but the tools serve different audiences. ADP is designed to provide comprehensive HCM tools for businesses of most sizes, and their offerings lend themselves toward build-as-you-go modules. On the other hand, Paycom comes enterprise-ready with lots of options that may be more than a small business can afford or manage. Keep this in mind as you compare their features and benefits.
It can be daunting to look at all the choices in the human resources software market, but you don't have to do it alone. Our expert Technology Advisors will listen to your needs and help you find a short list of vendors with just the right mix of features for your company. Thousands of HR professionals have saved time on their research process with us, and it only takes 5 minutes. Get started now by using the Product Selection Tool at the top of our HR software page. Just answer a few questions to get your free recommendations.