ADP and Paycom have widely different origin stories, but they've arrived at fairly similar offerings for human capital management (HCM) and payroll solutions.
Both of these solutions offer time and attendance, payroll, hiring, and talent management features. However, ADP's offerings are suited for companies of all sizes, while Paycom's solution targets medium to large enterprise companies.
The size of your business isn't the only factor you should keep in mind when comparing Paycom and ADP. This article compares payroll packages, time and attendance modules, and human resources (HR) talent management tools for each vendor, so you can choose the right one for your business.
What Is ADP?
ADP provides payroll, HR, and tax services software. ADP's products are designed to be used by small and midsize businesses. This is one of the most popular payroll solutions in the world, and it is used by over 990,000 companies across 140 countries.
While ADP offers an excellent suite of software features, it may be overwhelming for businesses that don't require advanced software.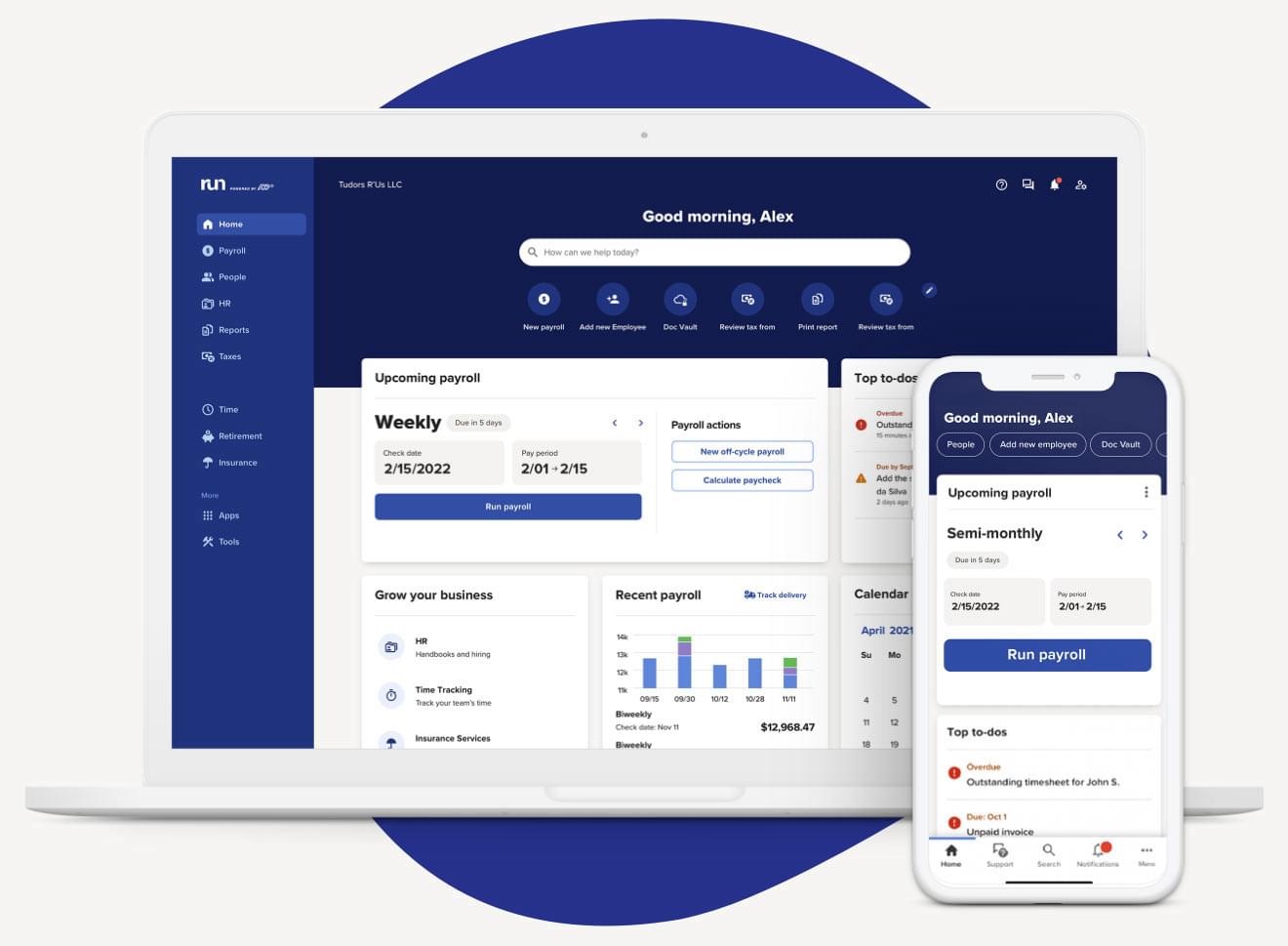 What Is Paycom?
Paycom is a cloud-based payroll solution that has expanded into other areas of HR software. In fact, Paycom offers five categories of HR software solutions: payroll, time and labor management, HR management, talent acquisition, and talent management.
Paycom is designed to be used by medium, large, and enterprise businesses that need more sophisticated HR solutions but aren't ready for enterprise-level software yet.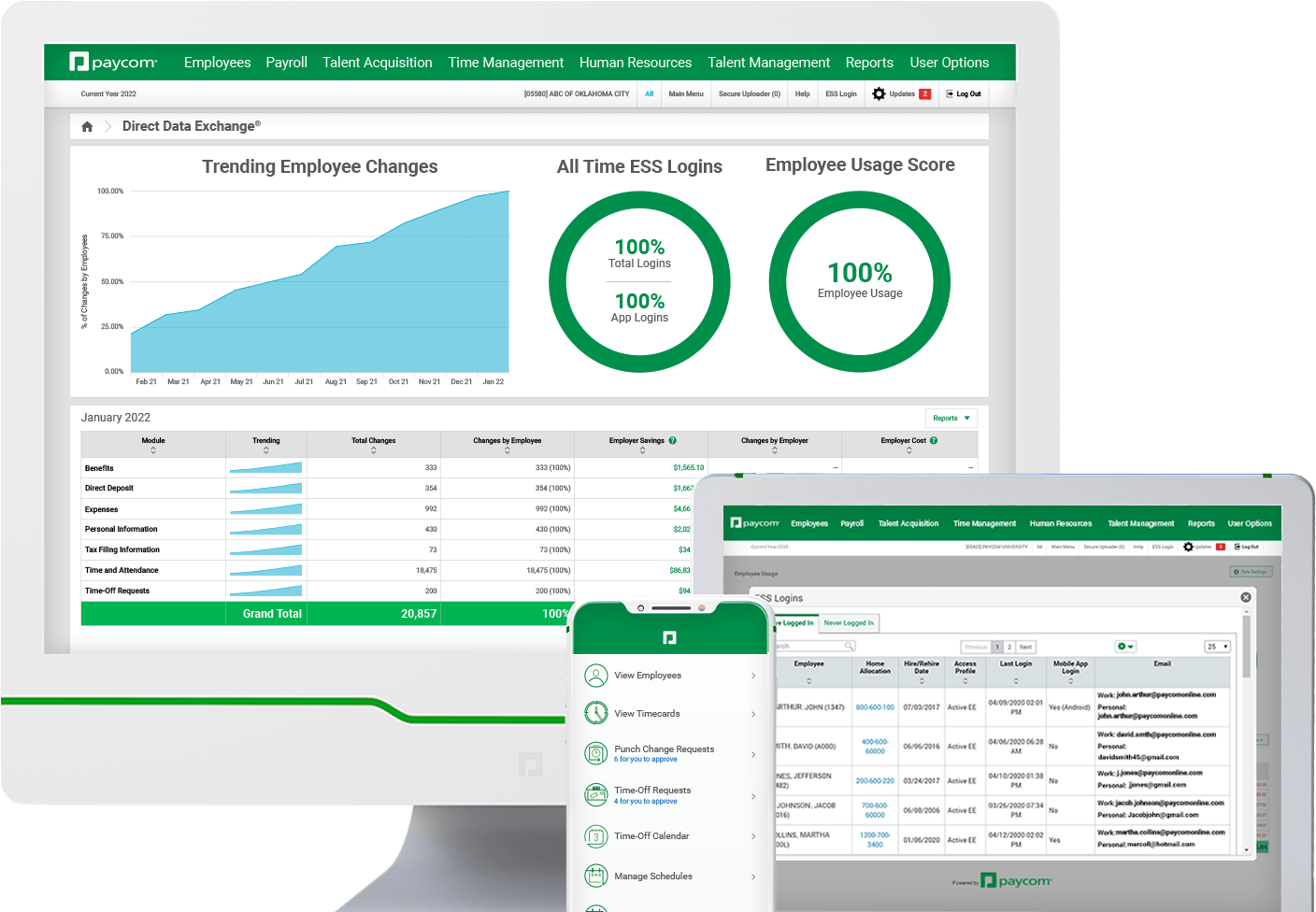 ADP vs. Paycom: Payroll
Payroll is the flagship offering from both ADP and Paycom, but each company packages its payroll offerings slightly differently.
ADP's payroll solutions
ADP provides payroll services for small business owners and medium-sized enterprises in the U.S. and across the world. You can purchase payroll as a stand-alone module to integrate with existing HR or time and attendance systems, or you can purchase ADP as a total HR platform.
Both employees and managers can access pay stubs and work history through a self-service mobile app or browser-based employee portal. ADP payroll also offers automated functionality to streamline the process and reduce the chances of human error, which means it calculates and pays payroll taxes to ensure federal, state, and local compliance support.
With ADP, employers get multiple payment options: direct deposit, check delivery, in-house check printing, and payroll cards.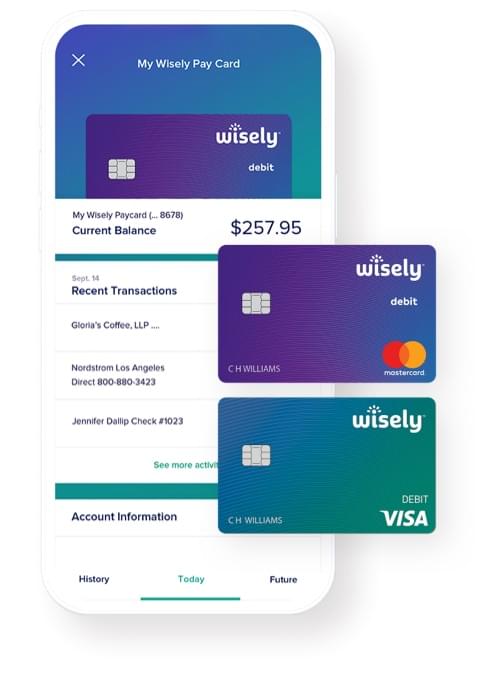 Paycom's payroll solutions
Paycom offers complete payroll and business financial services for medium to large enterprises. Paycom has cloud capabilities with data proliferation, meaning you don't have to enter payroll data over and over again across the app. It also offers a self-service payroll option for employees called Beti, so they can access their payroll documents without having to go through a manager.
Paycom offers several financial tools that help improve your company's financial security, including payroll reconciliation software (Paycom Pay) and general ledger consolidation (GL concierge). Other features include reimbursing employees for expense tracking with automatic payroll syncing, automatic calculations for wage garnishments, and debiting and depositing payroll taxes and remitting filings for payroll tax management.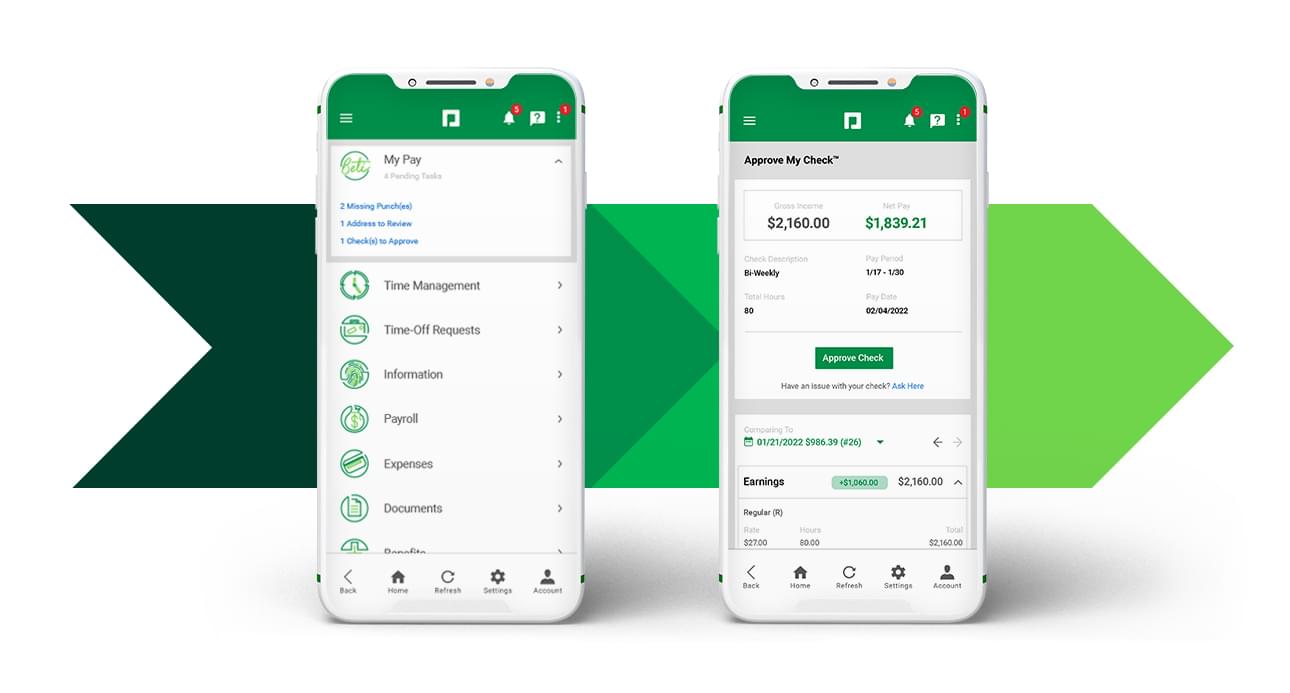 ADP vs. Paycom: Time and Labor Management
Time and attendance are great features to have integrated with your payroll software.
ADP's time and labor management features
ADP gives you several options to manage your time and attendance, including using your existing third-party time clock. The ADP time and attendance system lets employees clock in at a computer terminal, through a mobile device, or using specialized hardware.
The tools automatically track and calculate the time worked and port that information over to payroll services. If customers want to go the extra mile, ADP's Time Kiosk uses optional facial recognition to log employees in and voice activation to start and end a shift, take a meal break, transfer jobs, and more.
ADP manages time-off and vacation requests through an employee self-service portal that cross-references with payroll. Companies can delegate approvals and requests through a streamlined dashboard, where managers track current employees' time, address needs for upcoming shifts, and complete ongoing time approvals. The tools also include regulation control for breaks and documentation for audits.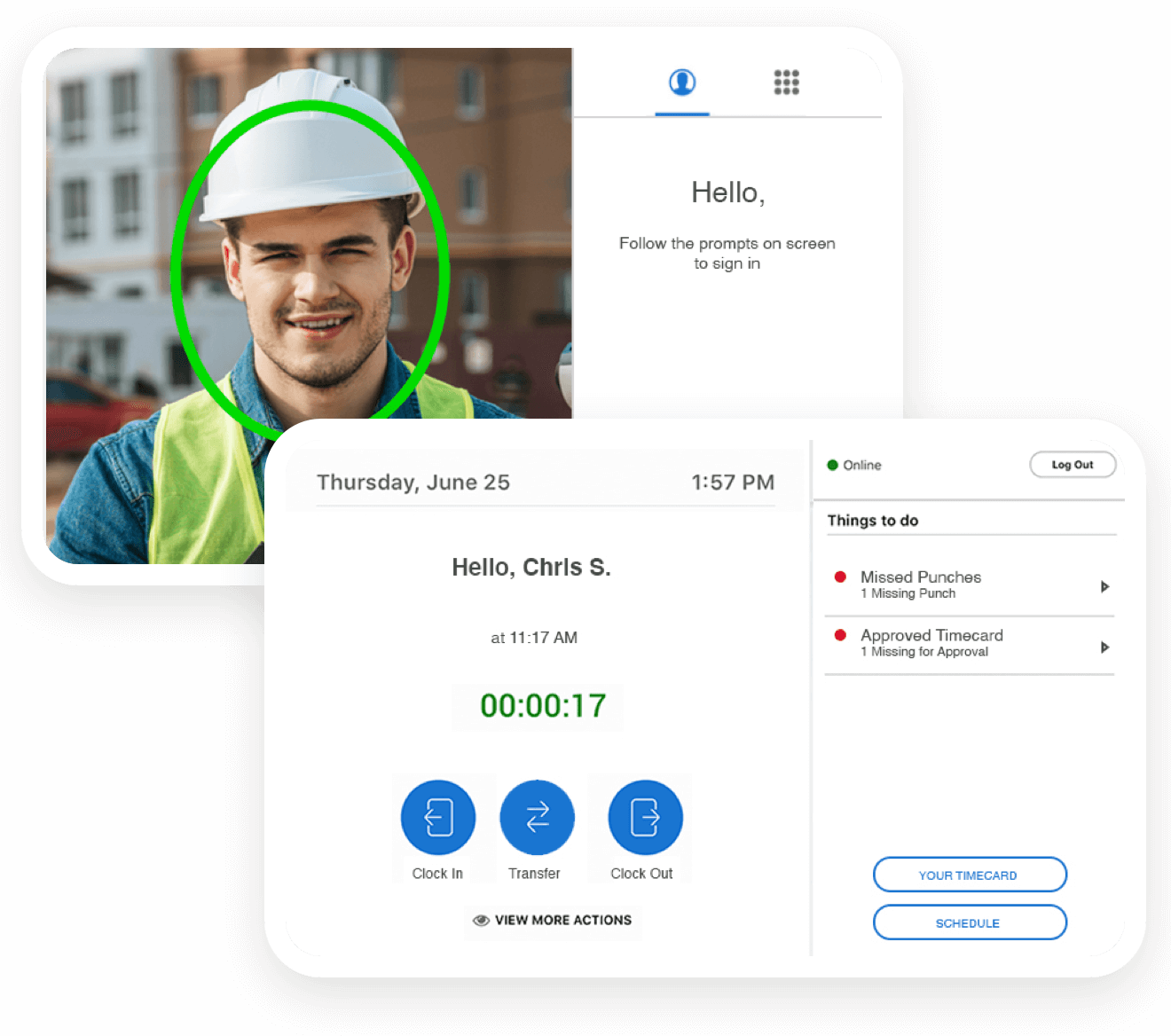 Paycom's time and labor management features
Paycom's time and attendance reporting works similarly to ADP's. Employees clock in and out in a Paycom app, and administrative controls verify the accuracy of that data. Once time is approved, those numbers sync across the app, preventing duplicate entries. HR can set up custom rules that align with your attendance policies including rounding, working after midnight, and holiday pay.
Because all of the data for Paycom time and attendance is digital, you can pull reporting to understand attendance and working trends across departments and for employees. This analysis can help HR teams and managers build schedules and policies that improve productivity and reduce inconsistencies.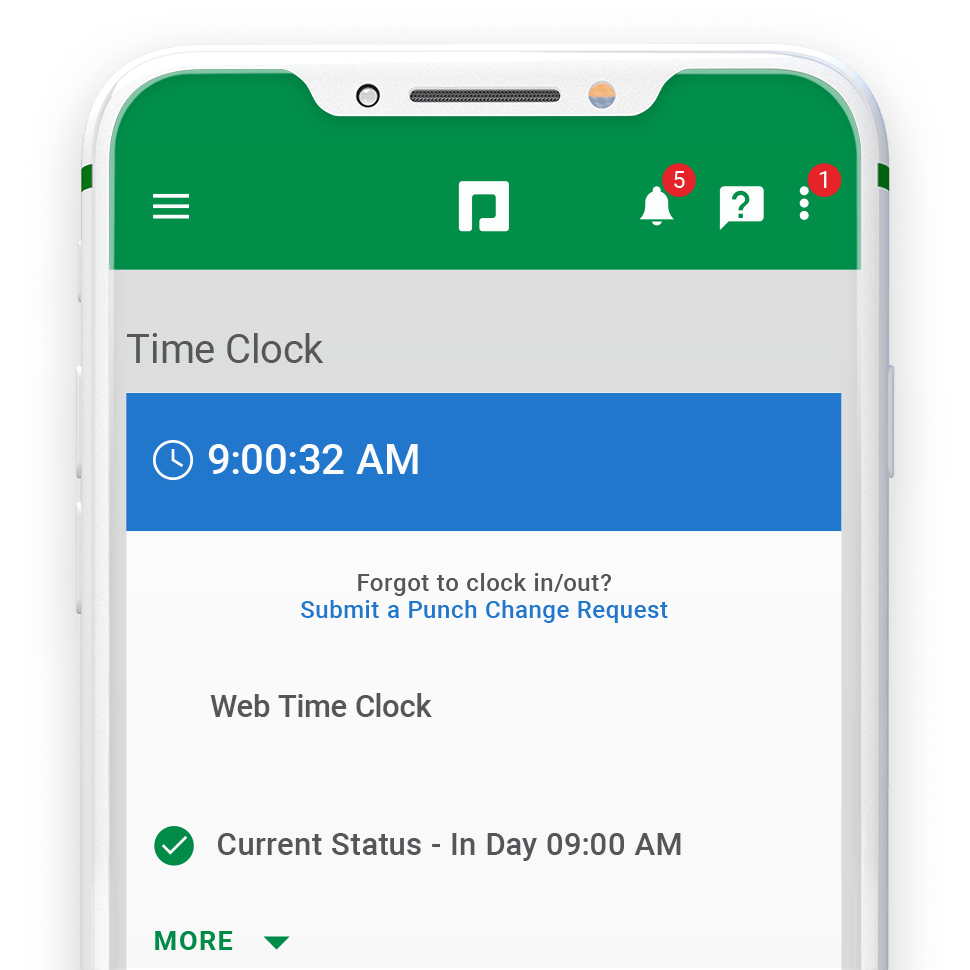 ADP vs. Paycom: HR and Talent Management
Both ADP and Paycom offer various tools to support HR tasks like talent acquisition, talent management, and HR management.
ADP's HR and talent management capabilities
ADP offers two systems for talent management: a recruiting and hiring module and a management and growth module. These recruiting and hiring tools help teams automate manual tasks, build great job descriptions, post to job boards, and manage the digital paper trail associated with hiring.
The ADP talent management and growth performance module includes tools to promote leadership and learning across the company with goal-setting and performance management metrics. The tools promote real-time coaching of individuals and continual feedback between managers and their direct reports.
ADP also offers several HR management tools that customers can purchase individually or include in the larger HR platform. The benefits administration tools will connect with your existing tools, like payroll, HR, and enterprise resource planning (ERP) software, and include data tools that help both the company and the individual employee choose the best plans. Choose from retirement, group health insurance, business insurance (including worker's compensation), and liability administration.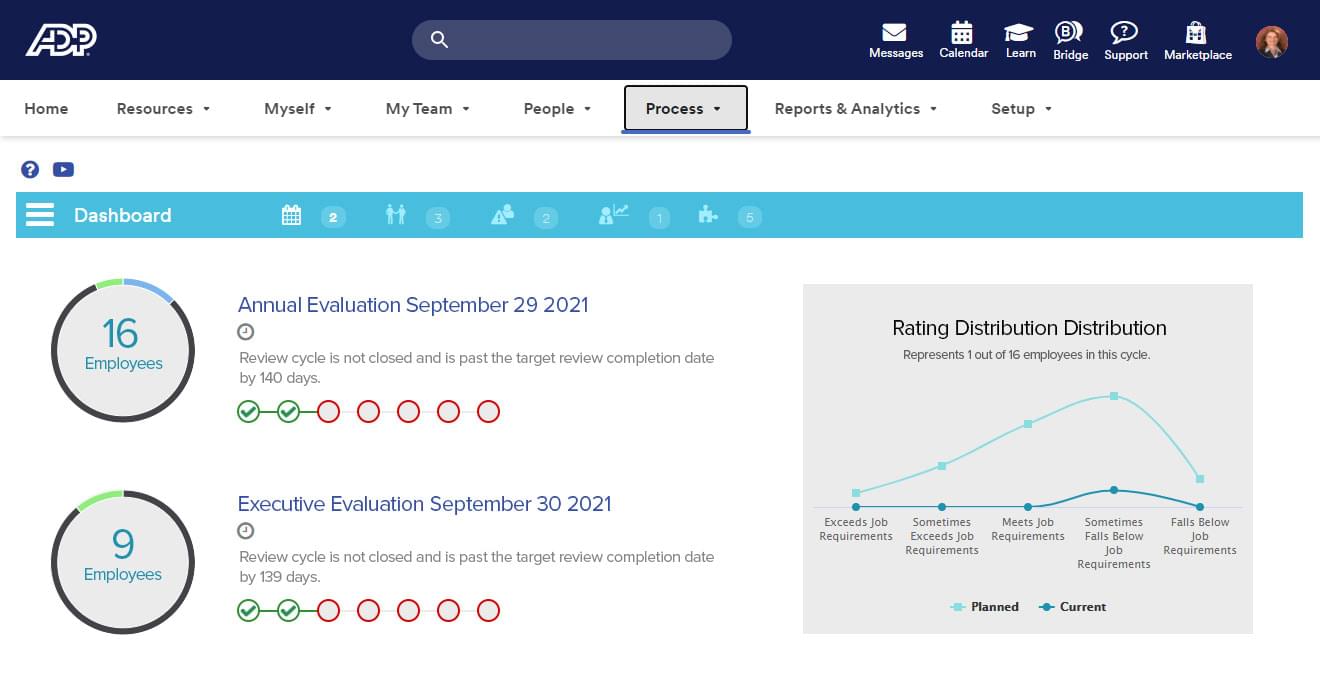 Paycom's HR and talent management capabilities
On the other hand, Paycom has a full applicant tracking system where you can build job descriptions, submit them across job boards, and track applicants throughout the hiring process. It also offers onboarding checklists to reduce manual tasks and lower time-to-hire metrics.
Paycom's HR management tools are organized around document management and process automation to give employees access to their HR documentation and speed up approval processes across the board. Users can assign tasks, collect electronic signatures, change document permissions, and reduce paper usage through the app.
The HR management tools connect directly with Paycom's payroll modules, which means HR professionals can approve benefits, and the changes populate in payroll automatically. The HR processes also include helpful features like manager portals, surveys, COBRA benefits administration, Affordable Care Act compliance, and 401(k) reporting.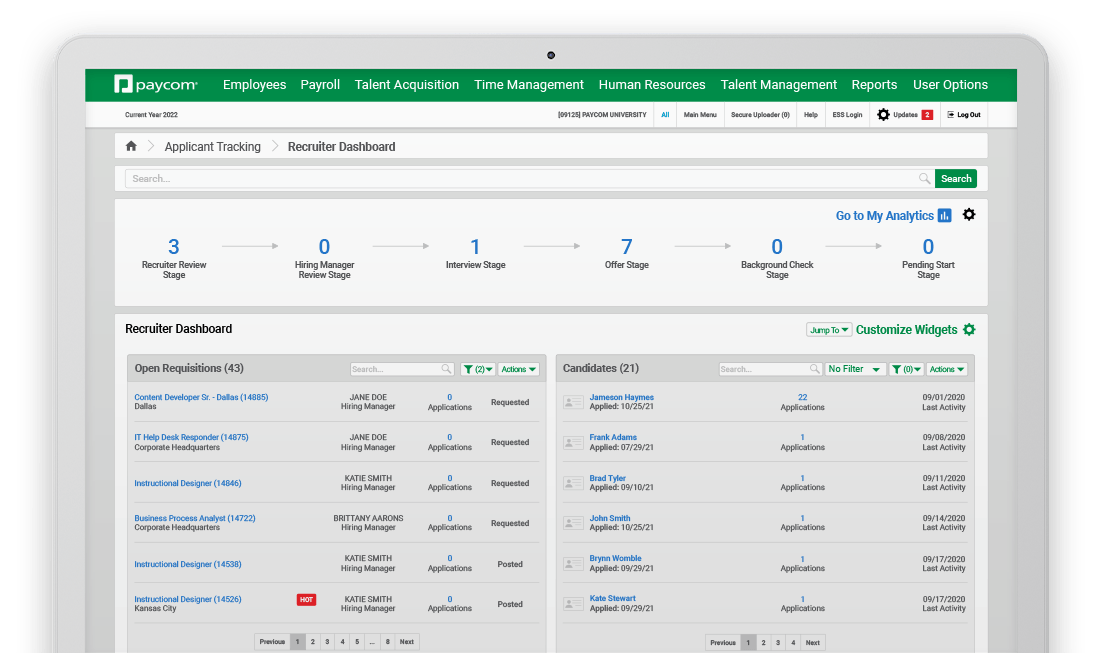 ADP vs. Paycom: How to Choose?
ADP and Paycom offer a lot of the same HR features, but the tools serve different business owners.
ADP is designed to provide comprehensive HCM functionality for most businesses, and its offerings lend themselves toward build-as-you-go modules. Of particular note, ADP also offers a more limited package of payroll and HR software marketed towards smaller businesses.
Thus, ADP is a great choice for smaller yet growing businesses that want payroll and HR software that can scale with their company. If your business gets to be very large or goes international, ADP might no longer cut it, but for most small and medium-sized businesses, it provides a great balance between features and ease of use.
On the other hand, Paycom comes enterprise-ready with many options that may be more than small businesses can afford or manage. As a result, Paycom may be too complicated and expensive for smaller businesses with limited resources.
However, larger businesses looking for an all-in-one HR software platform that encompasses payroll, time and attendance, HR management, and talent management should definitely look into Paycom.
In some cases, neither ADP nor Paycom is exactly the right fit. Perhaps you need a comprehensive HR solution that also offers a mobile-first experience. Or maybe you need a payroll solution that's embedded in your company's accounting software. If you're still not sure whether ADP or Paycom is right for you, check out our Payroll Software Product Selection Tool to receive a list of recommendations tailored to your needs in five minutes.
Featured Partners: HR Software
Rippling is the first way for businesses to manage all of their HR, IT, and Finance — payroll, benefits, computers, apps, corporate cards, expenses, and more — in one unified workforce platform. By connecting every business system to one source of truth for employee data, businesses can automate all of the manual work they normally need to do to make employee changes.
Paycor's HR software modernizes every aspect of people management, which saves leaders time and gives them the powerful analytics they need to build winning teams. Paycor provides a full suite of HCM solutions with a single source of truth for employee data, so users never have to switch platforms, log-in to multiple systems, re-key data or open multiple spreadsheets. Everyday processes become simplified, allowing organizations to focus on their most important work.
BambooHR is an award-winning HR platform that helps your growing organizations automate, centralize, and connect your people data all in one place. It gives you a one stop shop to manage data, hire talent, run payroll, and help employees grow.
Technology Advice is able to offer
our services
for free because some vendors may pay us for web traffic or other sales opportunities. Our mission is to help technology buyers make better purchasing decisions, so we provide you with information for all vendors — even those that don't pay us.