Searching for payroll solutions can be as confusing as doing payroll itself. As you're researching possible providers, it won't be long before you compare ADP vs. Paychex. These payroll giants offer a wide range of services from payroll to benefits administration and HR management.
ALSO READ: ADP vs. Paycom: A Payroll and HCM Software Comparison
TechnologyAdvice can help you dramatically reduce your research time. Use the Product Selection Tool on the payroll software page to enter your requirements, and one of our Technology Advisors will set you up with a short list of recommendations that fulfill your needs.
ADP vs Paychex overview
Both companies have been around for over 40 years and have a long list of satisfied payroll management customers. They've managed to stay at the head of the pack, despite the rise of smaller, local, or online payroll providers in recent years. ADP and Paychex can each adapt to your particular business needs, which makes the choice between them difficult. But their differences, outlined below, will help you differentiate.
ADP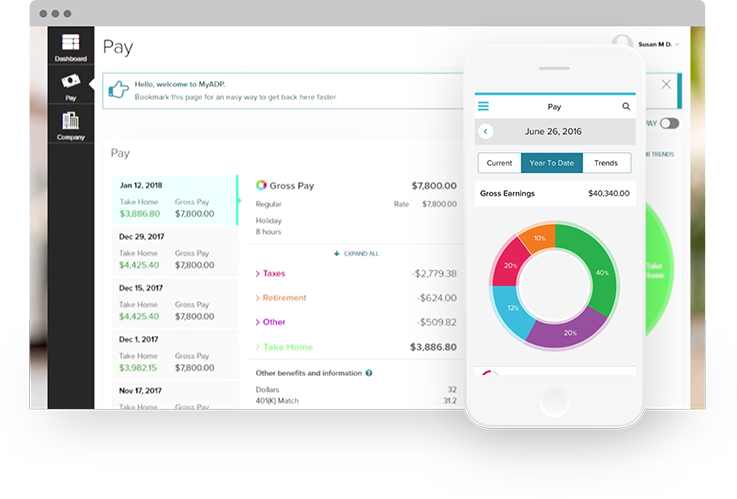 ADP provides many different services for small, medium, and large businesses, and many of these services are available a la carte or as integrated suites. If the conventional plans don't fit your needs, you can choose from partner programs and franchise accounts, or private accountant networks. ADP's multinational presence means that companies located across several countries or US locations can find expert advice navigating international or multi-state taxes and fees.
In addition to payroll services, ADP also offers HR consulting and internal solutions including:
Insurance
Human capital management (HCM)
Onboarding
Insurance/benefits administration
Affordable Care Act (ACA) compliance
Retirement services (401k, IRAs)
Employment verification
Time and attendance tracking
Paychex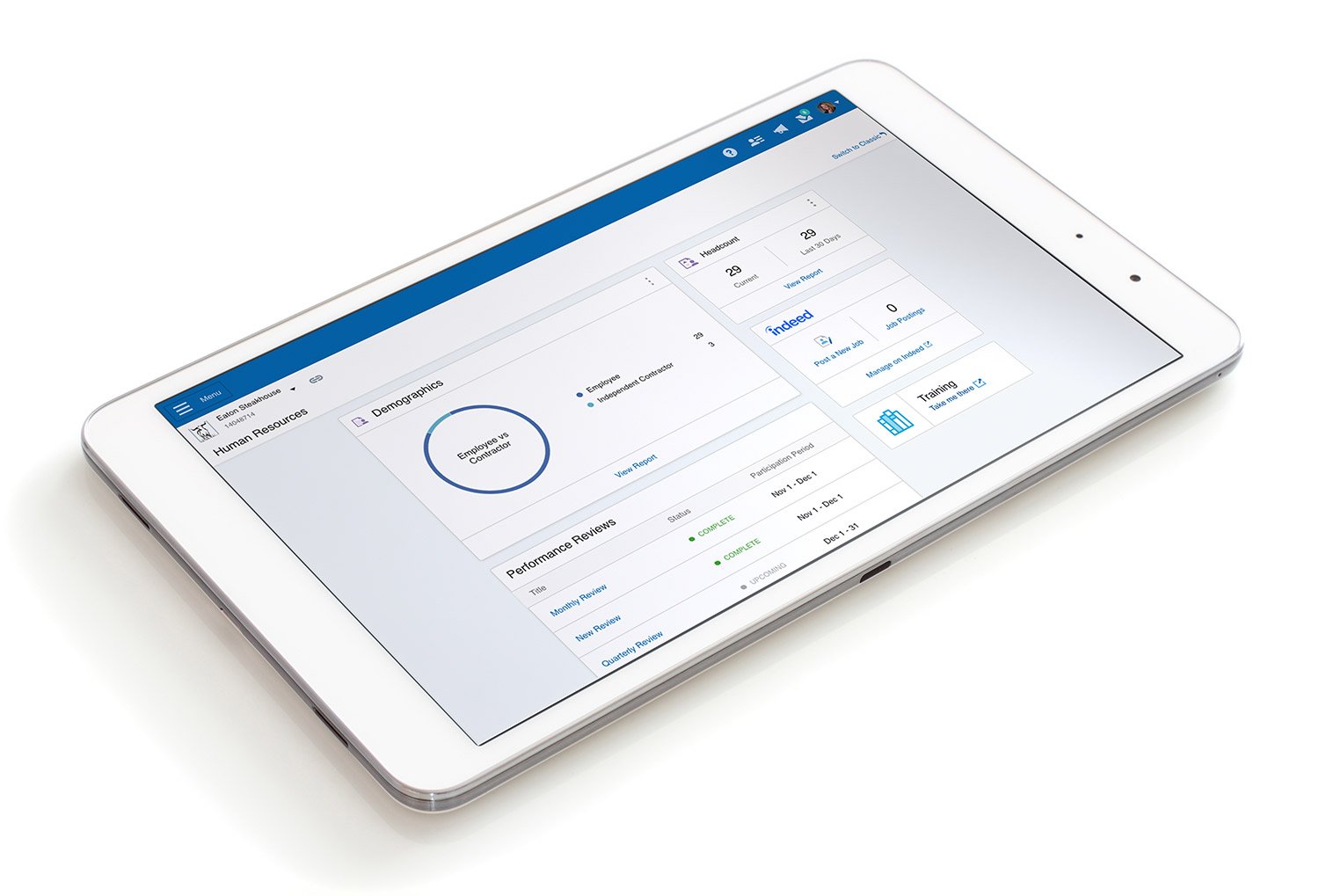 Paychex compares to ADP in size and complexity, but they've built their business by focusing on improving payroll and accounting-related HR solutions for small and medium-sized businesses. They also offer enterprise-level solutions, if that's what your company needs. Every new account gets an implementation specialist and a dedicated customer service manager.
Additional services from Paychex include:
Time and attendance
Biometric time clock
Compliance services
Records administration
Business insurance
Worker's compensation
Tax services
Online marketing services
Employee Benefits
Retirement services
Digital payroll solutions in ADP vs. Paychex
Like most modern payroll solutions, ADP offers electronic payments and paper-free payroll updates. ADP also provides a direct-to-debit-card solution called ALINE, where employees can receive their paycheck automatically on a card similar to a credit card. This program looks great on paper, but does have a few issues. Payments to these cards leave no paper trail, and complaints of lost or missed debits can take a long time to resolve. ADP pushes this ALINE program as a good solution for workforces without bank accounts, but this same population is most likely to live paycheck to paycheck, which means a missed paycheck can cause severe hardship.
Paychex's flagship offering is the online payroll service, Paychex Flex. Flex gives you access to your entire payroll system online, and includes mobile-ready dashboards and data transfer to outside accounting systems, including QuickBooks and Kashoo. Although they provide limited email and live chat support, Paychex responds to immediate and time-sensitive support requests with 24/7 phone support. Paychex Flex gives you the ability to work in future payroll periods for upcoming events, which you won't find in a lot of other software.
Customer service and data access
ADP's multinational size means that smaller businesses may get lost in the shuffle. Although the website lists several toll-free numbers and an email service option, requests for customer service often take more than one phone call, and no dedicated customer service is available for small or medium businesses. ADP gives standard reporting options to all accounts, but access to your data is limited. Complex analytics require a request from ADP for a report.
The Paychex Flex system includes an employee portal, so employees can check on the status of their payments and view past stubs. Some users do complain that the busy interface can be confusing, and Paychex doesn't let you download and print your own checks on-site. If some employees need paper checks, they'll print at the nearest Paychex office (there's at least one in all 50 states) and deliver to employees via mail.
Outsourced payroll and HR services
All that said, small and medium-sized companies that don't have a dedicated HR professional can use ADP for business process outsourcing. This program gives you access to dedicated HR professionals who will guide you through the entire lifecycle of human capital management. ADP also partners with professional payroll and HR consultants well-versed in both accounting and HR needs specific to ADP.
Like a lot of other companies in this category (including ADP), Paychex covers benefits and HR solutions for the full range of needs, from recruitment through retirement. They also address government compliance through OSHA, COBRA, workers compensation, and unemployment insurance.
In addition to the basic payroll service, Paychex offers several add-ons. Taxpay handles your payroll tax and sales tax. Paychex Time organizes and tracks employee clock-ins via a mobile app. Other extras include credit card processing, currency conversion for international receipts, and gift cards.
Making Your Final Decision
Comparing ADP vs. Paychex can be difficult, because both of these companies offer so many different services. As you evaluate the two, use your own business needs as a litmus test. Large companies that need less support and already have a dedicated payroll professional/HR staff may find that ADP meets their needs. Smaller businesses looking for a best-of-breed solution with dedicated support might want to consider Paychex.
Still having trouble deciding on a payroll solution? Our Product Selection Tool will turn your requirements into a short list of vendors that are right for your payroll needs.