Video conferencing tools are shaping up to be the hot software for the start of 2020. While it's mostly used for corporate meetings or catching up with long-distance friends or family, video conferencing tools have a place in the healthcare industry as well.
For patients who can't make it to the doctor's office, or on the off chance you're quarantined for a few months because of a worldwide pandemic, telehealth becomes vital. But how can you be sure your data is kept secure?
From January to May 2019, an average of 37.2 healthcare data breaches were reported each month. For video conferencing tools, HIPAA (Health Insurance Portability and Accountability Act) guidelines require providers who transmit PHI (Protected Health Information) in electronic form to adopt privacy and security safeguards so these data breaches don't spin out of control.
These HIPAA compliant video conferencing software solutions are guaranteed to keep your personal health information safe. Some are tailored to healthcare providers, while some are standard software options with the added compliance.
Researching your next web conferencing software? Use our Web Conferencing Product Selection Tool to get a short list of free recommendations that are tailored to your needs.
Doxy.me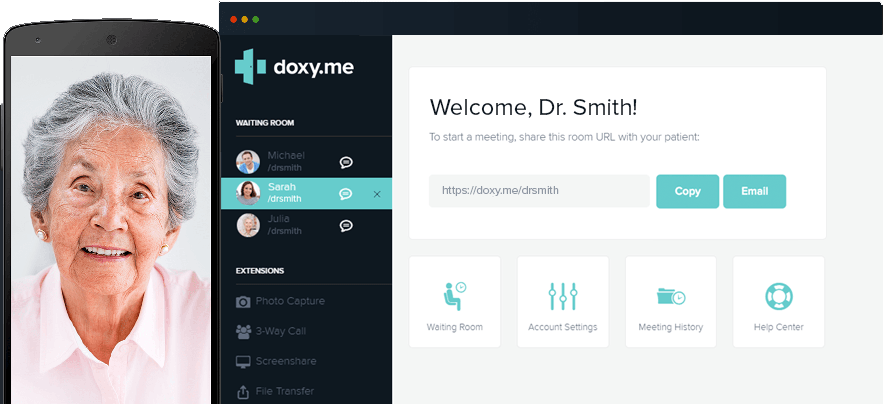 Originally created for a research study at a university, Doxy.me provides healthcare from a distance with HD video and audio. Patients don't have to download software or make an account, and Doxy.me complies with HIPAA, GDPR, PIPEDA, and HITECH standards. Provider features include a live chat, patient queue — with which you can personalize with texts and videos for patients to enjoy — and patient check in. The video conferencing software can support small clinics up to large enterprises and provide analytics for your organization. A free option is available with unlimited minutes and sessions. Their Professional and Clinic pricing plans include more features and can be billed monthly or annually.
---
Thera-LINK
Thera-LINK is a video conferencing tool focused on mental and behavioral health providers. HIPAA and HITECH compliant, all web traffic, video, database, and file backup within the tool is encrypted. Patients can schedule their appointment by appointment type and time slot, and providers can accept the request and add payments to the appointment. Couple, family, and group sessions are possible by allowing multiple participants in a meeting. Other features include secure file sharing, custom waiting rooms, and support across all systems (PC, Mac, iOS, Android). Pricing has 3 tiers — Basic, Plus, and Ultimate — and is billed per provider per month. A free trial is available.
---
TheraNest
TheraNest is a web-based mental health solution used by solo, group, nonprofit, and educational organizations. Telehealth is included, but is not the main focus of the EHR software. Clients can join telehealth sessions with a unique link. Providers have full control over video and audio and can conduct online video sessions with up to 6 participants at one time. Other features include insurance billing workflows, calendar scheduling, and unlimited storage of client information. TheraNest offers a 21-day free trial with no credit card required. Pricing is on a per active client per month basis. Additional features, such as telehealth video conferencing, are available at an extra cost.
---
Zoom for Healthcare
Best known for its free, cloud-based video conferencing capabilities, Zoom also features a HIPAA and HITECH compliant healthcare plan for organizations of any size. Record your meetings for consultation and review later, and treat patients virtually with far-end camera control and medical device integrations. You can collaborate with other doctors and specialists by annotating directly on a shared screen. While security issues have been a concern with Zoom, these issues are applicable to only the paid and free versions — not Zoom for Healthcare. Pricing is more expensive than some options, and is per user per month starting at 10 hosts per account.
Also Read: The Best Zoom Alternatives for Your Business
---
GoToMeeting
While GoToMeeting doesn't have a specific healthcare track for video conferencing, the software is HIPAA compliant. GoToMeeting is designed for sales professionals, business owners, and IT managers. Features include screen sharing, conference calling for when everyone can't meet face-to-face, and mobile apps compatible with iOS, Android, and Windows. Host webinars with GoToWebinar, or conduct employee training sessions with GoToTraining. Pricing is 3-tiered: Professional, Business, and Enterprise, with feature availability increasing respectively.
Also Read: WebEx vs. GoToMeeting: A Virtual Conferencing Software Comparison
---
Medici
Medici is a HIPAA compliant telehealth mobile app for medical providers. It features a secure messaging app where providers can collect payments, e-prescribe medications, and translate 20 different languages in real-time. Doctors can import patient contacts from their supported EHR into the Medici app and collaborate with others using Colleague Connect. Patients can see a doctor's consult rate before treatment and request video calls at any time. Medici has 3 triers for pricing: Connect, Treat, and Grow. Contact the vendor for a quote.
---
Finding the best HIPAA compliant video conferencing software
Technology has come a long way in healthcare — telemedicine included. Patient protection should be of the utmost importance when deciding on a video conferencing tool for your healthcare practice.
While this lists a lot of great options in video conferencing software, these aren't the only choices available. Check out our web conferencing Web Conferencing Product Selection Tool to aid your research in finding a software that fits your needs.
Top Electronic Health Record Software Recommendations
athenahealth, ranked #1 by Best in KLAS in 2023 for three of our top-performing product solutions, athenaOne Small Practice Ambulatory, athenaClinicals Ambulatory EMR, and athenaCollector Practice Management, connects care with cloud-based services and mobile tools for medical groups and health systems, helping providers thrive through change and focus on patient care.
Need a Little Help?
Talk with a software expert for free. Get a list of software that's great for you in less than 15 minutes.
Technology Advice is able to offer
our services
for free because some vendors may pay us for web traffic or other sales opportunities. Our mission is to help technology buyers make better purchasing decisions, so we provide you with information for all vendors — even those that don't pay us.