What is electronic health records software?
EHR software is a system that hospitals and medical practices use to manage and share patient medical records and automate clinical workflows, including billing and claims. EHRs allow healthcare providers to create, update, share, and securely store patient and population information digitally.
Healthcare patients need the ability to access their medical records outside of the doctor's office, which means health care providers must adopt an electronic health records or electronic medical records (EMR) system. Encouraged by the American Recovery and Reinvestment Act of 2009, EHR software is now the charting standard for the majority of US healthcare facilities. The US EHR market is growing, and many countries around the world are also transitioning to digital records. As of 2021, nearly 4 in 5 office-based physicians (78%) and nearly all non-federal acute care hospitals (96%) adopted a certified EHR.
Find your new EHR-EMR software
Compare the Best EHR Systems
| Product | Voice Recognition | Configurable Dashboards | E-Prescribing | Video Conferencing |
| --- | --- | --- | --- | --- |
| | yes | yes | no | yes |
| | yes | yes | yes | no |
| | yes | no | yes | yes |
| | yes | yes | yes | yes |
| | yes | no | yes | no |
| | yes | no | yes | no |
| | yes | no | yes | no |
Epic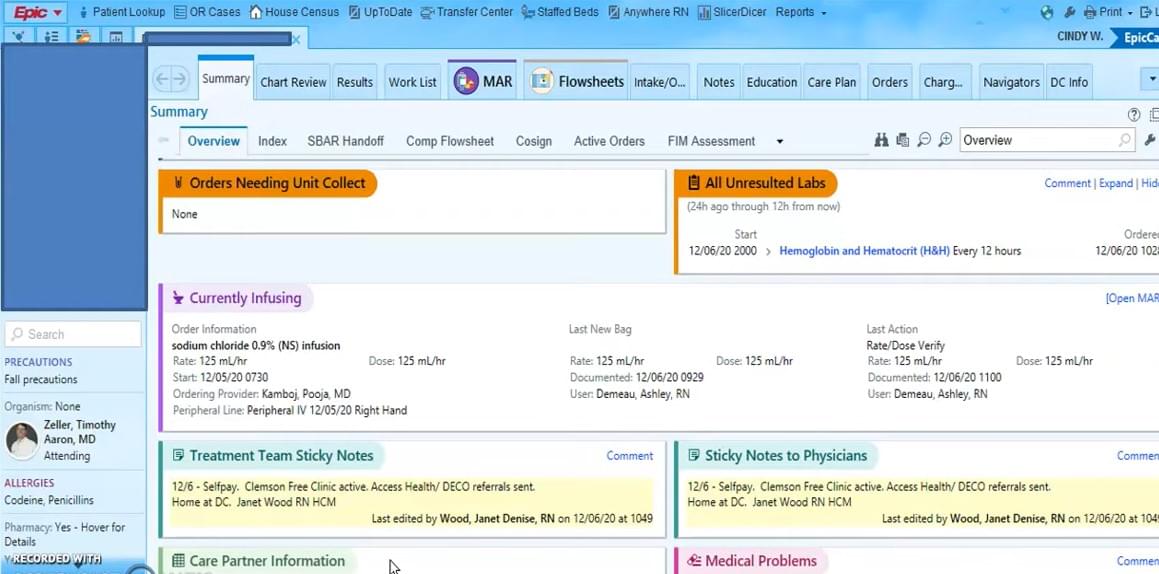 Epic is one of the most well-known vendors of EHR software, exceedingly popular among large healthcare organizations. It provides medical practices with an easy-to-use patient portal, so they can send appointment reminders, prescription information, and any notes on the visit.
Industry-specific modules, including options for cardiology, fertility, and transplants, make it easier for each practice to get the tools and features they need.
Also read: Cerner vs. Epic: Comparing the Two Biggest Electronic Health Software
Pros
Intuitive and easy-to-use interface
Large number of specialty modules
Telemedicine is built into the platform
Cons
Has a steep learning curve
Implementation fees can be expensive
Cerner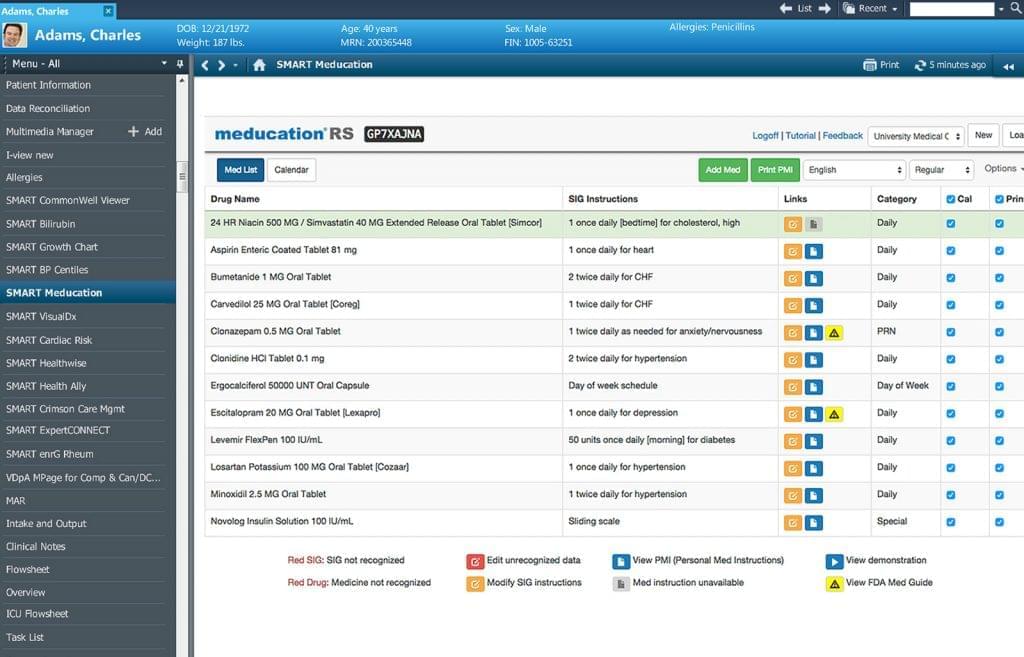 Cerner is another big-name vendor in the EHR space, with high use among ambulatory care and clinical practices. Oracle and Cerner recently reached a purchase agreement, placing Cerner under the Oracle umbrella by the end of 2022. As a result, Cerner has native integrations to other Oracle products.
Offering clinical solutions for a variety of specialties, the platform streamlines patient accounting and administrative workflows.
CareCloud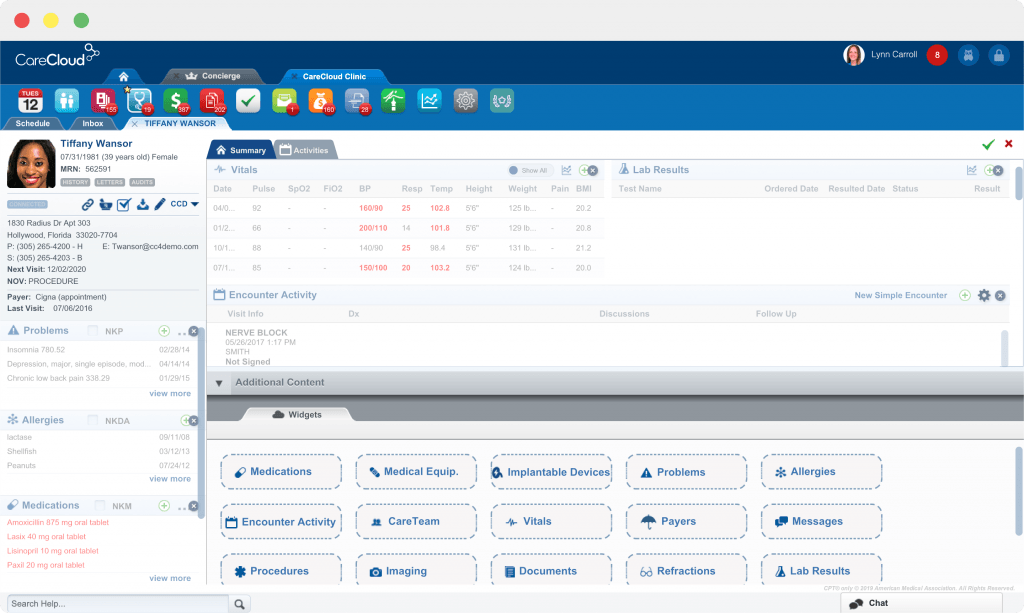 CareCloud EHR provides flexible charting options and configurable templates, allowing physicians to customize their system to the needs of their practice. Rich patient summaries make it easy for physicians to get critical patient info at a glance, while real-time intelligence helps improve decisions by highlighting crucial variables like drug interactions.
In addition to EHR, CareCloud also offers practice management, telehealth, and more to give practices a full medical software suite.
Pros
Documentation can be customized for each discipline
Easy-to-use, cloud-based platform
Drag-and-drop scheduling options
Cons
Some users complain about the system's reliability
Customer support seems to be unhelpful and difficult to reach
Athenahealth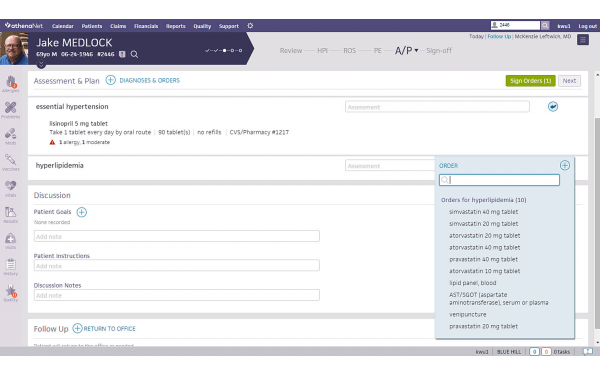 Athenahealth EHR offers intuitive workflows and real-time insights to improve clinical efficiency and care coordination. A member of the CommonWell Health Alliance, Athenahealth makes it easy to share patient records with other physicians and specialists.
Further, the mobile app is fully integrated with the EHR system, so doctors don't have to be at a workstation to make updates.
Pros
Easy scheduling options
Cloud hosting makes it cheaper and logistically easier to use
Large number of integrations available via the marketplace
Cons
Several users complain about poor and unresponsive customer service
Ongoing billing services are expensive
eClinicalWorks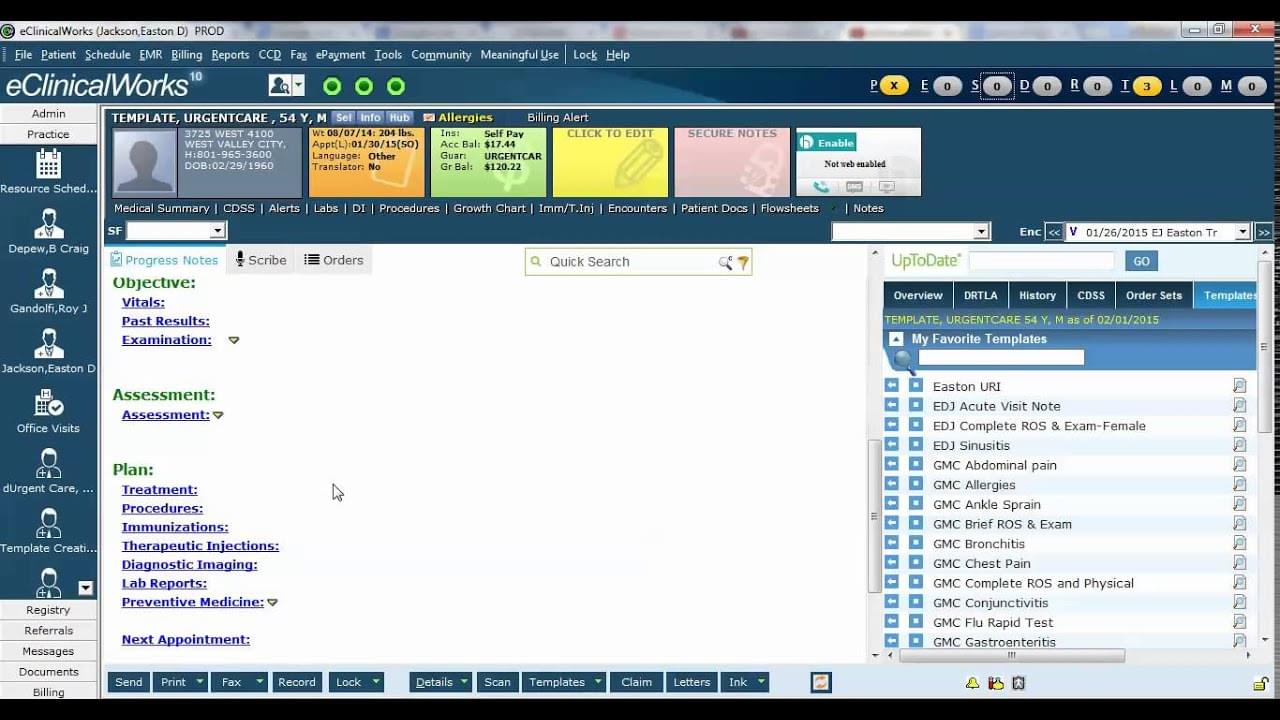 eClinicalWorks EHR is a cloud-based platform, complete with a health information search engine to connect patient records from different practices and give a timeline view of the patient's health history. Interoperability is possible through the CommonWell Health Alliance and Carequality frameworks.
Physicians also get access to a virtual assistant that lets them book appointments, compare notes, and view an account balance without leaving their workflow.
Pros
Easy to navigate and use
Customizable for the practice's needs
Large number of features simplifies a variety of workflows
Cons
The system can sometimes freeze, causing delays
Several users complain about poor customer service
Veradigm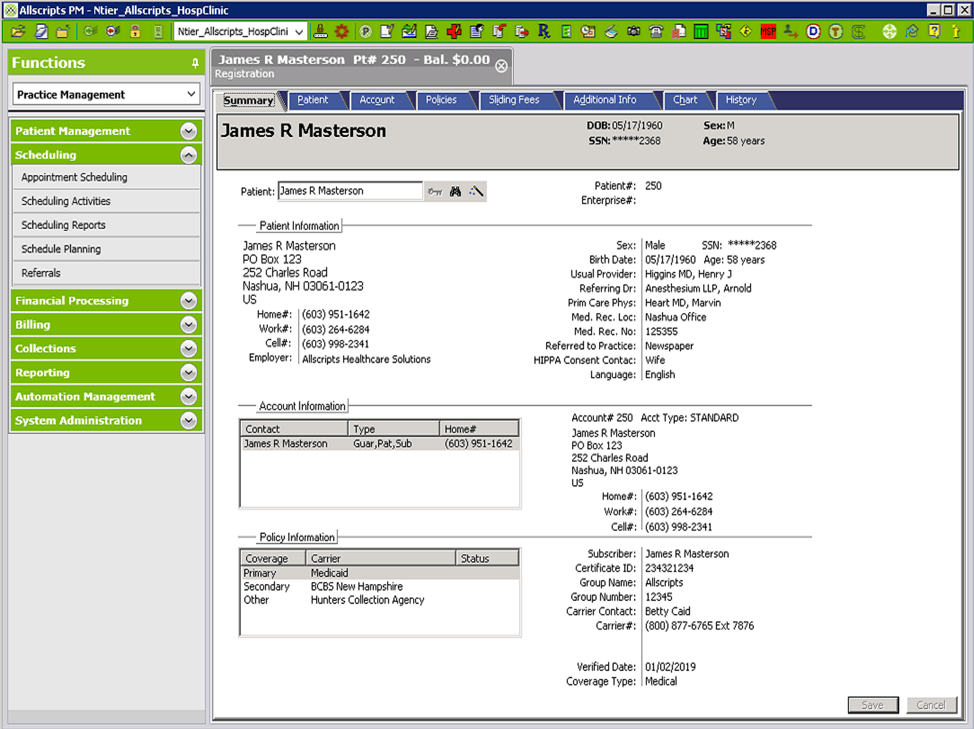 Veradigm, formerly known as Allscripts, offers several different EHR products, depending on the type of facility it is serving. The company's comprehensive suite of tools ranges from electronic health records to patient engagement platforms. In addition, Veradigm leverages AI to provide advanced analytics, allowing for better management and understanding of patient needs.
Pros
Easy-to-use and accessible platform
Prescriptions are easy to send to pharmacies
Improves communication about patients
Cons
Software can have slow loading times
Practices have to pay for tech support packages
NextGen Healthcare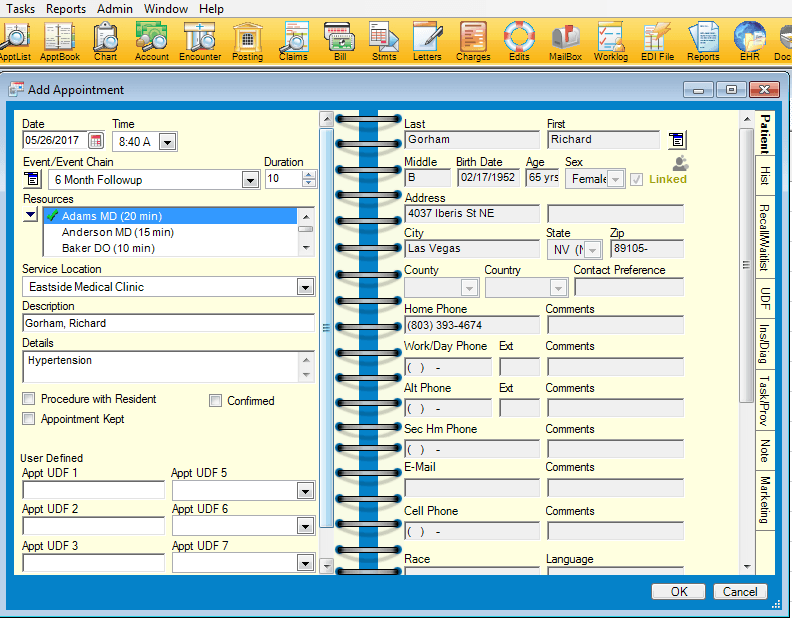 NextGen Healthcare EHR automates reporting to meet compliance requirements and improve the quality of patient care. It's scalable and customizable to meet the needs of each practice, and patients get access to 24/7 care to increase engagement.
Thanks to insights at the point of care, physicians can also improve population health and provide better care and financial outcomes for their patients.
Pros
US-based support team
Easy to use and offers responsive support
Streamlines scheduling workflows
Cons
Customization can introduce glitches
Attachment sizes are limited to 5MB
What is the difference between EHR and EMR?
Electronic medical record (EMR) systems are the predecessors to modern EHRs. Many people use the two terms interchangeably, but they are not the same. EMR solutions essentially store digital versions of paper patient charts, while EHR platforms significantly expand upon the medical data capabilities offered by electronic medical records.
EMR systems store information on patients at hospitals and clinics, but that information never leaves the location where it was originally compiled. This means a new patient record must be created any time a patient goes to a different hospital, clinic, mental health provider, or another medical care facility.
EHRs, on the other hand, allow providers to share patient information with other hospitals, clinics, labs, and specialists as necessary. This allows a patient's medical history to follow them across healthcare facilities, and it helps health care providers deliver better care when seeing new patients. By sharing this personal health record between facilities, doctors have access to more accurate and up to date information.
EHRs also include features for population health management, which can help inform doctors about health trends in their local area.
Types of Electronic Health Records Systems
There are several different types of EHR systems, each with its own set of benefits and drawbacks.
Physician-hosted system: Hosted on a physician's own servers and requires the physician to purchase all necessary hardware and software, as well as handling their own maintenance and security.
Subsidized remote system: Smaller clinics might form relationships with hospitals or medical networks to cover some of the costs of an EHR system. The system will then be hosted at the network's or hospital's headquarters, and physicians will be able to access it remotely.
Dedicated remote system: The EHR vendor stores all of the practice's data on its servers and provides remote access. Physicians lose any control over the data storage methods and locations, but aren't responsible for maintenance.
Cloud remote system: EHR vendors store their clients' data in the cloud. Physicians can easily access their data through the vendor's website, and they aren't responsible for maintenance.
Benefits of EHR software
EHR systems should improve workflows for physicians and administrative staff, while also giving patients better access to their data. Healthcare organizations looking for EHR software should prioritize the following features.
Easy Scheduling
Many EHR tools offer drag-and-drop schedule makers, so admins can easily add new appointments and quickly make changes. It also updates in real-time, so patients or receptionists can't double-book physicians. Once the appointment is on the books, the EHR system can also send reminders to patients to reduce no-shows.
Shareable Information
Interoperability is the key differentiator between EHR and EMR systems. EHR tools should be able to send charts and other records to specialists, hospitals, and other healthcare providers working with their patients to improve the quality of care.
Doctors need to know how each medication they prescribe will interact with what the patient is already taking, and sharing records is the best way to ensure they have all of this necessary information.
Digital Charts
Paper charts are outdated, can be easily lost or destroyed, and may be hard to read depending on the doctor's handwriting. EHR systems should include a digital charting system with pre-built and customizable templates to cater to the practice's specialty.
Digital charts are easy to access, and physicians can update them as needed without adding pages of notes for each new visit.
Patient Portals
A patient portal allows patients to access their electronic medical records and interact with their healthcare providers online. It is usually a standalone application that integrates into the existing site of a provider, but EHRs can also include modules for patient portals.
Some patient portals allow patients to register for office visits and complete check-ups online. Patients can also request prescription refills, order eyeglasses and contact lenses, access medical records, pay bills, and review lab results without ever leaving their homes.
Also read: Optimizing Your Patient Portal for Maximum Engagement
More Accurate Prescriptions
Thanks to the clinical decision support (CDS) systems found in EHR software, physicians can improve the accuracy of their prescriptions, quickly ruling out any options that will trigger an allergic reaction or negatively interact with other medications.
Improved Care
When doctors all have access to the same information via their EHR system, they can provide better care to their patients. They'll know which tests have already been run, what medication their patient is currently taking, and any past diagnoses that could inform future care. EHR systems also reduce human error and remove some of the burden from patients.
Finding the best EHR software for your organization
While EHR software has become the standard for healthcare organizations, it can be difficult to implement and manage, and it may introduce some security risks.
Implementation
EHR systems are fairly expensive. Typically, the more robust they are, the longer they take to implement. Each person who is going to use the system will need to be trained on it, and organizations will need to connect it to the other software they use, like billing or practice management software. Cloud-based systems are typically easier to implement, but they still require extensive training.
Privacy & Security
Digitally storing medical records can lead to privacy and security risks, as digital archives can be hacked. The good news is, most EHR systems include robust security measures, including identity and access management (IAM) and encryption.
Healthcare organizations also need to have their own security measures in place and train their employees on how to keep data secure and private. In order for it to be effective, medical professionals have to update their EHR software regularly. Digital charts are not useful if they don't contain the most up-to-date information, and it's very difficult to assess the effectiveness of treatments if doctors aren't noting their patient's progress.
There are many electronic health records systems on the market, and finding the right one depends on the size of your practice, your medical discipline, and the features you need. Small organizations will likely prefer cloud-based systems, while major hospital networks probably have the overhead needed to host their own EHR tool.
Additionally, not every EHR system includes modules for every specialty, so you'll need to check that a platform has what you need before signing a contract.
Read next: Choosing An EHR: A Comparison Of The Best Electronic Health Records Software