Web-based technology has helped businesses globalize and scale in ways we never dreamed possible. At an operational level, collaboration and communication tools have been some of the most influential of the lot — especially video/audio conferencing software.
Instead of depending on geographic proximity to meet and converse, people can use a simple web app to talk, share real-time video, files, and screens from any location. This versatility brings tighter synchronization to dispersed teams and gives businesses the ability to work with clients in almost any territory. For that, collaboration tools have become immensely popular. The video conferencing software market alone was valued as $3.4 billion in 2017, and is expected to grow at a CAGR of 9.2% until 2025.
If you're shopping for a video and/or audio conferencing solution, you've probably come across WebEx and GoToMeeting — two vendors whose names have become synonymous with virtual conferencing in recent years. Both offer similar functionality and pricing, so it can be difficult to choose between them.
In this post, we'll compare WebEx vs. GoToMeeting based on video/audio features, collaboration, and pricing to help you decide which is best suited to your needs.
TechnologyAdvice can help speed up your software research. Use our Web Conferencing software category page to get a free list of personalized VoIP software recommendations. We'll give you a short quiz to find out what you need and then match you with five vendors we think you'll love.
Webex vs. GoToMeeting: Company Overview
Webex was founded in 1996 under the name ActiveTouch and acquired by Cisco in 2007 for over $3 billion. It's now part of the larger Cisco collaboration suite, which is good news for buyers seeking broad functionality.
Notable Webex customers include Bauer, Sapiem, Cabela's, and Georgetown Law University.
GoToMeeting found its roots much later in 2004, but was incubated by enterprise software vendor Citrix from day one. Similar to Webex, GoToMeeting is part of the larger Citrix collaboration suite, which includes GoToMyPC, GoToAssist, GoToWebinar, and GoToTraining.
Notable GoToMeeting customers include SuccessFactors, Arizona State University, and Fujitsu.
Video/Audio Conferencing
Both vendors provide a powerful, web-based system for communicating with other users via real-time audio and/or video. Since this is the heart of a virtual conferencing solution, you'll want to look closely.
There are several ways to start a meeting in Webex. You can create a personal meeting room with its own url, invite people from the web application by entering their email addresses, or launch a meeting from a program you're already using (Microsoft Outlook, Lotus Notes) via native integration.
Attendees can choose whether to dial in using VoIP, a toll-free number, or directly from their laptop using any standards-based conferencing system (Skype, Polycom, etc.). That interoperability is especially helpful when you need to collaborate with people who don't use Webex. If your plan includes the "Call Me" feature (an additional fee), attendees can receive a call directly on their device at the time of the meeting, rather than dial in and use a passcode.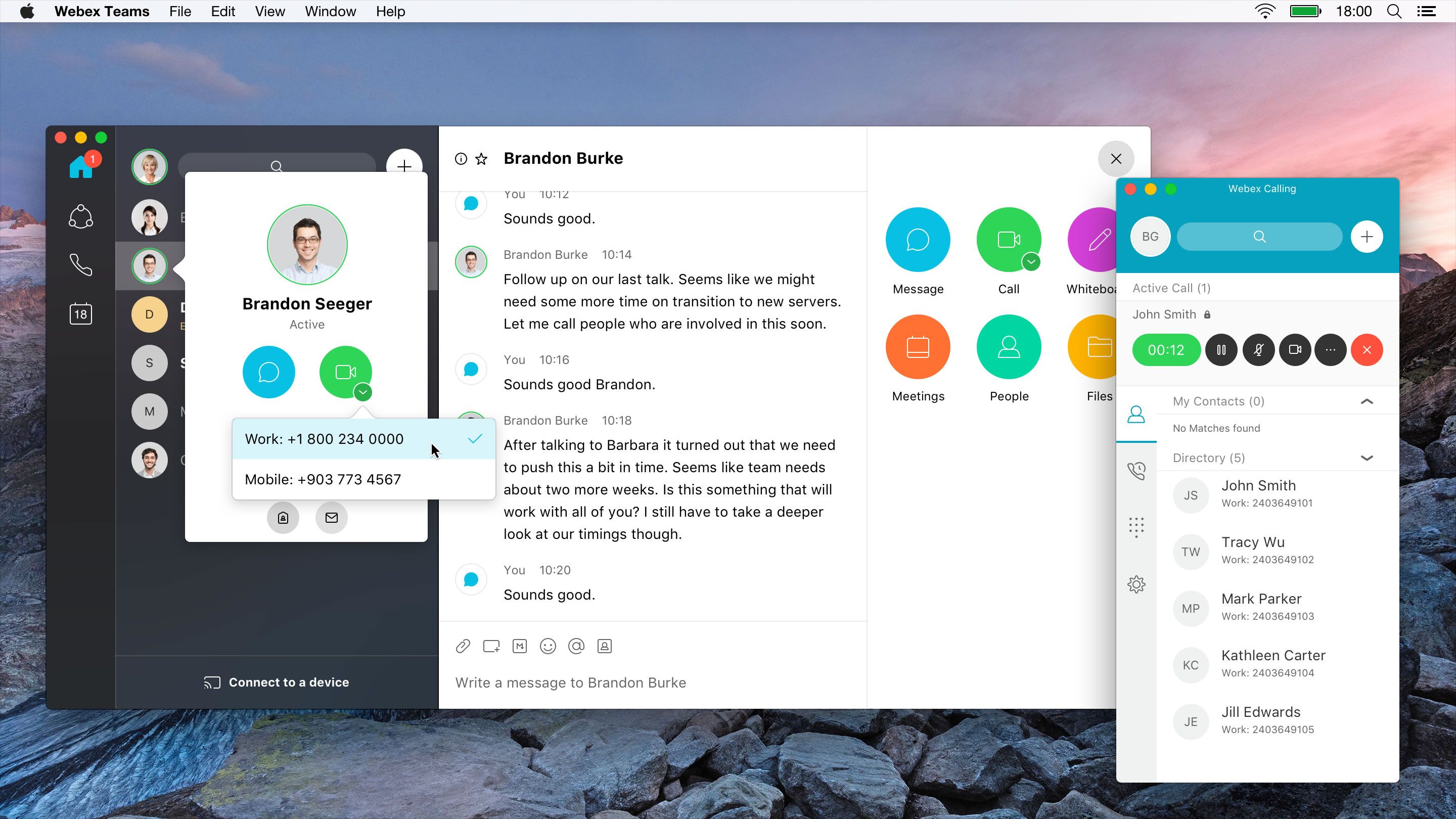 In terms of video, meeting attendees calling from their computer or mobile device can decide whether or not to enable their camera, which will stream a live video feed. Caps on the total number of meeting attendees vary based on pricing.
GoToMeeting users can also schedule meetings from a variety of locations — by using an open web address to meet anytime, by scheduling a meeting from the web app, or by launching from an integrated third-party program. They don't offer the same interoperability as Webex when it comes to standards-based video conferencing, so users who want to share live video will need to have the plugin installed. GoToMeeting also doesn't offer a "Call Me" feature, though that may not be as momentous as other distinctions.
For audio conferencing, GoToMeeting lets you choose between VoIP, a toll-based number, or a toll-free option. And again, attendees can join via computer, landline, or mobile device.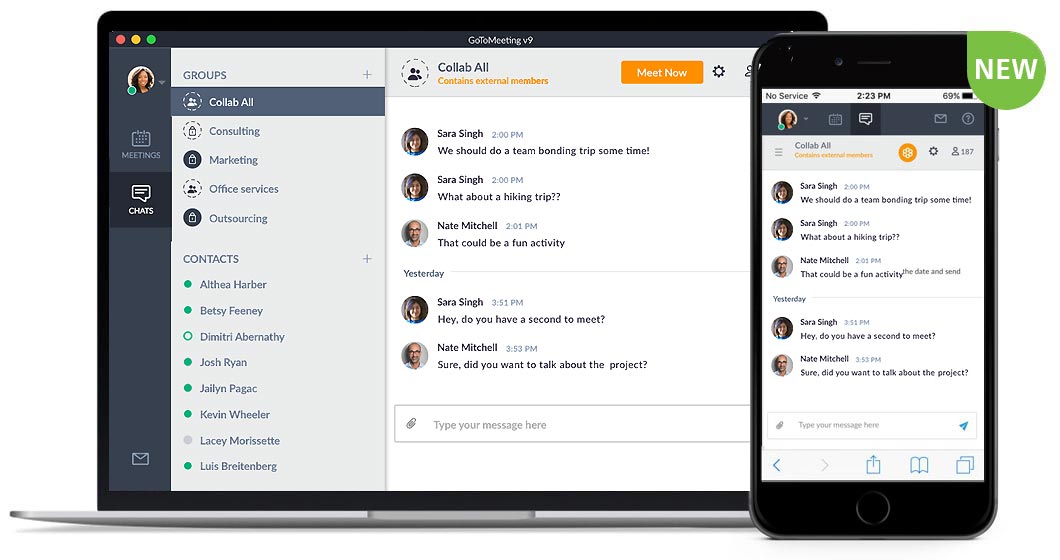 It's worth noting that although GoToMeeting only supports six simultaneous video feeds compared to Webex's seven, they provide higher quality (640x480p, per participant) at all product tiers. Webex only offers HD (720p) for their Training Center solution. Of course, video quality will also depend on the bandwidth and hardware of each participant.
Other Collaboration Features
In addition to real-time audio/video, both solutions offer a number of features that help users communicate and share information.
Webex
Screen sharing and selective application sharing (in case you don't want to share your whole screen)
Markup tools and whiteboard
Meeting recording
Instant messaging and file sharing
Event and webinar hosting (through Webex Event Center)
GoToMeeting
Desktop or application sharing
Shared control of keyboard/mouse
Meeting recording
Drawing tools
Instant messaging and file sharing (view only)
Events/webinars (through GoToWebinar)
As you can see, there aren't any earth-shattering differences between the two platforms, but there are a few subtle distinctions that may impact user experience. For example, GoToMeeting lets users pass off control of their mouse/keyboard to another meeting participant.You can also attach downloadable files to a Webex meeting from the web interface.
ALSO READ: 6 Skype Alternatives for Modern Business Conferencing
And Webex has a small edge when it comes to file sharing: you can upload files as attachments so attendees can see and download them directly. GoToMeeting will let you "share" files in the view-only sense, but if you want people to download them, you'll need to use email.
Systems and Pricing
Cisco Webex offers three paid editions. All paid editions offer the same core features but support different numbers of meeting attendees: Starter, Plus, and Business. Smaller teams who only need to meet with two other people at a time can use Webex's free version until they're ready to upgrade.
GoToMeeting foregoes the free version for a 30-day free trial, but let's be honest, if you're anything other than a brand new startup, you're going to need a paid version anyway. Their solution also comes in three editions: Professional, Business, and Call, which support 150, 250, and 3,000 participants, respectively.
Both solutions are priced per month/ per host, and have the option for annual billing.
Making Your Final Decision
Since their features and pricing are incredibly similar, choosing between Webex vs. GoToMeeting will have a lot to do with your preferences for user experience. Do you want to run virtual conferences from a floating control panel with collapsible menus (GoToMeeting) or a dedicated window (Webex)? Do you want slightly higher resolution (GoToMeeting) or the ability to share downloadable files in-meeting (Webex)?
Still having trouble deciding? Call one our our expert Technology Advisors for a free consultation. And if you're looking for video conferencing as part of a larger office communications suite, check out our VoIP software category page. You can browse vendors and get a custom recommendation based on your needs and requirements.
Technology Advice is able to offer
our services
for free because some vendors may pay us for web traffic or other sales opportunities. Our mission is to help technology buyers make better purchasing decisions, so we provide you with information for all vendors — even those that don't pay us.