What is pipeline management software?
Pipeline management software is a customer insight application that gives sales reps and managers the ability to build a funnel system that includes the necessary touchpoints for their industry. Then, they can track leads as they move through the buying journey. It's often included as part of a sales-oriented customer relationship management (CRM) system.
Sales pipeline management and talent pipeline management both exist, but for the purposes of this article, we'll be discussing sales pipeline management software. If you're looking for talent pipeline management solutions, those can generally be found as a part of recruiting software.
Do you know where the bottlenecks in your sales pipeline are? What about where the most leads are dropping out? 60 percent of buyers want to talk to salespeople during the consideration stage of their buying journey, once they've got a few options narrowed down and are looking for more information. If you don't have the right touchpoints in place, you could be missing out on a huge chunk of business.
Find your new pipeline management software
Compare the best pipeline management software
| Product | Call Recording | Artificial Intelligence | Quoting | Email Templates |
| --- | --- | --- | --- | --- |
| | Yes | Yes | No | Yes |
| | No | No | No | Yes |
| | No | Yes | No | Yes |
| | Yes | No | Yes | Yes |
| | No | Yes | Yes | No |
| | Yes | Yes | Yes | Yes |
Pipedrive

Pipedrive is a combination sales CRM and pipeline software that's customizable and easy to use. The metrics it reports on help sales teams determine what sales actions they should prioritize to close deals. For detailed records on leads, it tracks a variety of contact mediums, including calls, emails, and live chat. It also automates repetitive tasks, so sales teams can give clients more personalized attention.
Copper
Copper is a sales-oriented CRM platform built for small businesses. Integrations with Gmail and Google Calendar allow sales reps to track their meetings and record notes in a single console. In regards to customization options, it includes a drag-and-drop pipeline builder and email templates. The dashboard highlights stagnant leads and determines how likely it is that a deal will close.
Hubspot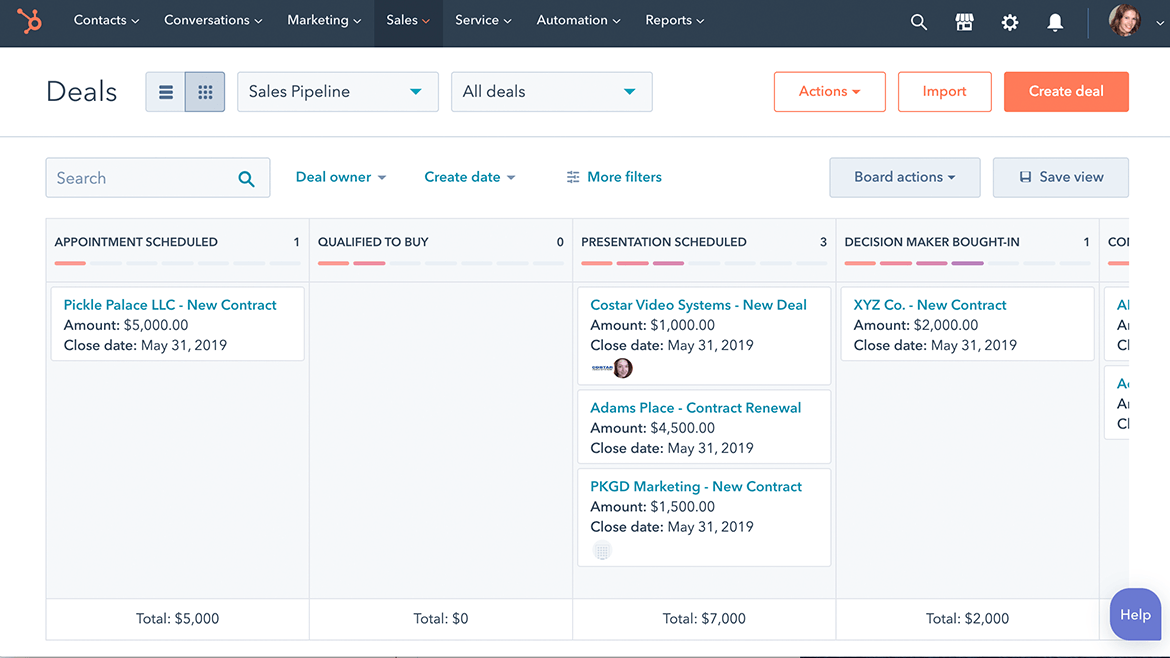 Hubspot is a CRM with optional sales and marketing hub add-ons. The sales hub includes pipeline management that pulls information directly from the CRM to reduce manual data entry and save time. Sales managers can build their ideal funnel, and then reps can move deals through each stage as they progress. Sales dashboards show how the team is progressing against quotas and which deals account for the most revenue potential.
Salesmate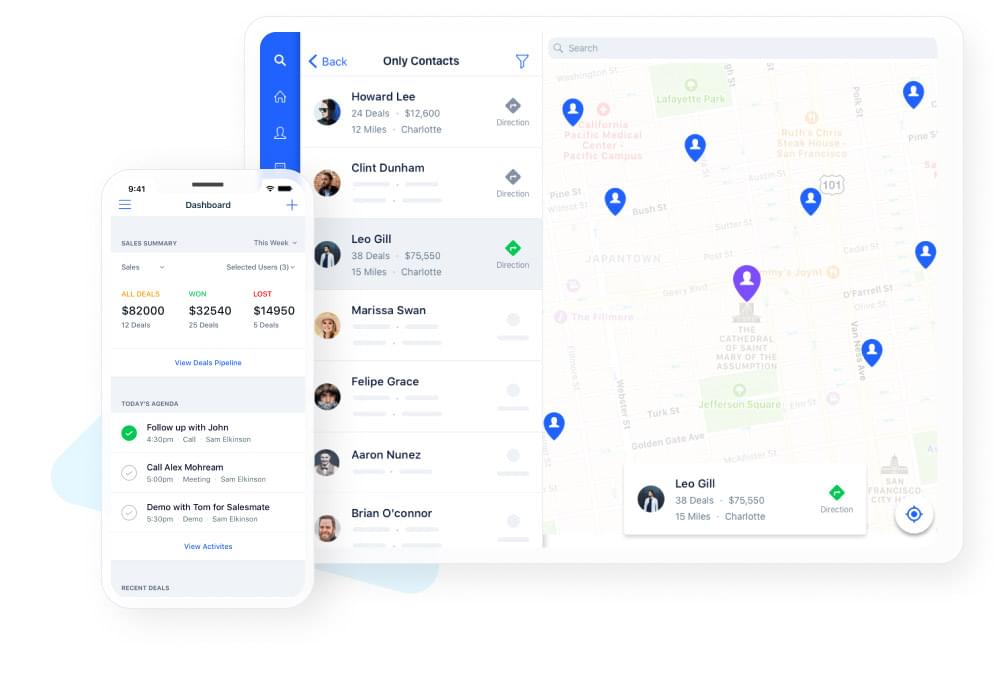 Salesmate is a sales CRM platform that includes pipeline management. It includes automated and personalized emails and texts to maximize sales reps' time and improve engagement with each touchpoint. Call recording lets sales managers review conversations and ensure that their reps are providing the right information. Using artificial intelligence (AI), Salesmate provides actionable insights that reps can use to close more deals.
Salesforce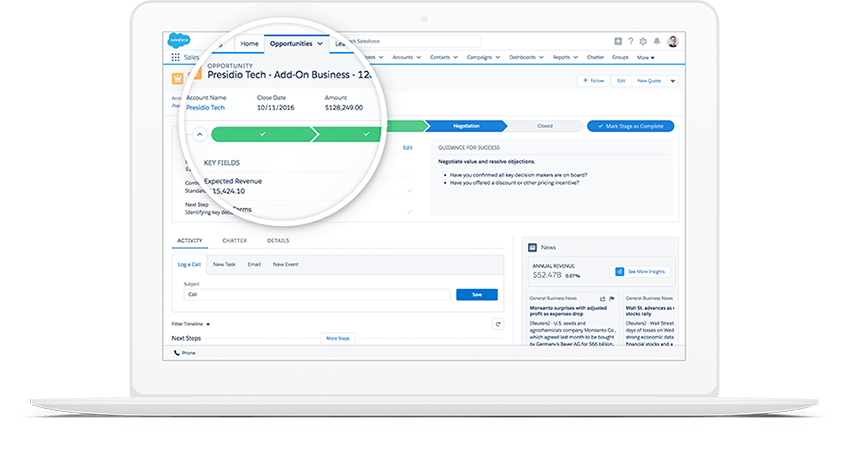 Salesforce is a well-known CRM platform that includes tons of modules and add-ons that organizations can customize to their needs. Predictive forecasting gives managers the ability to run "what-if" scenarios, and real-time updates let teams adjust their approach on the fly. The dashboard uses filters to display the most promising deals, and the AI models identify areas managers need to coach their reps on.
Zoho CRM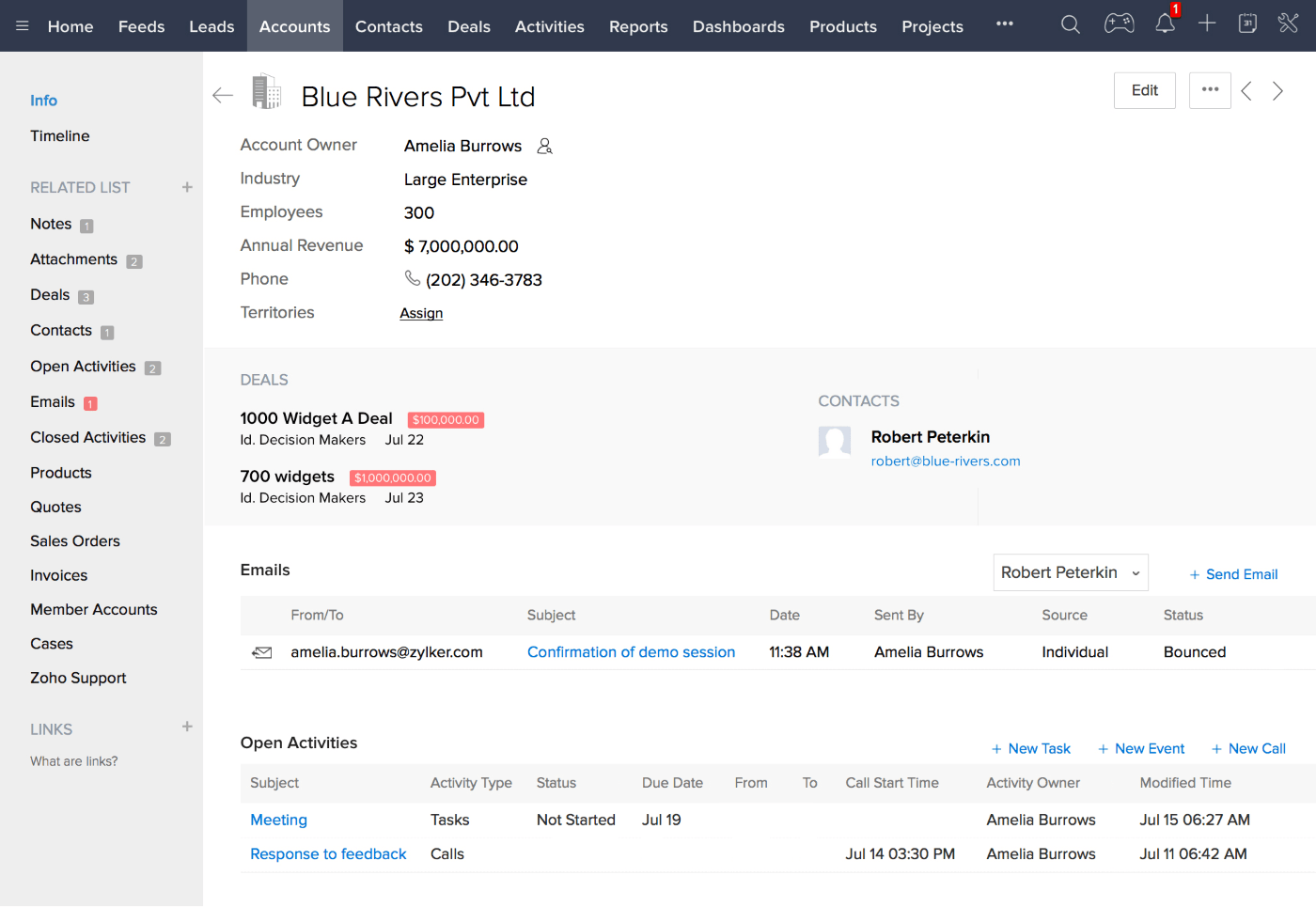 Zoho CRM is a sales-focused CRM that includes AI, automation, and detailed contact records to close more deals. Optimized workflows automate tasks to reduce redundancies and speed up the overall sales process. With omnichannel tracking, salespeople can identify how leads interact with the company's brand over email, phone, social media, and self-service portals on their website.
Which Sales Pipeline Management software is right for your business?
What are common features of sales pipeline management tools?
When choosing the best sales pipeline management software, look for tools that offer at least the following key features.
Funnel creation
Pipeline management software helps each business to create a funnel that accurately represents their sales process. This usually comes in the form of a drag-and-drop editor, making it easy to alter the funnel as the organization's needs change. Each stage in the funnel includes different triggers and automated touchpoints, like contract sending and reminder emails. If their chosen pipeline management system doesn't offer automated touchpoints, companies should consider integrating it with workflow management software.
Also read: Top Business Management Software Solutions 2021
Lead scoring
Using the lead's current stage and other factors like engagement, pipeline management software can calculate the likelihood of a deal closing if a sales rep called them right at that moment and score it accordingly. It then assigns it a score, identifying the most high-value leads.
For example, let's say a company has a lead, Sally, that they're trying to determine whether she's ready to buy. Sally opens an email newsletter from the company, and she gets one point. She clicks on another item while browsing the site, and she gets another point. She comes back to the site 3 days later to download a white paper, and she gets 2 points. Sally then browses the pricing page, and that triggers a notification to offer her a demo (or automatically does that via the chatbot). Sally is engaging with the company's content often, meaning she's showing intent. In this case, the pipeline management tool would likely give her a high score.
Sales teams can use this to determine which leads should get the most attention and maximize their time. An integration to sales intelligence software would also be helpful to improve lead scoring with the use of artificial intelligence.
Opportunity filters
Pipeline software should include opportunity filters. These tools let a sales rep search the database for leads in Cincinnati that have a lead score of 15. The filters can be set to any existing search or tag criteria. Working with the marketing team, sales reps use these filters to create targeted campaigns for companies in Cincinatti that are nearing the purchasing stage. This way, they're sending information that's actually relevant to their target audience, improving engagement for that demographic.
Email sync
With two-way email sync, sales reps can send and receive emails directly in their pipeline management system to keep detailed records of conversations with prospects. Alternatively, many pipeline management solutions provide an email address that the sales rep can BCC on communications with leads to send the emails to the system while keeping the sales rep's inbox separate.
Reminders and updates
Pipeline management tools should include reminders and updates to help sales reps track their meetings, stagnant leads, and overdue tasks. Reminders ensure the sales team is checking in with their leads regularly, while updates let them know when opportunities have moved to the next step in the sales process.
Benefits of sales pipeline management software
Sales pipeline management software optimizes the sales process and offers the following benefits.
Simplified, visible workflows
Pipeline management software makes it easy for sales reps to view their leads in each stage of the buying journey. They can see how quickly their leads move through the funnel, where any are drop out, and how well their leads convert. This visibility gives the team valuable insights that they can use to adjust their sales process as needed.
Detailed communication records
Between email sync, call logs, and even call recording, pipeline management systems provide detailed communication records for all of an organization's leads. Sales managers can easily review the conversations reps are having with their prospects, providing them with coaching opportunities and helping them determine why deals might not be closing.
More accurate sales forecasting
Because sales teams have more visibility into their funnel with pipeline management software, it's easier for them to forecast. They can take a look at the number of leads in their pipeline and their respective lead scores to determine how many are likely to close. Pipeline management software also keeps track of historical sales data, further improving the forecasting process. For the highest level of accuracy, organizations will want pipeline management software that integrates with their other sales tools.
Improved close rate
Because sales reps know which deals to prioritize, they can spend time on the leads that are ready to close while gently nurturing the ones in earlier sales pipeline stages. This keeps them from accidentally ignoring prospects who are actively looking to make a purchase and can improve their close rate.
Common use cases for pipeline management tools
Pipeline management tools are crucial for sales teams that want to improve their sales process. Let's look at a few of the ways they can use the software.
Account-based marketing (ABM)
Companies that try to market to everyone ultimately spread their messaging too thin and don't really end up marketing to anyone. Account-based marketing (ABM) encourages the sales and marketing teams to work together and create a list of ideal clients. Then, they refine that list to find similar accounts and create marketing campaigns that appeal to those demographics.
Sales pipeline management software improves ABM campaigns because sales reps can filter their existing leads and find companies that have similarities and are in the same funnel stage. Using this data, the marketing team can then tailor campaigns to convert these leads.
Lead generation
Using the lead scoring features of sales pipeline management alongside their historical data, organizations can determine the types of companies that are most likely to convert and create lookalike profiles for lead generation. Organizations need this data to identify new opportunities that have a high likelihood of closing and give sales reps a more concrete idea of the companies they should be targeting.
Once a company has identified these lookalike prospects, sales pipeline management allows them to easily add them to their sales funnel and assign them to a sales rep.
Revenue forecasting
Sales pipeline management software determines which deals are most likely to close based on historical data and other factors to create a sales forecast. The organization can then integrate their pipeline management software with their accounting software to combine this sales forecast with their overall revenue forecast for a more accurate prediction.
After forecasting, pipeline management software also includes a sales dashboard that shows the company how they're performing against the forecast. The sales team can then adjust their approach and account for areas that are underperforming.
Finding the best pipeline management software for your business
Each business has a unique sales pipeline, so you need a pipeline management system that lets you customize your funnel. You also need to be able to see which sales rep owns which leads at a glance, prompting you to reach out if a lead has been stagnant. To find the best pipeline management software for your business, create a short list of three to four tools you're considering and then check out their free trials, if available. This will give you an idea of their pipeline builder capabilities and let you see how the platform will work for your business.