My team spends a lot of time on the phone helping business professionals find the perfect software solution for their company. And getting researchers on the phone isn't easy — for obvious reasons.
If you need to implement, say, a project management solution because you're struggling to keep projects running on time — then it's not easy to find more time to research your options.
Recently, though, we noticed a remarkable correlation in our data. Millennials — the largest generation in the workforce with the most purchasing power — are less likely to request a call from us, compared to older generations. (It's true of Gen Z too.)
I decided to do a bit of digging into our traffic data to find out why.
According to our web analytics, the older you are, the more likely you are to request a phone call from us.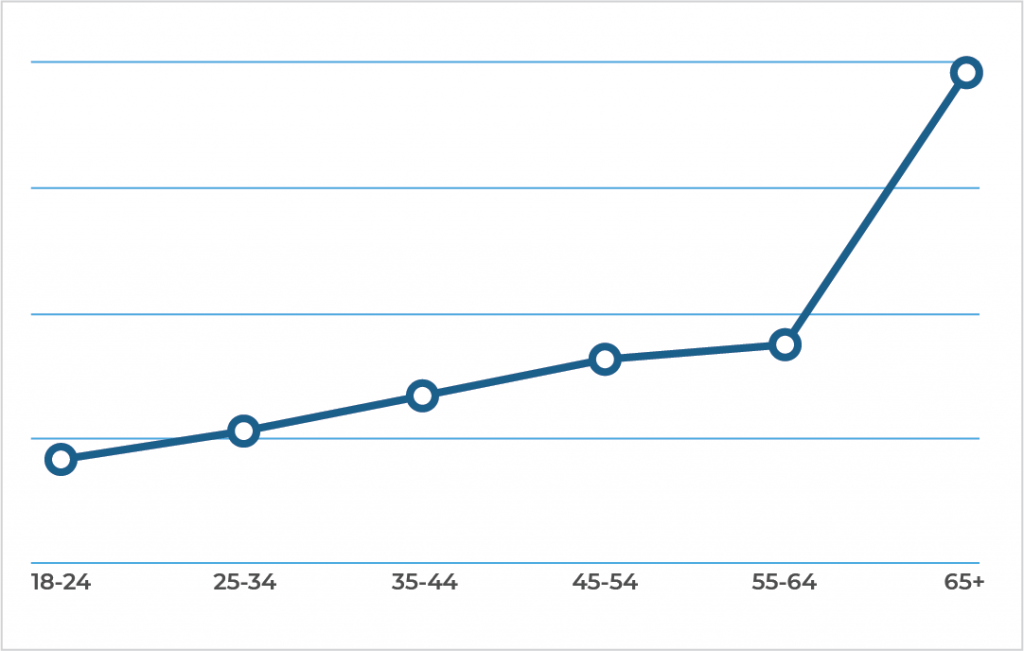 There is no shortage of articles out there that claim to have the answer to the riddle: millennials hate talking on the phone. They'll tell you that the generation glued to their smartphones hates calling people — the irony! Instead, it's all about texting, email, WhatsApp, Snapchat — anything to avoid a direct conversation.
Personally? I don't buy it. While there is truth to the value of growing other channels, the challenge for sales and marketing is about methodology, not the medium.
Stop blaming it on millennials' hatred of phone calls
Millennials aren't all in entry level positions anymore — the oldest of them are nearing their forties. This means many of them are in higher management positions with decision making and purchasing power. They're used to making business calls by now.
Instead, millennials might be less likely to request a call because
they don't know how much time they will be committing
they're worried about vendors blowing their phone up with follow-ups
they're wary of getting stuck in a sales pitch, so they prefer to do their own research.
Let's look at how you can turn these fears on their heads to your benefit.
Adapt your inbound strategy to suit millennials
1. Be transparent and set expectations
Be upfront about what you are asking them to commit to. Be open about how long it will take, which stakeholders need to be involved, and what your expected outcomes are for the call.
And just as importantly: stick to it. If you hit the 30 minute mark and there's still a lot to discuss — get their buy-in to continue. It might feel like additional work, but it sets a precedent of respect and value from the beginning of the relationship.
2. Assume your audience is well-informed
Millennials are smart. In fact, they're currently on track to be the most educated generation in American history.
As such, you should be equipped to adapt your style. If you succeed in setting up the call, get ready to be challenged. And assume that the lead understands your product. You can always move back to a more simplified register if you feel like the lead isn't following.
The challenge for sales and marketing is about methodology, not the medium.
This doesn't mean you should go overboard with tech-speak in an effort to sound intelligent or in-the-know. A good rule of thumb is for your website to embody the kind of language you're hearing elsewhere.
What do you hear more often over the phone: "I'm looking for a digital asset management software with an FTP file uploading feature?" Or, "I'm looking for a way to store files online and share them with colleagues?"
3. Cater to seniority
As I said earlier, millennials aren't just twenty-somethings starting their first jobs anymore! If we're going with the Pew Research Center's definition of a millennial as anyone born between 1981 and 1996, older millennials are now approaching forty years old.
According to The Drum, 73 percent of millennials in the workplace are involved in B2B purchasing decisions, so you should create content that's applicable to their situation.
For instance, as well as creating a 101-style blog post detailing features of a certain software, provide other posts that offer advice on how to negotiate software contracts, or how to convince investors and stakeholders of the software's ROI.
The more relevant, useful information you can deliver, the more likely your inbound leads are to become customers or clients.
—
Looking for help filling your sales funnel — millennials or otherwise? Get in touch to hear about our lead generation programs.
Want to get in front of the right customers?
We can help!
Get In Touch
Technology Advice is able to offer
our services
for free because some vendors may pay us for web traffic or other sales opportunities. Our mission is to help technology buyers make better purchasing decisions, so we provide you with information for all vendors — even those that don't pay us.