Every company will need a CRM, eventually. Their uses are wide-reaching and can make the difference between sales growth and a stagnant pipeline.
While contact management can be pretty simple when you're a small company or a solopreneur, it will get increasingly difficult as you add employees, build your customer base, and gather external stakeholders. From storing vendor information to gathering customer email addresses, a customer relationship management (CRM) platform is the digital equivalent of an address book, but it can do so much more.
And today's businesses need their CRM platform to do much more than handle contact information. Small and medium-sized business (SMB) CRM software doubles as ecommerce or marketing automation platforms. And enterprise-ready CRM systems tap into supply chain, employee management, sales pipeline, and other business-critical systems that keep the company running smoothly.
No matter your business size, these are the features to research for your CRM. At the end of this article you'll find a list of the best CRM platforms for SMBs and enterprise businesses. If you want help choosing the best CRM platform for your needs, click on the image below and fill out the form. We'll help you cut your research time by connecting you with best-fit vendors today.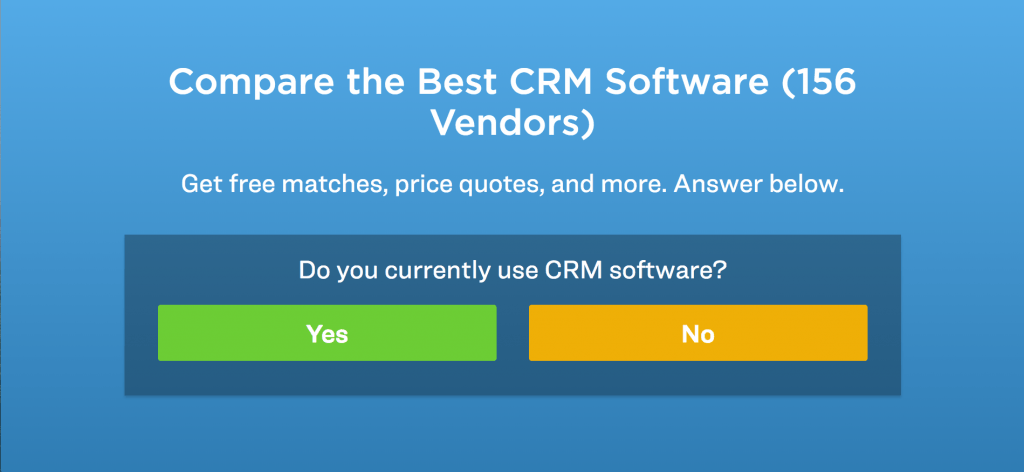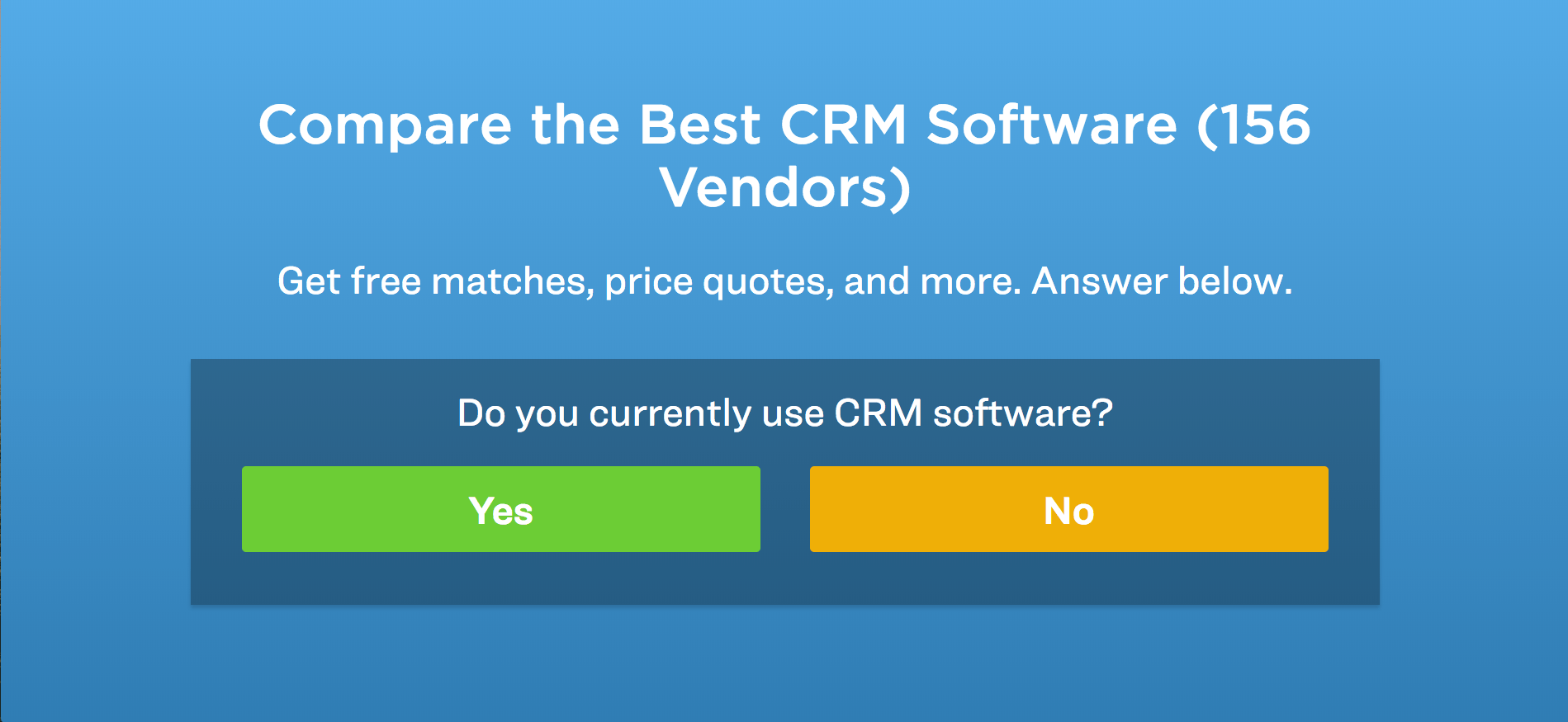 CRM platform features to research
Contact Management
Contact management features in CRM software vary widely from system to system, but at their core these tools store information on individuals and businesses. The best CRM platforms will go a step further and make this information searchable, so you can filter your contacts by location, company size, or custom tags in addition to searching by known names. Pair this with the ability to export lists of contacts to and from other software integrations, and you've got a powerful tool for understanding your customers, vendors, and contacts.
Integrations
Got marketing and sales tools you already love? You don't have to give them up to start using a CRM (or switch to a new one). Find out early in your CRM research process what other apps your CRM works with, either through a native integration or through a custom API. At minimum, your CRM should work with your current email provider. From there, the sky's the limit!
Marketing Automation
While you could export your new customer list and upload it to your email tool every time you want to send an email newsletter, it's a lot easier to set up automated marketing campaigns right in your CRM. Look for a CRM platform that sends welcome emails, automated responders, and can manage canned responses. Your team will spend less time writing emails and more time closing deals.
Quotes and invoicing
Writing new quotes and invoices for every deal isn't just tedious, it's prone to mistakes. A CRM that manages the quote process and stores invoices in a central location keeps your team from offering unnecessary discounts while giving you a (manageable) electronic papertrail. And when your quotes and invoices live in a single tool, you can analyze sales performance, deal size, and the overall process to find bottlenecks or duplicate best practices.
The best CRM platforms for large and enterprise businesses
Zoho CRM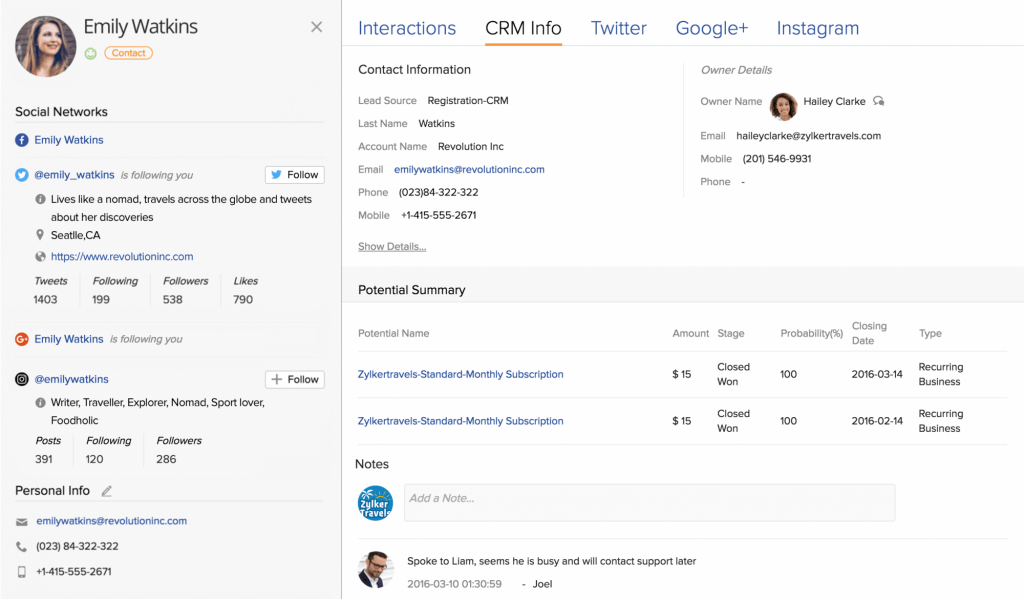 Zoho CRM comes equipped with contact management tools and integrations to email platforms. Use the webforms, contact pages, gather leads from events and trade shows with the mobile app, or run search ad campaigns directly from the platform. Take advantage of the sales automation features to move new contacts quickly through your pipeline. Zoho CRM also integrates with lots of your existing software to round out your sales stack.
Also Read: Hubspot vs. Zoho CRM: An In-Depth Look to Help You Choose Your Next CRM
---
Salesforce
Salesforce is an enterprise-level CRM with a dedicated customer base and extensive training tools. The platform is highly customizable and uses AI to help teams make more sales, faster. Salesforce comes ready to integrate to a wide network of marketing, service, support, and enterprise tools that put this CRM system at the center of many companies' business processes.
Also Read: Salesforce Alternatives: Top 5 CRMs
---
Microsoft Dynamics 365
Like the other two enterprise CRM platforms on this list, the Microsoft Dynamics 365 sales tools come packaged among a wide network of business tools that manage sales, marketing, field service, and customer support capabilities for large businesses. Dynamics includes lots of dashboards and visualizations that help you explore and understand your data. Tap into the Dynamics automation tools to streamline your processes and drive sales growth.
Also Read: Microsoft Dynamics 365 vs. Salesforce
---
The best CRM platforms for small and medium businesses
Act! Growth Suite
Act! Growth Suite combines contact management with marketing automation features to help you build a fast and effective customer pipeline. Quickly import your contacts from an existing CRM or your current contact management system (even if that's a set of spreadsheets). The sales pipeline tool pairs data visualization with project management tools to help you increase sales and understand your customer actions at every step of your process. Our Product Selection Tool can help you find the right CRM system for small business that suits your company best.
Also Read: Best Practices for CRM Implementation and Training
---
Copper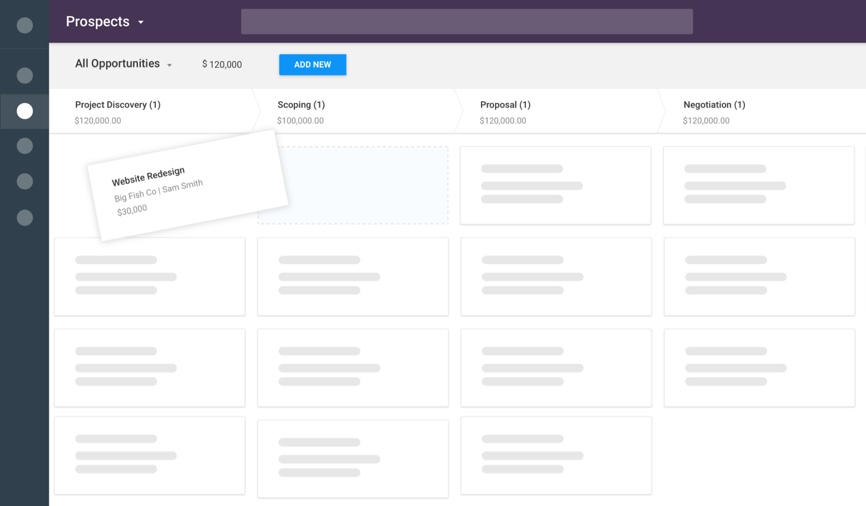 Copper is a CRM built to integrate with Google and G-Suite to help you grow your business. The Gmail integration means you can manage, update, and track customer conversations right in your email platform. Powerful automation features make Copper a great choice for growing teams that need to build their contact lists but don't have a lot of time to spare on CRM maintenance.
Also Read: Which CRM Is Right For You? Comparing Apptivo, Base, bpm'online, Insightly, and Copper
---
Apptivo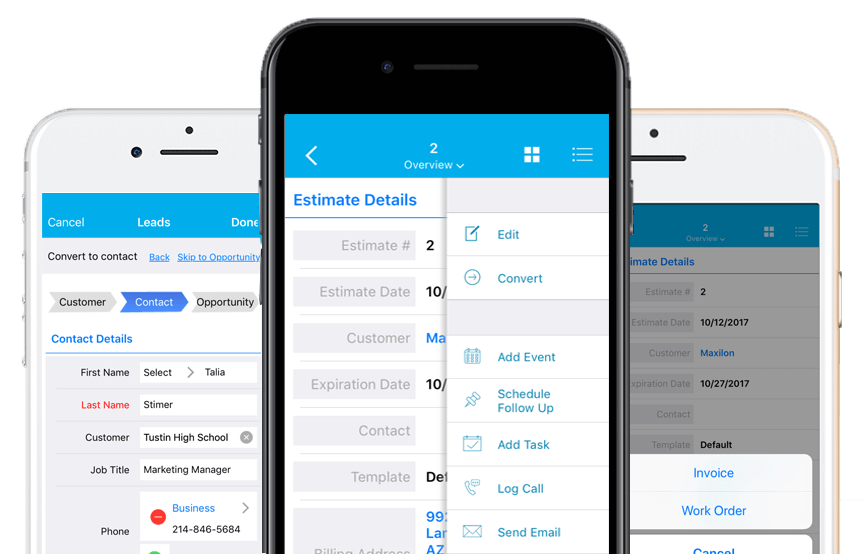 Apptivo is a CRM with business management and ERP features built for small and medium-sized businesses. The software combines financial tools like expense reports, invoicing, and inventory management with sales, field service, and procurement features. Sprinkle in some marketing automation, and you have a full-service business management platform that can scale and grow along with the business.
Also Read: The Best Small Business Software: The Complete List
---
Choosing the best CRM Platform
Choosing the right CRM software for your company is critical to continued growth and success. TechnologyAdvice can help you cut through the noise and find the right CRM for your business. Contact us today and one of our Technology Advisors will listen to your needs and set you up with a short list of qualified vendors. The call is free, and it only takes five minutes.
Top CRM Software Recommendations
Create a better way to work with Wrike work management software. Automate time-consuming admin tasks so you can focus on work that matters most. Kick-start projects and workflows with pre-built templates, increase collaboration with intuitive communication tools, and boost visibility with a variety of project views. Visualize projects with Gantt charts or Kanban boards and keep stakeholders informed with automated reporting and status updates. Anything is possible with Wrike at your fingertips.
HubSpot is an intuitive CRM that makes managing your sales pipeline a breeze. Everything you need to track important metrics, set up time-saving flows and automations, manage clients seamlessly, and grow your business is available in one tidy dashboard. Plans are available for businesses at every stage of growth, starting at 100% free. Start taking the guesswork out of business management today with HubSpot CRM.
Freshsales is a full-fledged sales force automation solution for sales teams. It provides everything a salesperson needs to- attract quality leads, engage in contextual conversations, drive deals with AI-powered insights, and nurture customer relationships. With built-in email, phone, chat, and telephony, Freshsales empowers sales teams with more time for selling by automating the sales process and increases efficiency and productivity in their daily activities.
Need a Little Help?
Talk with a software expert for free. Get a list of software that's great for you in less than 15 minutes.
Technology Advice is able to offer
our services
for free because some vendors may pay us for web traffic or other sales opportunities. Our mission is to help technology buyers make better purchasing decisions, so we provide you with information for all vendors — even those that don't pay us.