Like Hansel and Gretel dropping breadcrumbs in the forest, consumers generate pieces of data with every digital action they take. An estimate from IBM suggests that consumers generate 2.5 quintillion bytes of data every day.
A quintillion has 18 zeros behind it, just so you know.
Most businesses interact with their clients by utilizing customer relationship management (CRM) but they struggle to exploit the vast pools of data that accumulate in their CRM software. An overwhelming 71 percent of CMOs told IBM that they feel completely unprepared for the rapid growth of customer data.
Compliance + Technology

Half of the equation for success is, of course, getting your employees to comply with data entry policies. You can't draw insight from data that is fragmented, incorrect, or missing. The other half of the equation lies in employing the best tools for mining, evaluating, and organizing your data. This article will focus specifically on CRM systems with built-in or addable analytics tools designed to turn raw data into insight.
CRM analytics tools help you organize your data into decipherable sections and develop a working knowledge of the bigger picture. Common features include:
Segmentation
Forecasting (sometimes called "predictive analytics")
Automatic notifications (triggered by events, such as purchase patterns)
Real-time analytics (the most sought-after business intelligence feature, according to our recent buying trends study)
Benchmarking (to keep you apprised of performance)
Profitability analysis
Visualization tools
Some CRM analytics tools are fully functional out-of-the box. Other products are purchased separately and integrate with compatible CRMs. We'll look at some examples of both.
FOR SMALL TO MEDIUM SIZED BUSINESSES

---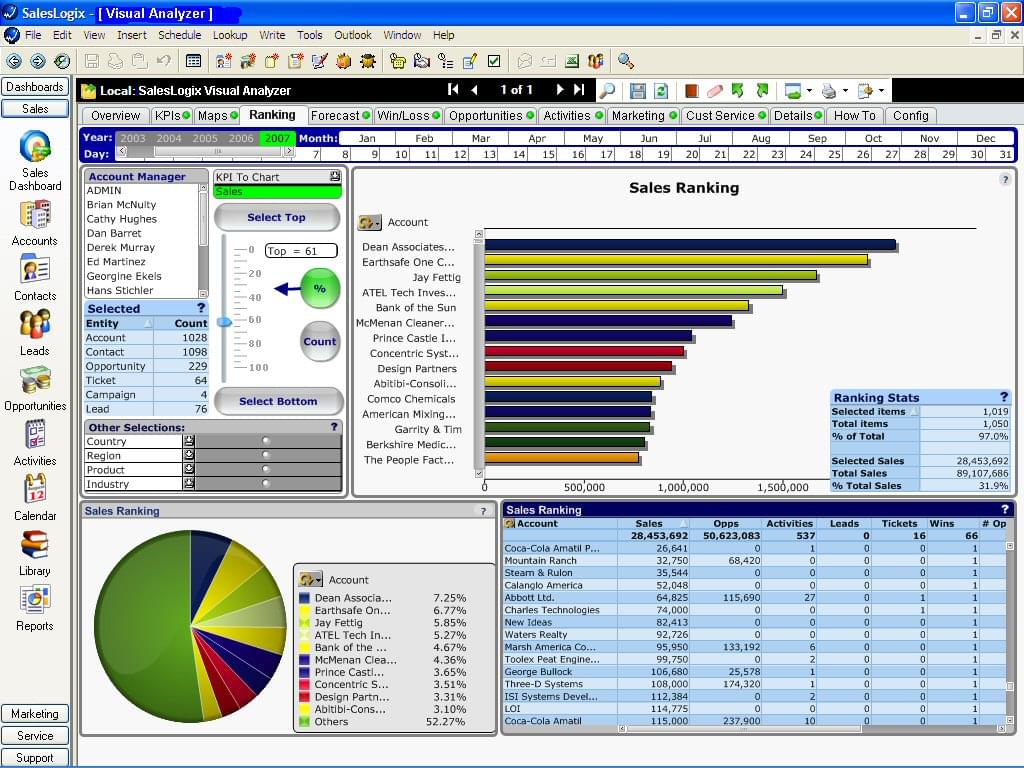 Saleslogix is a cloud-based, multi-departmental CRM that was bought out in September by software giant Infor. The buy-out bodes well for Saleslogix, as Infor plans to invest heavily in product enhancements while continuing to offer Saleslogix as a standalone platform. We'll focus primarily on the existing analytics of their CRM, which are already powerful, considering Saleslogix's affordable price tag, and the fact that you don't need to purchase a separate add-on to access them.
For starters, Saleslogix gives you access to the standard reporting and list management features that come with most CRMs, such as pipeline visualizations and pre-built KPI managers. But it doesn't stop there. Saleslogix gives insight to the whole hierarchy of users, from sales reps to department heads and executives. These insights and reports include timeline visualizations, real-time and ad-hoc reports, discovery analytics, data mining, online analytical processing (OLAP), and specialized business intelligence.
This is great option for ambitious but budget conscious organizations looking to plow through some records and better understand their customer base.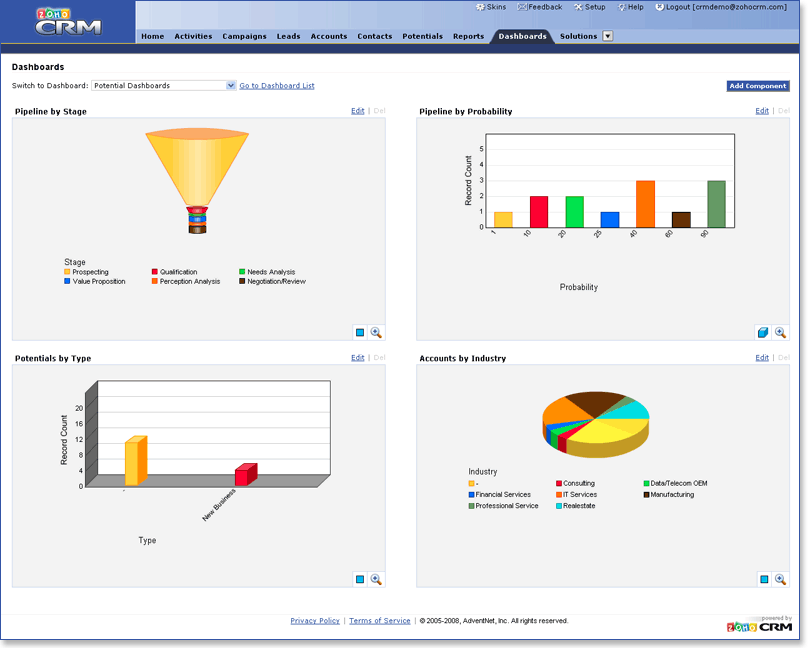 Zoho offers CRM solutions for organizations of any size, but because of its scalable pricing model, it's a popular best-of-breed alternative for small and medium sized businesses. Zoho has its own web-based application suite, which although not as diverse as the Salesforce App Exchange, gives users the ability to tailor their version to a specific set of business needs.
When it comes to analytics, you have two options, the first of which is to settle for Zoho's out-of-box features. They're pretty basic — dashboards, forecasts focused on the sales cycle, and some essential reporting features.
Or, you can check out their "Advanced Analytics," powered by Zoho Reports. These are more sophisticated and offer unique collaborative features, such as the ability to develop and share reports with colleagues using customized access control. Advanced Analytics lets you create sales funnels, make projections, measure team KPIs, as well as print and export reports in multiple formats. The only downside is that you'll have to purchase it separately in addition to your existing CRM subscription. Zoho has a smaller market presence than some best-in-class vendors, but that didn't stop it from ranking among the top 15 products in the 2014 CRM Market Index.
FOR ENTERPRISES

---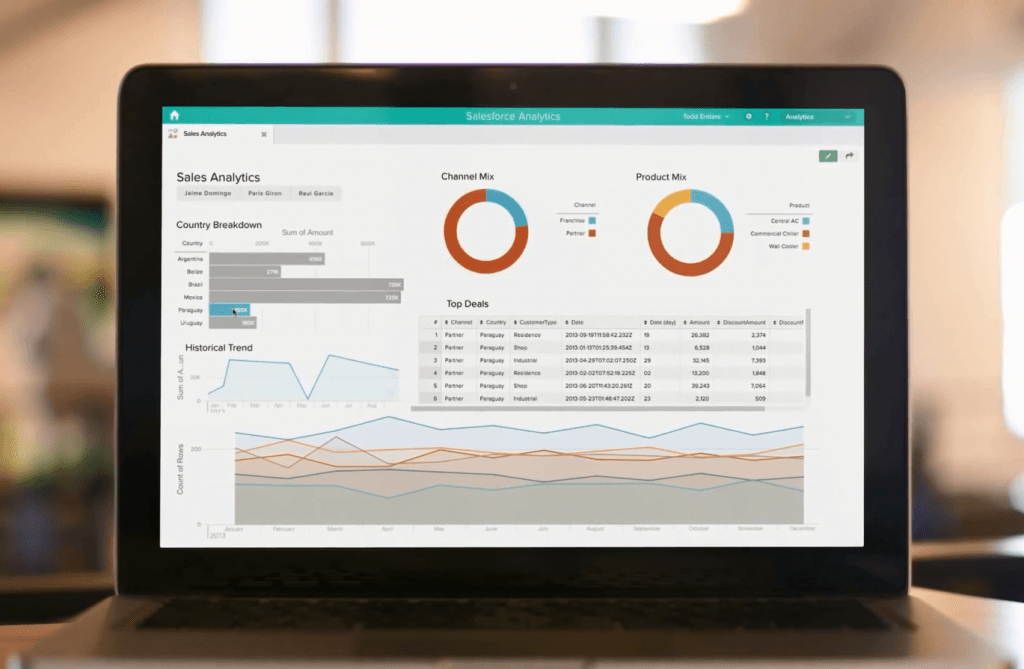 Salesforce is one of the leading CRM vendors on the market — well, it IS the leading vendor. With its well-known cloud platform and a fully stocked app store, Salesforce is capable of handling just about any CRM demand for a variety of industries.
Even the basic Sales Cloud has some workable analytics built in. Similar to Zoho, you have two options: stick with the basic, pre-integrated reporting features, or upgrade to their the new Analytics Cloud powered by Wave. Wave is the result of Salesforce's 2013 buy-out of business intelligence startup EdgeSpring, and it seeks to give users understandable, actionable intelligence that doesn't require constant IT support. With the Analytics Cloud, you can mash up different data sets and create customized, interactive dashboards, conduct search-based inquiries of your data, enact detailed filters and groups, and access all of it on the go from the intuitive mobile app.
You'll pay more for this brand new plug-in, but if the power and versatility match your business needs, the investment may be worth it. You can check out their "analytics playground" to preview the new system on your iOS device.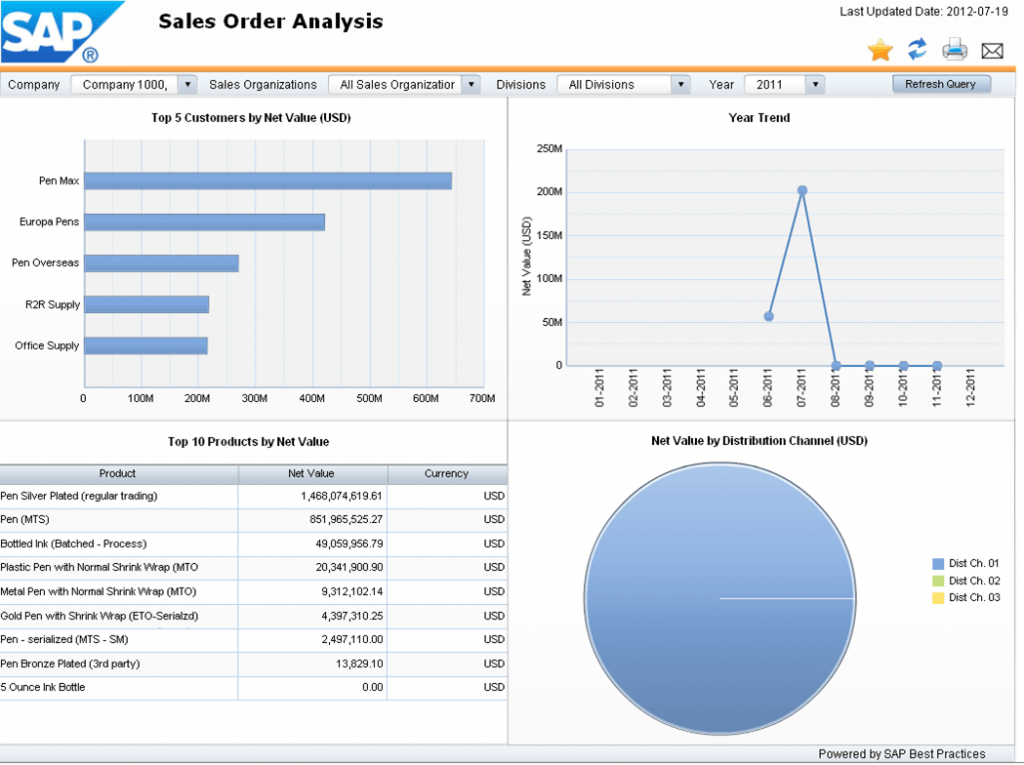 SAP is another giant in the CRM industry. They offer a variety of heavyweight solutions for engaging with customers across marketing, sales, and support channels in real time. One of SAP's main selling points is that it incorporates Big Data analytics into the basic functionality of each industry's CRM.
For example, their marketing CRM uses analytics to identify opportunities and increase the success of current campaigns. Their sales CRM leverages analytics to make pipeline predictions and identify gaps before they happen. SAP even taps into the hidden potential of unstructured data through its smart social media monitoring features. So far, we have advanced reporting, segmentation, marketing analytics, and sales forecasting, and we're still discussing the basic package.
If that isn't enough, SAP offers a separate, in-memory engine called SAP HANA that can run analytics on up to 80 terabytes of data at a time, as well as perform search-based analysis, data mining, rapid drill downs, and unstructured data analytics in both predictive-capacity and real time.
If you're a huge company with a dark data problem, HANA might be the solution for you.
***
Research has shown that every dollar a company invests in analytics yields a return of about $10. If you're an IT buyer, you may hesitate to pick the more expensive CRM just because of its analytical tools, which seem like fancy abstractions to you. Don't make that mistake. Even as you read this sentence, consumers are producing terabytes, petabytes, exabytes of data. Without effective analytics, your CRM will quickly fall behind.
Top CRM Software Recommendations
Fully-customizable Zoho CRM provides unified solutions for businesses of all types and sizes. Conduct your Sales & Marketing analytics to gain insights using Dashboard views and Automate your daily routines. Customize your CRM theme based on your industry needs using Canvas, Omnichannel communication for streamlined communication between teams and customers, handle customer support from within the platform to improve customer relationships. Get Started with Zoho CRM now!
Pipedrive is a sales-focused customer relationship management tool that teams of all sizes love using. It visualizes your sales pipeline and helps to make sure important activities and conversations won't get dropped. It also sports built-in forecasting, integrations with other software such as Google Apps, MailChimp and Zapier and an API for those that like to "roll their own" software solutions. Full functionality for just $15 per month.
HubSpot is an intuitive CRM that makes managing your sales pipeline a breeze. Everything you need to track important metrics, set up time-saving flows and automations, manage clients seamlessly, and grow your business is available in one tidy dashboard. Plans are available for businesses at every stage of growth, starting at 100% free. Start taking the guesswork out of business management today with HubSpot CRM.
Need a Little Help?
Talk with a software expert for free. Get a list of software that's great for you in less than 15 minutes.
Technology Advice is able to offer
our services
for free because some vendors may pay us for web traffic or other sales opportunities. Our mission is to help technology buyers make better purchasing decisions, so we provide you with information for all vendors — even those that don't pay us.