Business intelligence (BI) software moved to the cloud provides the same services as on-premises BI solutions. A business that chooses a cloud solution can remove all on-premises hardware associated with the BI software. On-premises cloud BI and cloud-based solutions operate the same, but there are other issues a cloud BI solution presents that businesses need to know.
What is cloud BI?
A public cloud-based business intelligence application affords companies the same capabilities and features as an on-premises BI solution, except the BI application is accessed through a web browser. Business intelligence software helps businesses make smarter data-driven decisions using business analytics, data mining, predictive analysis, and data visualization tools. Companies using a Software-as-a-Service (SaaS) cloud-based BI solution benefit from not having to upkeep hardware or BI software.
What are the benefits of cloud BI software?
Besides cost savings from not performing any maintenance upkeep, companies also reap faster implementation of a cloud BI solution since the cloud vendor takes care of the installation and configuration hassles. Additionally, automatic scaling, improved data sharing, automatic updates, easier integration, data storage and manipulation, and robust security measures benefit companies using a cloud BI solution.
What are the advantages of a cloud BI solution versus an on-premises solution?
A business intelligence cloud solution has several advantages over an on-premises cloud BI solution. Cost savings and no maintenance upkeep are already mentioned, so here are some other advantages:
Accessible from anywhere – using a web browser, the business intelligence cloud software can be accessed from anywhere as long the Internet is available.
Scalability – A cloud BI solution offers flexibility in billing as companies pay for the services they use to meet business demand versus on-premises, which is a fixed cost that does not adjust based on business demand during slow usage periods.
Affordability – A cloud business intelligence solution has an initial upfront cost to get started. From there, businesses make monthly payments based on usage, so the need for any annual maintenance contract for on-premises support is eliminated.
Better Cybersecurity Protection – Cloud vendors dedicated a team of security experts to ensure a business's data is adequately protected by using data encryption, multi-tiered caching, enhanced authentication measures, security analytical tools, and automatic security updates.
Advanced-Data Sharing – Cloud BI collaborative analytics tools enhance knowledge sharing and reporting combined with linked workflows that team members can easily access in the office or remotely using a single interface to access on-premises or cloud data.
Automatic updates – Cloud BI software updates are automated, and any security updates or patches are the cloud vendor's responsibility, allowing the company to use the cloud service to focus on its mission.
Easy to use – Cloud BI software features and tools are easier to learn with a self-service tool allowing users to learn through guided workflows and an intuitive web-based interface.
Disadvantages of a cloud BI solution
Despite the advantages of a cloud BI solution, on the flip side, some disadvantages exist too. Depending on the cloud computing model a business selects, there are some drawbacks managers need to know.
The SaaS platform is popular since the cloud vendor controls all software and hardware. With a SaaS cloud business intelligence solution (as noted below in Figure 1.), companies lose the ability to customize the cloud BI application fully, and you become entirely dependent on the cloud vendor. Moving to a cloud BI solution makes businesses vulnerable to potential Internet outages that can affect productivity. Cloud vendors can also increase the Total Cost of Ownership (TCO) over the lifetime of the cloud vendor-provided services.
What is the best cloud computing model for cloud BI services?
The cloud computing models are Infrastructure as a Service (IaaS), Platform as a Service (PaaS), and Software as a Service (SaaS), as depicted in Figure 1. The SaaS computing model releases the company of any responsibility for maintaining or updating any hardware or software and removes any need to keep an IT staff. The only cost businesses should be paying is what they use per month of the cloud-provided BI services.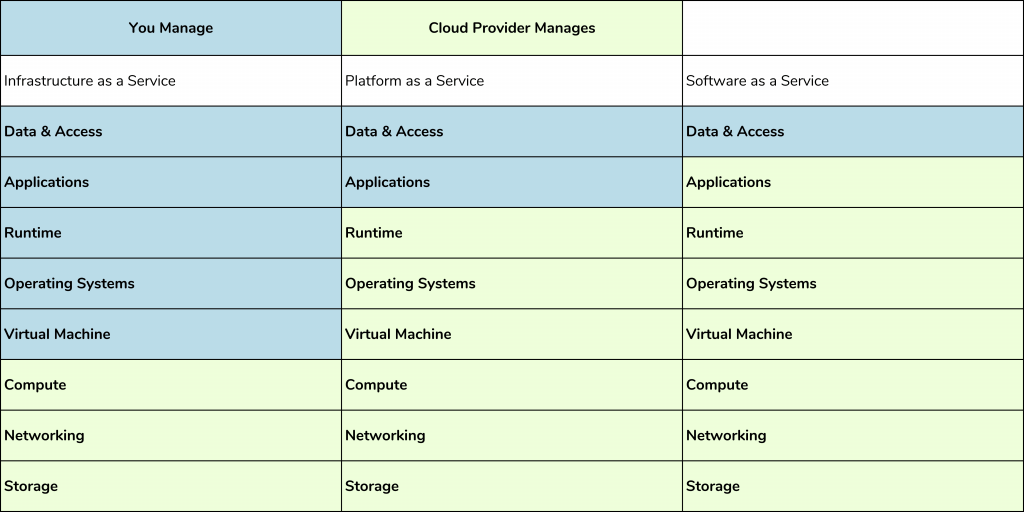 Figure 1.
The IaaS and PaaS computing models will require in-house IT staff to maintain and support the remaining software, which conflicts with the overall cost savings when moving to a cloud BI solution. The best computing model is the SaaS solution, as it has the potential to generate the highest cost savings.
Featured Partners
1

Domo
Domo puts data to work for everyone so they can multiply their impact on the business. Underpinned by a secure data foundation, our cloud-native data experience platform makes data visible and actionable with user-friendly dashboards and apps. Domo helps companies optimize critical business processes at scale and in record time to spark bold curiosity that powers exponential business results.
2

Yellowfin
Yellowfin provides a fully white-labeled, embedded analytics experience for enterprise software applications using a single integrated platform, which includes action-based dashboards, stunning data visualization, automated analysis and data storytelling. Its low code UI, together with automated alerts and AI-generated insight explanations help make it easier for your customers to realize true self-service business intelligence.
3

Wyn Enterprise
Wyn Enterprise is a scalable embedded business intelligence platform without hidden costs. It provides BI reporting, interactive dashboards, alerts and notifications, localization, multitenancy, & white-labeling in any internal or commercial app. Built for self-service BI, Wyn offers limitless visual data exploration, creating a data-driven mindset for the everyday user. Wyn's scalable, server-based licensing model allows room for your business to grow without user fees or limits on data size.
What are the key features of cloud BI solutions?
Cloud business intelligence tools and features improve the overall operational efficiency of a business with enhanced collaboration by sharing data insights in real time. Executive dashboards that display easily understood real-time data to managers promote better and faster decision-making. Artificial intelligence (AI), machine learning (ML), and natural language query (NLQ) are essential AI tools that cloud BI tools use to perform automated analytics, predictive and prescriptive analytics, including other types of AI-based analytics.
A cloud-based business intelligence solution will have similar features to an on-premises cloud BI application. The cloud-based BI solution's key features are collaborative knowledge sharing, the availability of high-performance computing, and cloud tools with built-in data connectors that can integrate with other databases and cloud services. Cloud business intelligence also offers rapid data processing that handles high-intensity analysis using additional hardware resources not readily available with an on-premises BI solution.
Popular cloud BI solutions
Many cloud business intelligence solutions are available on the market, and Zoho Analytics and Domo are two examples of excellent cloud BI products.
Zoho Analytics: This product is a cloud-based business intelligence and reporting software solution. The vendor product features a drag-and-drop interface, customizable dashboards, and a collaboration tool to share data on tables and reports for team members to provide input. Zoho Analytics provides connectors for structured query languages (SQL) and NoSQL databases and the ability to connect with other cloud databases. This Zoho product is compatible with Windows, Macs, iPads, and other devices with an internet connection.
Domo: Domo uses real-time analytics represented in data visualizations such as charts, plots, infographics, or animations and is viewable on any desktop or mobile device. Domo provides over 150 chart types that make it easy to build visualizations in minutes. This BI product can create different visualization types and test on desktop and mobile devices by toggling between the two devices for viewing. You can access and collaborate on dashboards using your mobile device. Domo also offers over a thousand native data connections.
What are the challenges in using a cloud BI solution?
Regardless of the cloud computing model you choose, data is the responsibility of the business using the business intelligence cloud. Loading data into cloud storage is challenging even when using the cloud-based Extract, Transform, and Load (ETL) process. Depending on the Relational Database Management System (RDBMS), there are specific tools you can use, like Azure's AZCopy or Azure Data Factory tool, which helps load your initial data into Azure storage.
Data governance policies and procedures need to be documented that outline chain-of-custody, quality of the data, and data lineage, which tracks where the data originated and how it changes over time.
When using a public BI cloud solution, businesses need to understand their business locations' latency and response times while planning a cloud BI deployment. Connectivity can become problematic if response time impacts productivity. A bad internet connection can drive up costs using a cloud BI solution. Hence, the company using cloud services must monitor the costs of using a cloud business intelligence solution. Though mentioned already, cybersecurity vulnerabilities are always a concern when cloud BI services are available through the public Internet.
How do you mitigate those cloud BI risks?
A good cloud vendor should provide a basic level of protection with encryption and authentication policies and procedures already in place. You also want to ensure backup and recovery features are included in the cloud vendor's best practices to protect data. Businesses can help themselves by implementing annual cyber security training covering best practices for remote work, mobile attacks, and not being victimized by phishing attacks.
Some cloud vendors offer built-in data management tools. Still, businesses need to have a data governance policy that covers how data is collected and stored and the roles and responsibilities of those who work with the data. A data governance cloud-based tool like Microsoft Purview can help with governing your data to be sure the data is consistent and trustworthy before the data is used to make business decisions.
An internet connection is not 100% reliable, and latency issues can occur anytime. Whether the Internet is momentarily down or a latency issue keeps happening, businesses need a plan to deal with Internet issues. Companies using cloud BI tools and features need to validate that if there are problems with the Internet, the cloud BI tools can still be used offline and synchronized with the cloud-based BI tools once the internet services are restored. Another option is to use a direct connection like AWS direct connect service that can be a backup to the Internet.
What are the limitations of using a cloud BI solution?
Potential downtime due to unreliable internet services is a major concern when using cloud computing. The threat of a data or privacy breach due to inadequate security measures that can lead to a data leakage or any type of vulnerability attack are inherent limitations that can be minimized with the proper cybersecurity countermeasures and best practices.
Limited control, flexibility, vendor lock-in, and possible hidden costs that may emerge at some point are all limiting factors that businesses must accept. To not be surprised by cloud computing limitations, companies must ask questions and ensure these concerns are appropriately addressed in the agreed-upon contract.
How to implement a cloud BI solution
When implementing business intelligence software and tools onto a cloud platform, businesses need in-house expertise from the cloud vendor or a contracted implementation specialist whose specialty is cloud BI tools and the data movement to the cloud. The steps to successfully BI software and data to the cloud begin with a plan.
Create a strategy – Identify useful and valuable data and the functions and features you want the cloud BI tools to do or perform.
Define key performance indicators (KPIs) – The KPIs will be used to track the efficiency of processes and workflows using time, budget, or quality KPIs.
Setting a Budget – Knowing what you want a cloud BI tool to do helps businesses budget wisely and not buy an expensive cloud business intelligence solution that is more than a business needs.
Cloud BI tool selection – A business intelligence cloud solution should meet all of your KPI requirements and be within your allocated budget, but keep in mind when requiring deep-scale BI analytics, additional software may be needed.
Selecting a BI platform – A SaaS computing model for a cloud BI solution removes any IT maintenance and support cost except for the monthly fee of using the SaaS services, but if a business selects a private or hybrid cloud computing as an option, there will be additional cost along with SaaS services costs
Make a roadmap with critical paths – Create timelines, dependencies, and critical paths with a project management tool or an infographic that displays planned work activities, KPIs, data, and milestones.
Data Preparation – The identified data needs to be synchronized using AI technological tools that help validate the accuracy and uniqueness of the data.
Proof of concept – A pilot project is needed to test the readiness of the business intelligence implementation plan.
Implementation of a cloud BI solution – After the proof of concept is tested and errors are corrected, the cloud BI solution is implemented, assessed, and continuously tweaked until the cloud BI solution meets the intended performance expectations.
Finding the best cloud BI solution for your business
Selecting the right cloud BI solution will be different for each business, but each company should yield three cloud BI benefits that indicate you made the right decision. The three benefits are accessible from anywhere, price performance, and cost savings. These three cloud BI benefits can be used as a barometer to determine the success of your original strategy and whether the performance and cost are meeting expectations.
You can start your journey by evaluating our Business Intelligence Software Guide.
Technology Advice is able to offer
our services
for free because some vendors may pay us for web traffic or other sales opportunities. Our mission is to help technology buyers make better purchasing decisions, so we provide you with information for all vendors — even those that don't pay us.