Data is important to every business. You need to know how your marketing campaigns are performing, what demographic you serve, and when your website traffic spikes. As great as this information is, it's what you do with that data that makes all the difference. The most successful businesses move beyond big data and create systems of insight within their companies.
Table of Contents
For help finding the right business intelligence software, use our Business Intelligence Product Selection Tool. After answering a few questions, you'll get a short, unbiased list of tools that will meet your company's needs.
What are systems of insight?
Reports and data are a large part of business intelligence (BI), but once a report is made, someone still needs to analyze it to get meaningful insights. Systems of insight combine people, processes, and technology to sort through all the data a company collects to gain the most useful knowledge. Many use artificial intelligence (AI) to analyze trends and perform the next logical step for the company's benefit. For example, if a company is running paid ads, their system of insight might analyze the results of those ads and automatically adjust bids for ads that are underperforming. Systems of insight technology automates tasks, so companies can more easily act on the data they collect.
Also read: 6 Prescriptive Analytics Tools to Up Your BI Game
How to leverage systems of insight
Companies can leverage systems of insight at different points in their business: customer service, point of sale, and marketing.
Customer service
A successful business is about more than just making new sales; the company also has to keep their existing customers happy. Businesses can use systems of insight to optimize their customer service teams and provide a better customer experience. One way to accomplish this is for companies to determine what time of day or week they have the highest call volume and ensure they have more customer service agents available at that time.
Additionally, companies can use AI in the form of chat bots to help customers initially and provide basic information like hours of operation or policy information. This frees up the live agents to work with customers who are having problems, so they won't have to wait as long for help. If customers have more complicated questions, the system can then transfer them to a real person.
Point of sale
Systems of insight used at the point of sale allow companies to upsell or cross sell more easily. Collecting data from customer purchases and analyzing the things they bought together provides the company with suggestions for future customers. For example, retail websites that have "customers also bought" or "frequently purchased together" sections are using systems of insight to upsell their customers.
This feature can also be used when an item is out of stock. Companies can add a "similar items" section, so the customer will have other options to look at and will be less likely to look at another company for what they need.
Marketing
Along with keeping existing customers, systems of insight can help businesses acquire new ones. By analyzing data from marketing campaigns, a system of insight can determine the best time to send emails or post social media updates, automate bid adjustments for paid ads, and replicate the best-performing campaigns. Systems of insight increases the efficiency of marketing campaigns to improve ROI.
Tools for creating a system of insight
People and processes are a major part of systems of insight, but you also need the right technology. Business intelligence software provides tools that companies can use to retrieve and analyze data and turn it into meaningful insights.
Sisense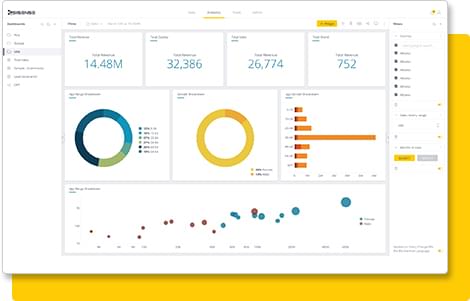 Sisense provides market insights for businesses of any size. This software is perfect for users who aren't the most technologically savvy. Users can easily share data, customize dashboards, and combine multiple sets of data. Sisense also offers natural language processing, allowing a company to automate tasks that are dependent on communication, like ordering and customer service.
Dundas BI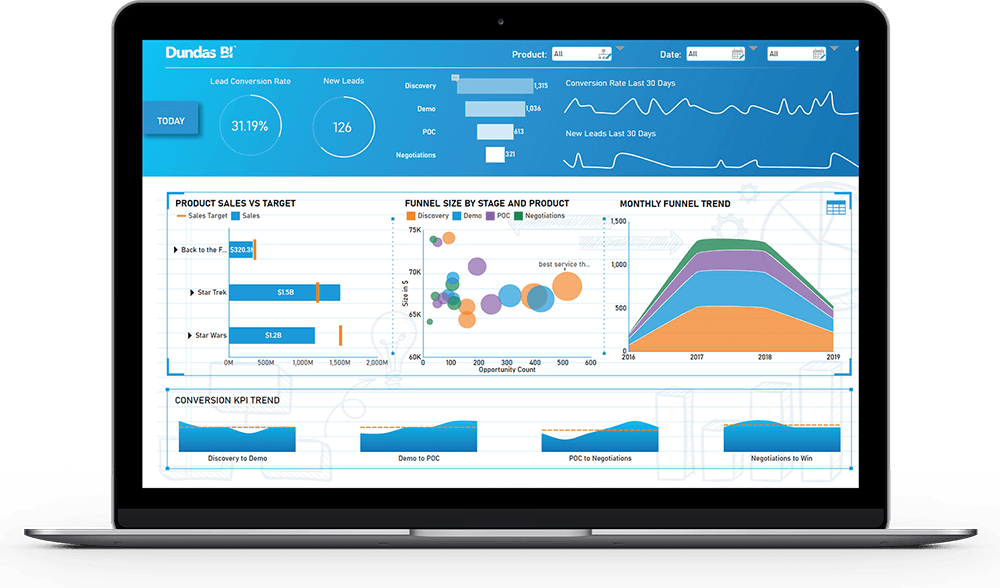 Dundas BI offers users the ability to customize their dashboards and build their own reports to focus on the data that's most important to their business. The system helps employees of any skill level gain insights specific to their role, so they can make more informed decisions. Users can also access Dundas from anywhere using their tablet or mobile phone.
Domo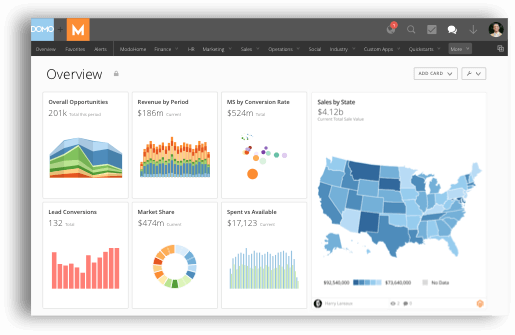 Domo offers a large selection of data sets and assists businesses in finding efficient solutions for the challenges they face. The system displays real-time data, so employees can make informed decisions quickly. Domo also makes collaboration between different departments easier. Through the system, each user can send messages and get updates about individual pieces of data.
Building systems of insight for your business
No matter what industry you're in, systems of insight can help you make more informed decisions to grow and improve your business. Building a system of insight relies on putting data-driven people and processes in place and using technology to collect and capitalize on your company's data.
To find the right BI software to build your company's system of insight, check out our Business Intelligence Product Selection Tool. Answer the questions, and you'll get a short list of products tailored to your company's needs.
Top Business Intelligence Software Recommendations
Build a modern business, driven by data. Connect to any data source to bring your data together into one unified view, then make analytics available to drive insight-based actions—all while maintaining security and control. Domo serves enterprise customers in all industries looking to manage their entire organization from a single platform.
Wyn Enterprise is a scalable embedded business intelligence platform without hidden costs. It provides BI reporting, interactive dashboards, alerts and notifications, localization, multitenancy, & white-labeling in any internal or commercial app. Built for self-service BI, Wyn offers limitless visual data exploration, creating a data-driven mindset for the everyday user. Wyn's scalable, server-based licensing model allows room for your business to grow without user fees or limits on data size.
Yellowfin provides a fully white-labeled, embedded analytics experience for enterprise software applications using a single integrated platform, which includes action-based dashboards, stunning data visualization, automated analysis and data storytelling. Its low code UI, together with automated alerts and AI-generated insight explanations help make it easier for your customers to realize true self-service business intelligence.
Need a Little Help?
Talk with a software expert for free. Get a list of software that's great for you in less than 15 minutes.