Xero vs. FreshBooks is one of the more common face-offs in cloud accounting software. They're similar in price, functionality, and user experience, and they both cater to the small business niche. In this post, we'll take a closer look at both vendors to help you choose the best solution for your needs.
Accounting isn't exactly a favorite pastime for small businesses. Most are busy trying to find customers, explore new markets, and create sustainable strategies for growth. The tired business of ledgers and invoices is usually an afterthought — a chore to be procrastinated or even outsourced.
SEE ALSO: Why the CFO and CIO Need to Collaborate
Cloud-based accounting software can save small businesses from tedious spreadsheets, complicated filing systems, and hours of redundant data entry. But if you choose a product that's ill-suited for your business, you can end up doing more harm than good.
If you're shopping for a small business accounting solution, you've probably come across Xero and FreshBooks and wondered how the two are different. Both offer affordable, cloud-based platforms that simplify and automate accounting for the small business user. But there are some important distinctions to note.
Xero vs. FreshBooks: Vendor Overview
Xero was founded in New Zealand in 2006 by now CEO Rod Drury and his personal accountant. The company went public on the New Zealand Exchange in 2007 and is now worth an estimated $62 million.
Xero has over 540,000 global subscribers and has received numerous awards from Accounting Today, Marketers that Matter, CPA Practice Adviser, and other organizations.
As a company, FreshBooks is a little older — founded in 2003 — but doesn't necessarily own a bigger share of the market. FreshBooks claims 5 million users, which probably divides down to a similar size customer base as Xero. The company has yet to release an IPO (initial public offering).
Xero Industries Served: Retail, e-commerce, high-tech, nonprofit, legal, hospitality, coffee shops, marketing/advertising
FreshBooks Industries Served: Contracting, legal, consulting, personal services, creative agencies
---
Systems and Pricing
Cloud-based accounting software is relatively simple, so you don't have to worry too much about piecing together a multi-module product suite like you might with ERP or marketing automation. You pay one subscription price for one product.
That said, both platforms offer their accounting software in several different pricing tiers, depending on features and needs.
Here's what the breakdown looks like for FreshBooks:
Sprout:

up to five clients

Seedling:

up to 25 clients

Evergreen:

up to 250 clients, includes 1 additional user, team timesheets, and team expense reporting

Mighty Oak: 

unlimited clients, includes 5 additional users, team timesheets, and team expense reporting
As you can see, the biggest differences are in the number of clients you can manage, the number of staff who need access, and the use of team-wide accounting features. Each edition is priced per month and includes phone support during business hours, credit card processing, and data import/export.
Xero, on the other hand, has only three pricing tiers:
Starter:

limited to 5 invoices, 5 bills, and 20 bank transactions per month;

Standard:

unlimited invoices, bills, and bank transactions; includes payroll for 5 employees

Premium:

unlimited invoices, bills, and bank transactions; includes payroll for 10 employees and multiple-currency support
All Xero plans are priced per month and include 24/7 support and free updates.
---
Features
Features are one of the most important areas to consider when you're comparing software, and, incidentally, where you'll see some of the clearest differences between Xero and FreshBooks.
FreshBooks was primarily designed to be an invoicing tool. They've added a few more accounting features through the years, but the core product is still aimed at service businesses that bill clients for their time and expertise (e.g. therapists, architects, lawyers, plumbers).
FreshBooks is built around five areas of functionality: invoicing, expense management, time tracking, reporting, and payments. The basic workflow looks like this: businesses create custom invoices, send them to clients, and receive payments online.
If you're managing project-based work, you can also draw up estimates and easily convert them to invoices when the project is completed. FreshBooks offers native mobile apps for iOS and Android devices and is compatible with almost any currency.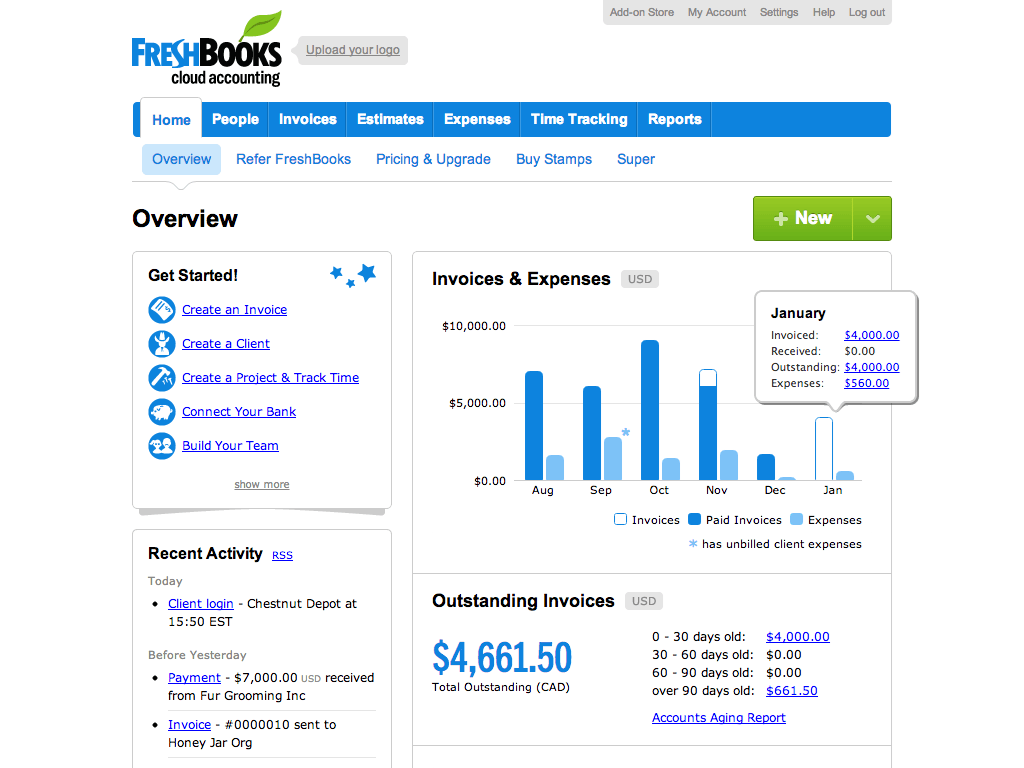 On the surface, Xero seems to cover a wider spectrum of accounting features, which gives it a slight advantage over FreshBooks in terms of utility. Moving beyond the basics (invoicing, expenses, and payments), Xero also provides out-of-the-box features for bank reconciliation, inventory, and purchase ordering.  For a full list of features, check out our Xero product page.
The ability to connect Xero to your bank account means you won't have to move back and forth between two systems, entering and re-entering financial data. You can import and organize bank statements without leaving the software and reconcile statement lines with transactions in Xero. Another perk, Xero is one of the leading alternatives to Quickbooks. If you're looking to switch products, they can migrate your accounting data in as little as three hours.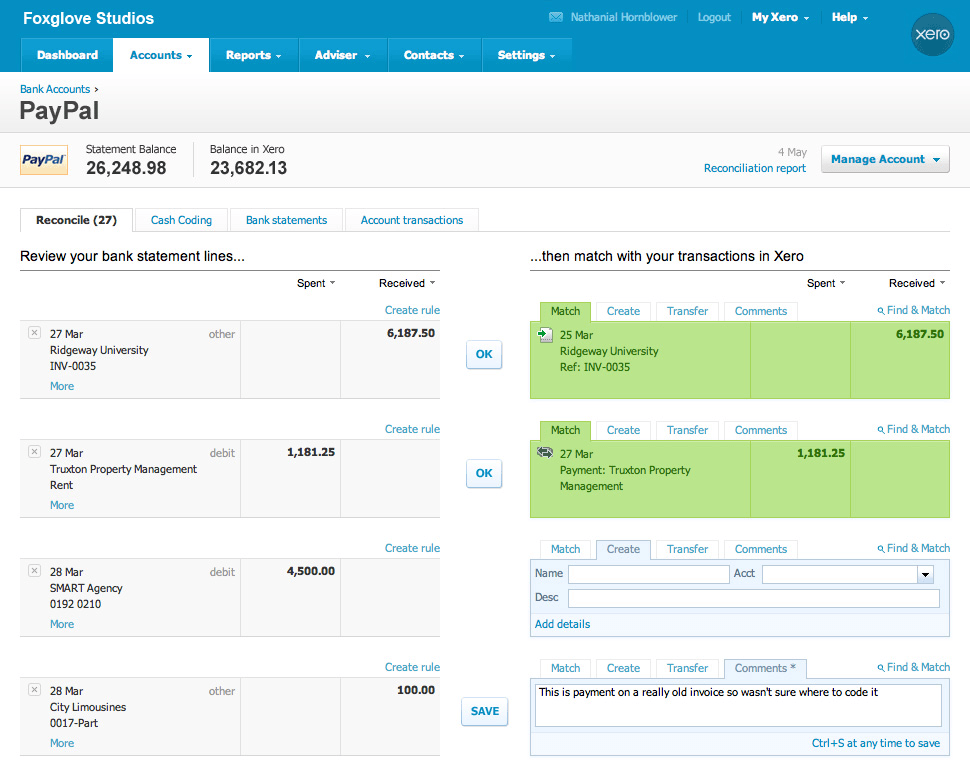 Like FreshBooks, Xero is accessible on the go through native apps for iOS and Android.
---
Apps and Integrations
In some ways, an accounting solution's utility depends on how well it can exchange data with other back-end systems. In most cases, these will be systems that house customer and financial data (a point-of-sale application or a CRM database), but they could also be related to productivity, documents, projects, or e-commerce.
If any of these systems are part of your IT environment and will affect the way you manage finances, make sure the software you choose supports native integration, or at least an API for passing data back and forth.
Xero offers a well-stocked marketplace of 500+ native add-ons for payment processing, customer management, e-commerce, data analysis, POS, and document management. Popular add-ons include Salesforce, Shopify, PayPal, ADP, and Zendesk. For any other integration needs, you can use Xero's REST API service or consult a developer in their partner network.
FreshBooks' add-on marketplace doesn't disappoint, even if it's less expansive. They offer a few options for marketing (HubSpot, ActiveCampaign, MailChimp, Wufoo) and project management (Basecamp, Citrix Podio, Proposify) that you won't find with Xero. For custom integration, you can use the FreshBooks API and webhooks to sync data with third-party applications.
---
Services for Accountants
Beyond the software itself, Xero and Quickbooks offer a variety of tools and services to help accounting professionals maximize job success.  If you're an independent CPA, this could be a pretty big selling point, so it's important to know where the two vendors diverge.
FreshBooks offers a free webinar where accountants can earn 2CPE/CPD credits and a FreshBooks Certified badge to help promote their services. Accounting partners can have their firm added to FreshMap, which is similar to QuickBooks' ProAdvisor tool — an online directory where businesses can search and connect with certified accountants. FreshBooks also helps accountants manage client reports and journal entries through their free Accountant Center portal.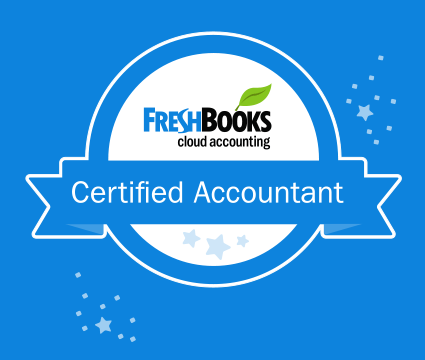 Xero offers a variety of programs, resources, and products for accountants. Their partner program is a great way to connect with new clients and grow your practice. Partners get discounted margins of up to 30 percent, free training, promotional material, and a dedicated account manager. They also get free access to Xero Partner Edition and a listing on the xero.com/advisors directory. Oh, and window stickers. The partner program is graduated based on the number of organizations you work with:

Additionally, Xero also has an online knowledge base full of videos, webinars, and self-paced e-learning courses that help accountants succeed on the job and earn qualified CPE hours.  
---
Choosing the Best Accounting Solution for Your Needs
While there's some considerable overlap in functionality, Xero and FreshBooks are two very different products. FreshBooks is a great choice for small teams or sole proprietorships that need to simplify client billing. As a more robust solution, Xero is a better choice for whole-business financial management or independent accounting.
If you're still having trouble deciding, give us a call. We'd love to help.
And remember, Xero and Freshbooks aren't the only cloud-based accounting solutions. To see a list of options sorted by deployment, industry, and features, check out our accounting software selection tool.
Technology Advice is able to offer
our services
for free because some vendors may pay us for web traffic or other sales opportunities. Our mission is to help technology buyers make better purchasing decisions, so we provide you with information for all vendors — even those that don't pay us.