Gantt charts are a simple, information-rich method of displaying processes and interdependencies. They've been around for over a century, starting on paper and eventually moving to computers and into the digital project management space.
We'll explore what Gantt charts are used for, what their main benefits are, and how to build them.
What is a Gantt chart?
Gantt charts are a visual method of organization that encourages careful project planning. They're built with methodical consideration of the precise order of project development to ensure project dependencies don't slip through the cracks. They also provide a comprehensive look at team member task assignments, estimated timelines for each task, and project progress and deadlines.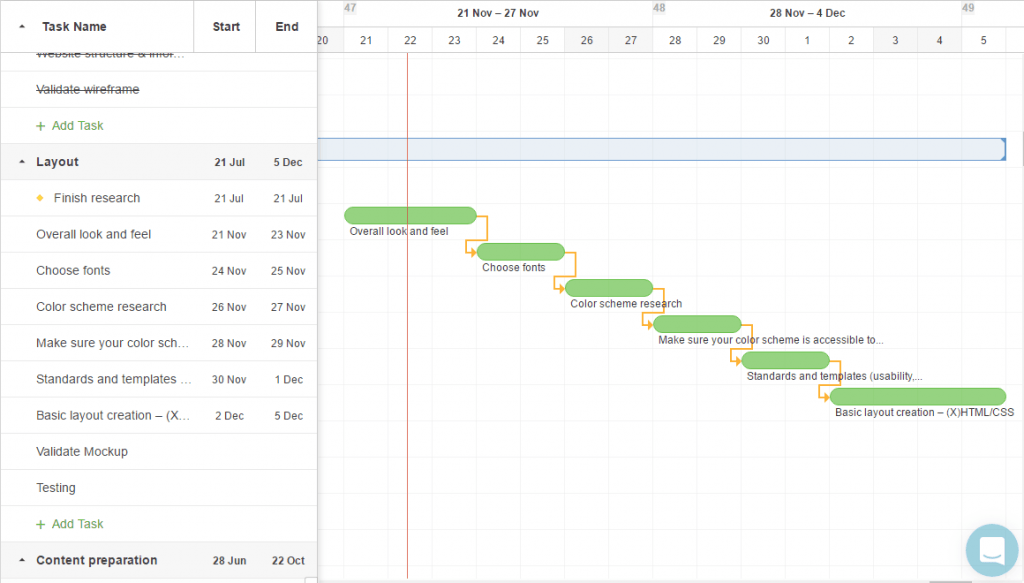 What are the benefits of Gantt charts?
Gantt charts do a phenomenal job of visually breaking down more complex projects into manageable chunks. The whole goal of a well-developed Gantt chart is to give you valuable information at a glance with an emphasis on timelines, deadlines, and dependencies. You can also customize your view with any additional information you need, such as task owners and budgets.
Gantt charts keep projects on track with a little built-in flexibility. As a project progresses, you can adjust timelines and deadlines based on how actuals compare to your previous estimates. You can also shift resources as you see how various tasks turn out and how priorities shift along the way for better budget management.
What are the downfalls of Gantt charts?
While Gantt charts have some wiggle room, they work best for fairly rigid schedules and production orders. If you're in an often-changing industry or have loose project expectations, Gantt charts probably aren't for you. A little change can be accommodated, but too much change will completely shatter your chart.
Gantt charts are also best for longer projects with clear deliverables and don't work well for highly iterative projects. For example, an app development would fit well in a Gantt chart, but a content marketing campaign may need more flexibility than a Gantt chart can accommodate.
Furthermore, if you have a project with tasks that are completely independent from one another, a Gantt chart could work, but you wouldn't enjoy its full benefits—so a different approach will probably be more useful for you and your team.
How to create a Gantt chart
The beauty of a Gantt chart is its simplicity. In its most basic form, all you need to build a working Gantt chart is a piece of paper and the relevant project data. In the modern age, however, it is more efficient and effective to digitize a Gantt chart. Many project management software solutions like Wrike will have built-in Gantt chart functionality, or you could go for Gantt-focused software like GanttPRO.
With a digital Gantt chart, you have the added benefit of real-time collaboration with a project team and the ability to pull project data from a centralized workspace using click-and-drag chart editing. If you're not sure about getting a specialized software, you can build a Gantt chart in Google Sheets or Microsoft Excel, but it may be a little trickier and more time-consuming.
Regardless of what you use to build your chart, creation follows a few simple steps.
1. Gather project details
To start, collect three crucial sets of data:
A list of all the tasks and subtasks in your project
Duration estimates for each task and subtask
Information on what needs to be done for particular tasks or subtasks to begin
A couple of these may rely on other variables, like budget or team capacity, so remember to be as realistic as possible. You may also want to have in-depth conversations with other stakeholders or decision-makers to ensure you have all the necessary details and are making a sound plan.
2. Identify a critical path
Now that you have the data you need, use it to identify a "critical path." A critical path is a complete order of operations, organized from start to finish, that includes every dependent task and leads to a timely deliverable. It should be thorough and give a clear project timeline from beginning to end.
Using a Gantt tool, a spreadsheet, or a piece of paper, start by organizing your main project tasks chronologically and linking them together by dependencies. Then factor in how long each task will take to complete—keeping those dependencies in mind—and how long various tasks might overlap. By now your chart should be taking shape.
3. Better define your path
Now it's time to add more specifics to the project plan. If you'd like to include subtasks in your chart, factor them in using the same process above. If there are any independent or "floating" tasks, which are tasks that can be completed at any time throughout the project, add them to the bottom of the Gantt chart.
Check in with stakeholders and team members to ensure the order of steps and deadlines make sense, and add any extra details into your view, like budget or task owners.
What's the best Gantt chart tool?
When it comes to creating your charts, you have three options: project management software with a Gantt chart module, standalone Gantt chart software, or a spreadsheet program. But which is best for you depends on what you're looking for and what makes the most sense for your team.
Spreadsheet program
Excel and Google Sheets are fairly versatile and capable of building Gantt charts. The main advantage of creating the chart in spreadsheet programs like these is the customizability. However, compared to other options, it has a bloated interface, extra manual steps, and a steep learning curve to create a truly effective chart.
Dedicated Gantt chart software
Dedicated Gantt chart software, like GanttPRO or TeamGantt, is an affordable option that will let you create charts for all types of projects. The downside, however, is that you won't have access to other project management tools like time tracking, resource management, or collaboration. You'll need to acquire, learn, and manage other apps to take care of those aspects.
Project management software
Project management software with built-in Gantt features is an attractive choice because it provides all the tools you need to manage your projects from start to finish. Most modern platforms, like Wrike and Jira are inexpensive (compared to the ROI) and offer a user-friendly, cloud interface.
Organize your project plan with Gantt charts
A Gantt chart can be an indispensable tool for managing medium to large projects. It can create a visual breakdown of your project with clear milestones and expectations, so project managers can have a broader view of project progress to keep things moving.
Gantt charts can be even more useful when part of a broader project management solution. If you're looking for a fitting software for your business, we cover some of the most popular options in our Project Management Software Guide.
Featured Partners
1

Zoho Projects
Zoho Projects is an online project management software that helps teams plan projects and track them efficiently to the finish line. By intuitive reporting of project progress and budget health, the solution enables teams to make quick decisions. Catering to all kinds of teams, Zoho Projects facilitates automating tasks, workflows, and project notifications in a bid to improve productivity.
2

monday.com
With a Gantt chart, effortlessly track project milestones, dependencies, and deadlines to ensure timely project completion, and project schedules, identify overlapping activities, and keep shared stakeholders aligned. With a quick glance, visualize critical paths, allocate resources efficiently, and track progress with precision. By providing a shared view of project timelines, milestones, and responsibilities, the Gantt chart ensures seamless communication, collaboration, and efficiency.
3

FigJam by Figma
Supercharge your schedule with the Gantt chart maker.
With FigJam's work plans, flow charts, and Gantt chart makers, craft a solid project schedule that carries your team across the finish line.
Technology Advice is able to offer
our services
for free because some vendors may pay us for web traffic or other sales opportunities. Our mission is to help technology buyers make better purchasing decisions, so we provide you with information for all vendors — even those that don't pay us.