Growth, excelling at product quality, and finding new insights to improve production and supply chain efficiency are the highest priorities manufacturers share today. Internet of Things (IoT) technologies, software, and systems continue to gain adoption across manufacturing to meet the increasingly complex, urgent needs manufacturers have for real-time monitoring. And manufacturers are also quick to adopt new Enterprise Resource Planning (ERP) systems, modules, and entire platforms to enable their businesses to be stronger, more scalable global competitors. The meteoric rise of analytics, Business Intelligence (BI) and Manufacturing Intelligence is evidence of the intensity manufacturers have to gain new insights to drive greater growth, improve quality and excel as a supplier.
Also Read: How the IIoT is Changing Field Service Management
The manufacturing industry is the world's most prolific at producing data. IoT systems comprised of sensors, applications, and platforms to aggregate, analyze and present real-time data will drive manufacturing's global data output to well over 2,000 Petabytes next year.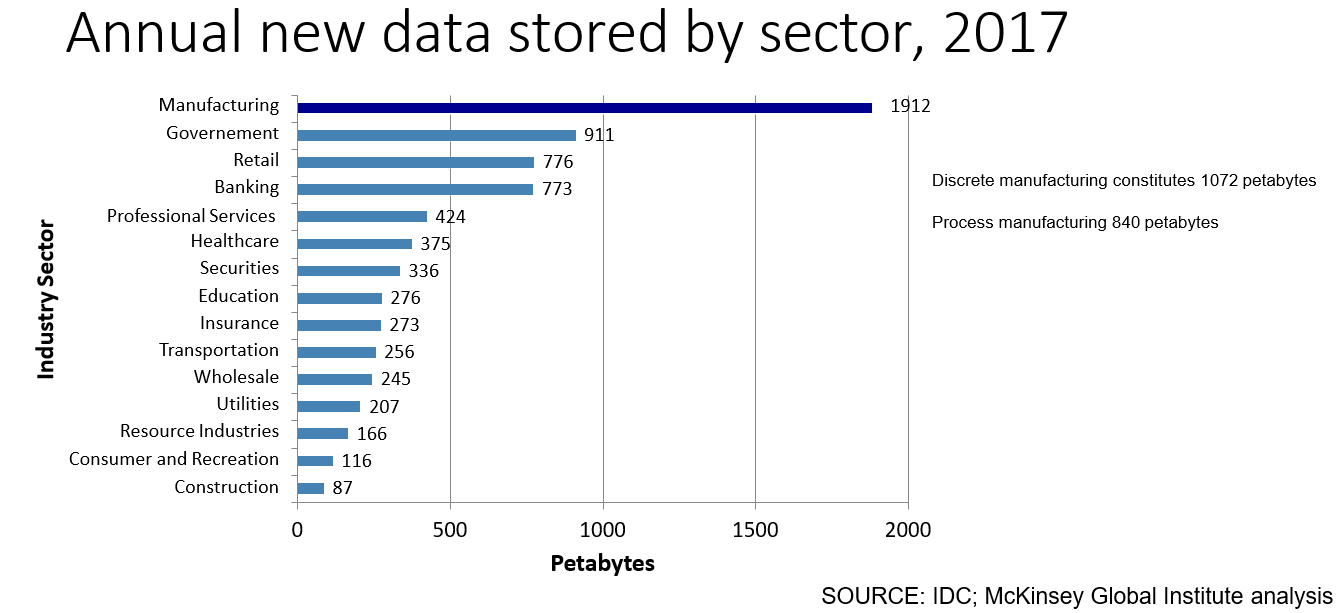 IoT Is The Growth Catalyst Manufacturing Is Looking For
Imagine being able to gain valuable new insights into each step in the supply chain, production, fulfillment, installation and service processes, finding out how each contributes or detracts from total product quality and delivering an excellent customer experience. Then take into account how the daily status of a production plants' machinery has a direct impact on product quality. These are challenging questions to answer using reporting systems built for batch-based reporting. The intensity and urgency manufacturers have to gain these insights is driving a real-time monitoring revolution from the shop floor to the top floor of nearly every manufacturer today.
Manufacturers are taking a pragmatic, results-driven approach to adopting IoT. It's common for a manufacturer to begin an IoT pilot to achieve real-time monitoring into key areas of their production operations. As the pilot progresses, IT teams consider various options for integrating IoT sensor-based data, apps and platforms into their existing IT infrastructure including their ERP systems. The larger the manufacturer, the greater the probability they've grown through acquisitions and mergers, which often bring the need to integrate new ERP and IT systems into the company-wide IT infrastructure. Fortunately, many of the IoT application, systems, and platform providers are providing extensive Application Program Interface (API) and Web Services support which makes integrating with existing systems faster and more affordable. Thanks to APIs and Web Services, the days of having to create hand-coded adapters and connectors to support new technologies are over.
What Does IoT Success Look Like In Manufacturing?
When you strip away all the IoT hype swirling around manufacturing today all you're left with is measurable, reliable results. The five metrics below are the most commonly used in IoT pilots to improve the quality of data, operations, fuel revenue growth and strengthen product quality:
Manufacturing Cycle Time
Quantifies the amount of elapsed time from when an order is taken until the product is produced and entered into finished goods inventory. Real-time integration, applying Six Sigma to know process bottlenecks, and re-engineering systems to be more customer-focused improve this metrics' performance.
Overall Equipment Effectiveness (OEE)
Many manufacturers consider this is the most important metric there is for making sure their daily production operations are stable and profitable. OEE measures the performance of a given machine, product line, work team or entire production center. This metrics is most often used at the machine level to track each production asset's utilization rate, performance levels, and quality. It's calculated using the formula of Availability x Performance x Quality. It's also pervasively used for predictive maintenance of machinery, which the following graphic is based on: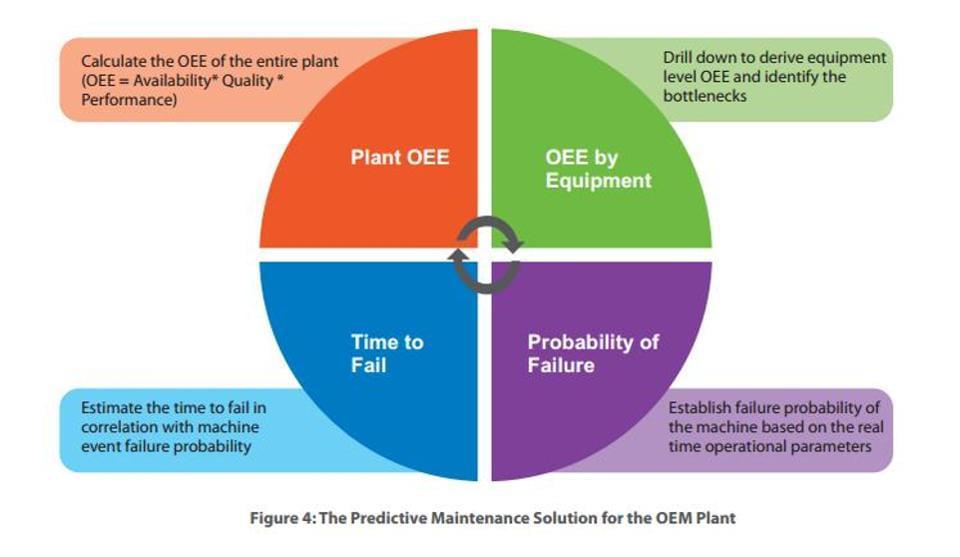 Production Yield Rates By Product, Process, and Plant Location
Yield rates reflect how efficient a machine or entire process is in transforming raw materials into finished products. Yield rates also reflect how stable OEE rates are and how the overall production workflows are operating. Greater real-time integration, improved quality management systems, and greater supply chain quality and compliance all have a positive impact on yield rates.
Perfect Order Performance
Perfect order performance measures how effective a manufacturer is at delivering complete, accurate, damage-free orders to customers on time. The equation that defines the perfect order Index (POI) or perfect order performance is the (Percent of orders delivered on time) * (Percent of orders complete) * (Percent of orders damage free) * (Percent of orders with accurate documentation) * 100.
Return Material Authorization (RMA) Rate and % Of Manufacturing
The percentage of products shipped to customers that are returned due to defective parts or not otherwise meeting their requirements. RMAs are a good leading indicator of potential quality problems.
Manufacturing stands to gain extensively from the introduction and evolution of IOT. These gains will be found not only in the field, but will be especially apparent with the use of ERP software to enable insights, find inefficiencies, and uncover areas for improvement.
Author Bio: Mr. Columbus is currently serving as Principal, IQMS. He is also a contributing writer and analyst for Forbes. Previous positions include Director Product Management at Ingram Cloud, Vice President Marketing at iBASEt, Plex Systems, Senior Analyst at AMR Research (now Gartner), marketing and business development at SaaS start-ups. Mr. Columbus has authored 16 books on a variety of IT-related technologies.

Top ERP Software Recommendations
Acumatica Cloud ERP offers powerful finance and business intelligence tools to streamline company-wide accounting processes. Track costs, control billing, and manage time/expenses with multi-currency support and powerful financial reports. Acumatica makes real-time financial data available anytime, anywhere, on any device. Harness this data to make informed accounting decisions, reduce workloads, close the books faster, accelerate growth, and transform how you do business in the digital economy.
NetSuite is the most trusted cloud-based ERP software in the world, integrating all key business processes into a single system -- financials, inventory, sales, CRM, eCommerce, and marketing.

We're an industry-recognized NetSuite Solution Provider that designs, implements, and supports all aspects of the NetSuite Platform.

Schedule your Personalized NetSuite Demo or get in touch with a one of our NetSuite experts today.
A cloud computing software as a service ERP solution to manage all aspects of your business—accounting management, product management, inventory management, Sales Management, Supply Chain Management, Ecommerce Management, Sales Channels Management, Customer Service Ticketing, Email Marketing, and more. Our Cloud SaaS ERP System, we help organization that are in the distributions, wholesalers, retail, or ecommerce industry.
Need a Little Help?
Talk with a software expert for free. Get a list of software that's great for you in less than 15 minutes.