Key takeaways
Local storage or a private cloud solution requires a business to maintain an entire IT staff.
Have a comprehensive Service Level Agreement (SLA) that covers any type of unplanned outage that can impact cloud storage and services.
The cloud storage vs. local storage debate has been an ongoing point of discussion for years now. The IT staff has convinced an Information Technology (IT) manager to invest in a cloud storage solution versus upgrading the local storage hardware the company has been using for several years. The IT manager knows the cloud storage solution is popular, but the manager wants specific details.
Why is cloud storage so popular?
What makes cloud storage so popular is the accessibility, availability, and usability from an employee's perspective. The ability to access business files from anywhere at any time from a laptop or mobile device is very efficient. It can even be synchronized to an employee's other devices automatically.
What do decision-makers need to know about cloud storage?
Having 24/7 access to business information is a huge concern for any IT manager. Securing and recovering business information is vital, so these are must-have requirements.
Decision makers need to clearly understand how a vendor will protect business information and how efficient the vendor is at data recovery in the event of an unforeseen disaster. Managers need to establish Service Level Agreements (SLAs) with a cloud vendor clearly outlining expected recovery times for any unexpected event or downtime that would cause a business interruption.
There are potential savings that can cover the cost of using a cloud solution by outsourcing the data storage requirement. The immediate ability of a cloud service provider to increase storage as needed adds to that value, as well. However, cost efficiency and the ability to scale up or down depending on demand are also vital. The benefits of being cost-efficient and scalable are the following:
Cost-efficient – Business is no longer required to replace, upgrade, or maintain on-premises data storage hardware and software.
Scalable – As data storage requirements grow, the company does not have to add more primary and backup storage space that may require a larger footprint for the new hardware in a data center or server room.
Cloud vs. local storage: Which is better?
Besides the cost saving, cloud storage provides flexibility and collaboration that allow employees to work from anywhere remotely. An SLA agreement that outlines response times and documented locations where redundant business information is stored ensures business continuity is minimally impacted. In addition, cloud storage solutions give businesses a competitive edge by divesting in local storage IT infrastructure and licensing costs.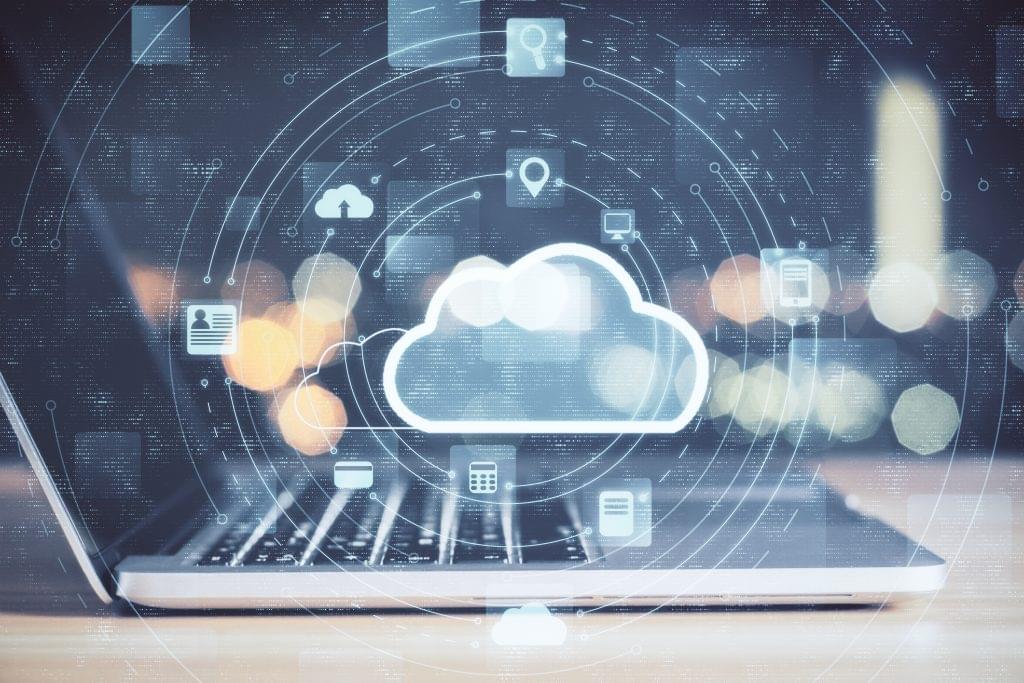 What are the types of cloud storage available?
The available storage options are private, public, and hybrid cloud solutions. The company's IT staff manages the private cloud storage, and the business information is only available within the organization. One of the benefits of private cloud storage is enhanced security since the private cloud is only accessible by the organization using the private cloud.
Public cloud storage is a popular choice since it's accessible via the Internet and can be accessed by authorized employees or customers. Organizations that choose a public cloud option do not maintain a cloud storage system. A public cloud solution is scalable, reliable, and affordable. The hybrid solution combines public and private solutions where businesses get enhanced security of a private cloud with added customization features not available in a public cloud solution.
There are also cloud service models that determine how much a business is involved in the maintenance efforts of supporting the hardware or software while using a cloud solution. The models are Infrastructure-as-a-Service (IaaS), Platform-as-a-Service (PaaS), and Software-as-a-Service (SaaS). See figure one to get a visual representation of what the cloud provider will manage and what the business purchasing the cloud service will maintain.
Summarizing a business's maintenance responsibilities using a cloud storage solution
On-premises (private cloud) – The business is responsible for maintaining the entire stack of hardware and software.
IaaS – This is used for testing and application development environments with the ability to customize the hardware. It is, however, flexible enough to be used in the following business cases:

Customer-facing websites and web applications
Data storage with backup and recovery options
PaaS – similar to an IaaS without the ability to customize hardware settings. Also considered another developer environment.
SaaS – runs one business application, such as a customer relationship management application that customers can use or a human resource application for a large organization with self-service access options for employees.

The business is only responsible for data and access.
Cloud vs. local storage: What is the difference?
Local storage saves data on servers, typically at the business's on-premises location. Cloud storage saves data on multiple servers at different locations. Local storage response time will be quicker than cloud storage response. Locally stored data may only be accessible from the office, while cloud storage can be accessed anywhere. Cloud storage is more cost-effective.
How is cloud storage better?
Accessibility to business information from the cloud at any time is a significant advantage over local storage. The ability to automatically increase cloud storage space through scalability because of a demand increase is far more efficient than adding hard drives using local storage.
An agreed-upon SLA establishes disaster recovery times, which helps a business manage employee or customer expectations. Adding the elimination of server maintenance expenses with all the other benefits of a cloud storage solution makes this an easy decision.
What are the disadvantages of cloud storage?
No matter how good we believe a technology to be, there are always drawbacks—including with cloud storage. Here are a few cons decision-makers should be aware of with cloud storage:
Loss of control over data – there may be certain types of files a business cannot upload.
Security vulnerabilities – because the cloud is accessible from the Internet, business proprietary information is susceptible to being breached.
Internet connection – access to business information on the cloud is only as good as the internet connection.
What are the vulnerabilities of cloud storage?
Cloud storage is vulnerable to misconfigurations. Misconfigurations can lead to data breaches by not establishing proper access management. Security group misconfigurations can lead an employee or a hacker to gain direct access to sensitive information that can lead to a significant data breach.
Companies can easily fall out of compliance by not having proper access control and restrictions to comply with compliance standards such as Payment Card Industry-Data Security Standard (PCI-DSS) or Health Insurance Portability and Accountability Act (HIPAA).
Since Application Programming Interfaces (APIs) open a channel for communication, they can be a vulnerability. In addition, APIs that lack proper authentication and authorization measures are easily exploitable. Overall, any weak access management that lacks role-based access control or a policy for disabling or deleting inactive or former employee accounts poses a high vulnerability risk.
How are cloud storage vulnerabilities mitigated?
The first step in mitigating a vulnerability is to identify the flaw. Businesses can use a cloud vulnerability scanning tool to identify common vulnerabilities and exposures (CVEs). After the CVEs are identified, a risk assessment using a vulnerability checklist is completed.
After the evaluation, IT staff can patch those vulnerabilities which pose the highest risk. Another option is to mitigate the vulnerability by reducing the severity of the threat or risk. If a vulnerability poses no threat, no action is taken.
After the remediation actions are completed, a vulnerability scan is run to generate a vulnerability assessment report. Qualys can identify vulnerabilities in web applications and APIs. A penetration test can be run that helps find security vulnerabilities before hackers get a chance to exploit them. Once all the remediation actions are completed, re-scanning should be run routinely.
Are the cloud vulnerabilities similar to local storage vulnerabilities?
Yes, any vulnerability exploited in cloud storage can also attack local storage. So whether a business uses a cloud or local storage, businesses need a disaster recovery plan, backups, least-privilege access plan, and the latest malware security tools to identify abnormal file behavior and traffic detection.
Compare cloud storage cost versus managing data on-site
The cost categories shown in figure two indicate that the cloud solution will cost less in each category than a local storage solution. The only unknown variable is how much space local storage solutions need to support the business data requirements. The Azure total cost of ownership (TCO) calculator will help businesses estimate the on-premises cost of a business's storage needs, CPU usage, and network bandwidth requirements.
| | | | |
| --- | --- | --- | --- |
| Cost Category | Cloud Storage | Local Storage | Advantage |
| Initial Cost | Low start-up cost | High start-up cost | Cloud |
| Maintenance | Minimal maintenance cost | High maintenance fees | Cloud |
| Storage | Terabyte storage costs part of the monthly fee | It depends on the space needed; Less than 1TB favors Local storage | It depends on local storage space requirements |
| Scaling Capabilities | Easy scale up or down | Limited and can be costly | Cloud |
| Security | Security included | Requires IT staff | Cloud |
Total Cost of Ownership: Cloud storage cost will be less than local storage overall.
What are five considerations IT managers need to know before implementing a cloud storage solution?
Security and SLAs are considerations already covered above. Pricing is a significant decision point, so a price comparison between popular cloud storage providers like Microsoft online cloud storage and Google Drive is a good starting point.
When debating cloud storage vs. local storage, the final two considerations of data storage locations and technical support. Decision makers need to know the specific locations their business data is stored. When considering locations, you want to avoid data center locations that may be annually exposed to natural disasters like hurricanes or tornadoes. The SLA should clearly explain the response times of the technical support staff, which should include weekends and holiday response times.
Decision makers now have a guideline that provides enough information to ask the right questions to help them make the best decision for their companies.
Looking for the latest IT solutions? Check out our IT Software Buyer's Guide.
FAQ
What is better cloud or local storage?
It depends on your particular business needs. Cloud storage provides flexibility and collaboration that allow employees to work from anywhere remotely. Local storage doesn't necessarily provide that option, but keeps control of your data in-house.
What is the difference between cloud & local storage?
Local storage saves data on servers, typically at the business's on-premises location. Cloud storage saves data on multiple servers at different locations.
1

Site24x7
Site24x7 offers unified cloud monitoring for DevOps and IT operations, and monitors the experience of real users accessing websites and applications from desktop and mobile devices. In-depth monitoring capabilities enable DevOps teams to monitor and troubleshoot applications, servers and network infrastructure, including private and public clouds. End-user experience monitoring is done from more than 110 locations across the world and various wireless carriers.
2

Zoho Assist
Zoho Assist is a premium remote support tool tailored to the needs of IT professionals. This IT software solution enables unified support and efficient service management. It's versatile, compatible with various workplace environments, and easy to integrate with top help desk and live chat tools. With industry-standard features, Zoho Assist empowers organizations to optimize their IT support, work efficiently, and elevate client service standards.
3

NinjaOne
NinjaOne is the leading unified IT operations platform, providing a seamless, single-pane solution to manage endpoints and support end-users. Ninja reduces complexity, drives technician efficiency and gives IT teams full control over managed IT assets. The platform gives IT teams proactive monitoring, remote management, remote control, patch management, software management, backup, and more - all in one unified solution with a fast, modern, intuitive interface.
Technology Advice is able to offer
our services
for free because some vendors may pay us for web traffic or other sales opportunities. Our mission is to help technology buyers make better purchasing decisions, so we provide you with information for all vendors — even those that don't pay us.