Operations Managers have a lot of balls to juggle. They oversee the operation of multiple business processes to ensure the conversion of materials and labor into goods and services. They plan, organize, and supervise aspects such as forecasting, product and process design, and material and maintenance management, among other things. It's a lot of balls in the air at one time.
Enterprise Resource Planning (ERP) software can come in handy when you need to fuse business activities such as inventory, services, CRM, and finances together into one centralized place.
For operation managers, ERP software provides automation of administrative tasks, real-time reports, and the ability to manage the many balls in the air. Here's a couple examples of what ERP software can help with:
Take a look at what you're spending, and adjust your stock and resources accordingly.
View your inventory so you can fulfill orders on time.
Successfully manage deliveries and make sure everything that was ordered arrived.
ERP software takes care of that "extra step" for operation managers.
We've chosen the best ERP software solutions for operation management so you can focus on being the jack of all trades. If you're just beginning your research, check out our ERP Software Product Selection Tool to get 5 free recommendations from our Technology Advisors that are tailored to your needs.
SAP Business One
Designed for small and mid-sized enterprises, SAP Business One can be used across a wide range of industries such as manufacturing, wholesale distribution, retail, and consumer products. The ERP software features a "cockpit" dashboard that allows users to see a 360-degree view of the business. Automate production orders from sales orders, monitor the performance of business processes, and manage your budget with an integrated view of financial data. SAP Business One has a mobile application, so you can check your inventory on the go. The software is available on-premise or in the cloud.
---
ERPNext
ERPNext is a web-based, open-source ERP with capabilities that include HR, CRM, manufacturing and asset management. It has industry-specific domains including manufacturing, retail, and education, so the operations are set exclusively to your industry. ERPNext features batched and serialized inventory, material resource planning, and quick stock balance. Google, Slack, and Dropbox are a few integrations it supports. Pricing is per-user, per-month and has three tiers: Standard, Pro, and Self-hosted. A 14-day free trial is available.
---
Microsoft Dynamics 365 Business Central
This ERP provides an all-in-one integrated platform for streamlining processes and promoting growth within your business. Create purchase orders and production plans with the ability to forecast sales and expected stock-outs. With built-in Power BI dashboards, discover patterns and gain insight with your data being connected across accounting, sales, purchasing, inventory, and customer transactions. Business Central offers a holistic view of your inventory, prioritization of sales leads, and resource level management. It integrates with Excel and other Microsoft Dynamics products, such as Dynamics 365 for Sales. Pricing has three tiers: Essentials, Premium, and Team Members, all billed per-user, per-month.
---
JustFood ERP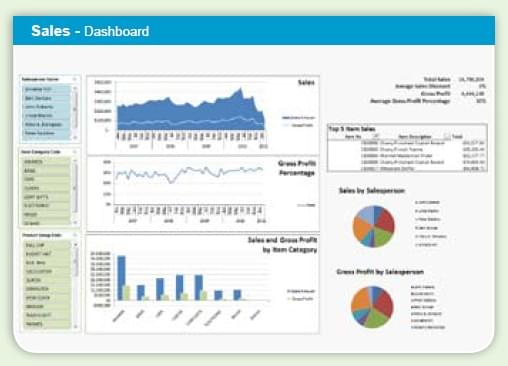 Created specifically for food and beverage manufacturers and distributors, JustFood ERP connects data, departments, and processes to aid in accelerating business growth. Improve food safety and compliance with traceability, scheduling, and quality functionality. View real-time reports and metrics to manage performance and create accurate forecasts. Over 20 standard business notifications can alert managers or supervisors of outstanding situations, and more can be configured. JustFood ERP integrates with Microsoft products, and has a fully integrated warehouse management and shop floor system. Pricing is quote-based and is determined by the features you need to run your business.
---
IFS
IFS is a cloud-based ERP focused on maximizing agility by conforming to the emerging technological advances and ever-changing landscape. It combines elements of manufacturing, project, asset, and supply chain management, financials, and HCM. You can configure the software to adapt to your specific industry. Features include inventory planning and replenishment, warehouse management, transaction and customer interaction management, and sales forecasting. IFS integrates with Microsoft office, and pricing is a one-time fee on a per-user basis.
---
Deltek Maconomy
Deltek offers ERP and Professional Services Automation (PSA) software solutions to project-centric firms to streamline and automate core business processes. If your business provides services that are project based, Deltek Maconomy offers a clear overview of your pipeline, progress and delivery management, and the ability to scope projects accurately. It has benefits available specifically for operation managers, such as revenue forecasting and future resource visibility. Deltek is available on-premise or in the cloud, and pricing is per-user, per-month.
---
Sage Business Cloud X3
Sage Business Cloud X3 is an ERP solution targeting established businesses. It simplifies business operations and promotes collaborate across all departments and has capabilities for financial, supply chain, and production management. Features include purchasing, sales, and inventory management, and collaboration by integrating workflow documentation into a single, searchable library. You can configure options and applications to support your specific industry — a few being process manufacturing, food & beverage, chemicals, and services. Pricing is per-module, per-user, per-month.
---
Operation Managers can use ERP software to help mitigate their juggling act. These software choices can streamline processes and automate everyday tasks. Save time and hassle with the right ERP software choice.
Looking for more choices? Use our ERP Product Selection Tool to get a list of ERP recommendations tailored to your business size, feature, and pricing needs. It takes less than 5 minutes and is free to use.
Top ERP Software Recommendations
Wrike is an enterprise resource planning software trusted by 20,000+ companies worldwide. Improve your enterprise resource planning using resource management and allocation, performance reports, Gantt charts, time tracking, workload overviews, and company-wide visibility all in one place. Integrate Wrike with 400+ applications to accelerate your everyday processes. Customize workflows and reduce the need for emails, meetings, status updates, and more. Work smarter, not harder with Wrike.
Acumatica Cloud ERP offers best-in-class functionality for small and mid-sized businesses to thrive in the new digital economy.

Born in the cloud, Acumatica's business management system is built for remote collaboration and rapidly integrates with mission-critical third-party applications.

Its consumption-based licensing charges for resources used, rather than per individual user, and its future-proof platform drives value and delivers flexibility, efficiency, and continuity of operations.
Odoo ERP is a robust software solution for optimizing business processes. Bista Solutions, an esteemed Odoo ERP Gold Partner and 5x Best Partner winner across North America boasts extensive knowledge, experience, and expertise in implementing this powerful tool across various industry verticals. With a focus on delivering tailored solutions, Bista Solutions ensures seamless integration, customization, and support for companies of all sizes.
Need a Little Help?
Talk with a software expert for free. Get a list of software that's great for you in less than 15 minutes.