Construction projects have a bad reputation for blowing budgets out of the water and falling behind schedule, and it's not without reason. These projects are complicated, expensive, and require collaboration between numerous different stakeholders, which makes it difficult to keep them on schedule and in budget. If you're not using the best construction project management software for your needs, your project could end up being another cautionary tale.
Whether you're the lead contractor for a construction firm or the project manager for an A&E group, using project management software for construction is an effective way to keep your projects on target. It can help you manage documents, facilitate submittals and bids, make accurate estimates, plan the allocation of resources, and collaborate with project stakeholders.
Below are five of the most highly ranked construction project management software that you should consider if you are in the market for a new project management tool. And if you're still not sure what functions you need, check out our breakdown of the must-have features to look for in a construction project management tool.
The Best Construction Project Management Software
Procore
Best for: Large construction operations
Procore is one of the most widely-used construction project management solutions in the industry. It has almost a million users and is responsible for tens of thousands of global construction projects. Because of its popularity and scope, Procore is very well-suited for large construction businesses that operate in multiple states or even internationally.
Procore offers native mobile apps for Android and iOS, unlimited data storage, and a dedicated implementation manager for every client. Its core features cover bidding, budgeting, contract and change management, RFIs, time tracking, drawing management, submittals and transmittals, and more. Procore also integrates with dozens of outside software platforms from accounting to weather and everything in between.
Procore can be used for almost any kind of project, including industrial plants, office buildings, apartment complexes, university facilities, and retail centers. The variety of features offered by the platform reflects this, and some reviewers note that the learning curve can be steep due to the sheer number of options.
However, Procore does offer a unique billing structure where customers are charged per product—rather than the more traditional per-project billing structure—which allows customers to pick and choose what features they need to a certain extent. That being said, many smaller constructions find that Procore is too complex for their more limited needs.
Pros:

Lots of features and integrations
Suitable for a wide variety of complex construction protections
Pricing is cost effective for high volume construction operations

Cons:

High learning curve, difficult for non-tech-savvy people to navigate
Automatic syncing and notifications don't always work for all users
Certain integrations can be difficult to set up
Contractor Foreman
Best for: Easy-to-use interface
True to its name, Contractor Foreman is the leading software solution for contractors and is used in more than 75 countries and has been translated into 10 languages. The software remains true to its customer-centric roots and constantly sources feedback from contractors about their changing needs, then releases monthly software updates based on user requests.
Contractor Foreman offers a wide range of features specifically targeted at contractors, including inspection tracking, permit management, and daily project logs. The software breaks down its features into four main categories: project management, financials, document management, and people (the latter of which covers scheduling, time cards, communication tools, and more). The software also offers 50+ integrations for major services, such as QuickBooks and Outlook.
The Contractor Foreman interface is easy to understand and navigate, although the sheer number of features does mean that there are a lot of options to scroll through. Reviewers have also noted that the QuickBooks integration in particular can be tricky to set up and doesn't always sync as it should initially.
Overall, Contractor Foreman is a solid option for small to midsize construction businesses, and it offers four pricing plans that will grow with your business. However, large or enterprise construction companies will likely want a more robust construction project management software like Procore to meet their more complex needs.
Pros:

Easy-to-ease interface
Thoughtful feature selection that is constantly being updated
Built-in automated reporting that provides business insights

Cons

QuickBooks integration doesn't always work properly
Scheduling module could use improvement
Not robust enough for enterprise-level construction management
RedTeam
Best for: Midsize construction builders
If you are a medium-sized construction company looking for a more robust software than Contractor Foreman but less complex than Procore, then RedTeam might be exactly what you're looking for. RedTeam is also targeted towards contractors, but it was specifically developed for midsize commercial construction builders that need a good balance of features and usability. More than 500,000 people currently use RedTeam to keep their construction projects on track.
RedTeam takes a somewhat unique approach and divides its features into three specific solutions for construction companies: FieldLens for jobsite management, RedTeam Go for turnkey construction management, and RedTeam flex for more flexible and customizable construction management.
In addition to project management features, RedTeam also offers CRM, estimating, bid management, and job cost accounting functions. The software also offers a limited set of integrations with QuickBooks, Sage 100, Levelset, and DocuSign.
Customers like the clear organization of the RedTeam system and the way it centralizes everything into one platform. However, they do report that the system can sometimes glitch or lag, requiring users to log in multiple times or reload pages, which can be frustrating and result in lost work if they were in the middle of inputting data.
Pros:

Comprehensive feature set that meets the needs of most midsize construction companies
Streamlined workflow management that ensures steps aren't skipped
Relatively low learning curve

Cons:

Few integrations compared to competitor software
Glitches or slow performance
Somewhat inconvenient submittal process
CoConstruct
Best for: Home builders and remodelers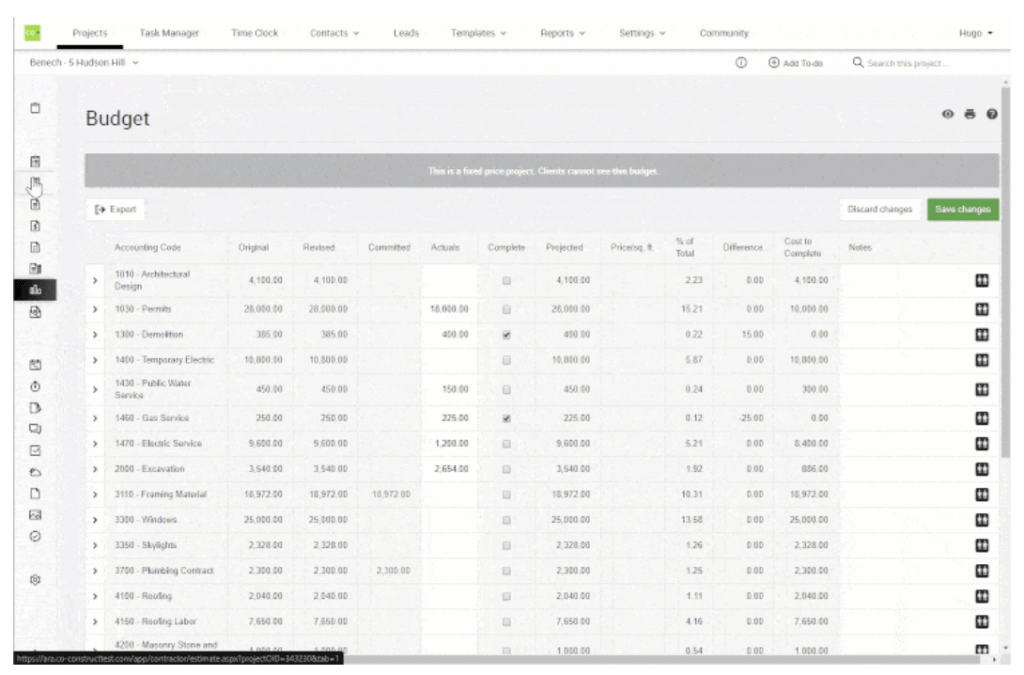 Most construction project management software is designed for commercial construction operations, but that set of features won't necessarily work for other types of construction such as home building or remodeling. Unlike other software that is more targeted toward commercial construction, CoConstruct is meant specifically for home builders and remodelers and has more than 100,000 customers.
CoConstruct's features include purchase order management, schedule coordination, budget forecasting, and more, making it a great choice for building pros who want to spend their time remodeling houses instead of learning complicated software. However, reviewers do note that the interface feels outdated and can be clunky to navigate at times. They also wish the scheduling view provided more information so they can see everything at a glance.
CoConstruct was acquired by another construction project management software, BuilderTrend, in 2021, but it is still a separate software product. BuilderTrend is another great project management software for construction companies to consider, but it's not as targeted toward residential construction, so some home builders and remodelers find CoConstruct to be a better fit for their needs due to the more tailored feature set.
Pros:

All-in-one solution for home builders and remodelers
Customer view keeps homeowners informed of progress
Communication tools for both desktop and mobile apps

Cons:

User interface can feel outdated and clunky
Specific feature set is not geared toward commercial construction operations
No built-in Sage integration
Zoho Projects
Best for: Integration with a full suite of business software
In some situations, you might not be looking for just construction project management software—you may need an entire suite of business tools that ranges from accounting to HR software. If that describes your business' needs, then you should definitely check out Zoho software. While Zoho is best known for its HR tools, it also offers a specific project management tool called Zoho Projects that works well for the construction industry.
Zoho Projects includes many features that are helpful for tracking and managing construction jobs, including project documentation, a chat messaging tool, progress reporting, real-time status updates, invoicing, and more. Zoho also offers more than 300 built-in extensions for Google, Microsoft, and more third-party products.
While Zoho Projects receives high reviews from both tech outlets and customers alike, it isn't a perfect tool. Users complain about the Gantt chart function, which is clunky and difficult to use. They also say that the reporting functions can break down for large groups of users, so that might be a problem if you work at a large company.
Like all Zoho products, the project management software integrates with other Zoho tools including CRM, accounting, IT management, and more, allowing your company to bring all their tools together under one roof. If your business needs these other software solutions and is looking for construction management software that will integrate seamlessly with them, Zoho is a fantastic option to consider.
Pros:

Integrates with the entire suite of Zoho business software
Excellent general purpose project management tools
Many available integrations with third-party tools

Cons:

Not specifically meant for the construction industry so may not have certain specialized features
Gantt charts can be difficult to use
Reporting can glitch for large groups of users
Finding Construction Project Management Software
Although these five options are well worth your consideration, they are far from the only software tools for construction project management. And if you expand your search to mainstream project management, then you'll have hundreds of different solutions to consider.
If it sounds overwhelming to sort through all these options to find the perfect construction project management software for your business, then check out our construction project management guide. Using the filtering feature, you can narrow down your options at the top of the page and peruse options more suited to your business size and price point.
And if you've decided that you want to explore general purpose project management software, then click over to our project management software buyer's guide, which will tell you everything you need to know about finding the perfect tool to manage your business projects.
Technology Advice is able to offer
our services
for free because some vendors may pay us for web traffic or other sales opportunities. Our mission is to help technology buyers make better purchasing decisions, so we provide you with information for all vendors — even those that don't pay us.