The modern office is full of collaboration tools, and every article on The Best Collaboration Software is going to give you a similar list that includes general messaging and communication tools like:
Slack
HipChat
Skype
Google Hangouts/Meet
GoToMeeting
While these tools are great for communication, they don't necessarily improve how teams come together and share information specific to projects, documents, or initiatives, which is key to true collaboration.
This article is about those team collaboration tools you may have overlooked because of how they're marketed, their connections with other comprehensive tools that outshine their unique capabilities, or because they don't get a lot of press due to their niche usefulness.
This list of best of breed collaboration tools solve real collaboration problems: communication, access to documents and documentation, and information sharing in creative and useful ways.
Project Management + Collaboration Tools
Project management tools have long focused on collaboration. These alternatives use collaboration in unique or different ways, but they all help teams and individuals organize, complete, and analyze their projects.
Basecamp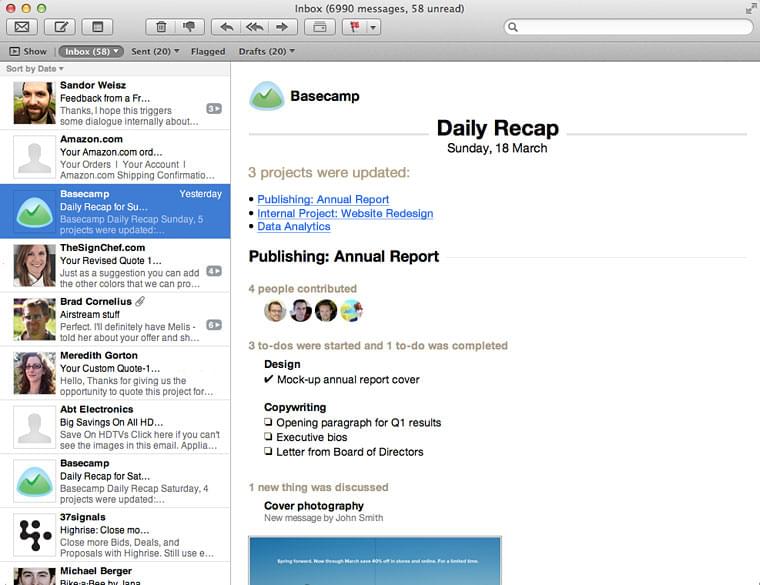 Basecamp has long been a high-performer in the project management space, but it's real strong suit is the way it makes collaboration within and across teams and projects simple. Basecamp houses all of your documents, notes, messages, and emails from your projects in a single place, so that everyone can collaborate around a single interface. Handy notifications and alerts help to keep the whole team on track.
Github
Github is a leading code version control tool that developers use to manage, release, and even roll back their software updates, and it also works pretty well as a collaboration tool. Github's commit system keeps all versions of code or text documents in a single place, and everyone's comments on those files become part of the record. Also, it's fun to watch your commit calendar fill up and track how much work you're getting done.
ALSO READ: 9 Github Alternatives for Source Code and Version Control
RealTimeBoard
RealTimeBoard is an online whiteboard tool that helps teams communicate across departmental language barriers. Each project whiteboard is infinitely big, and can hold all sorts of artifacts from post-it-sized messages to spreadsheets, images, and text documents. RealTimeBoard is particularly useful for teams developing and releasing new products who need input across teams. Check out all the integrations to add document types directly into your whiteboard, or use one of the prebuilt workflows to organize your thoughts. Also, the design is beautiful to look at.
Zoho Projects
Zoho Projects is an underrated project management tool that's great for collaboration. Use the shared calendars, message boards, and team pages to design your team's own collaboration system, all based around the projects you manage in your tasks. Take advantage of the chat room function to invite specific team members to collaborate about topics, and save those message streams to review later. Also look out for fun features like Gamescope gamification for your projects, which infuses friendly competition with your collaboration.
Check out the full range of project management tools and get product recommendations based on your needs at our project management software category, or click on the image below to get fast, free recommendations based on your needs now.
Sales Collaboration Software
While many sales reps may feel like they're chasing leads on their own, a collaborative sales team that communicates about what works or doesn't and who has contacted whom tends to look more organized (because they are!) to clients and close more deals. These sales tools have built-in collaboration tools that go beyond the original CRM.
Salesforce Chatter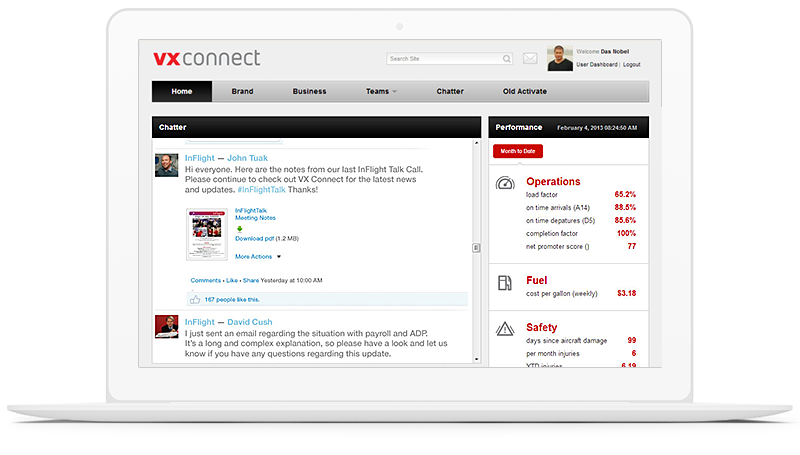 Of course you've heard of Salesforce, but did you know that the sales tool behemoth also includes a powerful messaging tool? So in addition to storing all the pertinent information about customer and partner interactions within your Salesforce instance, you can also share news about what works (and what doesn't) across your sales team. Chatter also lets you perform Salesforce actions like creating support tickets and quote approvals from within the tool, and is available on a mobile app.
Pipedrive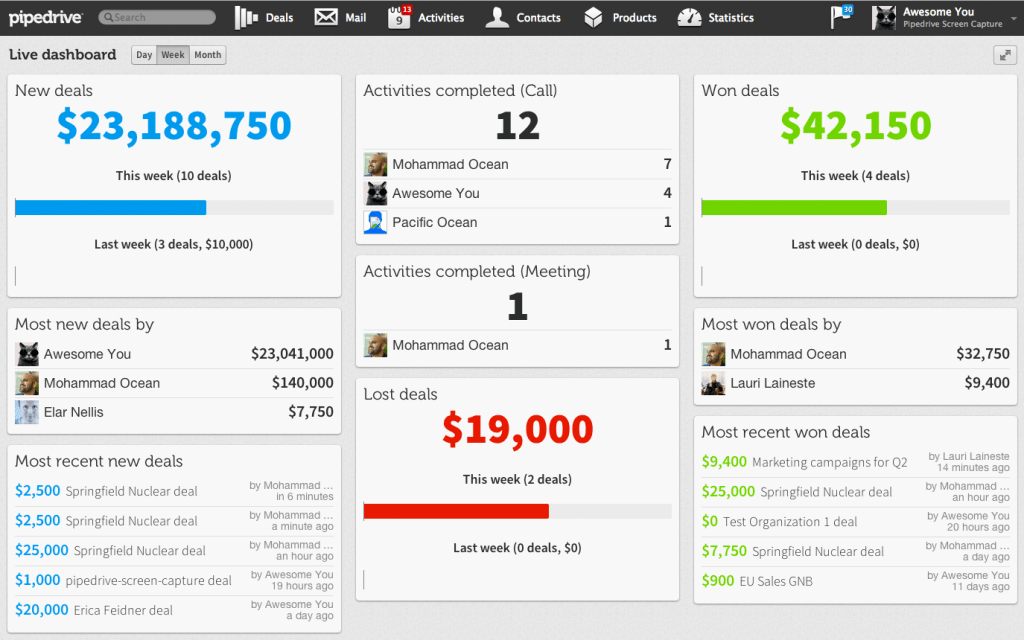 Pipedrive is a visual sales collaboration tool that keeps the entire sales team in the know about every deal. Add new leads to the workflow board, use calendar and email integrations to keep track of updates, and follow up on your mobile device from anywhere. Pipedrive works like Trello for sales: drag and drop your deals across the stages of your sales pipeline, and use each deal card to keep tabs on the particulars.
These are by no means the only CRM software options out there. Many CRMs include basic messaging, email integration for both incoming and outgoing emails, and file sharing. Find the right CRM for your team by visiting our Product Selection Tool for CRM where we give you personalized recommendations based on your needs.
File Sharing Tools
Also known as Social Collaboration software, these file sharing tools let whole teams view, update, and comment on assets from anywhere. Use these apps for marketing, sales, product development, or anything that requires collaborative projects.
Quip
Quip is a collaborative tool where team members gather around only the latest version of a document and add real-time messaging and updates from their browser or mobile phone. Where other file sharing tools tie you to a single file type per asset like spreadsheets, text documents, or image files, Quip brings all of these file types together into a single space. Add a spreadsheet, update it with notes and context, and watch as other team members comment, change, and collaborate on the document with you in real time.
Zeplin
Zeplin is a collaboration platform for designers and developers of web tools. At its core, Zeplin lets designers, developers and product teams comment and message on current web designs and elements in real-time. But the tool goes a lot further than that by providing necessary code snippets to implement elements on your app or webpage. As the team builds more and more assets within Zeplin, the tool becomes a log of your design updates and changes, and a library for brand assets.
Dropbox Paper
Dropbox led the file sharing pack for a long time with its cloud file storage product, but it since has dropped out of the top cloud storage products because it couldn't keep up with the real-time sync and collaboration tools like Google Drive. But Dropbox Paper is different. This collaborative tool brings whole teams together around documents where they can add images and assets, comment and annotate, and even run meetings all from a single interface. Paper connects with lots of business apps to help teams stay connected.
Box Notes
Box has built a file sharing and collaboration tool that rivals Dropbox and Google Drive, but with a focus on data security. Box Notes extends the document collaboration tools to easily shareable notes that can be edited concurrently by many stakeholders in real time. Plan meetings, design products, and write content together, even if you're not in the same place. Add text features like tables, to do lists, and comments to keep everyone organized.
Collaborative List and Task Tools
While not as robust as a lot of the other options on this list, these tools work for really small teams that need to share tasks, send quick messages, and get organized around projects.
TickTick
TickTick is a smart to do list app that uses the text you type (or speak!) to help set reminders, due dates, and generally keep your to do list organized. TickTick includes features that help you prioritize your tasks, set reminders based on location, and break large tasks into smaller lists to keep a handle on everything. You can also share your lists with collaborators so that everyone stays on the same page.
Notejoy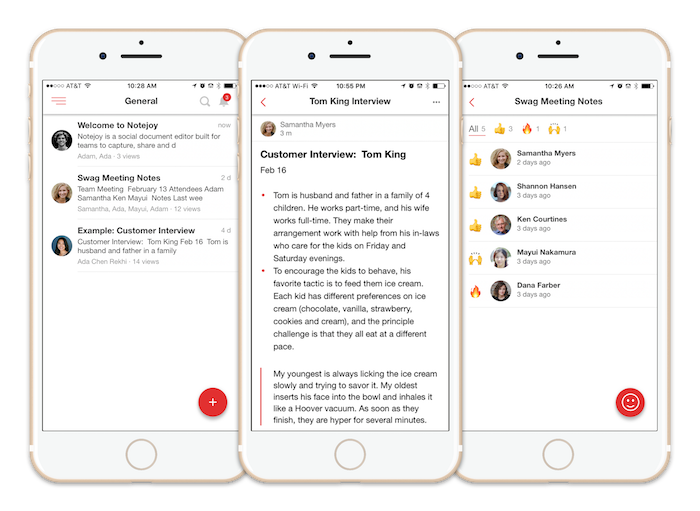 Notejoy is a note taking app with built-in collaboration around each document you make. Use Notejoy to add image galleries, keep track of comments with built-in messaging, and even add documents directly to the note. The tool organizes your notes into libraries, and each team can access the library to keep track of all the documents available there.
Google Keep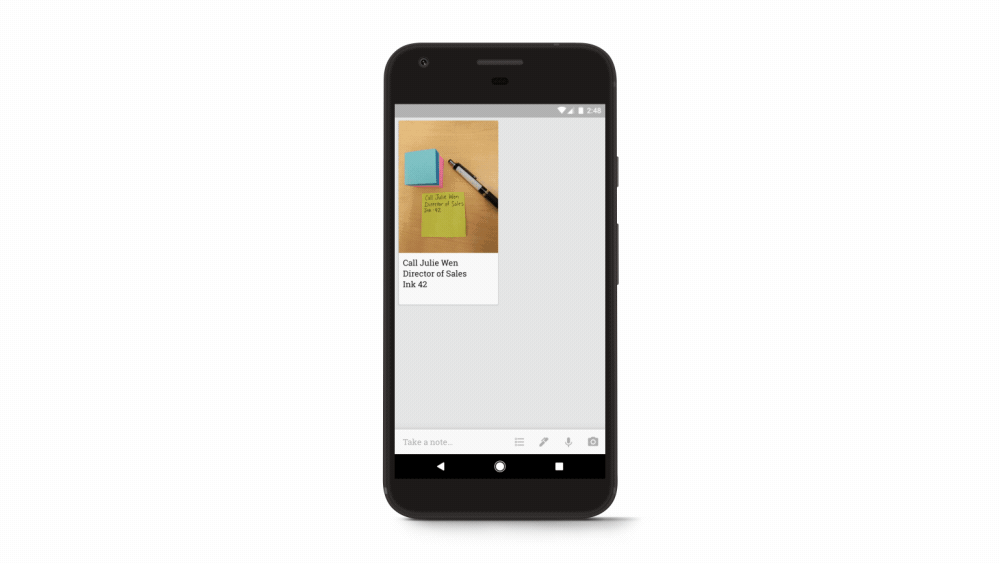 Part of the Google family of apps, Keep is Google's answer to Evernote. Within Keep you can upload files, video, and audio, or make files, lists, and reminders right in the app, and add location reminders so the app will pull up a document when you arrive, or set a reminder to complete a task. Each of your notes can be color-coordinated (for the visually-minded on your team) or can be searched by text. Sharing individual notes, lists, and files is quick, and all items update in real time across the tool.
Ready to choose the next collaboration software for your team? Call one of our Technology Advisors today for a free, 5-minute evaluation of your needs. They'll set you up with a couple of options that'll work for exactly the type of collaboration you want to do.