This article has been updated with new features for 2019.
Hundreds of vendors are fighting for a piece of the HR software market. Of the companies aspiring to rule your vast and complex human resources technology, the most epic battle rages between Workday and PeopleSoft.
Both are strong choices with a loyal customer base, providing enterprises with solid, global, horizontal HR and ERP solutions.
So where do you start? To get free recommendations on the best HR software for your business, try our Product Selection Tool. It only takes five minutes for an unbiased Technology Advisor to match you with a list of five HRIS solutions that fit your needs. Click the banner below to get started.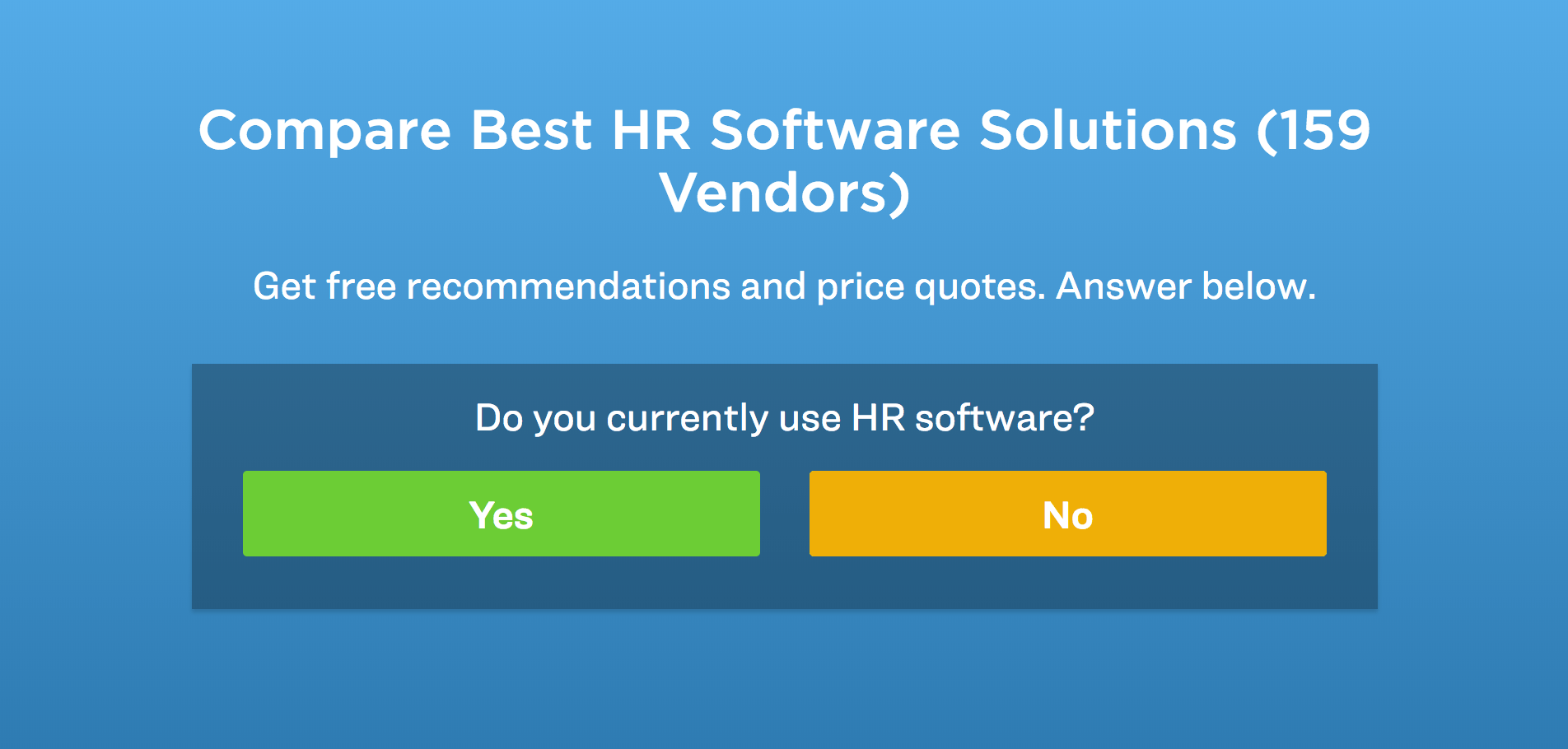 The offer PeopleSoft couldn't refuse
If Workday and PeopleSoft seem remarkably similar, that's because they were both started by tech entrepreneur and multi-billionaire David Duffield.
Duffield founded PeopleSoft in 1987, but following a hostile buyout from software heavyweight Oracle in 2003, he started Workday in 2005. Seeing this as an opportunity for a fresh start, Duffield set out to create the next generation of B2B software, betting on the then-burgeoning field of software as a service (SaaS).
Designed for the cloud, Workday gained a competitive advantage over PeopleSoft by eliminating a lot of the upfront investment and maintenance fees associated with on-premise solutions.
Workday vs. PeopleSoft
Anyone facing an enterprise software upgrade must weigh costs and benefits. If your PeopleSoft implementation is particularly large and complex, you may find yourself at a fork in the road when contemplating your next upgrade.
You are not alone. Due to limited IT resources and the increased flexibility afforded by cloud technology, cloud-specific spending will grow six times faster than general IT spending through 2020.
But is the change worth it, or is this just an overhyped battle? How different are the two systems, really?
How they're similar
PeopleSoft is backed by a global enterprise technology leader, and their focus on integrated systems has made them one of the most modern and comprehensive providers of business software in the world.
Although Workday is recognized as a leader in the HR software industry, they're still fighting for a larger piece of the ERP market. In fact, Workday may be doing better than Oracle is comfortable admitting thanks to Workday's customer-centric approach to doing business.
Though the feature names vary, both vendors provide a wide variety of similar suites and functionalities for large businesses.
Because of the overwhelming popularity of cloud software solutions, PeopleSoft pivoted to a cloud-based model in the last few years. While the software is available to run on any public or private cloud storage system, PeopleSoft recommends that administrators set the software up to run on the Oracle Cloud.
This proprietary storage solution holds a lot of advantages for PeopleSoft users, most importantly that it's the only cloud storage solution that runs the PeopleSoft Cloud Manager tools, which manages updates and data connections for the tools.
Not to be outdone, Workday contracted IBM for additional storage and computing power. They use the computing giant's cloud computing service SoftLayer for undisclosed internal processing.
And both companies are making strides into machine learning and AI to make their offering work better and faster.
How they're different
There are a few applications exclusive to PeopleSoft, as well as several internal differentiators that aren't addressed on the surface. Let's examine them below.
Deployment and updates
One of the fundamental differences between PeopleSoft and Workday is their deployment options.
Workday is entirely engineered for cloud deployment, which means every user is always on the latest version since functionality upgrades are automatically released. There is also the potential for a lower total cost of ownership because Workday doesn't require any on-premise hardware or infrastructure.
Another great perk here is Workday has invested in software partnerships to expand their native integration offerings — meaning you can hook their services up to Slack, Salesforce, and other necessary business tools quickly and without IT intervention.
PeopleSoft also provides cloud deployment but can be purchased as an on-premise and private cloud implementation as well. The tool recently pivoted to a Selective Adoption workflow for updates — PeopleSoft regularly offers updated versions of the tools that system administrators can download, choose the updates they prefer to run, and schedule their maintenance on their own time.
The Selective Adoption model gives administrators control over their own maintenance and update schedule but does require much more intervention that the constantly-updated Workday.
The vast difference in deployment options often leads the conversation to configuration and customization. Some companies believe that a pure SaaS solution can never be configured to fit their business needs and eliminate any solution that does not offer intense customization.
When looking at the deployment differences between Workday vs. PeopleSoft, your company needs to assess its availability of IT and specialized support staff. Those with the resources to put toward dedicated PeopleSoft help will find the customization of that product worth the expense, but those with more limited resources may appreciate the native integration flexibility and ongoing support of Workday's consistent upgrades.
CRM
Oracle offers PeopleSoft CRM, a set of customer service relationship management applications. Their CRM is tightly integrated with the rest of the PeopleSoft platform and can be tailored to fit sales, marketing, or service industries.
Business Process Management (BPM) solutions are also available within the CRM, and users can set up orders, workflows, and automate processes with the tools.
Currently, Workday does not offer a native CRM application. Instead, they've forged a partnership with cloud computing leader Salesforce, and offer native integrations between the two companies via the Salesforce Service Cloud.
Analytics and reporting
As business intelligence software becomes easier to use, more companies are including dashboard reporting and analytics in their products. While both PeopleSoft and Workday include analytics and reporting tools, the companies have approached the inclusion of these features differently.
PeopleSoft has worked to incorporate analytics into each of the tools, giving users access to analytic data where they're working within PeopleSoft. The analytic power of these tools is limited to the data the company has stored in their PeopleSoft databases.
On the other hand, Workday's Prism Analytics tools connect to outside data sources and build analytic reports within Workday. These same tools are found all across the software to bring insights right into the dashboards, but the addition of outside data elevates the feature to a business intelligence tool.
User interface
One area where Workday shines is its intuitive design. Workday was built on modern architecture and provides a consumer UI built for the web.
The company works hard to provide users with a single experience across mobile, tablets, and desktop views. The UI is designed to change with the latest designs and needs of the consumers without touching the core functionality of the product. That means UI updates don't change how you work.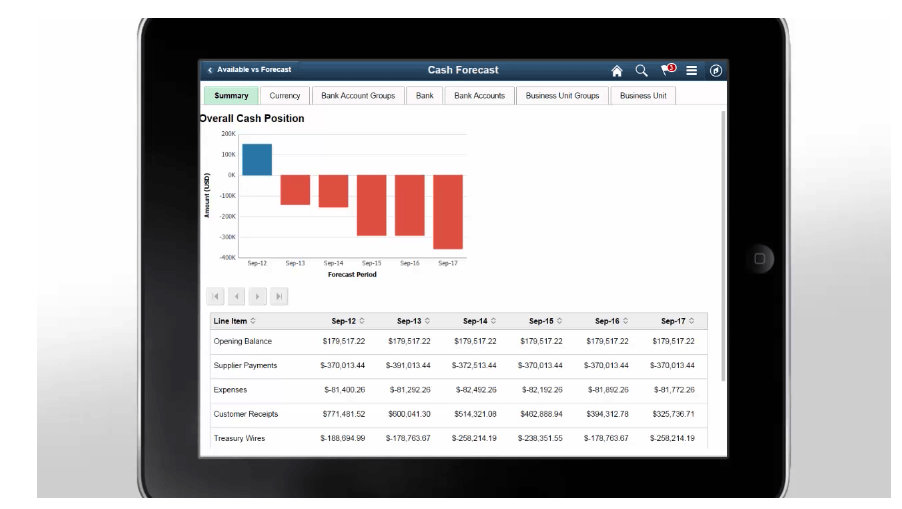 PeopleSoft started introducing the Fluid User Interface (Fluid UI) beginning in 2014, and was still rolling it out to legacy parts of the system as late as 2016. The change from an on-premise desktop app to a responsive mobile-ready environment is not only technically challenging but also requires current users to be trained on the new UI. The change was necessary, however, and makes PeopleSoft competitive with other cloud-ready software.
Final thoughts
Workday is an innovative platform built for the modern workforce, and their technology aligns with the current trends in IT. Their beginning as an HCM platform provides human resources professionals with a system designed with the workforce and financials in mind, while their continuous updates and enterprise focus makes them a viable choice for a variety of companies.
PeopleSoft, on the other hand, is "designed to address the most complex business requirements." This certainly makes them the leader in terms of market presence and end-to-end functionality, but can also make installations a very complex process.
While many businesses are moving to Workday, Oracle continues to move toward cloud functionality and flexibility. The move gives administrators greater control over their own update schedule and all users better access to their data from anywhere.
As these two options become more and more similar, what are you to do?
The first step is to define your business goals and strategy, then pinpoint the requirements necessary to achieve them. Which vendor satisfies your business needs and provides business value? Which vendor's roadmap and strategy syncs with your ERP or HR strategy?
Forget what company is choosing which vendor — you want to pinpoint the specific configurations that are relevant to your business. Consider your goal, and choose the technology that helps you achieve it.
Top Human Resources Software Recommendations
Rippling is the #1 Rated All-In-One HR Platform. You can onboard new hires in 90 seconds, and easily manage your company's payroll, benefits, HR, and IT -- all in one, modern system. It brings all of your employee systems and data together, and helps automate your busy work. Take onboarding, for example. With Rippling, you can click a button, and take care of a new hires' I-9, offer letter, payroll, health insurance, and more -- 100% online and paperless.
Processing routine HR tasks by hand and entering data in multiple systems can be time consuming and risky. That's why leaders depend on Paycor for a modern, adaptable, and unified system for all things HR. From engaging employee self-service, mobile push notifications and company updates to unlimited workflows, reminders, and notifications, Paycor's HR software helps you get out of the weeds so you can focus on bigger priorities like attracting, retaining and developing employees.
monday.com is a collaborative platform that allows HR managers to manage the entire employee lifecycle in one place. Track the recruitment process of all candidates at a glance, onboard new employees with pre-made templates, plan team-building activities to engage current employees, and leverage data-driven insights with analytics built into your daily workflows. Finally, integrate monday.com with Gmail and 40+ tools you already use so the platform supplements your current workflows seamlessly.
Need a Little Help?
Talk with a software expert for free. Get a list of software that's great for you in less than 15 minutes.