Hundreds of vendors are fighting for a piece of the human resources (HR) software market. Of the companies aspiring to rule your vast and complex HR technology, the most epic battle rages between Workday and PeopleSoft.
Workday and PeopleSoft were both started by tech entrepreneur and multi-billionaire David Duffield. In 2022, they are still fighting for a larger piece of the enterprise resource planning (ERP) market, and both companies are making strides with machine learning and AI to make their offering work better and faster.
Both are strong choices with a loyal customer base, providing enterprises with solid, global, horizontal HR and ERP system solutions. And yet, they each contain unique features that differentiate them from one another.
Still unsure? Discover more HR software options with our HR Software Product Selection Tool. It only takes five minutes for an unbiased Technology Advisor to match you with a list of five HRIS solutions that fit your needs. Click the banner below to get started.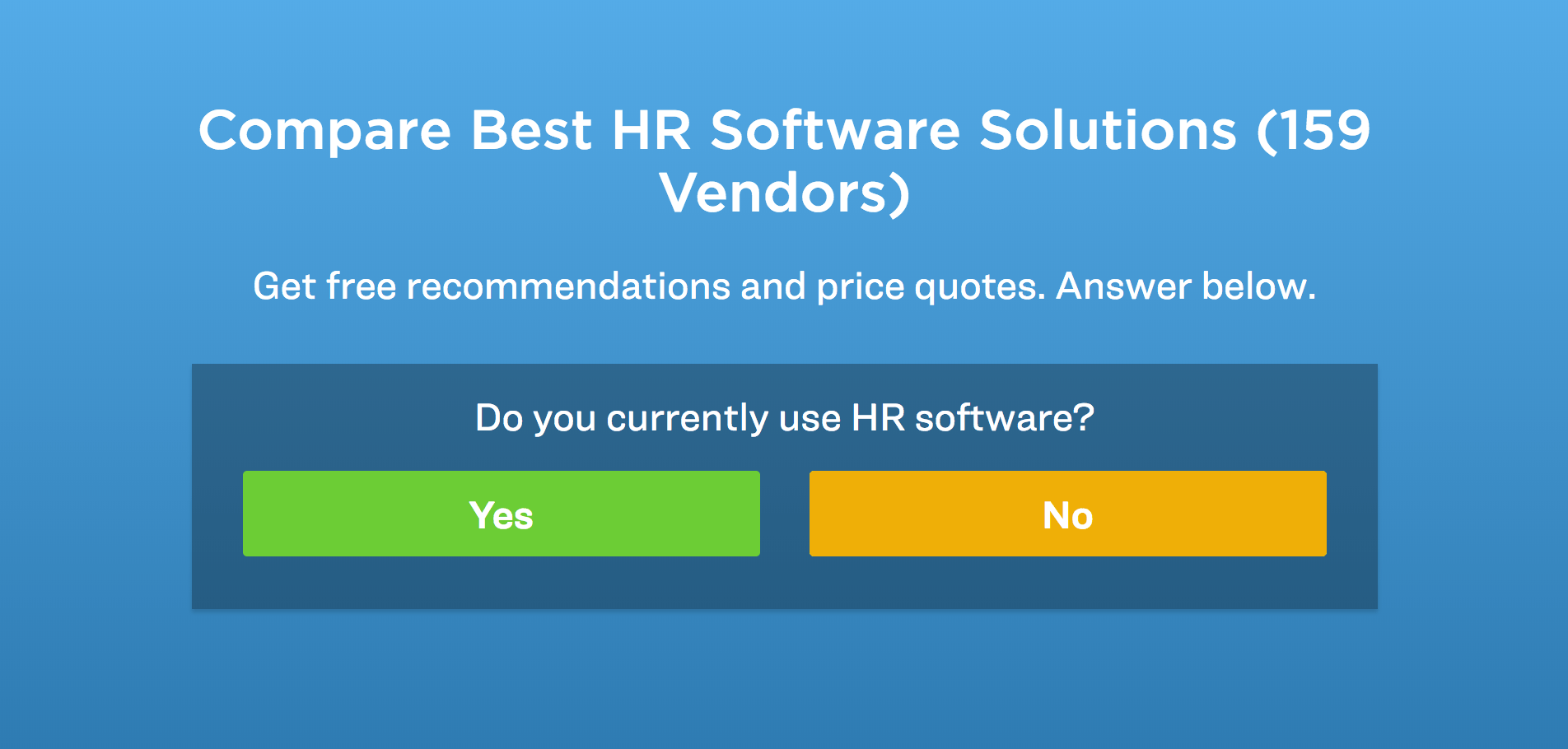 Why Should You Choose PeopleSoft?
Oracle PeopleSoft is backed by a global enterprise technology leader, and its focus on integrated systems has made it one of the most modern and comprehensive providers of business software in the world.
Because of the overwhelming popularity of cloud software solutions, PeopleSoft has pivoted to a cloud-based model in the last few years. While the software is available to run on any public or private cloud storage system, PeopleSoft recommends that administrators set the software up to run on Oracle Cloud, as users can integrate their current PeopleSoft system with Oracle cloud solutions.
This proprietary storage solution holds a lot of advantages for PeopleSoft users. Most importantly, it's the only cloud storage solution that runs the PeopleSoft Cloud Manager tools, which manages updates and data connections for the tools.
The company is constantly rolling out new features for its software solutions as Oracle delivers new PeopleSoft releases every quarter. Oracle PeopleSoft even provides a Cumulative Feature Overview (CFO) tool that enables users to gain control of the features available to them, by developing a CFO report that lists features that have been introduced between PeopleSoft releases.
PeopleSoft's Human Capital Management software is intended to help users streamline talent management and reduce operational costs by leveraging more automation capabilities. Still, Oracle makes it easy for customers to move from PeopleSoft to Oracle Cloud, as the Oracle HCM Cloud provides one complete solution for PeopleSoft customers.
Why Should You Choose Workday?
Workday is recognized as a leader in the HR software industry, and the Workday Human Capital Management (Workday HCM) software delivers cloud-based human resource management solutions for organizations and businesses.
The Workday HCM software contains features for managing talent, compensation, payrolls, shift scheduling, time tracking, and more. This enables HR professionals to stay on top of their workforce management actions all within one platform. 
Additionally, the software leverages augmented people analytics to reveal insights from datasets, and users can apply intelligent automation to eliminate manual tasks and support their staff's productivity.
The HCM solution isn't the only Workday software tool that comes with HR functions. Workday Adaptive Planning is a cloud enterprise performance management (EPM) software solution that provides operational, sales, workforce, and financial planning solutions to users. The Workday Financial Management solution also assists businesses in their core accounting processes.
For additional storage and computing power in their software solutions, Workday contracted IBM in order to use the computing giant's cloud computing service SoftLayer for undisclosed internal processing.
Moreover, Workday's customer-centric approach and cloud design make it ideal for businesses with smaller budgets that may need more support.
Comparing Workday and PeopleSoft
Anyone considering an enterprise software upgrade must weigh the costs and benefits. If the implementation of a new software solution would be particularly large and complex, you may find yourself at a fork in the road when contemplating your next upgrade.
But in the battle between Workday and PeopleSoft, how different are the two systems, really?
Though the feature names vary, both vendors provide a wide variety of similar suites and functionalities for large businesses to manage their HR and talent processes. Still, there are a few applications exclusive to PeopleSoft, as well as several internal differentiators that aren't addressed on the surface.
Deployment and updates
One of the fundamental differences between PeopleSoft and Workday is their deployment options.
Workday is entirely engineered for cloud deployment, which means every user is always on the latest version since functionality upgrades are automatically released. There is also the potential for a lower total cost of ownership because Workday doesn't require any on-premises hardware or infrastructure.
Another great perk here is Workday has invested in software partnerships to expand their native integration offerings, meaning you can quickly connect their services to Slack, Salesforce, and other necessary business tools without IT intervention.
PeopleSoft also provides cloud deployment but can be purchased as an on-premises and private cloud implementation as well. The tool recently pivoted to a Selective Adoption workflow for updates; PeopleSoft regularly offers updated versions of the tools that system administrators can download, choose the updates they prefer to run, and schedule their maintenance on their own time.
PeopleSoft Applications Portal also supports a variety of integration options, such as with Microsoft Exchange Server. When it comes to PeopleSoft updates, the Selective Adoption model gives administrators control over their own maintenance and update schedule but does require much more intervention than the constantly-updated Workday.
The vast difference in deployment options often leads the conversation to configuration and customization. Some companies believe that a pure SaaS solution can never be configured to fit their business needs and eliminate any solution that does not offer intense customization.
When looking at the deployment differences between Workday and PeopleSoft, your company needs to assess its availability of IT and specialized support staff. Those with the resources to put toward dedicated PeopleSoft help will find the customization of that product worth the expense, but those with more limited resources may appreciate the native integration flexibility and ongoing support of Workday's consistent upgrades.
Customer relationship management (CRM)
Oracle offers PeopleSoft CRM, a set of customer service relationship management applications. Its CRM is tightly integrated with the rest of the PeopleSoft platform and can be tailored to fit sales, marketing, or service industries.
Business process management (BPM) solutions are also available within the CRM, and users can set up orders, create workflows, and automate processes with the tools.
Currently, Workday does not offer a native CRM application. Instead, the company has forged a partnership with cloud computing leader Salesforce. As such, there is a native integration between the two companies via the Salesforce Service Cloud.
Analytics and reporting
As business intelligence software becomes easier to use, more companies are including dashboard reporting and analytics in their products. While both PeopleSoft and Workday include analytics and reporting tools, the companies have approached the inclusion of these features differently.
PeopleSoft has worked to incorporate analytics into each of the tools, giving users access to analytic data where they're working within PeopleSoft. The analytic power of these tools is limited to the data the company has stored in its PeopleSoft databases. For example, PeopleSoft financials provides analytics and reporting features based on the data collected from personal information logged within the users' integrated PeopleSoft databases.
On the other hand, Workday's Prism Analytics tools connect to outside data sources and build analytic reports within Workday. These same tools are found all across the software to bring insights right into the dashboards, but the addition of outside data elevates the feature to a business intelligence tool.
User interface
One area where Workday shines is its intuitive design. Workday was built on modern architecture and provides a consumer UI built for the web.
The company works hard to provide users with a single experience across mobile, tablet, and desktop views. The UI is designed to change with the latest designs and needs of the consumers without touching the core functionality of the product. That means UI updates don't change how you work.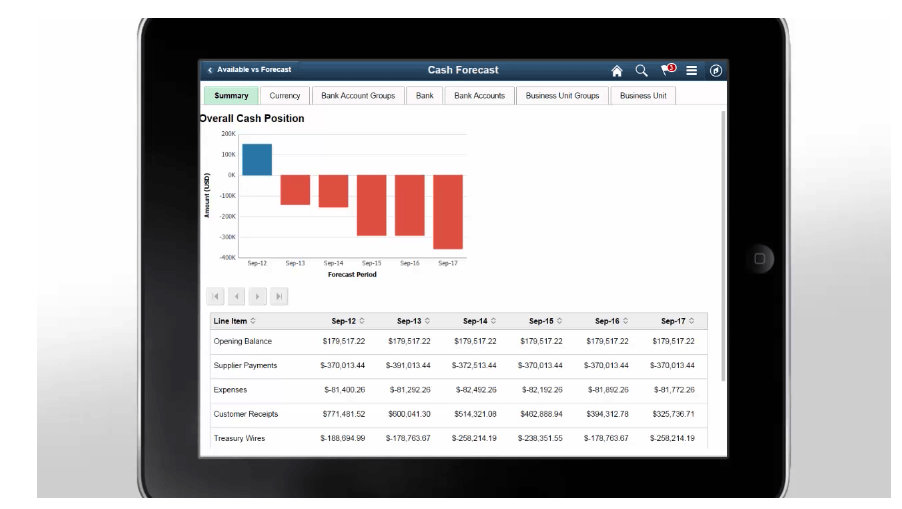 While Peoplesoft's HR solutions provide more employee self-service features, Workday provides an intuitive user interface for higher education purposes. The Workday Student system is a student information software solution that is connected to the Workday finance and HR systems. PeopleSoft also offers its own PeopleSoft Campus Solutions, which is mainly used to store students' personal information.
Workday vs. PeopleSoft: Which is Better?
Workday is an innovative platform built for the modern workforce, and its technology aligns with the current trends in IT. Workday's beginning as an HCM software platform provides HR professionals with a system designed with the workforce and financials in mind, while its continuous updates and enterprise focus make Workday HCM a viable choice for a variety of companies.
PeopleSoft HCM, on the other hand, is "designed to address the most complex business requirements." This certainly makes it the leader in terms of market presence and end-to-end functionality but can also make installations a very complex process.
While many businesses are moving to Workday, Oracle continues to move toward cloud functionality and flexibility. The move gives administrators greater control over their own update schedule and all users better access to their data from anywhere.
As these two options become more and more similar, what are you to do?
The first step is to define your business goals and strategy, then pinpoint the requirements necessary to achieve them. Which vendor satisfies your business needs and provides business value? Which vendor's roadmap and strategy syncs with your ERP or HR strategy?
You want to pinpoint the specific configurations that are relevant to your business. Consider your goal, and choose the technology that helps you achieve it.
Remember, by using the HR Software Product Selection Tool, you can receive free recommendations on the best HR software for your organization. Additionally, visit our website to read other HR software comparisons, such as the comparison between Workday and SuccessFactors.
Top Human Resources Software Recommendations
Rippling is the first way for businesses to manage all of their HR, IT, and Finance — payroll, benefits, computers, apps, corporate cards, expenses, and more — in one unified workforce platform. By connecting every business system to one source of truth for employee data, businesses can automate all of the manual work they normally need to do to make employee changes.
Elevate your HR with a modern, easy-to-use HRIS designed for small businesses. GoCo is a secure, compliant hub for sending, digitally signing, and organizing your sensitive HR documents and data. Manage records, performance, time off, onboarding, benefits, and more – all in one place. With the best support in the industry, every GoCo customer is assigned a dedicated Customer Success Team that is readily available to provide guidance and ensure a smooth and reliable HRIS experience.
Paycor's HR software modernizes every aspect of people management, which saves leaders time and gives them the powerful analytics they need to build winning teams. Paycor provides a full suite of HCM solutions with a single source of truth for employee data, so users never have to switch platforms, log-in to multiple systems, re-key data or open multiple spreadsheets. Everyday processes become simplified, allowing organizations to focus on their most important work.
Need a Little Help?
Talk with a software expert for free. Get a list of software that's great for you in less than 15 minutes.
Deel's full-suite of HR tools allows companies to manage the entire employee lifecycle—from recruitment and onboarding and beyond—in 150 countries. All this from a single, easy to use interface. US and Global Payroll allows you to pay any type of worker in 100+ countries, and all 50 states, in whatever currency you choose. And with 200+ in-house legal experts and entities in 120+ countries, using Deel means you'll always be compliant with local regulations.
BambooHR is an award-winning HR platform that helps your growing organizations automate, centralize, and connect your people data all in one place. It gives you a one stop shop to manage data, hire talent, run payroll, and help employees grow.
Technology Advice is able to offer
our services
for free because some vendors may pay us for web traffic or other sales opportunities. Our mission is to help technology buyers make better purchasing decisions, so we provide you with information for all vendors — even those that don't pay us.