If you already know your LMS could use an upgrade, use our LMS Software Guide to find solutions that might work better than your current system.
11 signs you should switch your LMS
1. Lack of scalability
As you grow, your employee training needs will inevitably expand in both scale and complexity. Most basic LMS solutions don't offer many customization opportunities, and you might run into limitations with the activity volume your software supports.
It's time to look into alternative platforms if:
Your users are experiencing difficulty with the existing system.
They're receiving errors because they're locked out.
Your storage space is full.
The programs load too slowly.
Docebo, for example, bases its pricing on the number of users who are actively participating in training programs or viewing content. This is especially valuable if you have a higher volume of users around peak seasons or run training programs in cohorts.
2. Poor user experience
It may seem frivolous or unnecessary to choose your learning management system based on its interface and design, but let's consider another side: a smooth, user-friendly learning process makes it easier for newcomers to navigate onboarding and complete their work.
When learners are able to find their way around an intuitive system like CYPHER, they're less likely to find themselves frustrated or falling behind. Most employees will avoid, procrastinate, or at least complain about working in an outdated system, which makes it difficult to stay on track with training requirements.
3. No mobile compatibility.
Workers are more mobile than ever, and they need to be able to access their learning materials from a mobile phone or tablet as well as a desktop computer. If your current LMS provider does not offer applications for smartphones and tablet devices and your workforce is constantly on the go, then it might be time to look into switching to a mobile-friendly LMS, such as TalentLMS.
4. Limited analytics capabilities
As a training administrator, it's important to know how your learners are progressing, how the tool is performing, and how effective the results of your course material are in the long term. The best way to measure this is by running reports in your LMS on key performance indicators (KPIs), like those featured in the 360Learning dashboard.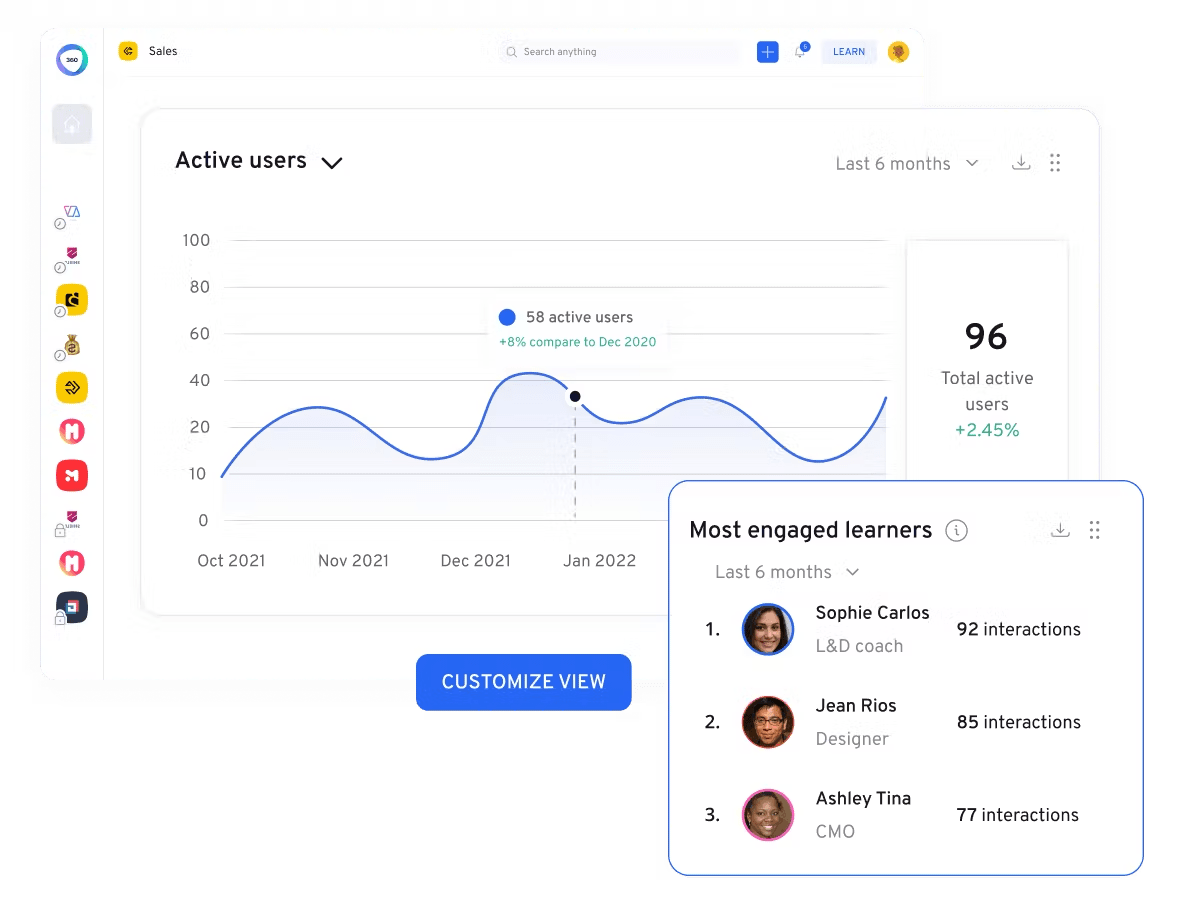 Your system should be able to provide this in a way that is appealing and easy to understand — and if your current LMS can't provide these analytics, you might want to consider upgrading.
Also read: 8 Important LMS Features for Your E-Learning Program
5. Lack of technical support
When a teacher is ready to launch a class, and you encounter an urgent problem requiring support, it's important to have that support available immediately. Your LMS vendor should offer chat forums and knowledge bases to help you solve issues quickly, or a dedicated support line to call when you have more complicated questions, like the one staffed by SkyPrep. Having live support from someone who knows your company and training program is even more valuable.
6. Limited integration options
Many companies don't want their corporate learning management system to operate in a vacuum. Instead, they need it to integrate with the rest of their HR software stack so the data will flow seamlessly from one system to another. If your current training software doesn't offer the integrations you need — or an open API so you can build your own, such as the one offered by iSpring — then it's time to seek out a different LMS platform that will integrate with the rest of your HR software.
7. Limited customization controls.
For some companies, customizing the LMS interface with company branding is a perk, not a must-have. However, many organizations appreciate the ability to create a cohesive user experience with other apps in their company-wide software stack. This also helps reduce confusion among employees who must learn yet another platform.
Other customization options include user role assignments and privileges, analytics dashboards, reports, interface languages, certificates, and gamification elements. If your current LMS partner doesn't offer the necessary customization options, consider an alternative platform such as Absorb LMS.
8. Security is lacking
In some cases, companies must load very sensitive information into their LMS, including confidential data or proprietary knowledge. Having a secure system such as eFront that protects those details against hacking and other threats is critical for keeping this data safe.
When evaluating an LMS provider's security posture, look for features like two-factor authentication, administrator access controls, single sign-on, and data encryption. Depending on your industry and location, you might also need specialized security parameters that meet the requirements of regulations like HIPAA and GDPR.
Also read: Predictions for the Future of LMS
9. No social learning features
Social learning includes live chats, discussion boards, and other key features that improve engagement and promote dialogue between course participants. This enhanced functionality encourages participants to be more engaged and to better recall course content.
While social learning features are more common today than they once were, some basic training software still doesn't include them. Consider a system such as Eduflow if social learning is on your list of needs.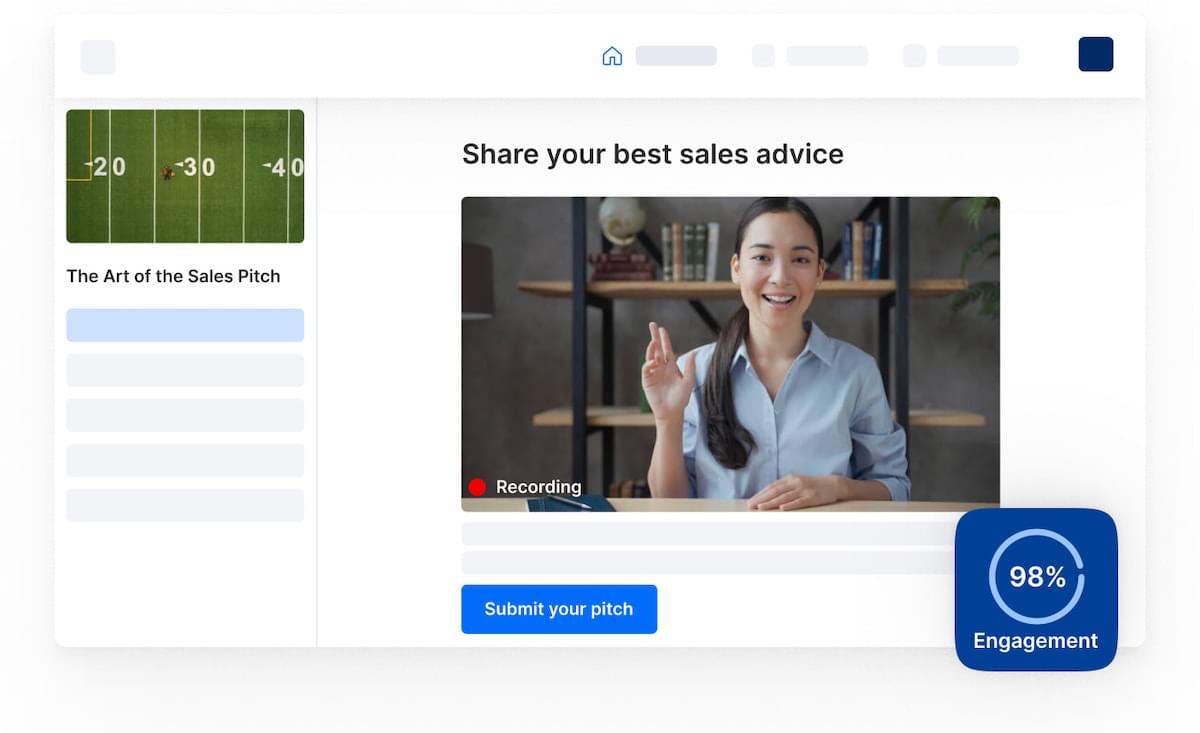 10. Not enough ways to track learner progress
Learning management systems aren't very helpful unless managers and the HR team can track each learner's progress through the training workshops, as well as broader trends across the entirety of the workforce.
The LMS should also allow different stakeholders to view these progress indicators; access shouldn't be limited to a handful of people in IT or HR. If you can't configure your current LMS to allow this, upgrading might be a smart move.
Also read: Top 26 HR Metrics to Track
11. Software updates aren't frequent enough
Any software company worth its subscription fee, including an LMS, should be releasing updates at least several times a year to fix bugs and introduce new features. Some training software companies also release more significant upgrades, such as redesigning the UI, once every couple of years to help the software stay current in the competitive market.
If your current learning management system doesn't fix bugs in a timely fashion and hasn't updated the UI in years, it might be time to switch to an LMS that releases upgrades more frequently.
Also read: 8 Elements of a Great Learning Management System
Five reasons your LMS isn't the problem
1. You haven't updated your LMS in a while
If you haven't updated your current LMS in a while, getting the latest version should be your first order of business before you contemplate switching to a new platform. Some software doesn't download LMS updates automatically, especially if it's a major upgrade that can affect how your integrations function, so you might need to initiate it manually.
Collaborate with your IT team to upgrade the LMS and explore its new functionality to make sure that you're using it to its full training potential.
2. Your LMS content is insufficient
If your LMS content is currently outdated, those modules will still be outdated if you transition them to a new platform. Instead of performing a new LMS implementation, get your instructors to dedicate that time, money, and energy to creating great training content instead. Software migration is not a task to be taken lightly, and it might not even solve the underlying problem if your content is outdated.
3. You haven't explored integration options
In some cases, your current LMS genuinely does not offer the integrations that you need. But in others, you may not have realized your LMS can integrate with your HR information system (HRIS), customer relationship management (CRM) software, applicant tracking system (ATS), and other tools your business uses.
If you haven't investigated your LMS's integrations in a while, take a look at the choices to see what new ones have been added. You might find that the new integrations will improve efficiency, solve your current issues with the training software, and mitigate the need to switch.
4. Employees aren't using the system
If employees aren't using the current LMS system, then switching to a new one won't automatically inspire them to engage the platform more frequently. Low activity may be due to a lack of awareness, access issues, or ineffective incentives.
Survey your team using employee engagement software to understand their motivations, then evaluate your current training strategy to see what needs to change. Adding engagement elements like gamification and rewards might be more effective than switching to a new platform.
5. IT is holding you back
Some companies have internal IT regulations that dictate how often software may be updated, which can impact the effectiveness of any platform, including an LMS.
If the IT department is spread thin, they might also lack the people power to properly deploy the LMS. If either of these applies to your situation, then pursuing a new LMS installation won't address the underlying problem, and in fact, might make it worse by creating more work for the IT team.
Ready to switch your LMS?
If your company is experiencing the growing pains of a learning management system that isn't growing with you, it might be time to look for an alternative. We can help in that search: Use our LMS Software Guide to start exploring your options.
Featured partners: LMS software
1

Wrike
Create a better way to work with Wrike work management software. Automate time-consuming admin tasks so you can focus on work that matters most. Kick-start projects and workflows with pre-built templates, increase collaboration with intuitive communication tools, and boost visibility with a variety of project views. Visualize projects with Gantt charts or Kanban boards and keep stakeholders informed with automated reporting and status updates. Anything is possible with Wrike at your fingertips.
Technology Advice is able to offer
our services
for free because some vendors may pay us for web traffic or other sales opportunities. Our mission is to help technology buyers make better purchasing decisions, so we provide you with information for all vendors — even those that don't pay us.