Paperwork is a liability in the medical field because it's easy to lose or damage. Electronic medical records (EMR) provide a secure way for doctors and nurses to chart their patients' care and make changes as necessary. These records are confined to a single healthcare organization and allow personnel to create, manage, and store patient charts, labs, and prescriptions.
To skip this guide and find the right EMR system for your organization, use our Product Selection Tool by filling out the form on the right. It's free, and in as little as five minutes, you'll get a personalized list of software recommendations.
Jump to:
What Is EMR Software?
Electronic medical record (EMR) systems are the predecessors to modern EHRs. Many people use the two terms interchangeably, but they are not the same. EMR solutions essentially store digital versions of paper patient charts, while EHR platforms significantly expand upon the medical data capabilities offered by electronic medical records.
EMR systems store information on patients at hospitals and clinics, but that information never leaves the location where it was originally compiled. This means a new patient record must be created any time a patient goes to a different hospital, clinic, mental health provider, or another medical care facility.
Types of Electronic Medical Records Systems
There are several types of EMR systems that healthcare providers can choose from, mostly differing in their form of deployment and how hands-on the vendor is.
On-premises: The organization installs the software onto its own servers. This format typically involves more upfront expense and a longer deployment. Once the sale is complete, the vendor has no further involvement, except to answer support questions.
Private cloud: In an attempt to make EMR software more affordable for small practices initially, vendors will host the system on a private cloud. This lowers the upfront costs for implementation, but could be more expensive overall.
Software-as-a-Service (SaaS): Removes the upfront costs associated with implementing EMR software in favor of a monthly fee. This works better for nationwide providers. Additionally, the vendor handles the maintenance and management of the software.
Cloud-based services: Similar to SaaS, cloud-based EMR vendors host their clients' systems in the cloud, removing the upfront costs and charging a monthly fee. However, these vendors are more involved with their clients, offering more knowledge and back-end services.
Large medical facilities and hospital networks may have the capital necessary to install their EMR software on-premises, but independent providers should focus on cloud-based and SaaS options to lower their overhead and maintenance requirements.
Also read: Key Considerations for Evaluating Cloud vs. On-Premise Software
Compare the Best Electronic Medical Records Systems
| | | | | |
| --- | --- | --- | --- | --- |
| | no | no | yes | no |
| | no | yes | yes | no |
| | yes | yes | yes | yes |
| | yes | yes | no | yes |
| | yes | yes | yes | no |
| | yes | yes | yes | no |
| Product | Claims Management | Medical Billing | E-Prescribing | Practice Management |
Praxis EMR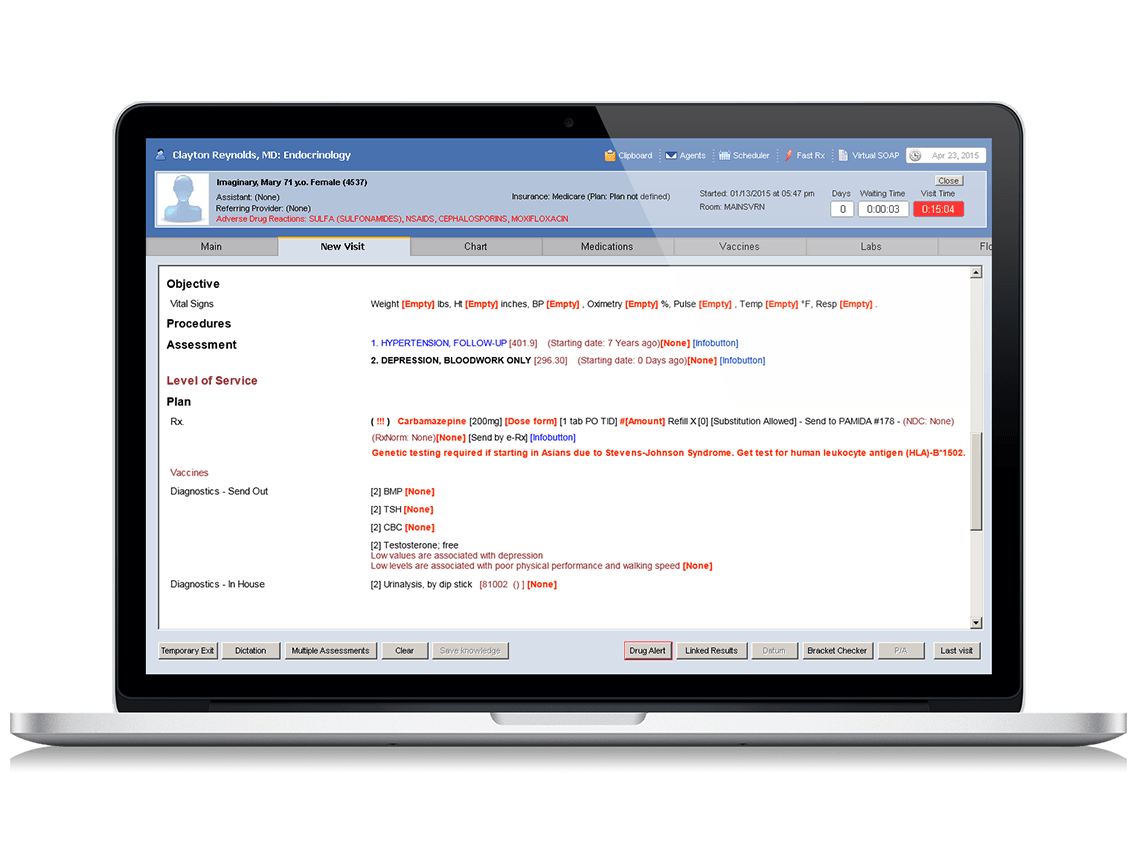 Praxis EMR includes artificial intelligence (AI) that adapts to a doctor's methods and helps them create a checklist for cases to reduce human error. The AI also automates repetitive tasks to reduce a physician's workload.
The system doesn't include templates, allowing providers to structure charts in the way that works best for them. Supporting 75 different specialties, Praxis has features to meet the needs of most providers.
Pros
Easy to tailor to the user's needs
Learns from the user to shorten data entry time
Designated support contact for quick and helpful responses
Cons
Can have a steep learning curve, especially while training the AI
Some users experience glitches
Centricity EMR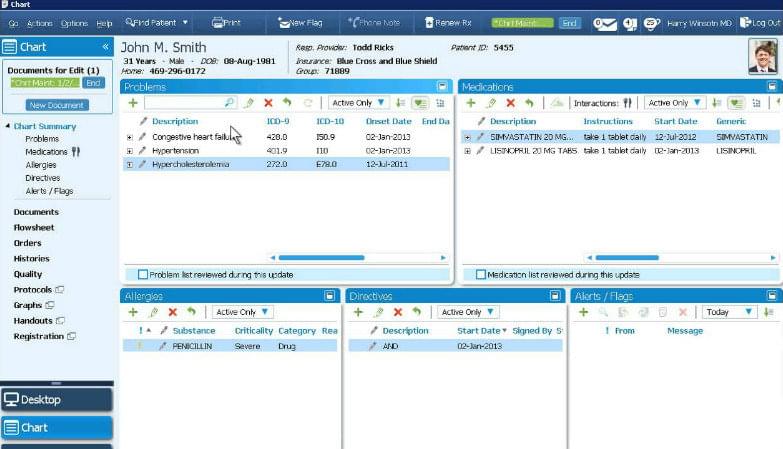 Centricity EMR from GE Healthcare is best suited to larger practices, due to its inclusion of clinical and financial management tools. Practices can use the reporting tools to compare themselves to competitors and improve patient care and employee recruitment strategies.
Centricity tracks patient data, makes it easy for doctors to access and update records, and provides an e-prescribing function.
Pros
Easy to use and navigate
Allows users to open multiple windows
Pre-loaded templates for easy charting
Cons
Some users complain about downtime
Can crash if too many people are using it simultaneously
DrChrono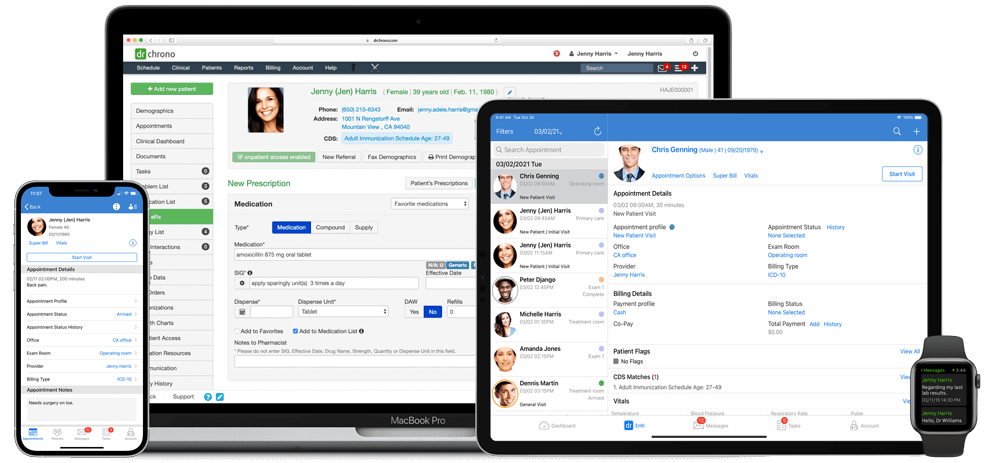 DrChrono EMR is available on desktop, mobile phone, tablet, and even Apple Watch, allowing providers to make updates without being chained to a workstation. The mobile app enables users to take and upload photos to a patient's file.
Included in the system are patient engagement, workflows, scheduling, and billing to keep providers from needing to learn multiple interfaces.
Pros
Easy onboarding
Open API for integrations
Customizable templates
Cons
Customer support can be inconsistent
Some features aren't intuitive
WebPT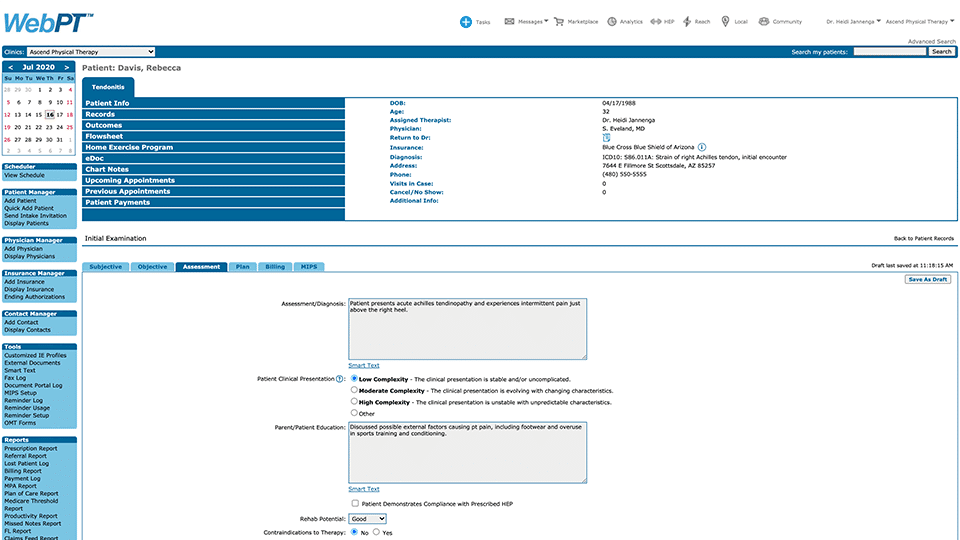 WebPT is an EMR system geared towards physical therapists. Providers can create custom evaluation profiles, choose from evidence-based tests, and use automation to complete measurements. The platform continuously updates to meet changing compliance requirements, while also providing built-in alerts to prevent human error.
Providers can upload PDF documents, diagnostic images, and patient intake files to create complete records.
Pros
Alerts and reports help practices maintain compliance
Easy to learn and use
Visual scheduler
Cons
The interface is outdated
Some users complain about frequent connection issues
InSync Healthcare Solutions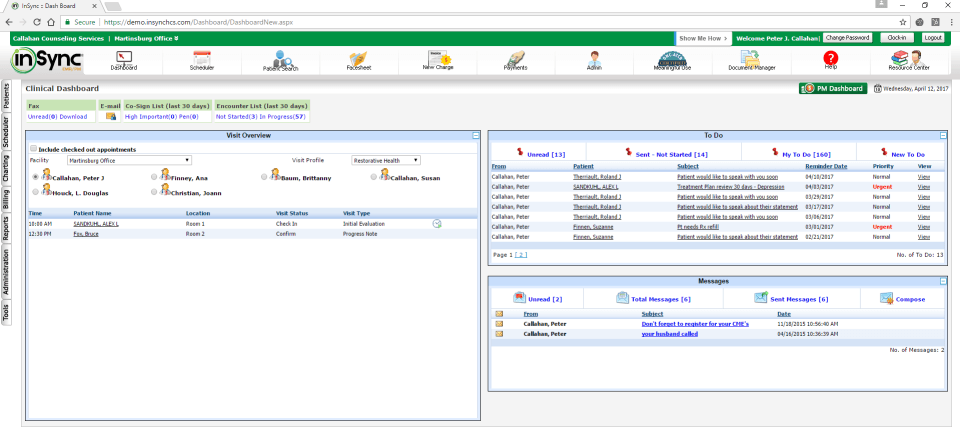 InSync Healthcare Solutions offers cloud-based EMR software with patient management, e-prescribing, and telehealth. Providers can choose from over 80 assessment types and build custom forms to improve quality of care.
InSync offers comprehensive implementation configured to each practice's needs, as well as training services to make sure all users are comfortable with the system.
Pros
Customizable to the organization's needs
Regular updates to improve features
Friendly and helpful support team
Cons
Reports are not fully customizable
Patient portal is only available in English
Experity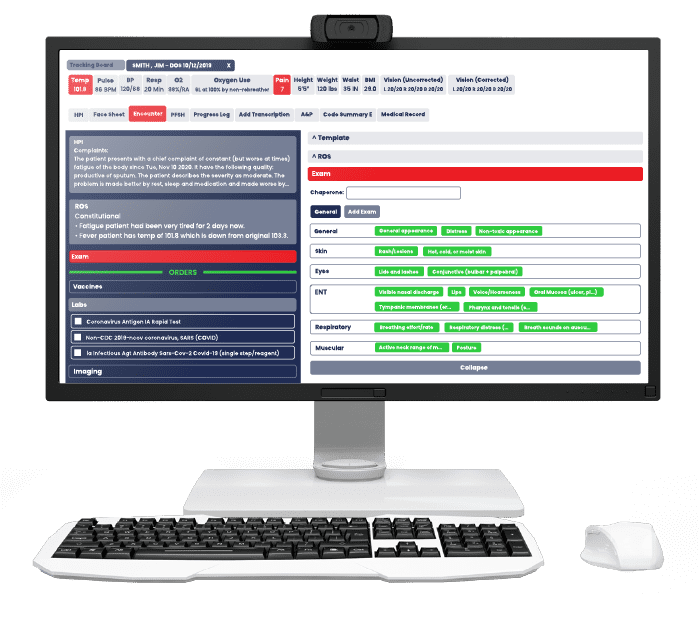 Experity is an EMR system designed for urgent care practices that includes practice management. Pre-built chart templates for the most common urgent center visits help providers begin evaluation faster. Automated tasks and calculations reduce human error, while real-time chart updates speed up clinical workflows.
The business intelligence features also offer actionable insights to improve the quality of care and financial performance.
Pros
Easy to use and intuitive
Allows users to create new templates
Charts are easy to read and well-formatted
Cons
Some users complain about freezing or lagging
Scanned documents don't always save correctly
Key Features of EMR Systems
EMR systems need to improve workflows for providers, enabling them to spend more time with patients and less time charting. These are the features practices investing in an EMR platform should look for.
Training
EMR systems are difficult to implement and many have steep learning curves. Vendors should offer training to offset some of the difficulty in the beginning and help staff learn how to get the most out of the features. Training can be on-site or remote, and there should also be support available for questions after training has concluded.
Document Scanning
In order to create complete patient records, an EMR system should support document scanning, so old files can be added to a patient's profile. Providers should be able to upload lab results, bodily scans (x-rays, MRIs, etc.), and patient intake forms to keep the information as organized as possible.
Appointment Reminders
No-shows or late arrivals can cause major issues for medical practices, so EMR systems should send appointment reminders to patients. Emails, texts, or automated phone calls allow patients to confirm, cancel, or reschedule appointments ahead of time, giving providers the ability to fill empty slots.
Prescription Tracking
Doctors need to know what medications their patients are currently taking before prescribing them anything new. EMR software should include prescription tracking features that provide the patient's prescription history and alert the provider if new medications will interfere with existing ones.
Benefits of Electronic Medical Records Software
EMR software improves the quality of patient care and reduces the amount of time providers have to spend charting.
Fewer Errors
Digital charts are easier to read than paper charts, preventing doctors from misreading notes from previous visits. Additionally, the chart templates create a checklist doctors can follow without missing steps, and automated calculations reduce human error.
Faster & Improved Care
Because EMR systems can automate repetitive tasks during clinical workflows, doctors can spend more time with their patients, improving the quality of care. This automation also speeds up the charting process, so doctors don't have to spend as much time entering data between visits or after hours.
Also read: What Doctors Want from Medical Technology
Scalability
When doctors can lessen the time spent charting, they have more time available to see new patients, allowing their practice to grow. Additionally, paper charts take up a lot of storage space, but digital charts don't — especially with cloud-based EMR systems. EMR software allows practices to scale without necessarily requiring additional space or staff.
Prevents Conflicting or Duplicate Treatments
EMR systems often include clinical decision support (CDS), which alerts physicians if they attempt to prescribe a treatment or medication that would conflict with a patient's current plan. Additionally, the charts would include treatment history, preventing doctors from ordering duplicate labs.
Disadvantages of EMR Software
While EMR software can be helpful, it's also expensive and may not provide all of the functionality medical practices need.
Shareability
Unlike EHR software, EMR systems can't share patient data with other providers. Instead, all of the information is locked into the system. This is good for privacy, but places part of the burden of care onto the patient. If shareability and interoperability are important to the provider, they should look at EHR systems instead.
Cost
EMR software is not cheap, especially if the vendor has to customize it to the practice. And modules for specific disciplines may cost extra. Healthcare organizations should make sure they know what's included in the EMR system and what they'll need to add on before signing a contract.
Increased Workloads
While EMR systems can streamline workflows for many providers, they can also add extra work. Providers have to be meticulous about updating the platform in order to improve their patients' quality of care. If they only make the bare minimum updates, they won't be able to track progress or provide better outcomes for their patients.
Choosing the Best EMR System for Your Organization
Finding the best EMR solution for your healthcare organization comes down to finding a platform that caters to your specialty and provides the features you need. Independent practices should consider EMR platforms that include or integrate with practice management, billing, and patient accounting tools, while major hospitals may prefer a cloud-based medical suite that includes EMR.
For a free, customized list of EMR software recommendations, use our Product Selection Tool by filling out the form on the right side of this page. Alternatively, you can call us at (855) 718-1369 to speak with one of our experts.
Read next: The Best HIPAA Compliant Video Conferencing Tools for Telehealth