What is digital asset management software?
To start, digital asset management is the structure organizations use to manage their digital assets in a cost-effective manner. It also involves the maintenance of these digital assets to ensure proper upkeep based on factors like capacity, security, and performance.
Digital asset management software allows marketing professionals in particular to easily and effectively access and utilize their digital media files and other marketing content in one centralized system.
Find your new digital asset management software
Compare top digital asset management software
Here, we will look at some of the top digital asset management software options available on the market today.
| Product | Multi-Campaign | Mobile Access | Collaboration Tools | Activity Dashboard | File Transfer | Version Control |
| --- | --- | --- | --- | --- | --- | --- |
| Canto | no | yes | yes | yes | yes | yes |
| Bynder | yes | yes | yes | yes | yes | yes |
| monday.com Work OS | yes | yes | yes | yes | yes | yes |
| MediaValet | no | yes | yes | yes | no | yes |
| Asset Bank | no | no | yes | yes | yes | yes |
| Cortex | no | yes | yes | yes | yes | yes |
| Smartsheet | yes | yes | yes | yes | yes | yes |
| Wrike | yes | yes | yes | yes | no | yes |
Canto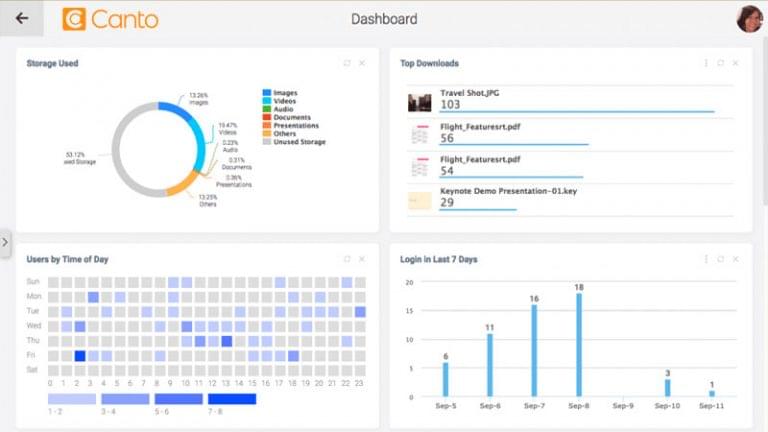 Canto's DAM software has an intuitive interface designed to assist users with their workflow automation, digital asset creation, organization, and overall content management. Automated workflows can save time for workforce teams, as repetitive tasks are performed within the system.
In addition, file sharing, commenting, approval statuses, and access control facilitate creative teams' collaboration. Canto also offers many great perks to interested buyers, such as file conversion, creative asset categorization, brand guidelines, and more.
Bynder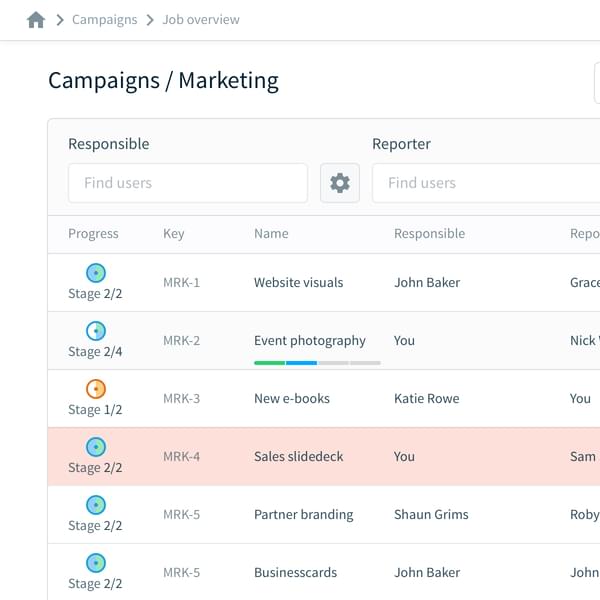 Bynder's DAM software allows marketers to easily collaborate through its cloud-based solution. This means that data can be accessed and utilized remotely in the system. Additionally, users can customize their brand guidelines and monitor them in the system to maintain consistency across brand assets. Bynder's easy-to-use Digital Brand Templates and configurable workflows benefit brand-forward organizations.
monday.com Work OS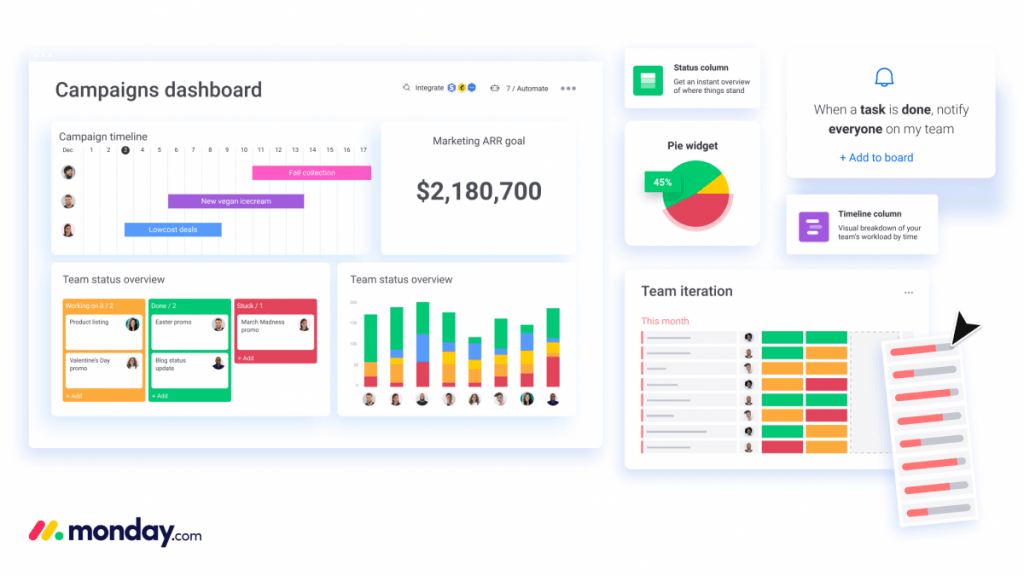 When it comes to ready-made templates, monday.com may just be the vendor to beat. The Work OS platform has many options for marketers looking to customize their digital assets.
And the software makes collaboration easy, as when one team member adjusts the shared system, it is adjusted automatically across the network through real-time data syncing. In addition, users can handle multiple campaigns and projects simultaneously, so all plans are maintained and organized for success.
MediaValet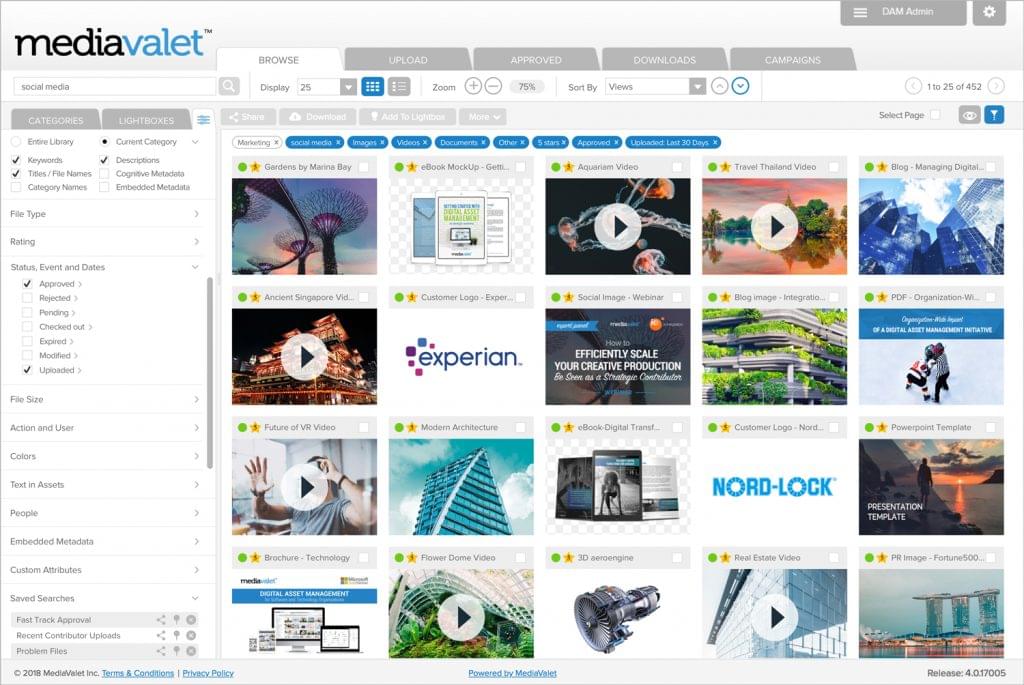 MediaValet's DAM platform is an excellent choice for marketers looking to improve the perception of their organization and maintain brand consistency. Organizations using the product can rest assured that their digital branding is streamlined and correctly executed across their external systems.
In addition, the open API allows users to integrate MediaValet's digital asset management platform with their existing platforms, so all of their needs can be processed within one solution.
Asset Bank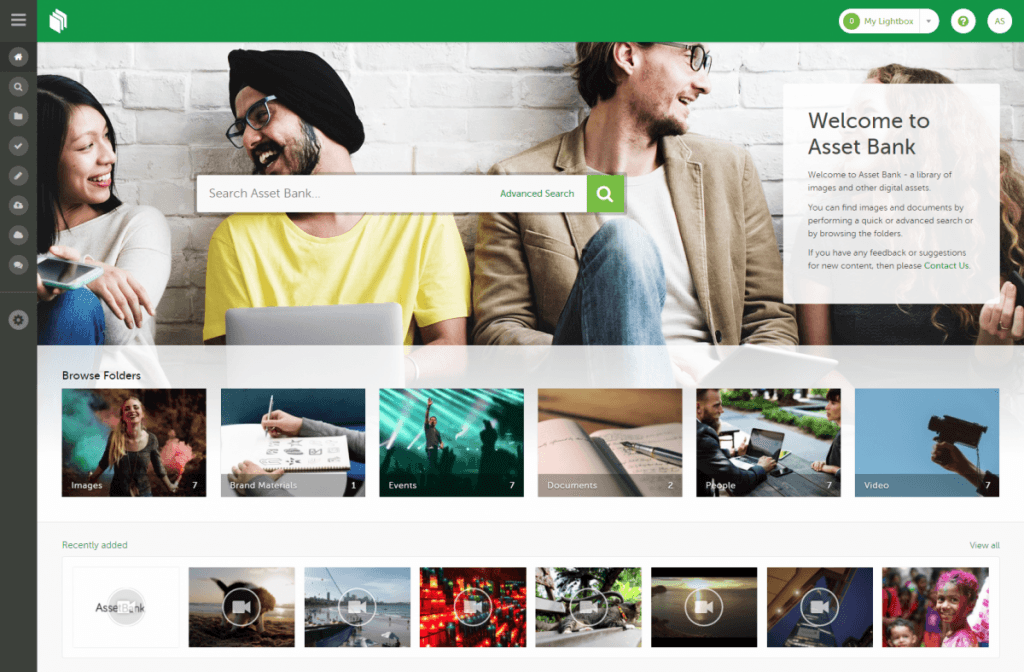 Asset Bank is a beneficial option for marketers who want to manage their data on a larger scale. Their Content Delivery Network feature allows users to speed up page load times for digital content globally.
In-house solutions and third-party solutions can be integrated with this DAM software's REST API, so users can easily retrieve and adjust their data in the system. And for busy users, the system even allows for secure, easy logins with a range of single sign-on (SSO) options.
Orange Logic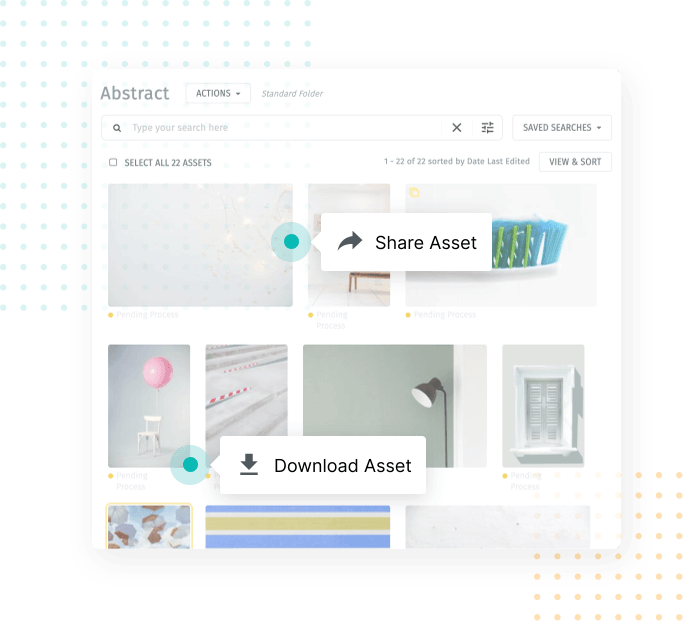 Cortex's Digital Asset Management software, Orange Logic, is a polymorphic platform attuned to the needs and workflows of users. The system provides a central asset repository and offers individual DAM solutions for separate departments, meaning that all assets are connected in a centralized source of truth. Through this, the tool can quickly adapt to the needs of each department.
Users can also enjoy the security that comes from utilizing this DAM software, as the audit trails, automatic backups, and custom watermarks make it easier to protect assets.
Smartsheet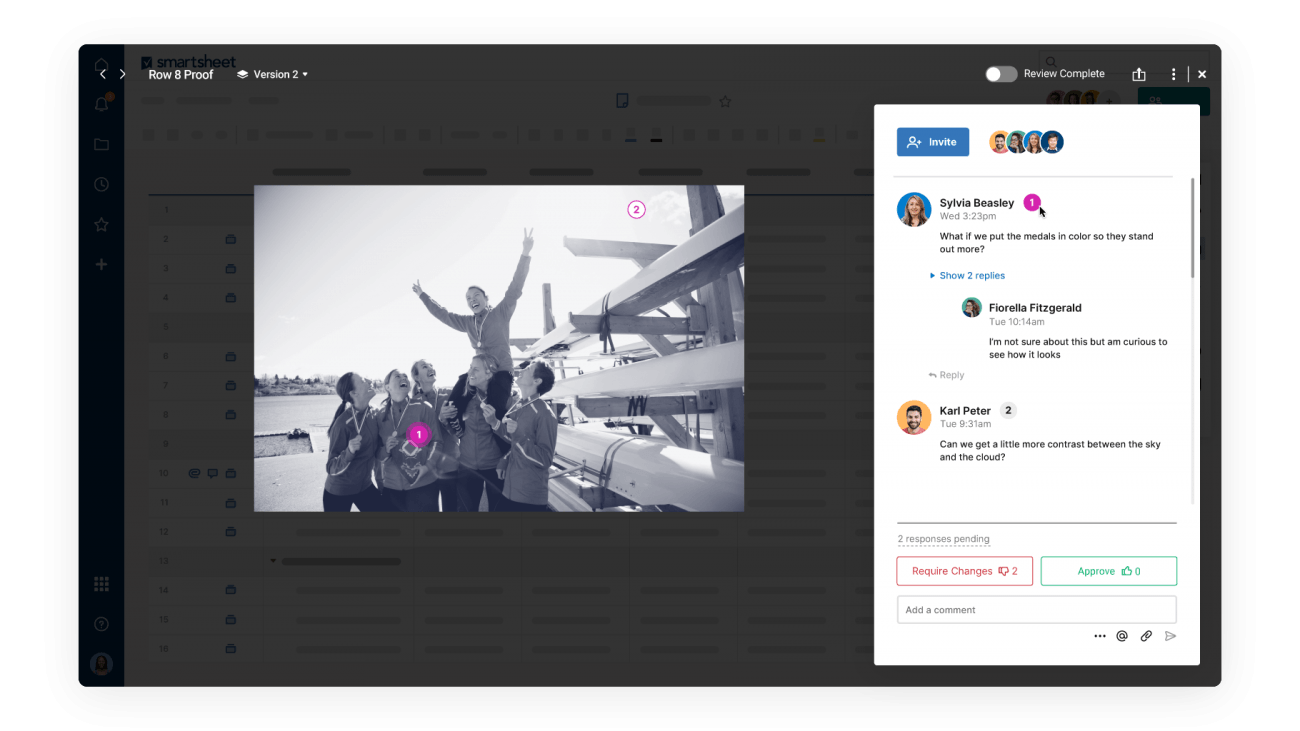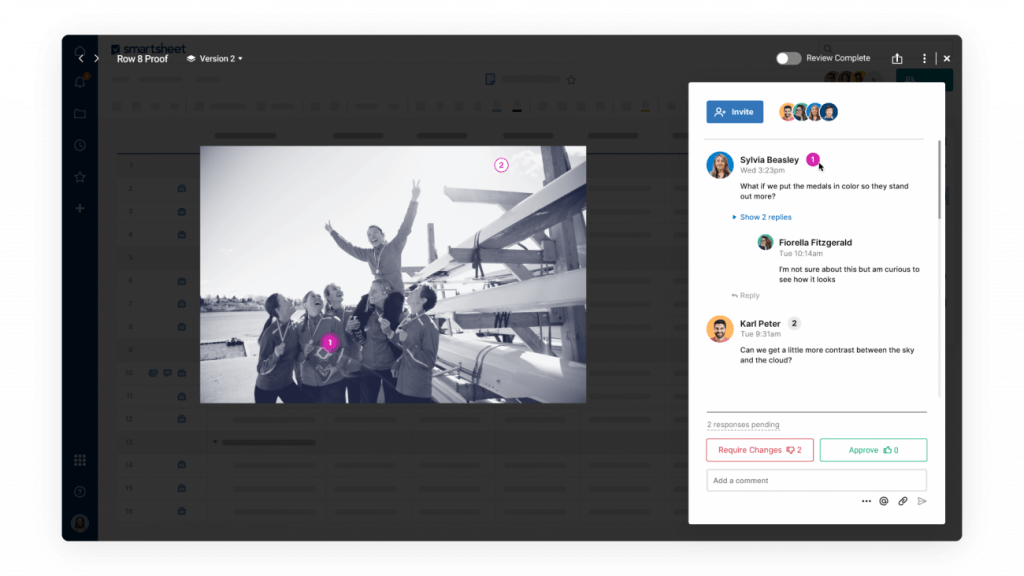 Smartsheet is a workforce software product through which marketers can maintain the compliance and management of their digital assets. As an enterprise DAM software solution, it promotes easy collaboration with features like file sharing.
Additionally, users can maintain the proper use of their digital solutions with Smartsheet's version control feature, so any changes to their assets' metadata can be tracked and managed.
Wrike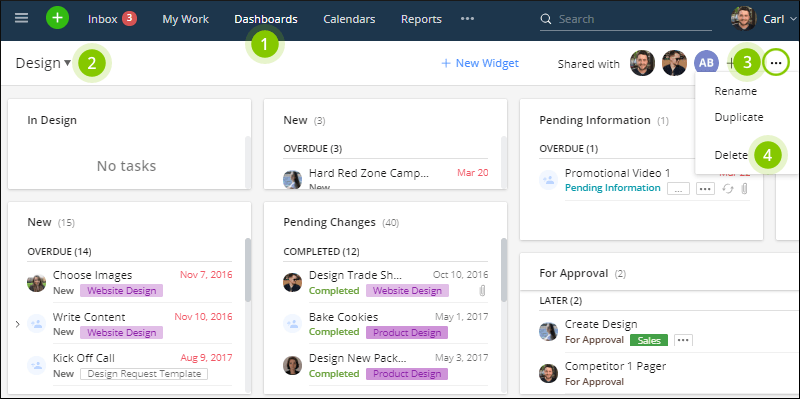 Wrike is a Citrix-owned work management platform with features to help marketers with content management. For example, they can locate and access their digital assets within the system for easy use when needed.
The software even provides features for the creation and production of visual assets with Adobe Creative Cloud integrations, so users develop creative files customized to their business needs.
What are the benefits of digital asset management software?
For organizations that want to manage their assets and leverage them to the greatest benefit, digital asset management software provides many advantages.
These solutions help organizations maintain the inventory of their assets and properly process the disposal of digital assets that are no longer necessary to their operations.
In addition, users organize assets within the system platform to quickly access and utilize them. This can be helpful for organizations to ensure consistency across each of their different files and assets.
Many DAM software products also offer features popular among enterprise management solutions in general, such as security and encryption capabilities, and streamlined workflows with features that support team communication. Many solutions also offer specific features for monitoring content rights and compliance to avoid violations.
Digital asset manager solutions tend to have many features in common, with some unique features that set them apart from the competition. Here are some valuable capabilities and features to look for when shopping for a digital asset management tool.
Multi-Campaign
For organizations that organize email campaigns or even non-brand-related projects, multi-campaign features can allow them to coordinate multiple workflows at the same time. This can increase campaign productivity and enable users to manage and work toward multiple goals at once.
Mobile Access
DAM software with mobile accessibility can be a lifesaver for a distributed business or organization. Not only can digital assets be managed and accessed remotely, but users can address important issues at any time and any place.
Collaboration Tools
Teams benefit from DAM software with tools that promote collaborative content management. Team members can keep track of workflows and objectives, communicating within the system to stay on the same page. These tools can make sharing, updating, and approving digital assets easy.
Activity Dashboards
Activity dashboards can do wonders to maintain productivity and keep team members together on the right track. They can also help with monitoring each of their user's activities, so leaders can be aware of and manage their team member's actions.
File Transfer
Digital assets can be transferred across user networks if the management solution has file transfer capabilities. However, collaboration and data sharing can become more difficult without these capabilities, as file transfers cannot occur within the system.
Version Control
DAM software products that include version control let users view and manage the changes that were made to their digital programs. This way, software and IT teams can easily track changes to a digital asset's metadata and avoid unintended actions and errors.
When choosing a digital asset management system, first consider your business's needs and decide what software products best suit them. For instance, organizations that value open communication and teamwork would appreciate DAM software options with collaboration features — so a platform like monday.com Work OS may be a good fit.
Additionally, identify must-have versus nice-to-have features. For example, while those that value consistency in their brand management may like a DAM platform like MediaValet, the product may not be the right choice if they also value file-sharing or orchestrating multiple simultaneous campaigns.
By considering the capabilities of digital asset management products and what you would value in a solution, you can decide on the best product for your needs.
Which digital asset management software is right for your business?