Key Takeaways
Sales mapping software eases travel times and increases productivity for your dispersed teams.
You can plan more strategic routes, build more effective territory maps, and easily share your data with management teams and accounting . . . or you can blindly dispatch your sales team and let them find their own way.
---
Sales mapping software is a fairly new addition to the tech world, but integrating sales data with geolocation and mapping is quickly becoming a best practice for outside sales. The least technical versions of sales mapping software overlay spreadsheet data on maps. The most advanced integrate CRM data and administrative tracking capabilities.
ALSO READ: 5 Ways Business Mapping Improves Sales
Your accounting department should be shouting for this software. Building the shortest routes between customers gives your sales team more time to meet with more clients and cuts fuel and mileage costs. Many of these tools also include check-in capabilities, so managers can keep an eye on their reps without making half a dozen phone calls.
This list gives you several sales mapping software options to choose from, depending on your business needs. Some products provide advanced features and broad horizontal integration, while others just cover the basics.
Sales Mapping and Beyond
Badger Maps:
Best for dispersed sales teams
Badger Maps is an automatic territory management software that helps field sales representatives streamline their processes and expand their clientele. It has universal compatibility with almost any CRM, as well as spreadsheets and calendars, making Badger a strong contender in the sales mapping space. You can also report from the app to target customer segments and find new lead openings.
Badger Maps designed their app with dispersed sales teams in mind. The mobile interface plots the fastest route between customers, and live traffic updates help you avoid delays. With all that extra time, you can use the app to search for new leads in your area. As sales reps work their way through a route, a check-in feature updates the system to keep managers and other stakeholders informed. The check-in feature also stores information about client visits to keep follow-ups from falling through the cracks.
Badger Maps pros:
Businesses can gain insights into rep activities and field performance
Visualization capabilities make it easy to uncover potential growth areas, like underutilized leads and undersold accounts
Easy set-up
Intuitive UI
Badger Maps cons:
Steep learning curve for new users
No employee scheduling features
Limited reporting capabilities compared to other options
Badger Maps key features:
Lasso:

The Lasso feature lets users generate routes by circling a set of points on the map. This makes it easy to find the best routes and instantly reassign accounts geographically, so your dispersed workers can take jobs in their assigned regions.

Route Stats:

Workers can view important information about their routes, such as seeing the mileage, travel time, and full-day time of your routes, so they can generate accurate mileage reports quickly and easily.
Portatour:

Best for planning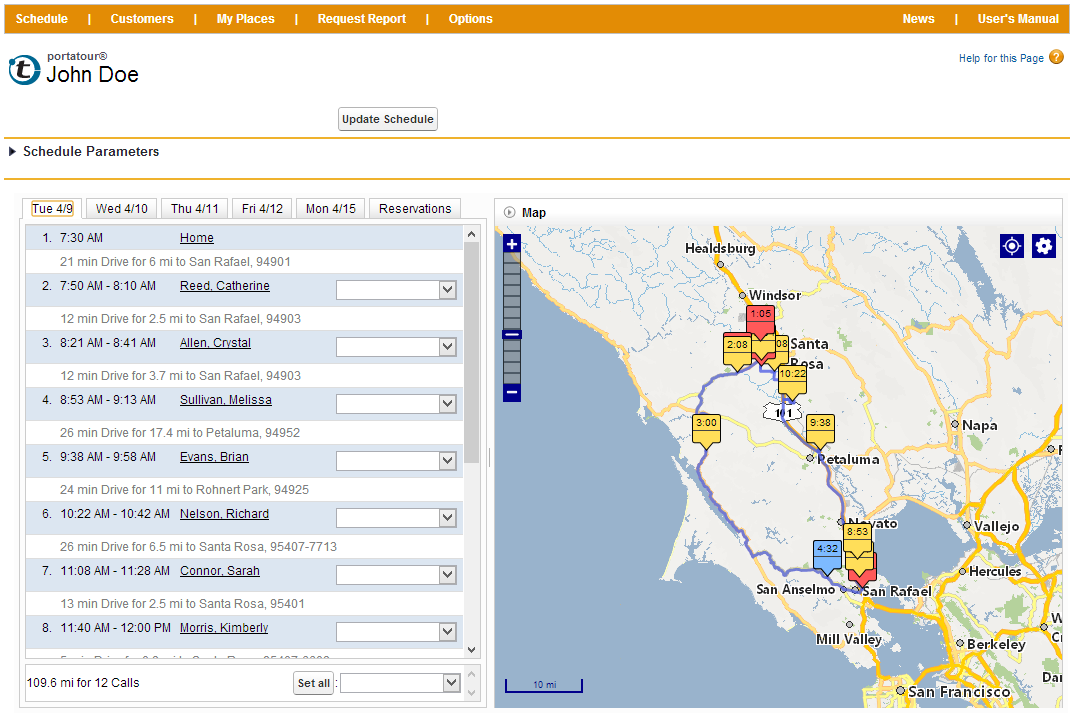 Portatour's mobile interface connects with your CRM to build sales territory maps and driving routes. It pulls existing customers, calls, and appointments, and builds the fastest and most direct routes for your sales team. You can even automate your schedule updates so the maps reroute your teams based on the latest data. Custom reports keep managers informed of progress on sales goals and accounting status.
Portatour's strength is its focus on planning. Prepare your routes up to 28 days in advance, and they'll automatically adjust to missed or deferred calls and schedule changes. Portatour suggests its software for sales teams with more than 100 clients in an area; it can plan for large territories as well as overnight stays in the middle of routes.
Portatour pros:
Drag-and-drop calendars
Automated suggestions for planning business situations such as overnight stays, nearby customers, and customer appointments
Integrations with popular CRMs and other third-party solutions for easy data syncing
Portatour cons:
Lacking lead generation features often included in other sales mapping solutions

No 24/7 live support
Portatour Key Features
Customer Database: The built-in customer database holds up to 1,000 customers and schedules up to 125 calls at once.
Surrounding Customers

: The surrounding customers feature provides automatic suggestions of surrounding customers, making it easy to reach out and arrange opportunities all within one area.
Callproof:

Best for flexibility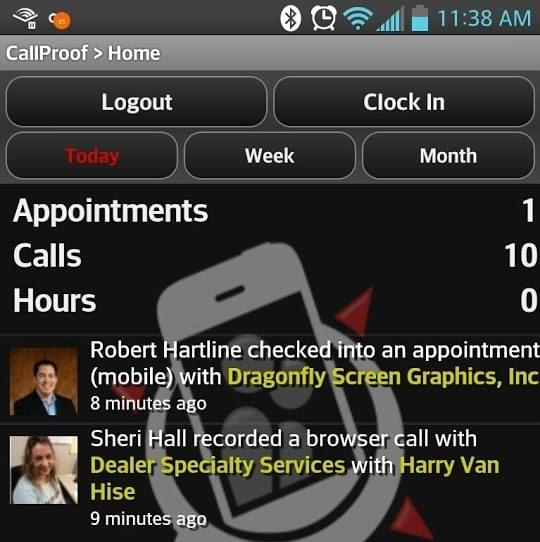 Callproof's mobile mapping software is great for large outside marketing teams with rapidly changing schedules that need flexibility, but also manager oversight. Upload customer information to build your routes through Google Maps, and even use Street View to locate clients in unfamiliar areas. Create and save multiple routes at the same time, and give managers oversight of all sales movements with geo-tagged check-ins.
This software's flexibility lets you add new customers on the fly and alerts reps based on customer-specific notifications. A newsfeed of all check-ins and movements keeps everyone informed, and managers can import or export data from the app. A direct Wufoo integration gives reps direct access to business forms and contracts and updates completed forms in real time.
Callproof pros:
Easy to find new clients and follow-up with old ones
Affordable low-end pricing
Time-tracking features
Speech-to-text friendly mobile app
Callproof cons:
Challenging search feature
Time-consuming set-up
Callproof key features
Business Card Scanning:

This feature lets users take a picture of a customer's business card to automatically fill in their data and save their contact information.

Integration with Google Workspaces and Office 365:

These connections allow data to be synced between systems, and will make it easy for workers to stay in the loop about business plan updates.

Places Feature:

Users can automatically add new clients, and the feature also color coordinates contacts based on their customer status.
Yellowfin

: Best for integrations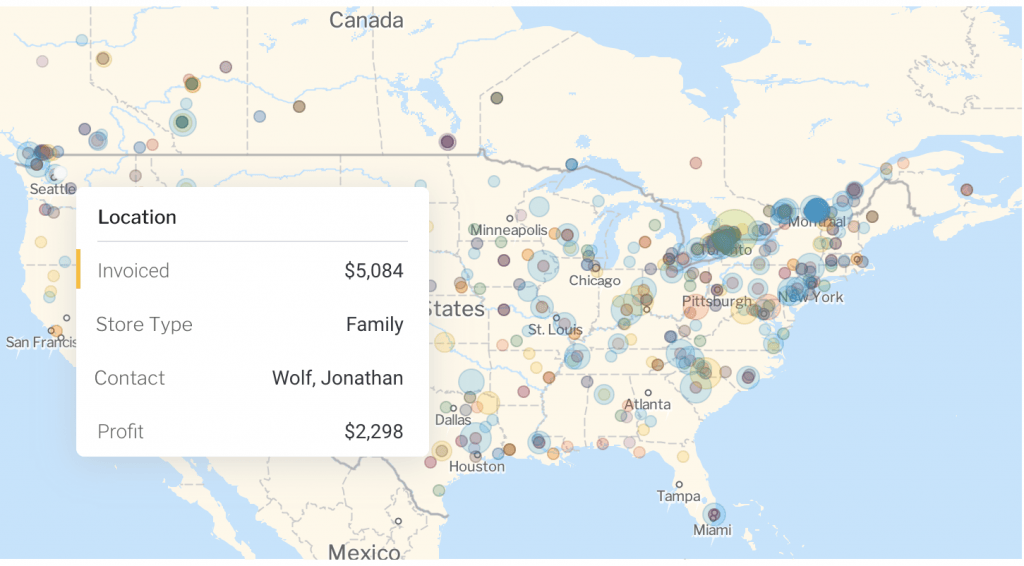 Yellowfin's software platform extends well beyond mapping into business intelligence (BI) visualization. However, if you need a system capable of many visualizations for multiple departments, Yellowfin meets that need. Because it caters to the BI crowd, Yellowfin connects all sorts of data to help you build your maps, not only CRM.
This software's major benefit is found in its connections marketplace. Yellowfin has built lots of integrations with major business brands and useful tools, including geocodes, MailChimp, Salesforce, Zendesk, and Expensify. If you can't find what you need, use the developer API access to build custom connections with your in-house databases.
Yellowfin pros:
Action-based dashboards
Platform documentation available for user reference
Flexible pricing model with no hidden fees
Augmented analytics allow users to gain insights about their business data
Yellowfin cons:
Reporting system a bit clunky
Needs a cloud option
Yellowfin key features:
Action-based Dashboards: Yellowfin offers fully-customizable dashboards that can be built to your specific need.
Automated Business Monitoring: Set thresholds for alerts to let you know of any changes in your business over a long list of options.
eSpatial: Best for salesperson support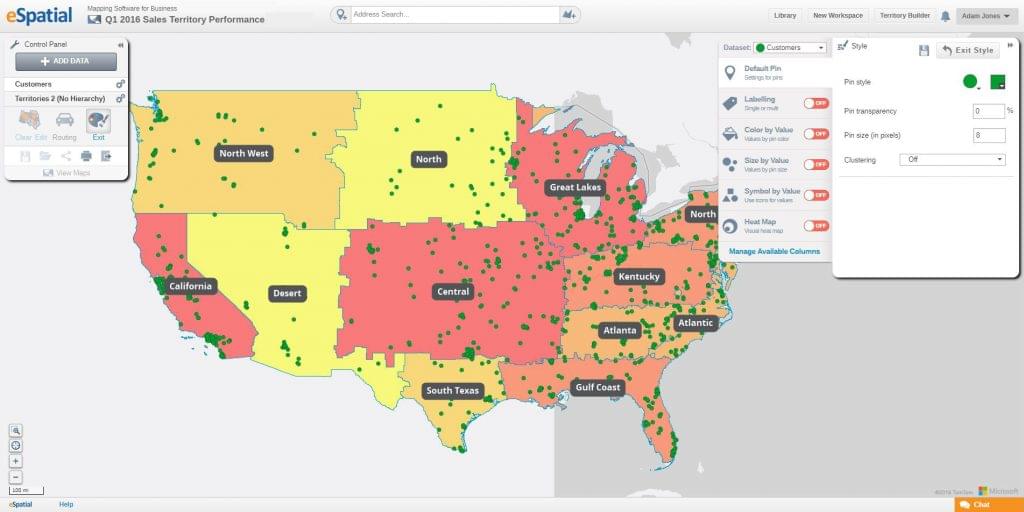 eSpatial is powered by Microsoft Azure and overlays data points on existing or drawn territories to build sales maps. Whether you bring your own data or use free worldwide census and government data to inform your maps, all of it can be segmented, filtered, and analyzed.
eSpatial offers seamless Salesforce integration and is available on the Salesforce AppExchange. Route planning is built with all the bells and whistles required by salespeople including turn-by-turn driving directions. Territory-based businesses will enjoy the visualizations that go beyond territory and route mapping and even combine other types of chart data for complex analysis.
eSpatial pros:
Easy to use once you get the hang of the software
Helpful data visualization options
Simple, yet robust map configuration capabilities
Fast, straightforward employee onboarding
eSpatial cons:
Limited file uploading options and customizations
Learning-curve
eSpatial key features:
eTerritory: This territory alignment system feature helps salespeople map out their sales data to minimize time wasted, generate alignment territories, and share alignments with their other team members.
Visual Maps: Insights are revealed through visual maps, which use data to display information about sales costs, marketing costs and ROI, so sales and marketing teams can plan and control their expenditures.
BatchGeo: Best free option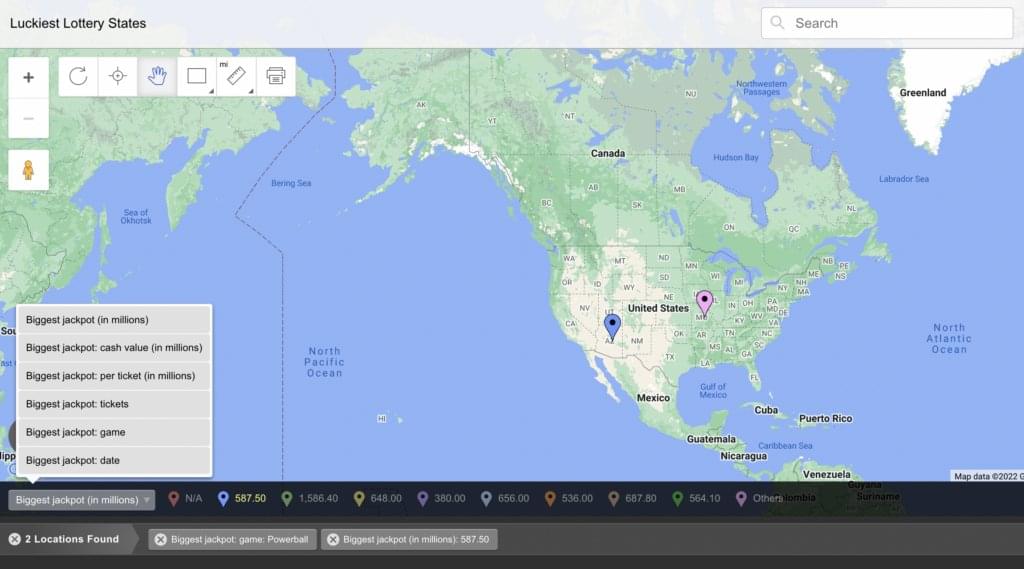 Batchgeo lets you share maps with stakeholders or embed a custom map in your website for customer use. This option wasn't specifically made for sales, but the general functions work well enough to build sales maps with. Try out the free tier, but if you don't want ads on your maps, you'll need to upgrade to the Pro edition.
Other Pro edition extras include heat maps, faster data processing, streetview overlay, and enhanced security. BatchGeo also offers a native app for all pay levels with built-in filtering capabilities and driving directions to keep your sales team from using multiple apps while driving.
Batchgeo pros:
Map generation, saving, and sharing
Location data analysis capabilities
Step-by-step instructions
Easy data uploading and formatting
Batchgeo cons:
Free version of Batchgeo comes with ads
Pro version is limited to 10 users so it may not be the best option for larger organizations
Batchgeo key features:
Grouping fields: The free and Pro versions of BatchGeo let users discover insights geographically by grouping data within territories on the platform's map.
Map clustering: Free and pro account users can access the basic map clustering capabilities to gain insights from their clustered datasets.
Maptive: Best for security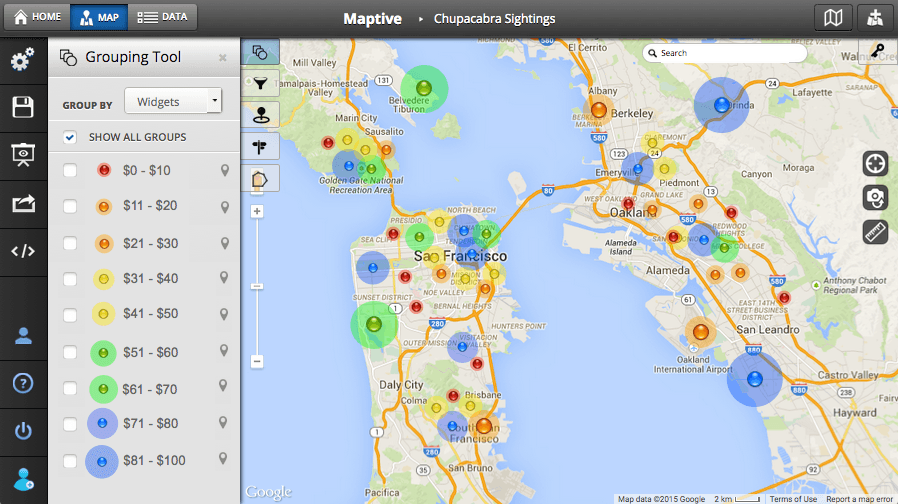 Like many other options on this list, Maptive runs as an overlay on the Google Maps enterprise platform. They offer a couple of options for uploading data: directly from a CSV file or through automatic API sync. The entire platform is browser-based and lives in the cloud, protected by 256-bit SSL encryption.
While Maptive doesn't include a lot of the extras found in other sales mapping solutions, its simplicity is appealing in itself. Customize your maps and share them with stakeholders. Use easy segmentation to build sales territories, and drive quickly from one location to another along the fastest route.
Maptive pros:
Intuitive
Easy sharing and collaboration features
Great support and free enterprise-level training offered to users
User-friendly functionality
Maptive cons:
Pricey for smaller organizations
Customization options are lacking
Maptive key features:
Geocoding: Maptive data is geocoded through Google and secured using 256-bit SSL encryption to ensure security.
Backup and Recovery: The platform performs fully redundant backups on stored data and offers disaster recovery so all data is protected in case of emergency.
Mapline: Best for customer management

Mapline is the most basic of all of the mapping solutions on this list. It's not designed specifically for sales, but would adapt well to a sales team. Companies using spreadsheets for client data can import from Excel to overlay on a map of their area. You can draw territories according to custom shapes, client concentrations, or government areas.
Once you've built your map in Mapline, your data can live there for future route mapping. You can embed and share reports, or assign information to map pins. But if you want to analyze your maps based on client location, proximity, activity, or other segments, you'll need to export all or part of the data back into Excel. Mapline is a stripped-down solution for basic mapping tasks.
Mapline pros:
Beneficial integrations for data syncing
Good data visualization options
Users can consider capacity constraints as they make dispatch plans
Access control for securing sensitive data
Mapline cons:
Non tech-savvy beginners may struggle
A bit pricey for smaller companies
Mapline Key Features
Spatially-enhanced forms: Mapline's configurable, spatially-enhanced forms let sales teams communicate quickly and efficiently with customers.
Dynamic Data Automation: Businesses can set their dynamic data columns to update data changes automatically. This enables easy access to relevant real-time information about customers, sales, and more.
Choosing the Best Sales Mapping Software
Sales mapping software eases travel times and increases productivity for your dispersed teams. You can plan more strategic routes, build more effective territory maps, and easily share your data with management teams and accounting . . . or you can blindly dispatch your sales team and let them find their own way.
If you still need help navigating (haha pun) the mapping software market, give us a call for a free assessment. We'll help you decide which solution is the best choice for your team.
Technology Advice is able to offer
our services
for free because some vendors may pay us for web traffic or other sales opportunities. Our mission is to help technology buyers make better purchasing decisions, so we provide you with information for all vendors — even those that don't pay us.