Geolocation (essentially pinpointing an item or person's location) is still a new technology, but it's already shaping the marketplace in far-reaching ways. Foursquare, one prominent app that relies on geolocation, now has over 45 million mobile users, and Twitter has recently added location options, including the ability to search tweets by location. Marketers are experimenting with the technology as well by pushing offers to nearby customers through mobile apps.
It's hard to define the precise impact this will have on businesses and the way they interact with their clients. Like social media in the early 2000s, geolocation is still amorphous — suspect to some, exciting for others.
New trends in customer engagement emphasize meeting customers on their own turf. However, these strategies often only consider virtual locations like social media, mobile apps, and web pages, ignoring the idea of engaging with clients in-person at the most relevant location.
This article will examine the ways geolocation can enhance customer relationship management (CRM) for sales teams, and highlight current programs.
How Technology Makes it Happen
Many companies with mobile sales forces have started using integrated geolocation features with their existing CRM systems. The strategy behind this is nothing new; mobile salespeople have always used mapping intelligence and customer data to organize their day. In the past however, they had to plan their entire day on Mapquest before leaving, or take along a GPS device. Oh yeah, and a Rolodex for storing contact information.
Geolocation apps simplify the sales mapping process. They allow your best team members to stop worrying about logistics and focus on what they're great at: selling.
Here are four geolocation apps that integrate with CRMs and can streamline the way your team operates while on-the-go: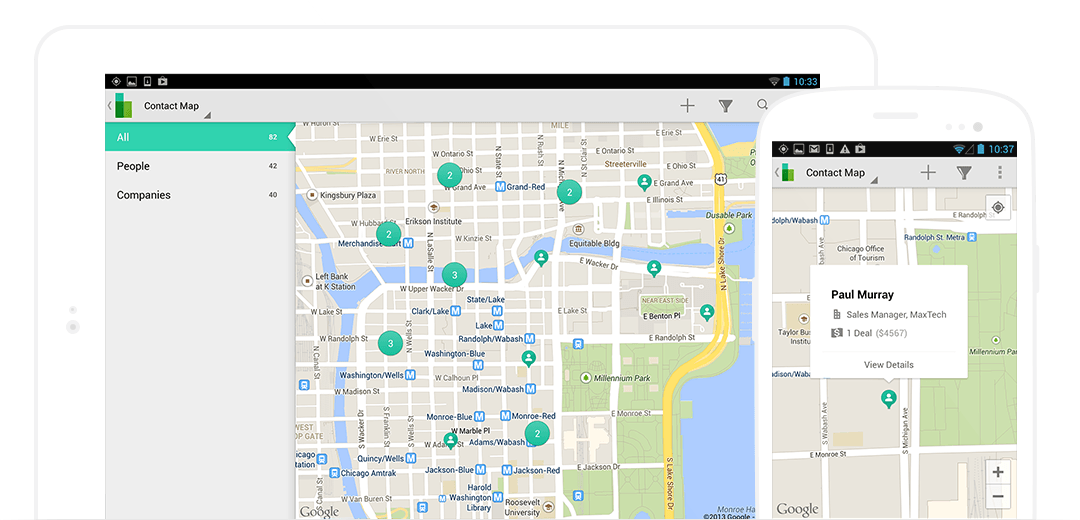 Base Mobile CRM is one of the more progressive options on the market, with its "post-PC," mobile-device-centered design. It's also one of the most popular in both the App Store and Google Play. Base is currently used by over 10,000 companies worldwide.
Base's new Geolocation features have a clean mobile-first interface and include one-touch driving directions for contacts. It also features customizable map filters so you can visualize your market or territory the way you need to, and direct links to Base's other great CRM features like sales tracking, email, phone, and documents.
Base Geolocation comes as part Base Mobile CRM, which starts at $25 per seat/month.
---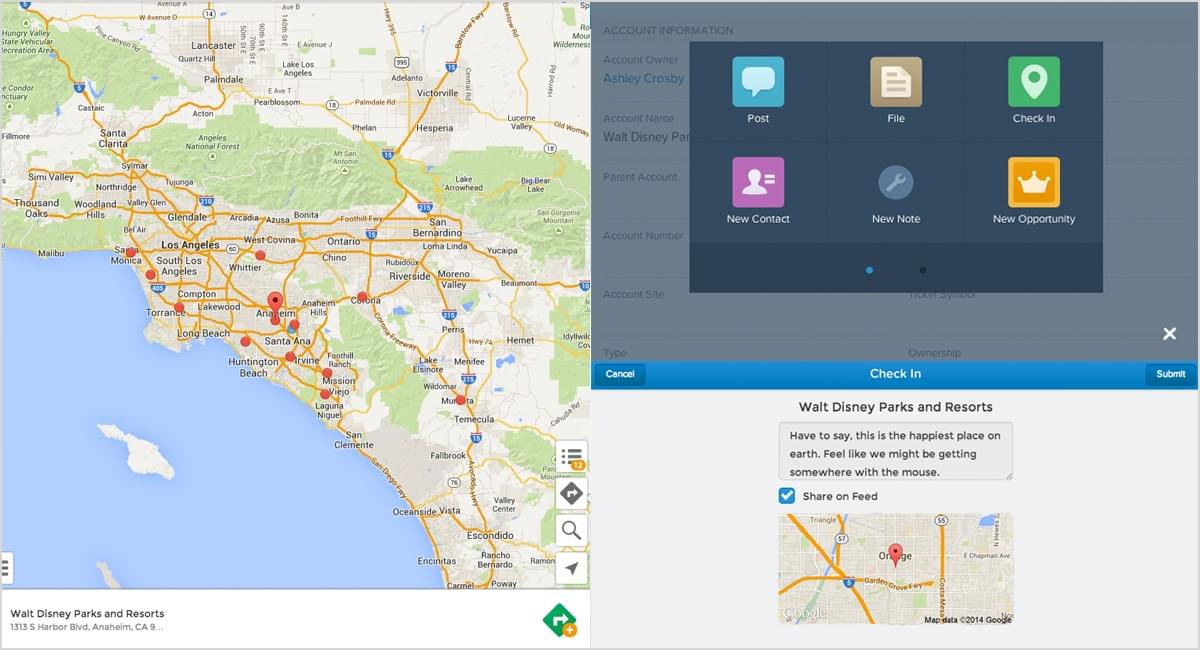 This powerful geolocator app created by Arrowpointe integrates with Salesforce CRM and uses Google Maps and Mapquest to integrate mapping, route planning, and analytics with your existing client databases.
Geopointe lets you search Salesforce data on the go and add search results to routes. You can also use US Census data to filter maps and view potential clients based on specific demographics. Instead of using a separate mobile web search, you can also find businesses and points of interest directly from the system.
Pricing for basic Geopointe with Google Maps is $25 per month/user, or $240 per year/user. Analytics features are priced separately.
---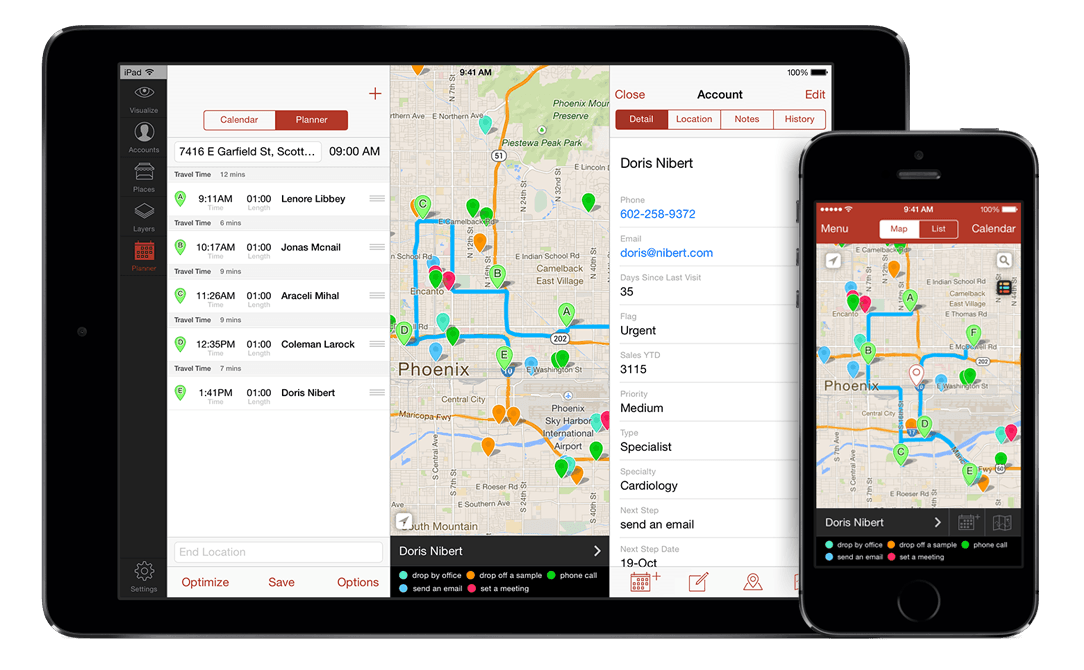 Badger Maps syncs with mobile CRMs and offers easy-to-use tools for market visualization, lead management, and route planning. Relying on the Apple Maps navigation engine, Badger helps you plan the most direct route from office to contact, or between lists of contacts (check out their tutorial video to see this in action).
Badger also helps you plan your appointments, manage your calendar, and easily add new leads to your account. Finally, you can use the "colorize" feature to filter a map by specific parameters that help you plan your next steps.
Badger Maps is $15 per user/month for individuals and $35 per user/month for companies.
---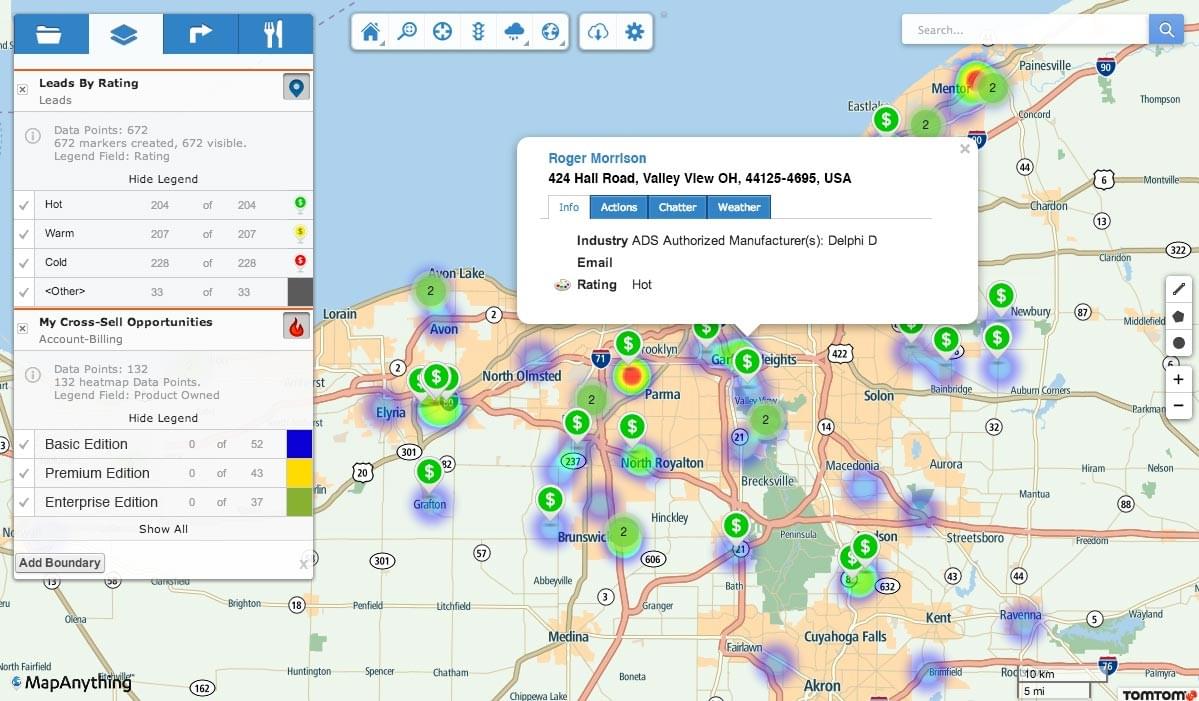 Another promising contender built for Salesforce, MapAnything is designed by cloud software company Cloudbilt and already has a following from big name companies like Time Warner Cable, Parata, and Dyax.
MapAnything is easy to set up (approximately 20 minutes) and can access all of your Salesforce data, without needing to extract files or information. The navigation is powered by TomTom, which includes real-time traffic and built in geocoding, along with smart route optimization.
This app allows you to perform CRM functions like calls, emails, and record-keeping without leaving the map interface, which can be helpful if you need to visit multiple clients in a short period of time. Like other geolocation sales apps, MapAnything lets you filter and customize your maps to analyze market regions.
Pricing for "Gold" edition (the only one available) is $24 per user/month, with a minimum of five seats.
As you can see, there's a lot of similarity here between features, but some vendors offer less expensive, scaled-back versions of their apps, so your decision should be based on the size of your sales team (if you have a small or solo team, Base or Badger is probably the best option) as well as how comprehensive you need the features package to be.
Once you start using geolocation, you can expect to see increased efficiency in the field, more time spent with clients, and a better overall understanding of your market's geography.
Top CRM Software Recommendations
Big ideas aren't simple to execute. So we're here to help you tackle any project, no matter how complex. We're Quickbase.

Quickbase helps customers see, connect and control complex projects that reshape our world. Whether it's raising a skyscraper or coordinating vaccine rollouts, the no-code software platform allows business users to custom fit solutions to the way they work – using information from across the systems they already have.
HubSpot is an intuitive CRM that makes managing your sales pipeline a breeze. Everything you need to track important metrics, set up time-saving flows and automations, manage clients seamlessly, and grow your business is available in one tidy dashboard. Plans are available for businesses at every stage of growth, starting at 100% free. Start taking the guesswork out of business management today with HubSpot CRM.
Connect your entire company – every team, app, workflow, and data source – on one unified CRM platform. Salesforce brings companies and customers together. The near-endless customization, extendability, and scalability of the Salesforce platform make it a great tool for businesses of all sizes. Over 150,000 companies, both big and small, are growing their businesses with Salesforce.
Need a Little Help?
Talk with a software expert for free. Get a list of software that's great for you in less than 15 minutes.
Technology Advice is able to offer
our services
for free because some vendors may pay us for web traffic or other sales opportunities. Our mission is to help technology buyers make better purchasing decisions, so we provide you with information for all vendors — even those that don't pay us.