At the end of October, Zendesk said goodbye to its Buddha agent and rebranded by releasing a new set of logos and splitting their big platform into a family of separate products (what Alphabet is to Google). We wanted to see if anything changed within Zendesk and how it stands up to competition.
In this article, we'll compare Zendesk vs. Desk, because they're both leaders in the help desk vertical, with high usage and customer satisfaction rates across the board. Desk, of course, is Salesforce's online customer service solution — acquired and rebranded from Assistly in 2012.
ALSO READ: 5 Zendesk Alternatives to Consider for Your Helpdesk
We built this comparison based on the features that are most helpful for customer support, but these are by no means the only features you'll find within these products:
Ticket management

Multichannel support

Help documents and customer education

Automation and macros

Collaboration

Reporting
You'll find that these two options are well-matched in terms of features and capabilities, but who will pull ahead? Let's find out.
Ticket Management
Each email sent to your Zendesk account is automatically turned into a ticket, which then logs conversations and internal comments for your team to see. This is particularly helpful when assigning tickets to various people throughout your company. Zendesk also offers macros and a ticket forms add-on to help you answer tickets faster and with better feedback.
One problem with Zendesk's email synchronization is the way extended back-and-forth conversations can appear jumbled or out of order in some email clients. This means some customers may get confused, but the user interface (UI) in Zendesk itself makes handling these emails easy. Other ticketing features include simultaneous ticket management and a native mobile app, so you can respond to queries from any location.
Desk's ticketing system is very similar to Zendesk's: all of the possible tickets filter into a single inbox where agents can prioritize the most important requests. Your agents can view the entire customer history associated with a ticket, which is particularly helpful when starting a new thread with an existing customer. Reviews have mentioned that Desk doesn't include a deadline on the ticketing information, which may affect the pace of your team's resolution process.
Multichannel Support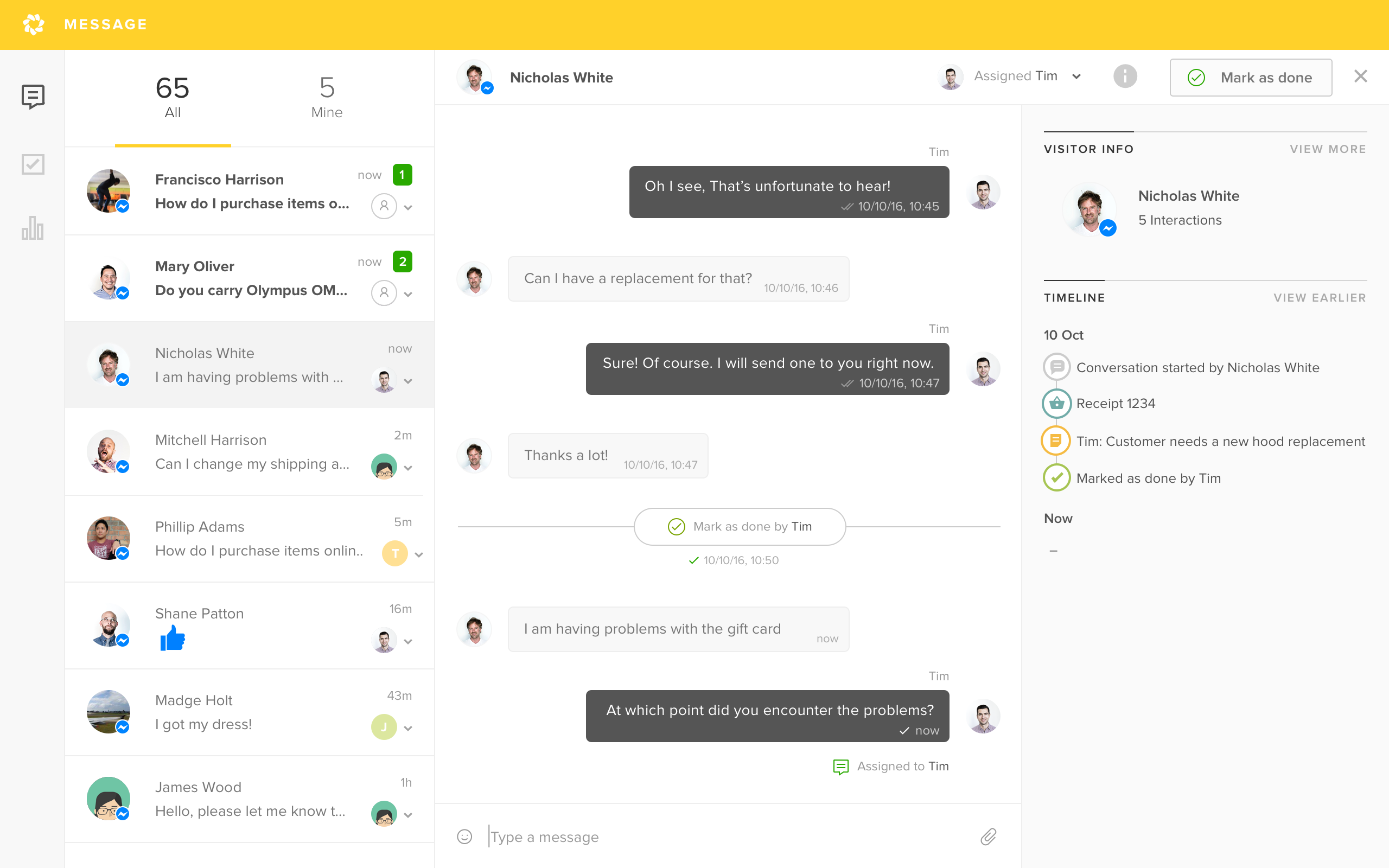 Zendesk supports conversations from wherever your customers are trying to reach you: online chat, email, text message, social media, and telephones. All of these interactions are associated with customer profiles, which gives you a fuller picture of the customer experience. You can use this data to help you make better-informed support and education decisions.
Desk supports email, phone, and social media transfers into tickets as well. The universal inbox model also includes access to community forums and discussions. Agents can access all of the FAQ and help desk material from that central inbox to drop directly into responses. Communicate with your customers through on-site chats from the Desk app or through your current platform with integrations.
Help Documents and Education
Zendesk provides help desk templates for customers to search for their own answer to common questions before they email you with an issue. You can even set up a community forum so your expert customers and users can help bear the load. Branded portals let customers track the status of their tickets and forum posts.
Some folks aren't thrilled with the formatting of Desk's standard templates, so if you want to update those, you'll probably need some developer assistance. Even so, help desks integrate directly with your site and mobile apps, so your customers can help themselves to pertinent information no matter where they are. If you have separate product lines, you can organize all of those brands under a single platform at the Pro account level.
Automation and Macros
You'll find helpful automation tools through macros and message filing in both of these platforms.
Zendesk gives you customization over the look and feel of the emails you send to customers, with templates and custom HTML updates. Triggers help move customers through messaging steps that would be repetitive for your agents. Triggers can also assign the right agent to the right task according to rules you establish.
Desk includes several automated features to help you deal with tickets faster, including categorizations, filters, bulk updates, and workflow automations. These move tickets from the inbox to specific agents. The categorizations and filters are helpful for reporting and analytics, since they show sentiment and agent ticket time for each category.
Collaboration
Zendesk integrates with a lot of other apps and shares data back and forth between them. This means you don't have to switch apps (or, heaven forbid, copy and paste) to send data from one program to another. You'll also want to invite people from other departments who support your agents to become users, as this will give them the chance to comment on tickets and keep your updates all in one place.
Desk connects to Salesforce to help your team merge sales and support efforts and break down technology silos. This close integration carries over to reporting and business intelligence. Desk also integrates with a variety of other apps, ranging from project management to e-commerce and social media.
A word of note about both of these options: plans are priced per agent. You'll need to find a happy medium between the extent and type of collaboration your team wants and the total number of agents (and add-ons) you can handle per month.
Reporting
Zendesk recently launched two new products — Connect and Engage — to help your team grow and expand existing customer relationships. These new modules help you analyze data from across the customer spectrum and use that data to engage customers in new, timely ways. You can also send automatic "how did we do?" emails (or turn this off per customer) to track sentiment and agent response quality.
Desk provides in-depth reporting on a lot of different metrics, including customer satisfaction, agent performance, and business insights. Most of these reports is uses the categorization and filters you set up on the front end.
You can enhance reporting capabilities for both of these products by connecting them to outside systems (e.g. CRM and marketing automation) and comparing ticket data to your site traffic and inquiries.
Making Your Final Decision
The major difference you'll notice between Zendesk vs. Desk is that Zendesk is a fully-featured, scalable system, while Desk is simpler and designed for small business use. You'll find a lot more features in Zendesk, but if your team is small and doesn't need advanced reporting or customizable help desk tools, they may find Desk's stripped-down feature set easier to manage.
Each of these products is only as good as its users and configuration, so take time on the front end to read the setup documents. Use any free support you're offered. Want to compare more options for customer service software? Visit our software category page to find the right solution for your team.
Technology Advice is able to offer
our services
for free because some vendors may pay us for web traffic or other sales opportunities. Our mission is to help technology buyers make better purchasing decisions, so we provide you with information for all vendors — even those that don't pay us.