What is help desk software?
Whether it's because you need to troubleshoot your internet connection or return a pair of shoes, nearly everyone is familiar with help desks. Just as the name suggests, they are a beacon for guidance. With so many channels to monitor, issues can easily slip through the cracks. This is where help desk software vendors come to the rescue.
In the simplest terms, help desk software (HDS), sometimes called customer service software, ticketing systems, or IT service management (ITSM) software, helps businesses automate service management. These services are either used externally by customers who have bought goods or services from you or internally by employees who need assistance.
This technology is used by many businesses for IT support, customer support, and IT asset management. It's quickly moved from nice-to-have to a necessity. Email and spreadsheets will only take your business so far; to truly improve employee productivity and customer satisfaction, your business needs help desk software.
Find your new helpdesk software
How to compare help desk software
Help desk software varies greatly in both functionality and use cases.
Sometimes referred to as issue tracking software, help desk solutions provide a central platform where staff, network users, or customers can report issues through phone, email, live chat, or social media. These issues and requests are automatically logged and prioritized into a ticketing system, then reported to IT administrators, web developers, customer service representatives, and/or other relevant employees. This centralization and automation saves time and effort associated with manual troubleshooting, increases employee productivity, and improves customer satisfaction.
Help desk software goes beyond troubleshooting by offering smart tools for automating the resolution process, such as auto-assign features (allocate tickets to specific technicians based on skills required or issue type) or shared macros (predetermined fix actions auto-prescribed for a simple or recurring issue). Additionally, many provide self-service resources for your staff and customers to relieve the burden of troubleshooting. Lastly, reporting and analytics tools offer valuable insight about your help desk operations, such as average resolution times, trends in past tickets, user sentiment, etc.
Core Functionality:
Ticket, Service Request, and Issue Management
Integrated Live Chat
Built-in Phone Support
Knowledge base
Notice Board / Updates
Community Forums
Log Book
Custom SLAs (service level agreements)
Analytics and Reporting
Mobile Applications
Additional Features:
Auto Attendant
Automatic Notifications
Automatic Call Distributor (ACD)
Budget / Expense Tracking
Call Center Software
Call Management
Collaboration Tools
Custom Fields / Forms
Customer Management
Customer Portal
Dashboards
Document Management / Sharing
Ecommerce Integration
Instant Message / Internal Message
Interactive Voice Response (IVR)
Mobile Application
Multi-language Support
Project Portfolio Management
Quality Assurance
Real-time Analysis
Regulatory Compliance Management
SLA Management
Surveys
Voicemail-to-email
What are some common HDS applications?
Better problem tracking and organization from help desk software leads to reduced service costs, increased customer and employee satisfaction, and improved knowledge sharing. Organizations of all kinds can use help desk software, either internally, externally, or both. Since the use cases are so varied, let's examine common applications in order to paint a clearer picture of the many ways your business can use this technology.
1. IT Help Desk Software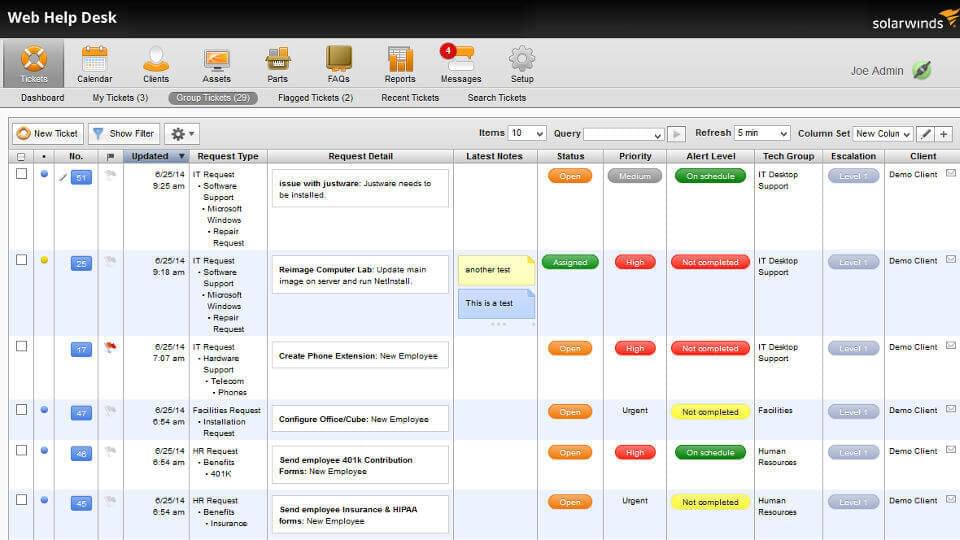 IT help desk software enables companies to swiftly address IT concerns and crises of any level: if an employee has computer issues, a manager needs additional tech resources, or someone spreads a virus to the entire team. Help desk software can streamline issue resolution and improve operations by minimizing employee downtime, prioritizing and escalating issues, and reducing requests with self-service knowledge bases. In addition to core functionality, look for asset and network management features when choosing a help desk solution for IT.
2. HR Teams
HR teams can use help desk software to eliminate data silos and help teams perform administrative functions. For example, if your company wants to encourage, and even amplify, conversations with employees and HR team members, help desk software allows them to ask questions, submit requests, or provide feedback. You can also automatically route inbound communications to the correct HR specialist, and track, share, and report on tickets. As your business scales, so will inquiries about payroll to questions about immigration or benefits, or requests for passwords to HR systems. HR help desk software can help manage these requests.
3. Customer Service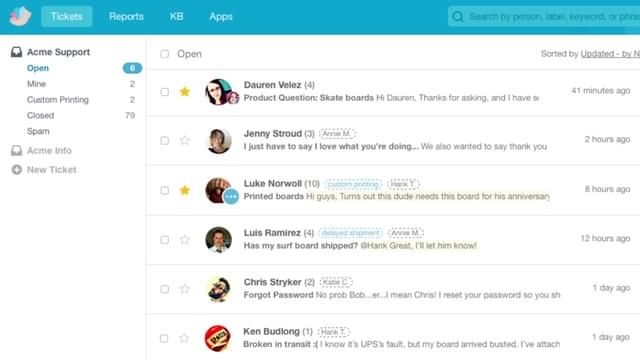 Customer service help desk software brings all consumer conversations into one place. This can include IT problems, or they may only focus on customer issues. These systems bring email, social media, voice, and online chat into one central platform to help resolve customer issues that range from exchanging retail merchandise to reporting a software bug. Customer service help desks greatly benefit from a knowledge base or community forum where customers can answer their own questions. Additionally, you may require integration with existing systems such customer relationship management, marketing automation, social media marketing, or call center software.
4. Bug Tracking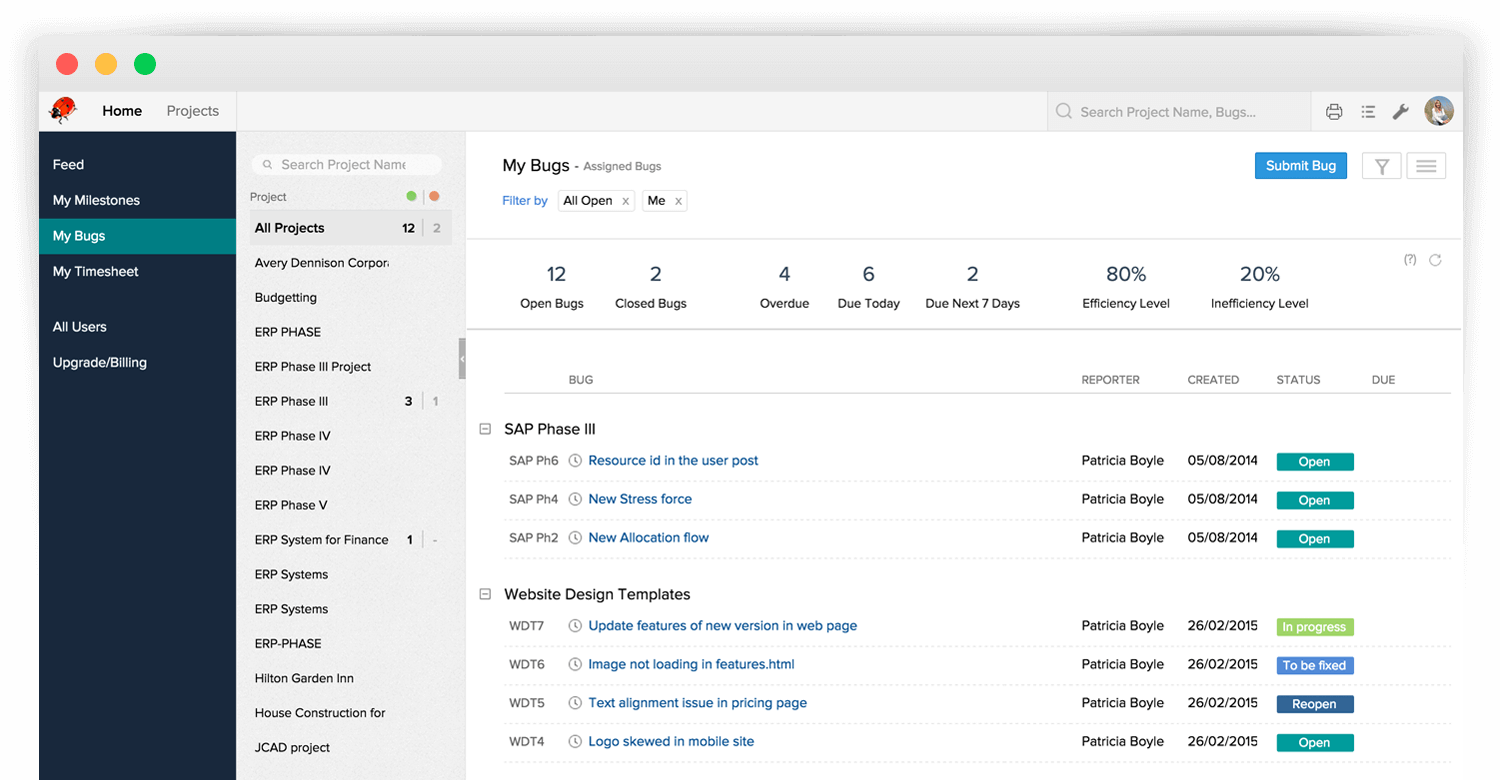 Bug tracking software is at the intersection of IT, customer service, and project management software. This solution goes beyond simple ticketing by integrating with your project management software to track client issues and send them to the product or software development team. These solutions often offer tagging and automatic notifications so issues can be prioritized and customers are contacted when bugs are resolved.
5. Free Help Desk Software
Free help desk platforms often come with limitations, and many free versions are scaled-down systems that work as little more than a free trial. Some small businesses may find them useful if they have limited admins or users. You'll want to check the specifications, user limits, and eventual price points if you need to upgrade before you move your help desk solution to a free version.
Creating executive buy-in
Gaining buy-in from executives is a critical success factor for software approval and implementation. In order to get your software purchase approved, you'll need to include data that shows stakeholders what kind of return on investment they can expect.
To do this, you can present industry research, statistics, or relevant case studies like the one below. Additionally, consider tailoring your appeal to address the concerns of each member of the C-suite. Below are a few talking points to get you started.
CFO
Your company's financial experts are most concerned with the upfront costs of new technology, how it can improve the company's bottom line, and what — and when — the expected return on investment will be. In addition to the cost analysis for a new help desk system, be sure to mention how the software can financially benefit the company. Two areas of particular interest to CFOs will be asset management and data.
Help desk software with asset management can help keep IT and finance departments on the same page by tracking inventory of company tech such as servers, printers, computers, and any other IT asset. This feature primarily helps the IT department identify IT assets, as well as produce reliable and actionable reports from several branches globally.
But according to Eran Waldman, CFOs can benefit from this, too: "It allows [CFOs] to generate a complete asset list at any time and to gain precise detection of all computing assets (hardware and software) in all departments, no matter where they are located. This information may then be used to produce inventory overview reports that provide insight into vital issues like budget risks, hardware, and software risks. With an asset list like this, it will take a CFO a matter minutes to complete an activity that used to take days."
Help desk software not only provides insightful data on IT assets, but for the entire help desk process, too. By analyzing incoming issues, resolve times, and inquiries per customer, help desk software helps resolve costly issues proactively, rather than reactively.
CEO
The leader of your organization is focused on the big picture. They want to know how help desk software can improve the overall business and keep your organization ahead of competitors.
From the client side, help desk software improves the customer experience, which can increase trust, loyalty, satisfaction, and ultimately, customer retention. Managers can benefit from the automation that help desk software provides, as well as statistical and trend reports that identify problem areas and increase help desk efficiency. Lastly, the organization as a whole can benefit from help desk software, since it can improve productivity through technology uptime increases. In these ways, help desk software can be a strategic asset within the company
CTO/CIO
IT professionals know that technology questions, troubles, and breakdowns can be time consuming and expensive. Oftentimes when a solution is created, so are a dozen new problems. To track both internal and external technology issues and requests, businesses need a dedicated platform.
Since the IT department is always busy putting out fires, automation and self-service features are key to reducing requests. While live support shouldn't be eliminated, held desk software can automate numerous workflows and issues, which frees up IT skills and resources to be redistributed to more pressing matters.
Help desk software case study
Company: AdRoll
Solution:Zendesk
AdRoll a global leader in retargeting, a type of digital advertising particularly effective in connecting companies with prospective customers.
In 2013, AdRoll had much to celebrate:
Surpassed more than 10,000 customers in 100 countries
Opened a European headquarters in Dublin with a 100-employee staffing target
Named a top 3 fastest growing ad company by Inc. Magazine for the second consecutive year
Announced a $100M revenue run rate
This sudden growth required a tool that would allow the 20+ person Customer Delight team to scale their services. AdRoll needed a help desk solution that not only enables the team to resolve issues quickly, but also supply crucial data to the business.
Sam Gurdus, Director of Customer Delight, says "The best way we could sustain our growth was by being the voice of the customer. We have a very self service-oriented platform, and we want to make sure our customers are able to use it with ease."
Gurdus was drawn to Zendesk for their ease of use and fast issue resolution times, but it was the data Zendesk provided that convinced him it was the right solution. "Typically, a customer service solution is helpful from a reactive standpoint," Gurdu said. "But we wanted to change that up and be proactive in the way we deliver customer service." To do that he needed data that would inform decisions on everything from international staffing to product design.
AdRoll also needed to integrate their existing CRM and ERP software with the new help desk, so that employees in different roles can easily share customer information.
In the end, AdRoll chose Zendesk for more than their functionality. Gurdus liked the similarities he saw between the two companies: both are fast-moving and agile, and both are able to ship new products quickly, continuously improving both their service and their customers' experience.
Results after implementation:
First reply times cut in half and now average less than an hour
84 percent one touch resolution
97 percent retention of 15,000 customers in 133 countries
Proactively using customer service data to identify product improvements by tagging inbound inquiries for segmentation
Increased ability to see what the top needs are for different sets of customers, which enables them to prioritize which new features to implement
Improved collaboration with product team: their campaign review process was streamlined, so new campaigns get approved faster. This also led to improvements that made the customer dashboard more intuitive for new customers.
Increased transparency by using the "light agent" feature, which allows anyone in the company to read and privately comment on a ticket so information about a particular customer issue resides in one place, rather than in scattered emails and IM messages
Other help desk solutions
Zendesk is a tiered help desk software, which makes it suitable for small or enterprise businesses alike. They were the best software to meet the needs of AdRoll, but another vendor may be best for your company's unique requirements.
Browse more options by using our help desk software Product Selection Tool (above), or view the help desk software reviews of various systems in the reviews tab.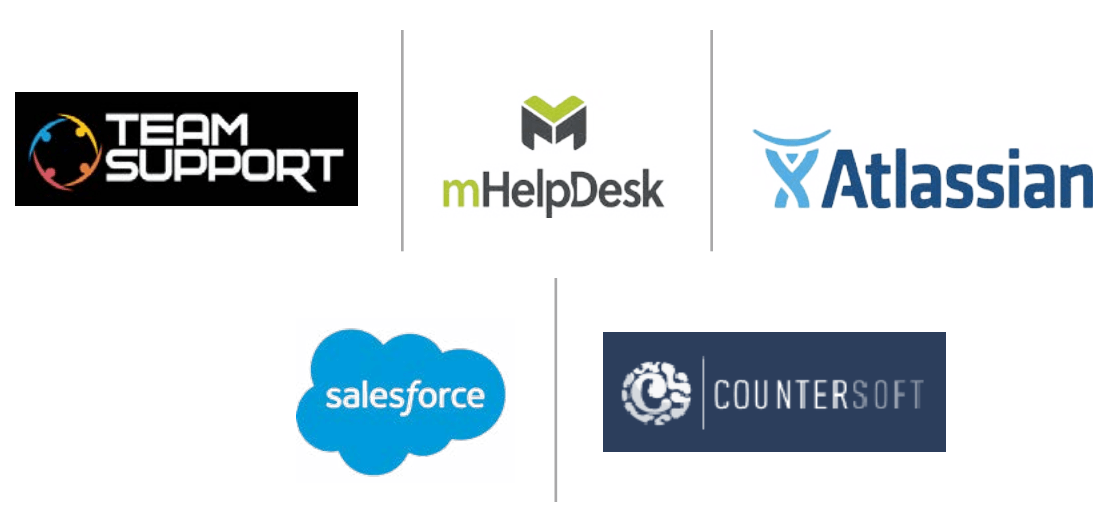 Choosing the best help desk software
At TechnologyAdvice, our goal is to help businesses connect with the technology that best meets their needs. We've compiled product information, reviews, case studies, feature lists, video walkthroughs, and research articles on hundreds of leading IT solutions, all to make the buying process more straightforward for decision makers like you.