Most people think of fleet management as a strictly asset-focused endeavor — something used by transportation providers to track and manage their vehicles. The phrase itself brings to mind logistics, public transit, and supply chain firms. While these are certainly valid examples, they only represent part of the picture.
For many businesses, fleet management isn't an end unto itself, but rather an infrastructure used to support larger business goals. Field service companies are a perfect example. In field service, you don't manage a fleet of static assets. You manage the workforce in those vehicles, and by extension, the vehicles themselves. Your technicians' primary responsibilities are to deliver service, but they rely on trucks, utility vans, or even personal vehicles to move between job sites. In that sense, fleet management can be a powerful enabler of field service success.
Many companies are already catching on. In a recent study by Aberdeen Group, 45 percent of service and manufacturing organizations listed the "development of real-time visibility into service technicians, vehicles, parts, and resources" as a requirement for improving field service performance. Sixty-two percent said they're either monitoring or plan to monitor at least some portion of their service vehicles. The fleet management market itself — which includes analytics, tracking, monitoring, telematics, and vendor services — could surpass $35 billion by 2019, according to some estimates.
Of course, this level of visibility can only be sustained and interpreted by a strong central management system — something to aggregate vehicle and transportation data and provide decision-making tools for fleet-driven teams. Fleet management software (sometimes referred to as fleet tracking software) can help service companies overcome logistical hurdles, improve productivity, maximize resource investments, and build data-driven field service strategies.
Here are some common features you can expect to find in a fleet management solution:
Vehicle telematics
Geo-fencing (creates virtual boundaries and sends notifications when vehicles exit them)
Event-triggered alerts
GPS tracking and route optimization
Regulatory compliance safeguards (FMCSA, DOT, OSHA, etc.)
Active disabling (remotely shuts down vehicles which can prevent theft or unwanted operation)
Reporting/Analytics
Leveraging Fleet Management for Better Field Service
Vehicle lifecycles: Using telematics sensors hardwired into your vehicles or installed on vehicle components, you can retrieve diagnostic information on engine performance, fuel economy, tire and brake performance, etc. This minute-by-minute data supports preventative maintenance strategies, which can save you from equipment failure and more expensive repairs down the road. Managers can also track mileage, cost, use, and age to decide when vehicles need to be retired or replaced.
Health and Safety Compliance: Most fleet management solutions provide built-in compliance standards to help drivers and dispatchers operate within industry-specific legal parameters, such as those defined by the Federal Motor Carrier Safety Administration (FMCSA) for driving rules, hours of service, driver fitness, controlled substances, vehicle maintenance, hazardous materials, etc. By keeping a steady eye on vehicle metrics and route information, you can prevent driver fatigue and avoid penalties for violations.
Customer Satisfaction: Improved fleet efficiency means technicians can spend less time dealing with logistical problems and more time delivering service, whether that's equipment installation, repairs, or simply recording meter values. Geolocation and routing tools found in most solutions help dispatchers set more specific service appointments. Instead of a four or five-hour window, you can name a specific time and stick to it. Being able to track your fleet vehicles in real time also means greater customer accountability (if they need an updated ETA for example), more appointments completed per day, and better customer satisfaction.
Driver performance management: You need to know how your drivers are performing, for safety and improvement. Combined with the right telematics devices (yes, those again), a fleet management system can deliver powerful monitoring abilities. These include identifying late starts or long stops, hard braking, speed limit violations, and unnecessary detours. You can use "geo-fencing" techniques to keep your drivers from leaving their designated territory while on the job, or for loss prevention in the case of a stolen vehicle. Some systems even offer remote controls such as active disabling, which lets an administrator shut down a vehicle remotely through a central computer system.
Route planning and geolocation: See each technician's current location and planned route by syncing with a mobile app on their device or through a beacon hardwired into the vehicle. This helps you plan the fastest, most fuel-efficient route between jobs and adapt to more urgent customer requests that may come in throughout the day. According to a study by NDP Consulting, GPS technology can yield 11 percent savings in labor costs, 13 percent in fuel, and 13 percent in vehicle maintenance and repair.
Different Kinds of Solutions
There are several different ways to package a fleet management system. Your software needs will be determined by the scale of your operations and what systems you already have in place. Here are some examples.
Dedicated fleet management software
Dedicated fleet management software will offer more robust fleet management tools (such as vehicle telematics, GPS tracking, geo-fencing, etc.) but doesn't address field service operations. That means no built-in work order scheduling or customer management features. In this case, you'll need to choose a solution that integrates with your FSM software and deploy both systems in tandem.
Dossier Systems: Fleet management and maintenance software that's available on-premise or on-demand (cloud hosted) and priced in two tiers —"essentials" and "professional."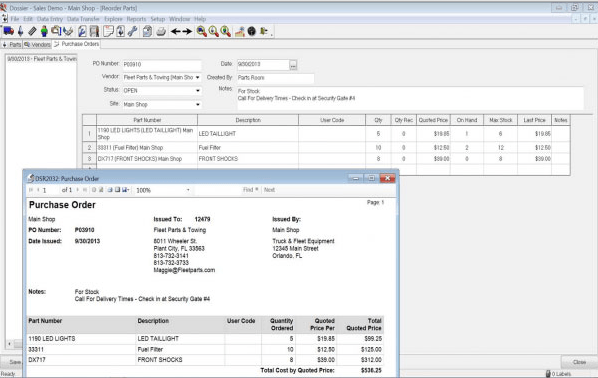 Main Features
Predictive scheduling and maintenance
Parts inventory management
Vehicle performance analysis
Fuel consumption monitoring
GPS fleet management
Personnel management
Vendor management
DOT and OSHA compliance automation
VMRS (vehicle maintenance reporting standards)
Native mobile apps
---
FSM software with basic fleet management tools
This kind of solution is geared first and foremost toward field service and mobile workforce management, with the added benefit of built-in fleet tools. That said, the fleet management features are usually less advanced than those in dedicated systems.
Xora StreetSmart: Xora provides cloud-based mobile workforce management solutions to over 130,000 users in North America. The StreetSmart solution is a suite of configurable mobile and web apps designed to connect field workers with office staff and support better customer service. Xora was acquired by ClickSoftware last year.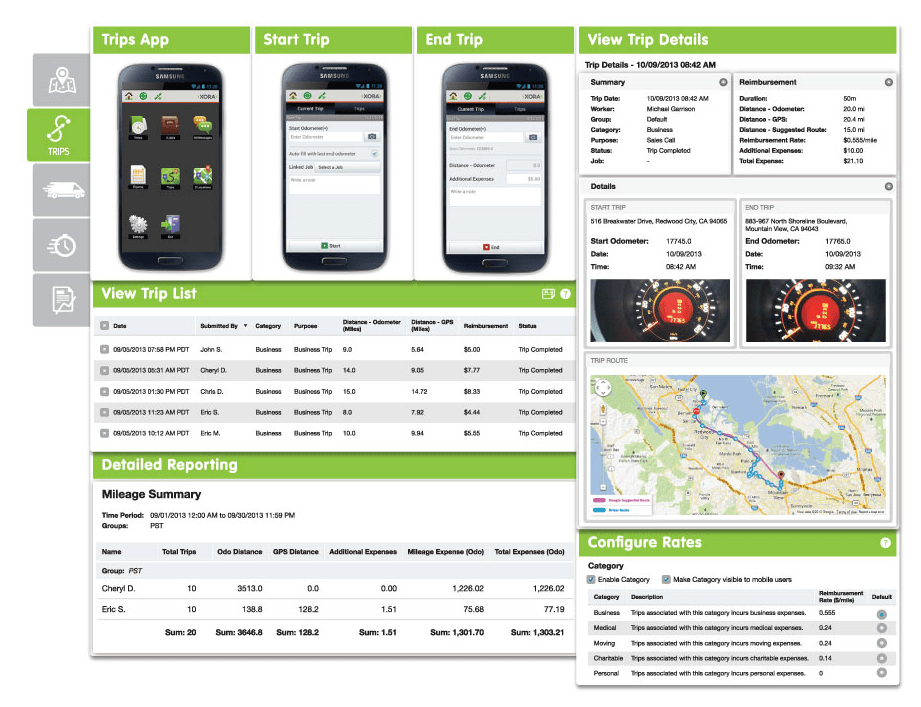 Main Features
Mobile job management
Real-time GPS tracking and job insight
Turn-by-turn navigation and route optimization
Mileage tracking
Time tracking
Digital signatures
---
All-in-one platform
Although less common than the other two configurations, some vendors offer functionality for both field service and fleet management on the same platform. Typically, the buyer can decide which "modules" are necessary for their business and build a solution a-la-carte. This can be more expensive, but sometimes it's the most practical option for a larger company that has complex operational needs, but only wants to commit to (or deal with) a single vendor.
Fleetmatics: GPS fleet tracking and vehicle tracking software that provides solutions for fleet management, field service management, reporting, and compliance. Three modules are available (WORK, REVEAL, and enterprise).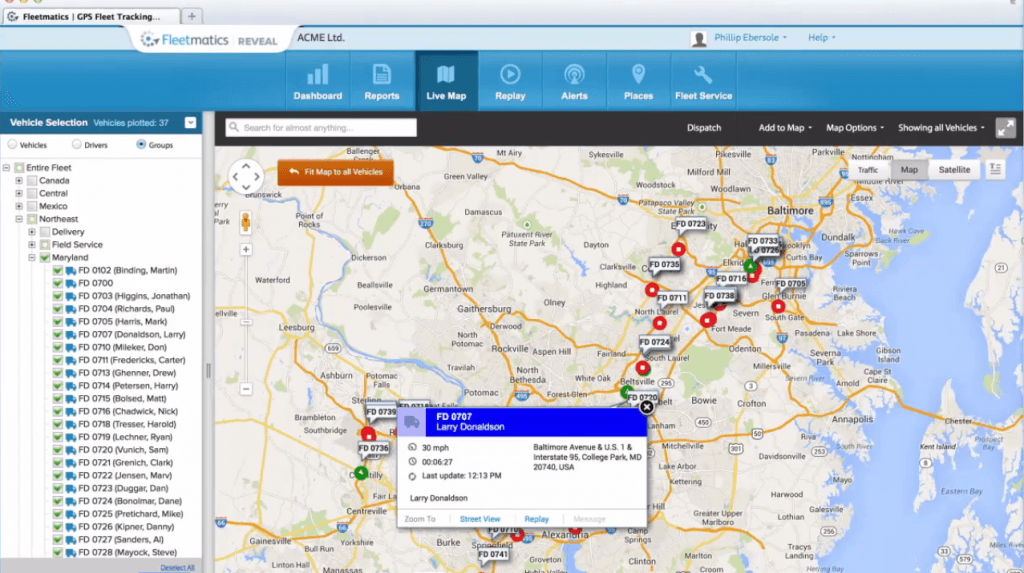 Main Features
Driver ID
Fleet maintenance management
Geo-fencing
Real-time alerts
Fuel cards
Job scheduling
Dispatch
Invoices and quotes
Accounting integration
Compliance management
***
Fleet management software adds clear value to field service through increased driver productivity and  smart asset maintenance. When your technicians are doing well, your customers will notice. They'll associate your company—instead of your competition—with reliable, punctual service.
If you're interested in any of the fleet management solutions listed in this article, give us a call. Our software experts are eager to help you name the best product for your business. You can also use our product selection tool to get a personalized list of recommendations.