What is TrueCrypt?
TrueCrypt, a free data encryption software tool, was abandoned by its makers in 2014 amidst rumors of security threats. This left TrueCrypt users scrambling to find good alternatives — either free and open source or per license. Below are six of the best TrueCrypt alternatives.
Read more at eSecurity Planet: Encryption: How it Works, Types, and the Quantum Feature
VeraCrypt
VeraCrypt owners built the tool from an earlier TrueCrypt fork, but more recent releases broke with the TrueCrypt volume format, which means the encryption software cannot open existing TrueCrypt encrypted files. Built with the same features and interface as TrueCrypt—which significantly reduces onboarding time—the software was improved with increased iterations per encryption. This increases the read and write time, but if you're looking for an easy switch, this is it. However, even if starting with VeraCrypt as a new user, there's plenty of documentation available to help you get started.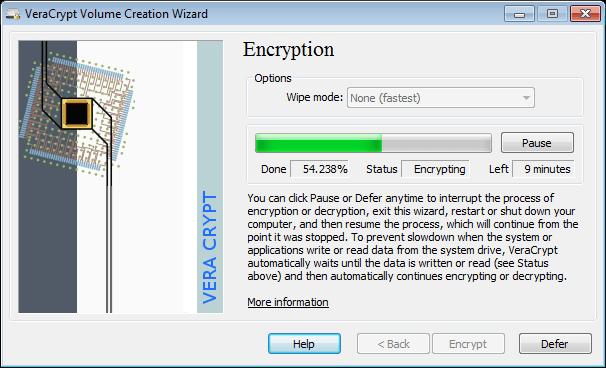 VeraCrypt provides the following key features:
Automated, real-time encryptions
High level of visibility
Information security in the form of regular updates, plausible deniability, steganography, and hidden operating systems
Pre-boot authentication
Encryption of entire partition or external devices
DiskCryptor
DiskCryptor is a free, open source software meant to replace BitLocker. This free encryption software can encrypt all disk partitions, and versions 0.1-0.4 are compatible with TrueCrypt. The current version—1.2.2/848.118.202—was released in April 2020 and enables external drive and file encryption.
However, DiskCryptor is no longer compatible with TrueCrypt files, as encrypting partitions that already include data have become more preferable than creating empty partitions to fill later.
DiskCryptor supports the following capabilities:
DiskCryptor is available for Windows only and doesn't support Mac or Linux.
FileVault
For Mac users, FileVault is a great alternative to TrueCrypt. FileVault is Apple's macOS-native encryption software tool that comes standard with the latest operating systems. FileVault enables full startup disk encryption and protects data via password access. In fact, its password lockdown feature is so secure that even governmental agencies have been hard pressed to gain access to data encrypted with FileVault.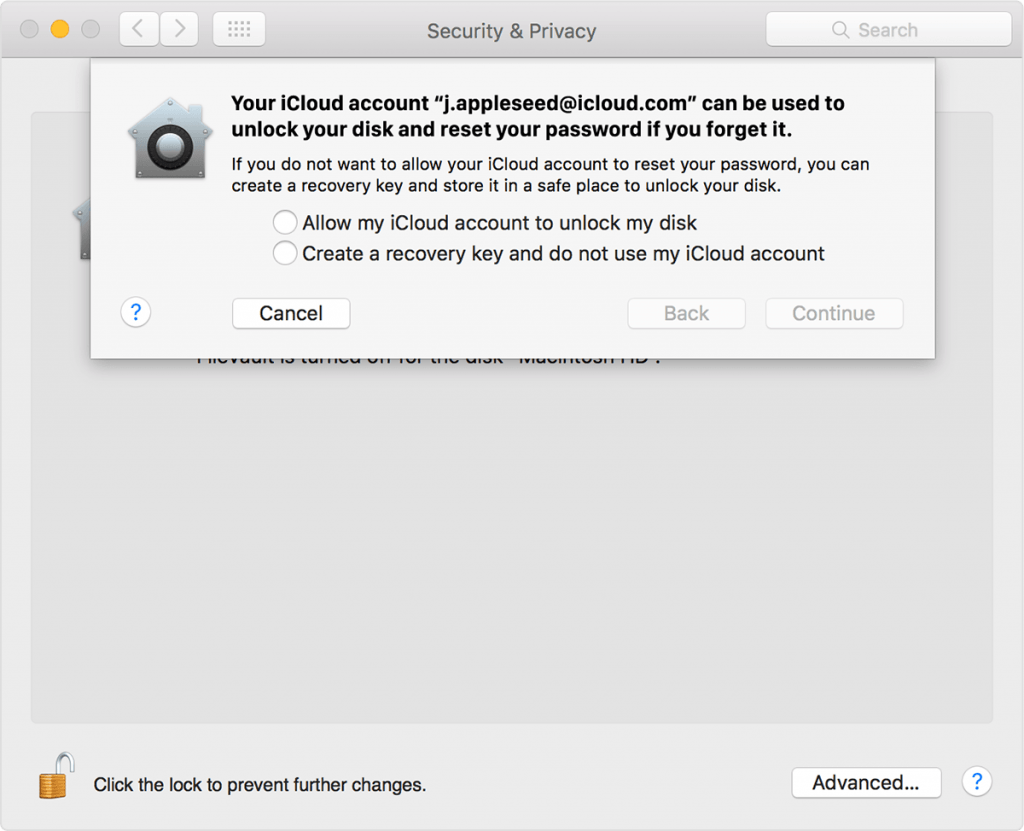 Key features from FileVault include:
AES-XTS data encryption
Hierarchy of keys development and ongoing management
Anti-replay mechanism to disable old keys
Secure deletion of keys for encrypted volumes through Secure Enclave
lRemovable storage device encryption
Cryptomator
Cryptomator is a great free encryption software tool for users looking to encrypt individual files rather than a large volume of data as seen with TrueCrypt or other alternatives mentioned here. This makes sense if you update only a few files regularly and the rest of your files remain relatively unchanged. Cryptomator is supported on Windows, Mac, and Linux operating systems and acts as a client-side encryption software tool. It also supports file encryption on cloud storage services, such as Dropbox or Google Drive.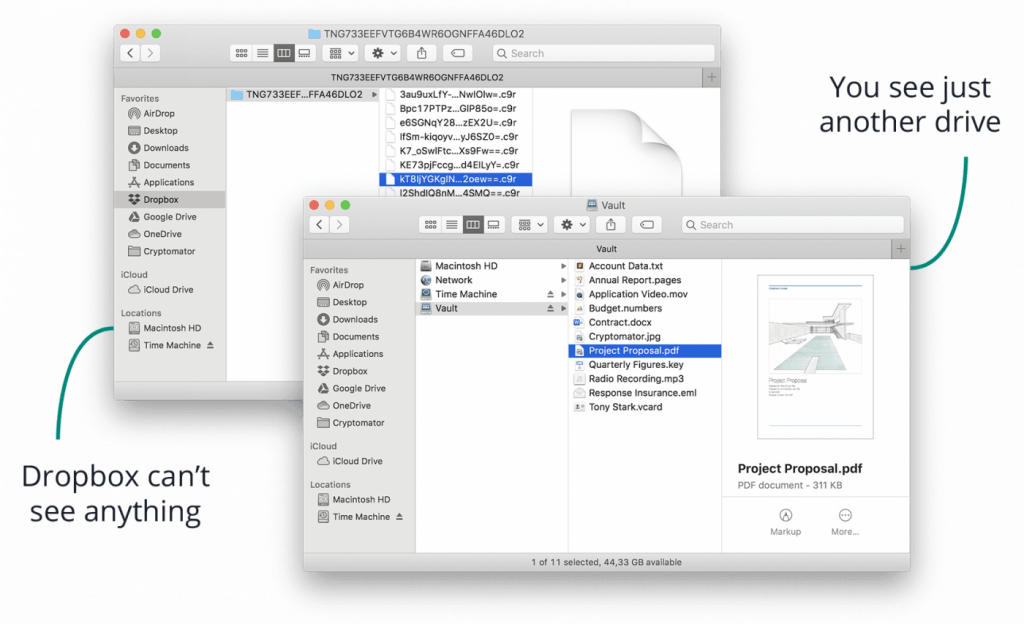 Cryptomator's encryption processes are transparent and don't slow or otherwise impede your use of files. The user's encrypted vault is stored on the cloud but is then decrypted and mounted locally as a virtual drive. It's also secured through AES and 256 bit length encryption. The user's password to their vault is safe from brute force attacks through the scrypt key derivation function.
BestCrypt
BestCrypt by Jetico provides encryption for files and folders on your Windows, Mac, or Linux machine, removable devices, or for the full disk encryption. BestCrypt features GUI to ease use, plus enhanced security with keyfiles, hashing, and salting.
Read more at eSecurity Planet: Disk vs File Encryption: Which is Better?
Though BestCrypt supports a range of operating systems, all of its features are available on Windows devices, while only some are compatible with macOS and Linux. So double check that your priority encryption software tool features are supported on all of your devices.
Security enhancement features that are compatible with all operating systems include:
Hidden encrypted containers
Encrypted container headers
Strong encryption algorithms, including Camellia
Support for Keyfiles
Container Guard to prevent accidental deletion of containers
BestCrypt includes the BCWipe tool which completely erases selected files and folders beyond forensic recovery. BestCrypt is therefore trusted by the US Department of Defense. BestCrypt's Enterprise edition also enables encryption management from one central interface to facilitate ease of use.

A free 21-day trial is available, after which users will need to buy a license to continue using BestCrypt. The Standard edition costs $59.95. Buyers will need to contact BestCrypt directly to find out the price for the Enterprise edition which supports 20+ users.
Broadcom Symantec Endpoint Encryption
Symantec provides data encryption on a per-license basis, for Windows and Mac machines—but not for Linux—as well as removable devices like a USB drive. Symantec's Endpoint Encryption allows users to manage enterprise security strategy through one, centralized dashboard.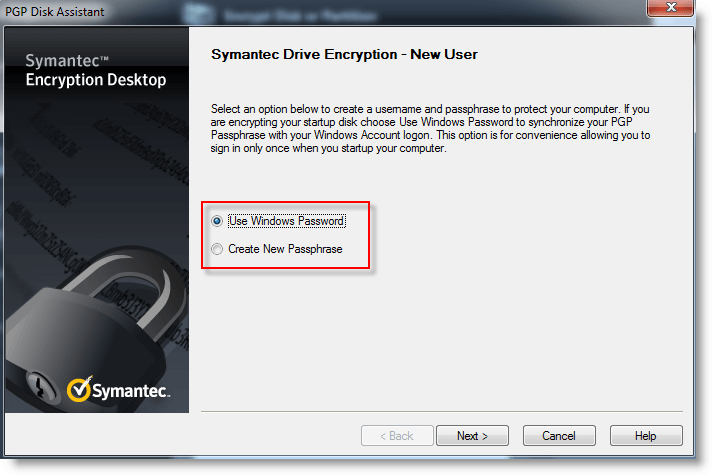 Symantec encrypts all files on the hard drive, sector-by-sector, for maximum security. Compliance reporting comes standard with this software to help organizations remain compliant with regulations, such as HIPAA or GDPR. Plus, administrators can set up recovery in a way that best suits their organization, from local self-recovery to web-based helpdesk recovery with a one-time use token. Single sign-on (SSO) for easy user access and also supports BitLocker and FileVault encryption software for maximum flexibility.
Also read: The Move to Mobile & HIPAA: What You Need to Know
How to Find a Good TrueCrypt Replacement?
Upgrading your encryption service to one of these TrueCrypt alternatives can help you secure your business's data and guard against possible vulnerabilities in the TrueCrypt system. Consider what kind of data you're working with, the level of security you need, as well as the kinds of devices your organization uses. Upgrading to a different open source or paid license tool is a smart, proactive decision that will further safeguard your IT environment.
Technology Advice is able to offer
our services
for free because some vendors may pay us for web traffic or other sales opportunities. Our mission is to help technology buyers make better purchasing decisions, so we provide you with information for all vendors — even those that don't pay us.