Demand forecasting is one of the most difficult parts of supply chain management, especially when you consider the number of factors that can affect it. Natural disasters, product shortages or delays (like when a cargo ship gets stuck in the Suez Canal), and, of course, a global pandemic can impact an organization's supply chain. Luckily, businesses that rely on a supply chain can use technology and tactics to improve their demand forecasting capabilities.
To find the best supply chain management (SCM) software for your organization, use our Supply Chain Management Product Selection Tool. In as little as five minutes, you'll get a short, customized list of product recommendations that will fit your needs.
Jump to:
Use AI to improve predictions
Artificial intelligence (AI) is a critical component of supply chain management, enabling better demand forecasting and reducing overhead costs. By 2024, 60 percent of Forbes' Global 2000 manufacturers will be dependent on AI for their supply chain. As part of predictive analytics, AI can analyze historical data, current market trends, and external market factors to make accurate estimates regarding future sales.
Using AI for forecasting reduces the manual effort required to analyze more than one market variable at a time. Plus, it offers better short-term forecasts, allowing businesses to be more flexible. It does, however, require more data upfront than passive demand forecasting, in which businesses use only historical data to make forecasts. The maintenance requirements for the technology can be a bit more difficult than traditional prediction methods.
Analyze order history to identify trends
Past purchases can give you an idea of which of your products are the most popular and the demographics they resonate with most. You don't have to do this by hand, though. By integrating your supply chain management software with your business intelligence (BI) platform, you should be able to automatically pull sales data into your BI tools and let the AI highlight relevant insights.
If you're a manufacturing business, you can also ask your customers for their sales forecasts to get a better idea of the orders they're likely to place. However, you may have to offer small perks or incentives to get this kind of data.
Also Read: Protect Your Company Against Panic Buying and its Effects on the Supply Chain
Keep an eye on competitors
If a competitor launches a promo or special offer for one of the product lines you carry, you may not be able to react quickly enough to win back that business. However, you can at least adjust the sales forecast to account for that lost business. You'll also need to track competitor closures, data breaches, and any harsh weather in their area. These can cause major delays or loss of trust for customers, and they may turn to your business instead, increasing demand.
Consider inventory elasticity
If sales of your products change substantially when the price does, your inventory has some elasticity. Let's say you forecast high sales of a product, but the market changes, and you don't sell nearly as many as you expected to at full price. A demand-focused supply chain management tool could alert businesses to the difference in the actual speed of sales vs. what was expected and suggest dropping the price, so the organization can sell the excess product and still make a profit instead of just throwing it all out.
Manufacturers should also stock up on raw materials that have a variety of uses because there's a lower likelihood of them going to waste. During the beginning stages of the pandemic, we saw a lot of businesses pivot their offerings to better serve sudden rising demand. For example, several alcohol distilleries diverted some of their production lines to make hand sanitizer and other alcohol-based cleaning supplies instead of drinking alcohol. This flexibility allowed them to keep sales high without wasting the materials they already had available.
Also Read: How to Reduce Inventory and Keep Practitioners Stocked
Best supply chain management software for demand forecasting
Businesses looking to improve their demand planning capabilities should consider one of the following supply chain management tools, each chosen for the strength of their forecasting features.
Logility
Logility is a supply chain management software suite that allows businesses to automatically forecast demand for each business level while using model switching to ensure each forecast fits the production stage. It provides better insights into the patterns of new products and those with shorter life cycles. This improved visibility also helps lower operating costs by preventing businesses from overstocking inventory. By examining factors like transportation and vendor managed inventory (VMI), Logility helps businesses respond to market changes faster and become more flexible.
SAP Integrated Business Planning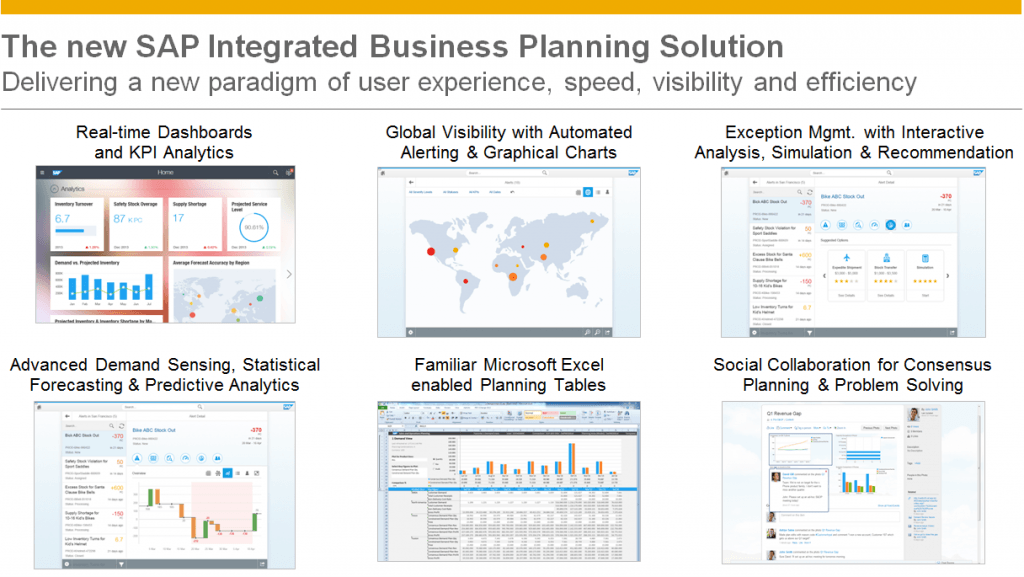 SAP Integrated Business Planning is part of its supply chain management suite that improves business continuity and helps businesses handle real-time demand and inventory forecasting. With simulations, businesses can run potential demand scenarios to determine how prepared they are for market changes. And performance monitoring measures actual results against forecasts to quickly identify misalignment, so companies can adjust. SAP also offers embedded analytics, so users can get forecasting insights wherever they're working with data.
Atlas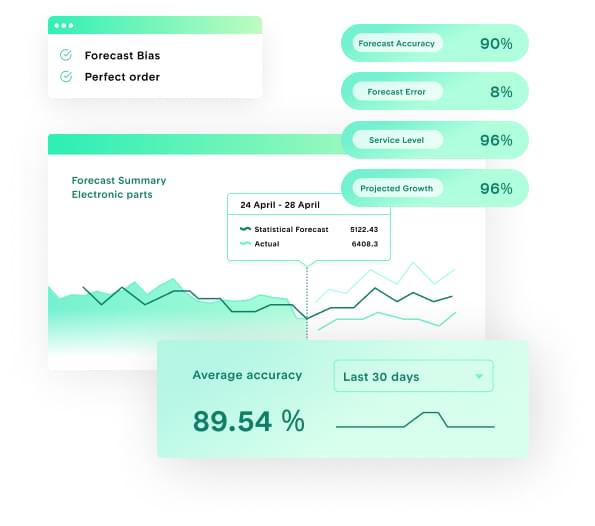 Atlas by John Galt is an AI-driven planning platform that helps businesses optimize their supply chain and reduce inventory costs. By consolidating supply and demand data from other sources, Atlas provides better visibility into the supply chain and enables collaborative planning and what-if scenarios. Additionally, automated workflows reduce manual labor and errors to speed and improve business decisions. Machine learning optimizes the forecasting process and provides better insights in less time than traditional forecasting methods.
Also Read: The 7 Best Manufacturing Resource Planning (MRP) Software For Balancing Supply And Demand
Better demand forecasting lowers operating costs
With better demand forecasting, businesses can lower their operating costs by reducing the number of items they overstock and the amount of inventory space they need. Additionally, when companies have an accurate estimate regarding the amount of product they'll sell, they can order inventory in larger quantities at once, often getting a better price per unit. And with AI and machine learning, organizations can reduce the amount of manual work that goes into their forecasting efforts and prevent manual errors during demand planning.
To find supply chain management software that will improve your business's demand forecasting abilities, check out our SCM Product Selection Tool. After answering some questions about your business needs, you'll get a personalized list of software recommendations.
Read Next: 5 Ways to Repair Your Supply Chain
Technology Advice is able to offer
our services
for free because some vendors may pay us for web traffic or other sales opportunities. Our mission is to help technology buyers make better purchasing decisions, so we provide you with information for all vendors — even those that don't pay us.