Smartsheet is an extensible and flexible spreadsheet-based project management tool, which restricts its usefulness for companies that want to avoid the limitations of spreadsheets. To help you free yourself from spreadsheets, we've brought together these Smartsheet alternatives.
If you're ready to dive right in to Smartsheet alternative recommendations, we've got a sizable list for you to peruse.
What Is Smartsheet?
Smartsheet is a spreadsheet-based project management tool that teams and individuals can use to organize and track projects. Because of its flexibility, Smartsheet is great for marketing, IT, HR, and pretty much any business department. With Smartsheet, each project task is saved as a line in the spreadsheet, and you can build in due dates, add notes, attach images and documents, and construct a hierarchy of tasks. The software also allows you to share your sheets with an unlimited number of contributors and manage their access to sensitive information.
Smartsheet Alternatives
Smartsheet and its alternatives aren't the only options for project management software. Check out the TechnologyAdvice project management guide for information, products, reviews, and recommendations.
Zoho Projects
Zoho Projects is just a small piece of the greater Zoho galaxy of tools, but it holds its own for flexibility and ease of use. This project management software combines collaboration, document management, Gantt charts, and even team wiki pages for optimum clarity into projects. Individuals can view entire projects or just their own tasks, and you can bring the information all together in reports.
Zoho Projects also offers direct integrations with Google Suite tools, Github, and Bitbucket. These tools allow teams to collaborate within the tools they already use and stay up to date for projects that cross departmental lines. Use the built-in time tracking tools to better understand how team time is spent and where you can cut out inefficiencies.
ClickUp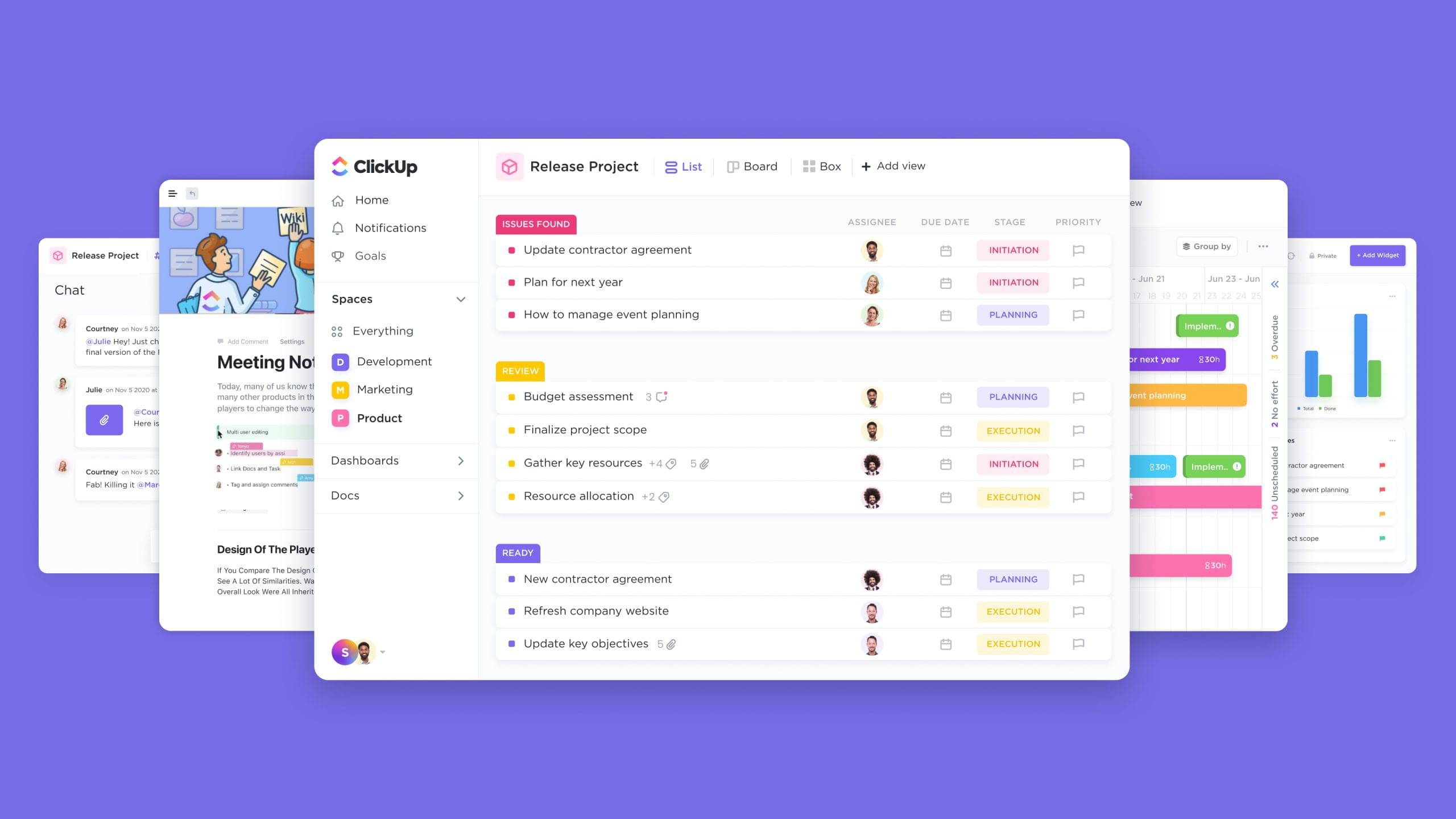 As a piece of project management software, ClickUp is user-friendly and easy to integrate into existing workflows. The platform delivers a set of pre-configured dashboards that are easily customizable to meet the team's team's exact needs.
ClickUp is more than just a Smartsheet alternative. It offers in-app docs, a whiteboard, and a suite of other features. Overall, ClickUp is decidedly simple to use, and robust enough to fit the needs of any business of any size.
Monday.com

One of Monday.com's selling feature is its easy-to-use, visual dashboard. The dashboard makes it simple to delegate tasks to team members and to spot an action item. New boards are created for new projects, which makes for easy and quick organization. Each board can be customized based on the project's needs. Other capabilities of Monday.com's PM feature includes assigning tasks, monitoring deadlines, communicating with team members, and sharing necessary files.
Monday.com is also a highly flexible project management tool because it's built around the pulse, which can be a task, a contact, a product name, or anything else you can dream up. That makes Monday.com highly customizable, although there are project templates available that you can use to help you get started. Because of the range of projects you can manage in Monday.com, it's a useful tool for the entire company.
Teamwork
Teamwork makes project management, help desk, and chat tools for businesses. It has a full collaboration and project management suite with tasks, milestones, calendars, billing, document sharing, and time tracking included. Look for mobile and desktop apps that connect to your Teamwork account and integrations to connect you to the tools you already use.
Teamwork is built to manage large and complicated teams with lots of contacts and projects with user permissions and admin privileges that let you shuffle users between companies and projects. These features are perfect for franchise or enterprise companies with lots of moving parts. But the tool's ability to handle complexity doesn't hide its most helpful features, which are great for any size business.
Wrike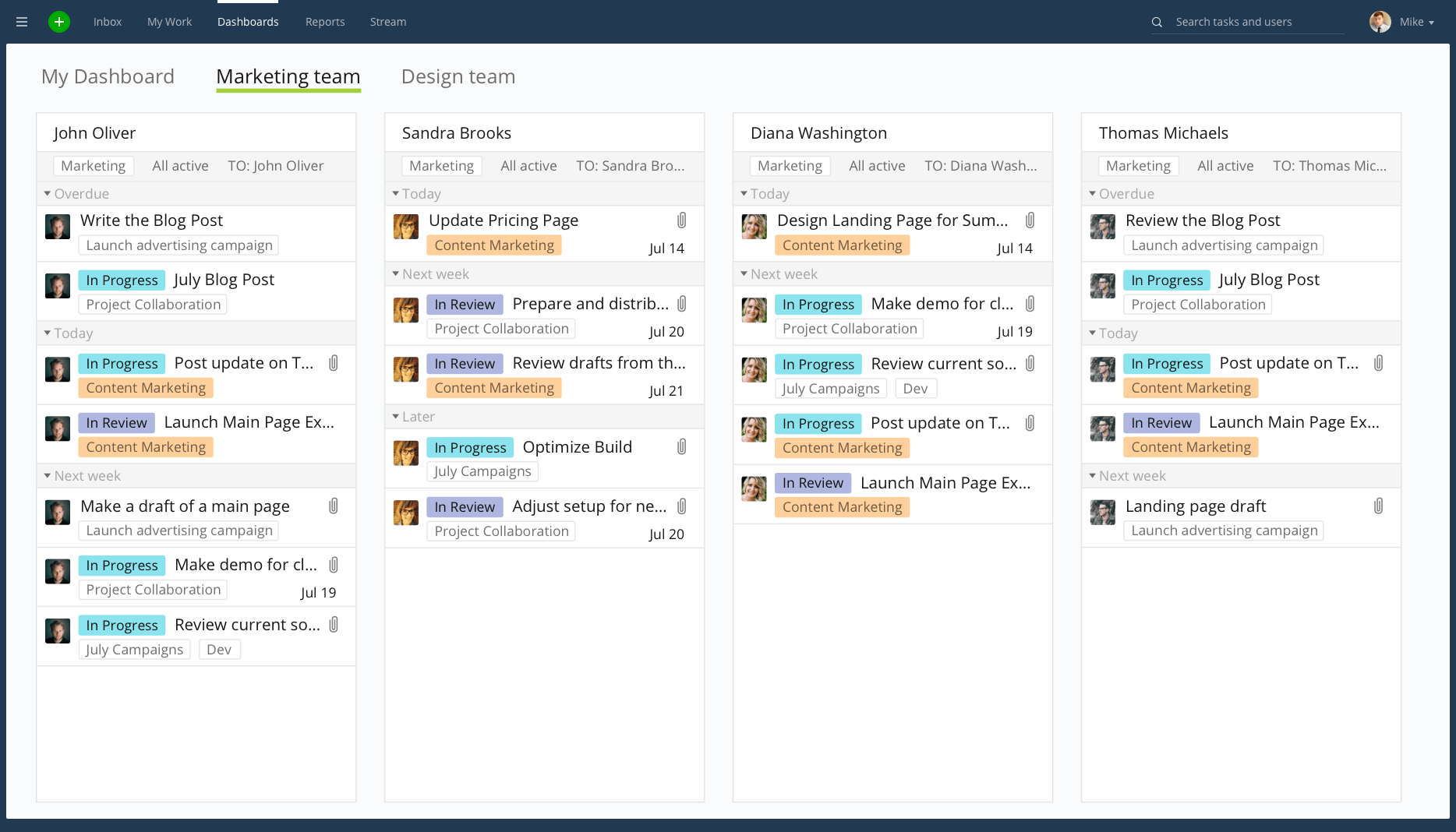 Wrike is a long-standing leader in the project management tool vanguard. Wrike uses a folder system and Gantt charts to organize projects: each project has its own folder, and within those folders you'll find tasks, files, and communication related to the project. These same tasks show up in the project Gantt charts, where dependencies and timelines are visually represented to help teams organize their time.
Wrike also includes burndown charts for every project to help teams track their progress and make any necessary adjustments before it gets too late. While you can attach individual files to tasks and projects, there isn't a designated file management screen. However, Wrike offers a live activity stream and direct communication via @mentions within tasks.
Also Read: Wrike vs. Basecamp: A Project Management Software Comparison
Workfront
Workfront is a work management software, which defines the major focus of the software and helps to single this option out from the crowd. Workfront lists three major feature categories that align with the ways that companies do business: planning, working, and delivering.
While the working features make up the basic project management software of task and assignment management, the planning and delivering features set Workfront apart from its competitors. Find request and resource management tools to help project managers to plan future needs and allocate resources appropriately before projects even start. Then use the approvals workflows to speed delivery and reporting features to provide metrics to stakeholders.
Basecamp

Basecamp is a long-standing leader in the project management software field. Many companies use this tool to organize their communication and collaborate around shared documents. Basecamp is more collaboration-focused than some of the other software on this list, with tools that provide a single source of truth for file storage and real-time editing on documents.
Another perk of Basecamp is its activity streams, where individuals can see updates on particular projects, pending assignments, and team-wide views. Discussion threads show comments from all, replacing email conversations that quickly fracture between individuals or explode into full-company reply-all chains. And use the reminders and notifications to keep team members on track without passive-aggressive messaging.
Also Read: Asana vs. Basecamp: A Project Management Comparison
Asana
Asana is a task-based project management tool designed to bring team members together around time-based projects. Use notifications and due dates within tasks to manage items on your calendar or on the Gantt chart (available in premium plans). Teams can manage multiple projects at a time with the reporting dashboards and individuals can understand all of their ongoing tasks from the My Tasks view.
Asana also has a wide range of outside integrations to augment your project work. Some of the other tools on this list require you to work solely in their software, but Asana's API connections make it easy to share information via email, file sharing, instant messaging tools, and even version control software like Github. And the Asana-Zapier connection makes it easy to automate information sharing with nearly any other tool.
Also Read: 5 Asana Alternatives for Tracking Team Projects
Workzone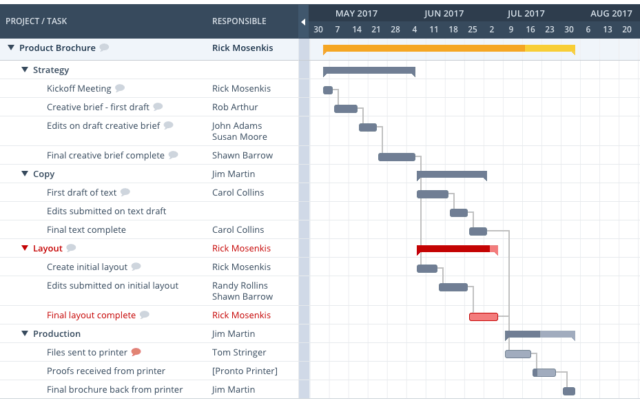 Workzone is a spreadsheet-based project management tool much like Smartsheet, but with a few upgrades. View and edit project and personal tasks in a hierarchically organized spreadsheet list view or in Gantt charts to visualize dependencies. Use secure file storage to attach important documents to tasks and projects, and don't worry about sharing too much information with clients who can also view your projects, as you can set permissions to hide sensitive information.
Workzone also includes some interesting project planning tools, including request intake forms, resource allocation charts that track scheduled hours, and time tracking tools to help your team refine their plans. Use the reporting tools to better understand projects in progress and to plan for future events.
Redbooth
Redbooth is a project management tool that gives teams and individuals flexibility in the ways they view their tasks and projects. Redbooth offers a Kanban board, Gantt chart, task list, and calendar view of your tasks and every project your team makes. The template features help you build recurring tasks, and due date notifications keep everyone up to date on upcoming needs.
Redbooth has also added machine learning features to their software that make suggestions for task due dates and even prompt you to assign tasks to particular team members–all based on similar previous tasks.
Also Read: Redbooth vs. Trello: Which PM Software Is Up To The Task?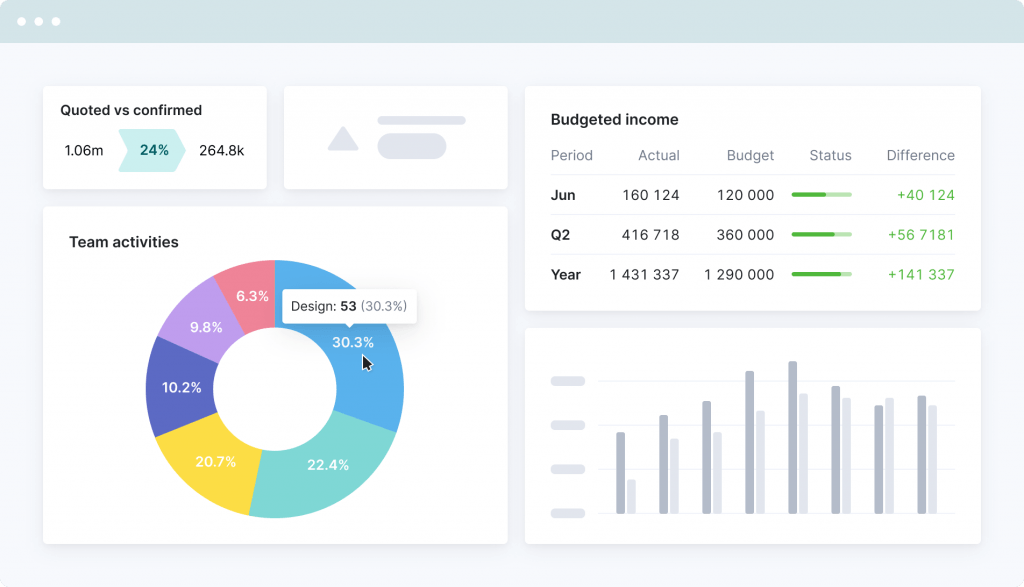 Scoro is business management software that combines project management tools with CRM, scheduling, and financials. This particular set of tools works really well for agencies and creative companies that need to track time, plan multiple projects, and handle billing all from a single app.
Scoro acts as the planner, communication platform, and billing intermediary all in one. Built-in time tracking tools transfer data from projects to invoices, and scheduling software lets managers see resource allocations and dependencies. While the variety of project management tools aren't as robust with Scoro as some of the other options on the list, the extensibility of this platform to business management makes it a great choice for agencies.
Pros of Using Smartsheet for Project Management
Because Smartsheet has been around for a while, it understands how projects work. There are several ready-made templates available to help new users get started quickly, and you can build repetitive projects like employee onboarding into your own templates to quickly choose over and over again. The tool also lets you break free from the basic spreadsheet to view your projects in a Kanban-style board, Gantt charts, or a calendar. These views are supplemented by an analytics dashboard that you can customize to view lots of different metrics from throughout your projects.
Cons of Using Smartsheet for Project Management
The most major drawback of Smartsheet is that most of your work must take place in the spreadsheet view, with all of the quirks and complications of spreadsheets. If you're already an Excel power-user, this might not be so much of a problem, but learning Smartsheet-specific UI and formulas might pose some difficulties for the everyday business user.
Smartsheet also bills itself as a collaboration tool, which for the most part, it does really well. It is limited in its capabilities to autosave your work, which means that Smartsheet isn't really built for real-time collaboration like some of the other options on this list, or even Office 365 Excel and Google Sheets. Other major features Smartsheet lacks include time tracking tools and a centralized activity feed for all projects.
Choosing the Best Smartsheet Alternative
Project management tools come in all shapes and capabilities, so choose carefully. TechnologyAdvice can help you find the best project management tool for your company and project needs. Fill out the form below, and one of our unbiased Technology Advisors will contact you with a short list of the best vendors.

Technology Advice is able to offer
our services
for free because some vendors may pay us for web traffic or other sales opportunities. Our mission is to help technology buyers make better purchasing decisions, so we provide you with information for all vendors — even those that don't pay us.