Choosing the best enterprise resource planning (ERP) solution to run vital business systems such as financials, operations, and human resource activities is a decision that takes research and time to evaluate. The wrong choice could cost your company thousands of dollars in customization and consultation fees and months of lost productivity. Feature-rich systems, while desirable, could be distracting and too much when what you need is more simple and dialed in.
To ease your search and save you from a broken contract, we've compared NetSuite to the SAP S/4HANA ERP.
What are NetSuite and SAP S/4HANA?
NetSuite and SAP S/4HANA are two of the most well-known ERP systems available on the market. Consider it a starting point and a baseline while you discover just what you need. Both ERP options are billed as business software, but the core capabilities of NetSuite compared to SAP is more of a Venn diagram. NetSuite's ERP product caters to traditional manufacturing and supply chain companies, while SAP's S/4HANA product includes more traditional in-house business features, including sales modules and professional services.
NetSuite and SAP S/4HANA are two of the most well-known ERP systems available on the market, but they may not include the features that your company needs. To get a list of ERP recommendations that work for your needs, click on the image below, and visit our ERP software page to learn more. Or call us at 877.702.2082, and one of our Technology Advisors will set you up with a short list of recommendations.
NetSuite
NetSuite ERP by Oracle is a single solution for all areas of business. It includes many features that improve and solve key business needs like automating and streamlining processes; instantly gathering and presenting accurate, real-time data; and on-the-fly managing of inventory and supply chain changes. Integrating these features into the overall ERP means that the company has a single source of truth (SSoT) within their ERP data. That SSoT gives companies the advantage of the data visualization and BI tools included in the system.
In addition to outstanding features designed for managing accounting, financial, business, order, supply chain, and warehouse, NetSuite shines by improving operational awareness and increasing resource control in these key areas. 
Marketing automation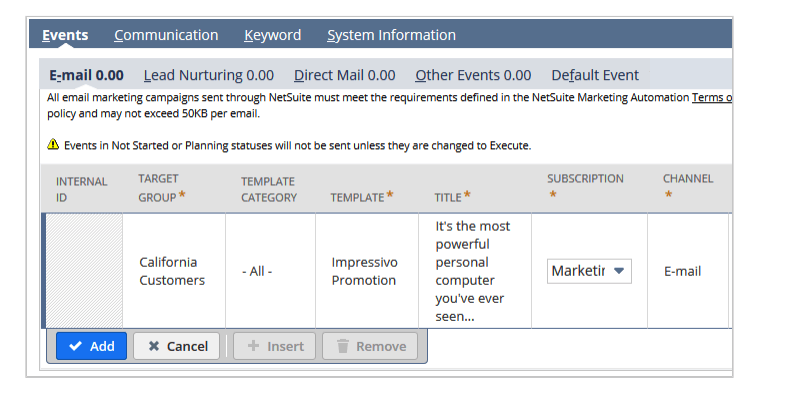 NetSuite's marketing automation capabilities easily automates your entire marketing process with email and campaign management, lead management, and landing pages and forms. These features complete the top of the funnel so that marketing and sales can agree on lead information. The full integration keeps lead data in a single tool and cuts out manual transfers between email marketing, CRM, and lead management where critical data may get lost.
You can expertly align and coordinate targeted marketing campaigns with your sales team to generate highly qualified leads without the complex and time-consuming actions of lead qualification and conversion.
In addition, you can build a custom marketing framework to target, build, execute, and measure the outcome of campaigns and create instant response and value out of every opportunity that your sales team can take and run with.
Moreover, NetSuite ERP enables you to maximize ROI by easily managing, tracking, and analyzing every detail of a campaign including email, direct mail, social media, and event data and feedback.
Ecommerce
NetSuite's Ecommerce tools further help companies complete their customer pictures for consumer and B2B companies with a shorter buying cycle and repeatable selling processes. Centralized order management gives companies insight into their multiple locations or brands, and connections to ERP warehouse modules give companies insight into their full supply chain. The integration of ecommerce with typical ERP supply chain tools means deep analytics and reduced data loss.
NetSuite SuiteCommerce users and customers can easily and instantly place orders and view transaction history on any device anywhere. In addition, NetSuite delivers the same above and beyond expectation and experience to your unique B2C and B2B customers and makes it simple to keep coming back for more.
An engaging online experience will drive more traffic to your web stores and make customers out of shoppers and instigate repeat business through a mobile-optimized cloud e-commerce platform. Users can also view customer information, orders, inventory, and other details in real-time to make informed business decisions.
Point of sale (POS)
NetSuite's point of sale solution (POS), SuiteCommerce InStore, combines in-store and online experiences together in a single seamless shopping experience sure to increase repeat business. InStore brings together full customer data from across digital channels and makes it available to the sales associates who serve those customers in the store. The system is designed to drastically reduce friction between the customer's digital buying experience and how they interact with your products in-store.
Customers build wish lists and access items from far-off locations quickly through digital channels. The insight of the NetSuite in-store POS lets associates reference those same wish lists, buying histories, and inventory from multiple locations to give customers personalized buying experiences.
It brings a continuous buying experience to shoppers, giving them the flexibility to add products to shopping carts at the point of sale for an in-store transaction and to wish lists to save for later. Merchants experience a full suite of POS transaction events including cash and carry, returns, exchanges, and access to real-time inventory and customer information to guarantee a successful shopping experience for all.
Sales associates enjoy the freedom of engaging one-on-one with customers and assisting them from anywhere in the store using a mobile POS touch device to reference, search, recommend, and upsell just about anything in inventory or on backorder.
Human capital management (HCM)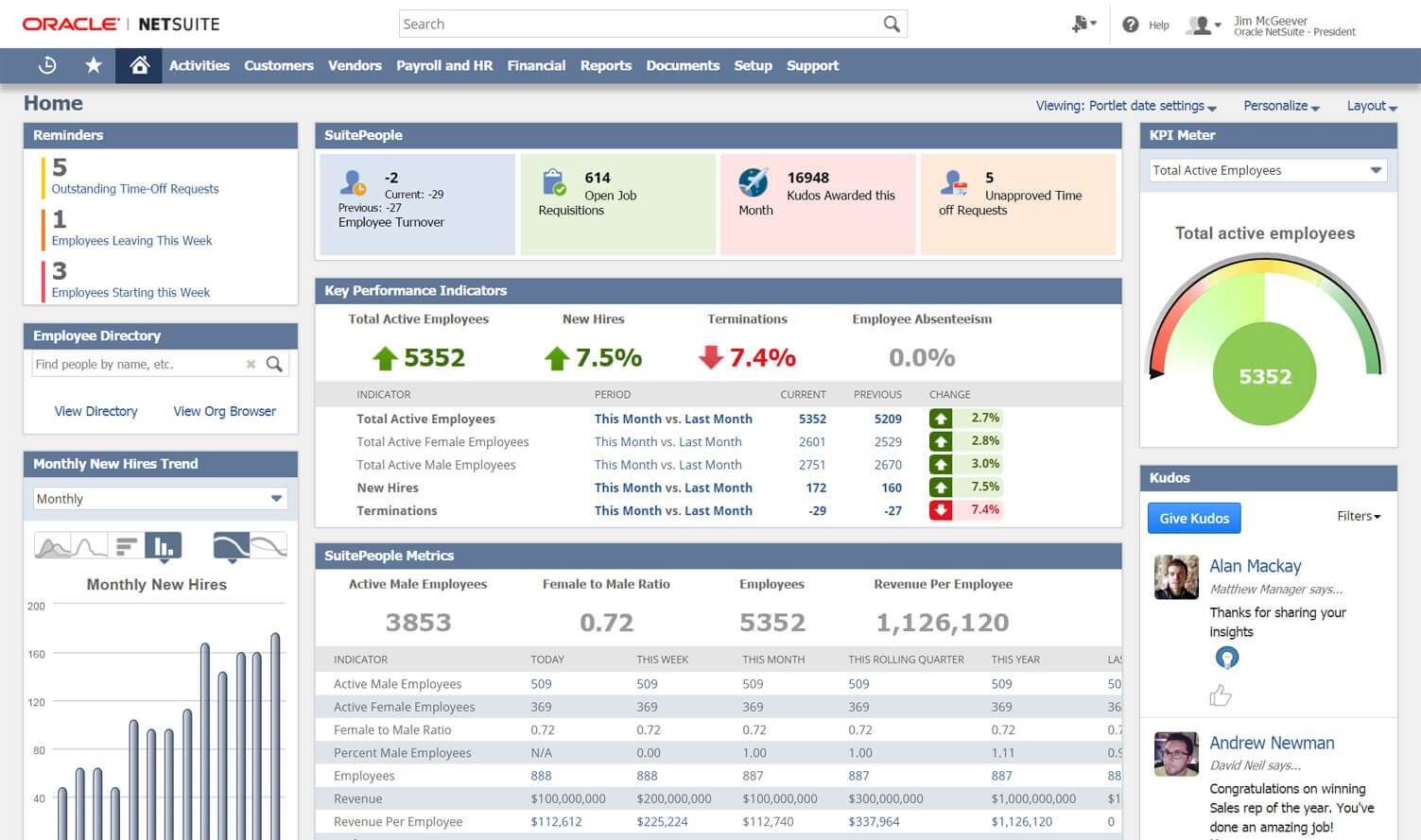 Business leaders use HCM as a framework to attract, develop, and optimize a workforce and understand and access the value of every employee.
NetSuite's SuitePeople module is a full-service human capital management system that helps with core aspects, such as talent acquisition, talent management, and workforce automation, in a single platform.
SuitePeople does it all with centralized payroll and human resources data, automated recruitment, talent development and retention, time management, attendance, benefits, and accurate reporting and analytics.
SAP
SAP S/4HANA (Suite 4 HANA) ERP, is a next-generation ERP solution that runs on SAP HANA database architecture. Deployable in the cloud or on-premises, SAP S/4HANA is designed to drive instant value across all lines of business and industries using built-in intelligent technologies, including AI, machine learning, and advanced analytics. ERP extras cover staffing and resource management so companies can predict and respond to changing staffing and supplies needs. S/4HANA uses AI to understand historical data from across the supply chain and uses it to build modeling that drives efficient staffing and sourcing.
In addition to multiple features designed for managing finance and accounting; treasury; accounts receivable; billing; revenue; governance, risk, compliance; and cybersecurity, SAP S/4HANA differentiates itself from the competition in the following areas.
Professional services management
Updated for 2022, SAP S/4HANA's professional services management module gives companies even more insight into their staffing needs to ensure timely onboarding of contract or seasonal employees, balance staffing with budget constraints, and more efficiently manage contractor payment requests.
Some useful and enhanced features in the professional services management module include:
New process extensibility from timesheet to project billing request and invoice

Updated project billing for customer projects 

More usability in customer projects

Enhanced project manager roles

Improved resource management
Asset management
Enterprise companies with complex supply chains need asset management to ensure an uninterrupted flow of resources and products. They also need to analyze the productivity and wellness of the vehicles, machines, and computing devices that run the company.
The S/4HANA cloud system optimizes asset management and processes by helping you plan, schedule, and execute maintenance operations in one integrated environment. Top features include:
Maintenance execution

Asset operations and planning

Environment, health, and safety

Capture and mitigate incidents

Maintenance scheduling
How to Choose Between NetSuite and SAP S/4HANA?
When comparing NetSuite vs. SAP S/4HANA, keep your industry needs top of mind. While both systems can handle manufacturing and supply chain, NetSuite may be better suited to mid-sized companies who do not need marketing or HR modules in the same system as their manufacturing data.
Alternately, SAP's professional services features suit larger companies with deep human capital resource needs. While they have a lot of the same features and modules, SAP S/4HANA offers noticeably more coverage of ERP software capabilities compared to NetSuite.
When comparing NetSuite vs. SAP S/4HANA, keep your industry needs top of mind. While both systems can handle manufacturing and supply chain, NetSuite may be better suited to companies who do not need marketing or HR modules in the same system as their manufacturing data. On the other hand, SAP's professional services features suit those companies with deep human capital resources.
Need more information about SAP vs. NetSuite ERP? Get on the phone with a Technology Advisor at 877.702.2082 to get a short list of the best ERP software for your company. Our experts will connect you with the right software, so you can spend less time researching.
Top ERP Software Recommendations
Wrike is an enterprise resource planning software trusted by 20,000+ companies worldwide. Improve your enterprise resource planning using resource management and allocation, performance reports, Gantt charts, time tracking, workload overviews, and company-wide visibility all in one place. Integrate Wrike with 400+ applications to accelerate your everyday processes. Customize workflows and reduce the need for emails, meetings, status updates, and more. Work smarter, not harder with Wrike.
ONE all-inclusive ERP, for a ONE horizontal market (smaller SMBs), from an independent family owned software company. We only offer a SINGLE version without hidden add-ons, or upselling shenanigans typical of the multi-version / edition approach favored by BigTech ERP software companies.

This all-inclusive multi-tenant cloud suite (100% browser based) includes, Order Mgt, Procurement, CRM, Accounting, Inventory & Warehouse Mgt, Manufacturing, and Workflow Automation.
Multiview Financials' ERP provides a single point of truth within your organization, enabling visibility across divisional, regional, or product line silos. It goes beyond traditional finance and accounting to add the sophisticated capabilities that today's complex organizations demand.
Need a Little Help?
Talk with a software expert for free. Get a list of software that's great for you in less than 15 minutes.