The wrong-fit ERP could cost your company thousands of dollars in customization and consultation fees and months of lost productivity. By choosing the right ERP for your needs—instead of jumping into a contract with the most feature-rich system—you can avoid all that heartache. To ease your search and save you from a broken contract, we've compared Netsuite vs. SAP S/4HANA ERP.
Both of these selections are billed as business software, but the core capabilities of SAP vs. Netsuite are more of a Venn diagram. Netsuite's ERP product caters to traditional manufacturing and supply chain companies, while SAP's S/4HANA product includes more traditional in-house business features including sales modules and professional services.
Netsuite and SAP S/4HANA are two of the most well-known ERP systems available on the market, but they may not include the features that your company needs. To get a list of ERP recommendations that work for your needs, click on the image below, and visit our ERP software page to learn more. Or call us at 877.702.2082, and one of our Technology Advisors will set you up with a short list of recommendations.
Netsuite
Netsuite ERP includes many different front-of-house modules that help retail and consumer brands manage their sales. Integrating these features into the overall ERP means that the company has a single source of truth (SSoT) within their ERP data. That SSoT gives companies the advantage of the data visualization and BI tools included in the system.
Marketing automation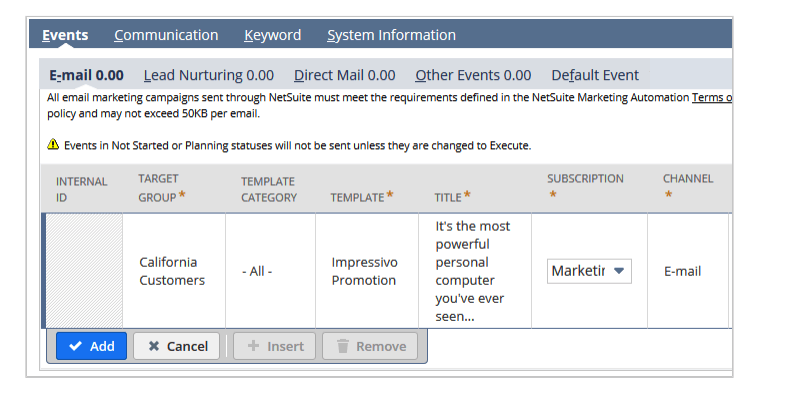 Netsuite's marketing automation tools give companies email and campaign management, lead management, and landing pages and forms. These features complete the top of the funnel so that marketing and sales can agree on lead information. The full integration keeps lead data in a single tool and cuts out manual transfers between email marketing, CRM, and lead management where critical data may get lost.
Ecommerce
Ecommerce tools further help companies complete their customer pictures for consumer and B2B companies with a shorter buying cycle and repeatable selling processes. Centralized order management gives companies insight into their multiple locations or brands, and connections to ERP warehouse modules give companies insight into their full supply chain. The integration of ecommerce with typical ERP supply chain tools means deep analytics and reduced data loss.
Point of sale (POS)
Netsuite's SuiteCommerce POS brings together full customer data from across digital channels and makes it available to the sales associates who serve those customers in the store. The system is designed to drastically reduce friction between the customer's digital buying experience and how they interact with your products in-store.
Customers build wish lists and access items from far off locations quickly through digital channels. The insight of the Netsuite in-store POS lets associates reference those same wish lists, buying histories, and inventory from multiple locations to give customers personalized buying experiences.
Human capital management (HCM)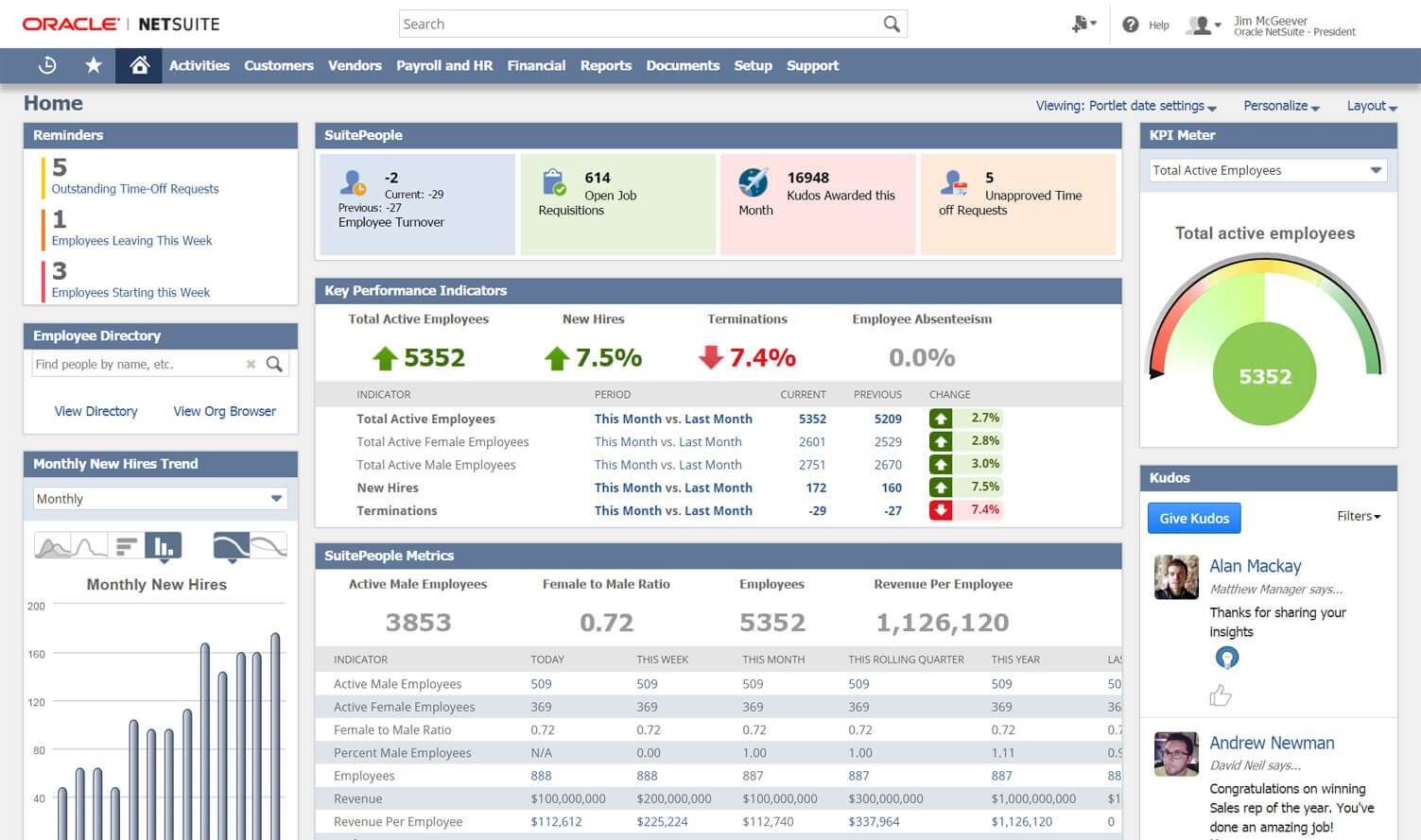 Netsuite's SuitePeople module is a full-service human capital management system that includes these features in a single platform:
payroll
self-service HR for benefits and documents
time management
compliance management
When integrated with the ERP and other modules, companies can get a full view of their financial health, including data analysis for their most important asset: people.
SAP
SAP S/4HANA ERP extras cover staffing and resource management so companies can predict and respond to changing staffing and supplies needs. S/4HANA uses AI to understand historical data from across the supply chain and uses it to build modeling that drives efficient staffing and sourcing.
Professional services management
The SAP S/4HANA professional services management module gives companies insight into their staffing needs to ensure timely onboarding of contract or seasonal employees, balance staffing with budget constraints, and more efficiently manage contractor payment requests. Some useful features in the professional services management module include output-based billing functionality and location tagging for services.
Asset management
Enterprise companies with complex supply chains need asset management to ensure an uninterrupted flow of resources and products. Further, companies need to analyze the productivity and wellness of the vehicles, machines, and computing devices that run the company. The S/4HANA system provides maintenance oversight and data analytics for company assets.
—
When comparing Netsuite vs. SAP S/4HANA, keep your industry needs top of mind. While both systems can handle manufacturing and supply chain, Netsuite may be better suited to companies who do not need marketing or HR modules in the same system as their manufacturing data. On the other hand, SAP's professional services features suit those companies with deep human capital resources.
Need more information about SAP vs. Netsuite ERP? Get on the phone with a Technology Advisor at 877.702.2082 to get a short list of the best ERP software for your company. Our experts will connect you with the right software, so you can spend less time researching.