The COVID-19 pandemic forever changed the e-commerce supply chain. To be sure, it amplified its existing weaknesses. The pandemic presented companies across all industries with an enormous challenge–or perhaps opportunity–to embrace change or quickly adapt.
As more people stayed in and shopped from home, e-commerce experienced a tremendous boom and is still growing. B2B e-commerce is rapidly growing as well. In fact, B2B e-commerce site sales will hit $1.77 trillion in 2022, which is a 12% increase from 2021.
Lievant, an international digital marketing agency specializing in e-commerce, can attest to this growth. Head of Digital Strategy Francisco Arinci says Lievant experienced "double-digit sales growth in the last two years," helping B2C and B2B customers boost e-commerce sales and profitability through their e-commerce sites or marketplaces.
Agencies like Lievant that assist with e-commerce have certainly benefited from the heightened demand for e-commerce optimization and profitability. However, for these agencies' business customers, depending on their level of flexibility before the pandemic, such growth in e-commerce is either a blessing or a curse. The uptick in e-commerce necessitates adaptable and innovative e-commerce supply chains to quickly and efficiently deliver products to customers within days, sometimes even hours.
Arinci witnessed the strain on his customers whose "ongoing campaigns had to be slowed or stopped entirely because of unexpected supply challenges."
What is the e-commerce supply chain?
The e-commerce supply chain is the process by which a product moves from the manufacturing facility to the customer's desired shipping location when they place an order for the product online. The supply chain requires the necessary infrastructure and personnel to deliver the product to the customer as quickly as possible.
3 e-commerce supply chain trends
Thanks to major online retail pioneers such as Amazon, customers expect expedient order fulfillment and delivery and a satisfactory return process–also known as reverse logistics. But there are other major ways–besides speedy delivery and returns–that e-commerce is responding to increased demand over the last couple years.
In his book Transforming the Global Supply Chain: Cyber Warfare, Technology, and Politics, Dennis Unkovic outlines some of the major trends that are giving shape to the future of e-commerce supply chain and shipping.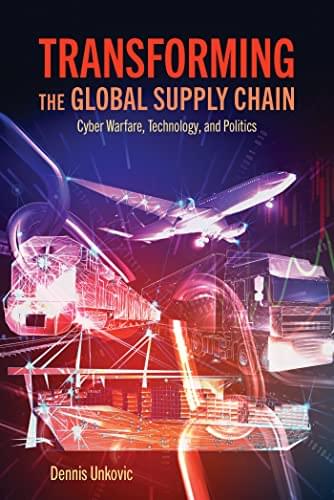 Shorter chain
Unkovic notes that the supply chain in general is getting increasingly shorter in two key ways—reshoring and shipping directly from warehouse to consumer.
Unkovic predicts that organizations will reshore their supply chains, meaning manufacturing and distribution will be moved from faraway countries to be geographically closer to the end customer.
As a result, companies will rely less on other countries' workforces and keep manufacturing and distribution domestic. Doing so helps a company cut down on inventory and logistics costs and brings stability to what may otherwise be a volatile supply chain.
The idea to shorten the path between manufacturer and consumer makes sense. However, as Unkovic acknowledges, trade and outsourcing are complex topics that depend on economic, technological, and political factors. Unkovic's prediction about reshoring will be something to keep an eye on in the coming years.
In an effort to shorten the e-commerce supply chain further, Unkovic notes that e-commerce retailers are circumnavigating intermediaries like physical store locations in order to ship directly from fulfillment centers to customers. Provided a company has a robust system of fulfillment centers, shipping directly to customers is more efficient and saves the customer money.
However, brick-and-mortar retailers are not disappearing anytime soon. In fact, in May 2022, the growth of in-store sales outstripped online sales growth. Compared to May 2021, in-store sales recorded a 13-percent uptick, while online sales grew by only 2.2%. This indicates a continued relevance of physical store locations in spite of an increased online retail presence.
Arinci notes that this trend led Lievant's customers to pivot to an omnichannel sales and marketing strategy and even launch new brands to take advantage of consumers' market exploration.
Robotics
Unkovic highlights distribution centers' increasing utilization of sophisticated robots to pick, move, and ship products. The warehouse robotics market is predicted to experience a CAGR of over 15% between 2022 and 2027.
Robots help boost the accuracy and efficiency of order fulfillment by picking and packing items faster than humans can. Unkovic predicts that self-driving vehicles will eventually become more prevalent for deliveries as well.
Unkovic also raises the point that robots even help to make the workplace safer by phasing out, for example, forklifts. He notes that over 97,000 reported injuries and 100 fatalities are attributed to forklifts each year. By eliminating the need for forklift drivers, Unkovic makes the case that robotics keep workers safe.
However, laying off workers to replace them with robotic forklifts for the sake of keeping the workers safe is not the sole solution. Rather, robotics should be part of the solution. With robotics becoming more popular in e-commerce supply chain management, organizations should proactively re-skill or upskill workers whose jobs may be replaced with robots.
Read more at Datamation: The Robotics Market in 2022
3-D printing
Unkovic posits 3-D printing as a major disruptive force that will evolve the supply chain. 3-D printing impacts mostly the beginning stages of the supply chain related to design, material sourcing, and manufacturing by enabling production of complex designs at scale. Accelerating these beginning stages can lower initial development time and cost, which ultimately helps to get the product out to the customer faster.
Read more at Baseline Mag: HP Moves 3D Printing to the Automotive and Manufacturing Mainstream
Companies located in North America dominate this technology. Therefore, if American companies reshore their operations to North America or the US, in particular, they can reap the following key supply chain benefits of 3-D printing:
Quickly design and test prototypes and produce small, uniform parts at scale
Greater product modification and customization
Cost reduction for research and development
More flexibility to hold less inventory, which also results in cost reduction
More reliable supply chain due to geographic proximity between manufacturing and customers
Read more at IT Business Edge about how 3-D printing is shaking up the medical industry: How HP 3D Printing is Making Medical Supplies
Tech solutions that optimize the e-commerce supply chain
Smart, AI-backed software solutions on the market help both suppliers and their customers gain greater visibility and control over the supply chain.
Network visibility
When it comes to matters further up the supply chain, such as inventory and distribution, Flexe offers a centralized platform that provides network control and visibility. The platform connects customers to in-network warehouses and allows them to add more suppliers and customers to the network.
Quality assurance
For quality control in the supply chain, Logmore, utilizes QR codes to track, analyze, and report on the condition of products during transit. Logmore's API enables e-commerce supply chain companies to build their own quality assurance apps. This especially comes in handy for the medical equipment and food and beverage industries whose customers can monitor quality control for their in-transit items.
Logistics
In terms of logistics, smaller companies should look into Shippo. Shippo gives customers access to low shipping rates from major carriers DHL, UPS, and others. Customers can also manage their omnichannel sales in one place, automatically create shipping and return labels, and receive shipping notifications. Shippo integrates with many of today's popular e-commerce platforms, such as Shopify, Square, and Woocommerce.
Similar to Uber and Lyft, Flock Freight facilitates truckload sharing to help mid-sized and large companies expedite shipping. Using algorithms, Flock Freight shows customers the best routes available between the fulfillment center and the customer's door.
In addition, using Flock Freight's service saves companies money by sharing truck space, insures their freight up to $100,000, and helps them reduce their carbon footprint. This is a great option to consider for companies who do not want to put up the investment in their own freight fleet or who want to save money by moving smaller loads in a shared space.
For companies that ship via truck, air, or water, Freightos is an international shipping marketplace that allows customers to compare freight quotes from more than 45 providers to find the fastest and cheapest shipping option. Bigger companies that operate internationally and that have the budget and flexibility to ship with different intermodal methods should consider Freightos.
The future of the e-commerce supply chain
The supply chain will never return to pre-pandemic conditions, especially for e-commerce sites.
Lievant, as an agency in the e-commerce space, has remained flexible and quick to turnaround deliverables as supplies became available again to its customers who could resume business in this new age of buying and selling.
Given its comprehensive services and staff located around the globe, Lievant "really mastered the 24/7 Service Motto as it was not strange for us to have internal chats or calls with customers as late as midnight to ensure that Web Pages, e-commerce sites, or Campaigns were published or online on time."
But what does Lievant's case, as just one example of e-commerce's immense growth, spell for the broader e-commerce industry?
Dennis Unkovic's book forecasts several trends that will emerge or continue to play out in response to this growth.
Shorter, more fragmented supply chain: global supply chain operations will become increasingly domestic to bring the supply chain as close to the end customer as possible.
Robotics and 3-D printing: these technologies will boom in the coming years to accelerate the supply chain for both e-commerce and brick-and-mortar retailers.
Supply chain software: technology will also continue to innovate solutions to meet the evolving demands of the supply chain. Such solutions enable users and their customers to gain more control over distribution, quality, and shipping.
Read next: Best Supply Chain Management Solutions
Technology Advice is able to offer
our services
for free because some vendors may pay us for web traffic or other sales opportunities. Our mission is to help technology buyers make better purchasing decisions, so we provide you with information for all vendors — even those that don't pay us.