Field service management (FSM) scheduling apps come filled to the brim with features meant to offload complicated schedule keeping. The process of navigating scheduling conflicts while assisting field service managers and pairing appropriately prepared technicians with nearby jobs becomes a breeze with the right FSM.
A good FSM will help keep a tight schedule and give field service managers the ability to double-check items that have been scheduled in order to create a reliable path to field service success.
Benefits of FSM Software
In case that's not reason enough to bring FSM software on board, here are four benefits of scheduling software for field service management companies:
Time is saved in-office by sending updates directly to employees automatically and allowing employees to access updates from their calendars.
Reduces miscommunication with customers by catching scheduling conflicts and missed appointments.
Saves technicians time by assigning them to jobs based on location, specialty, and availability.
Reduces lost revenue due to customer dissatisfaction with long wait times and wrong-fit technicians.
Top FSM Apps for Scheduling
These eight software options bring outstanding scheduling features to your field service management company.
Jobber
Jobber handles recurring jobs and scheduling for multiple technician types. It shows all schedules in list, calendar, and map views. Moreover, the scheduling features are part of a total business system, with features for the customer, technicians in the field, and business managers in the office.
Standout feature
Jobber comes with a drag-and-drop scheduler that gives teams the ability to quickly and easily build timelines and set up notifications should any appointments shift or fall to cancellation. This drag-and-drop feature gives team members and project managers all of the information they need in one place, ensuring nothing falls through the cracks and everyone is alerted to any changes in a timely manner.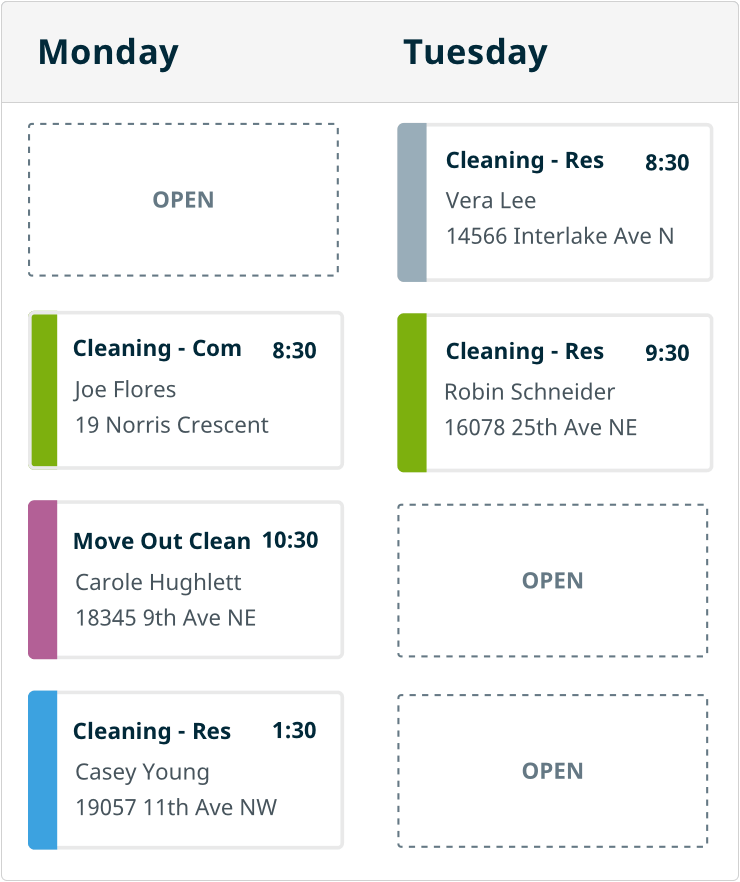 IFS
As an enterprise-grade FSM solution, IFS needs to handle a massive amount of delicate scheduling data. IFS does this by integrating a large library of software, including enterprise resource planning (ERP) and 10 custom applications. IFS and its Dynamic Scheduling Engine (IFS DSE) use algorithmic decision-making to automate a vast majority of scheduling decisions, allowing field service managers to get back to work without bogging themselves down in delicate logistics.
Standout feature
Take advantage of IFS and its dynamic scheduling feature. By giving the Dynamic Scheduling Engine all of the information you're keeping track of, the engine is able to constantly monitor all of your relevant jobs. And by creating a mechanical scheduling companion, you become a much more agile field service manager. IFS's Dynamic Scheduling notes changes in schedules and technician capacity and, in most cases, reacts to these changes automatically.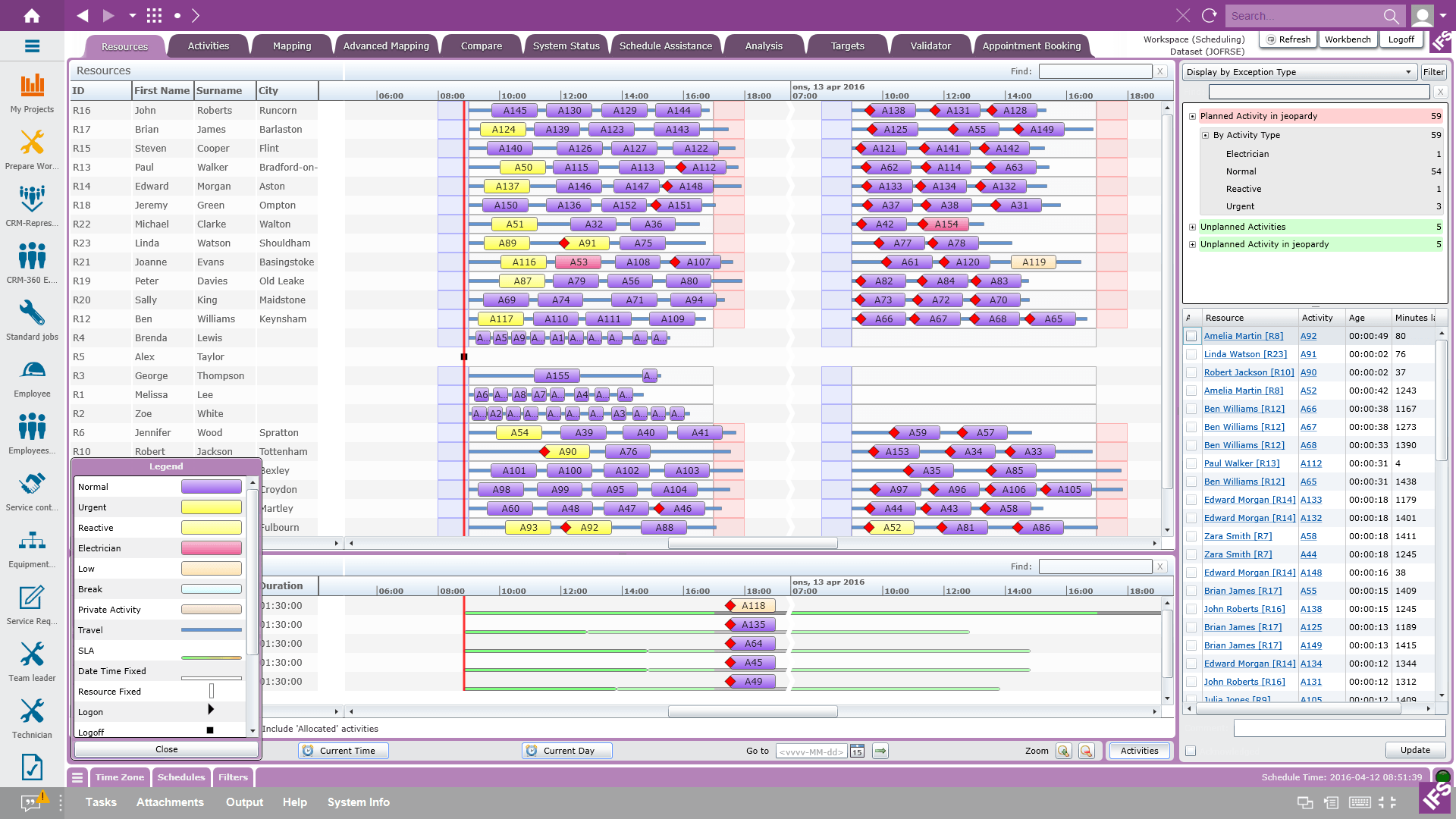 simPRO
simPRO combines GPS tracking and cloud mobile technology to streamline your communications and reporting needs into a single interface. Technicians access their schedules, invoice customers, and complete reports from their mobile devices. In addition, automated schedule notifications and a complete runsheet keep employees informed.
Standout feature
When there are more moving parts, there's more room for error. simPRO's team scheduling works to minimize your available points of failure by collecting and automating field member dispatches. simPRO also uses GPS tracking and mobile cloud technology to efficiently dispatch based on the current location and capacity of available techs, maximizing time spent on the job.
Using team simPRO's scheduling allows you to schedule several technicians for similar jobs at once. Midsize and enterprise-level operations will benefit from this greatly, saving time and reducing manual errors.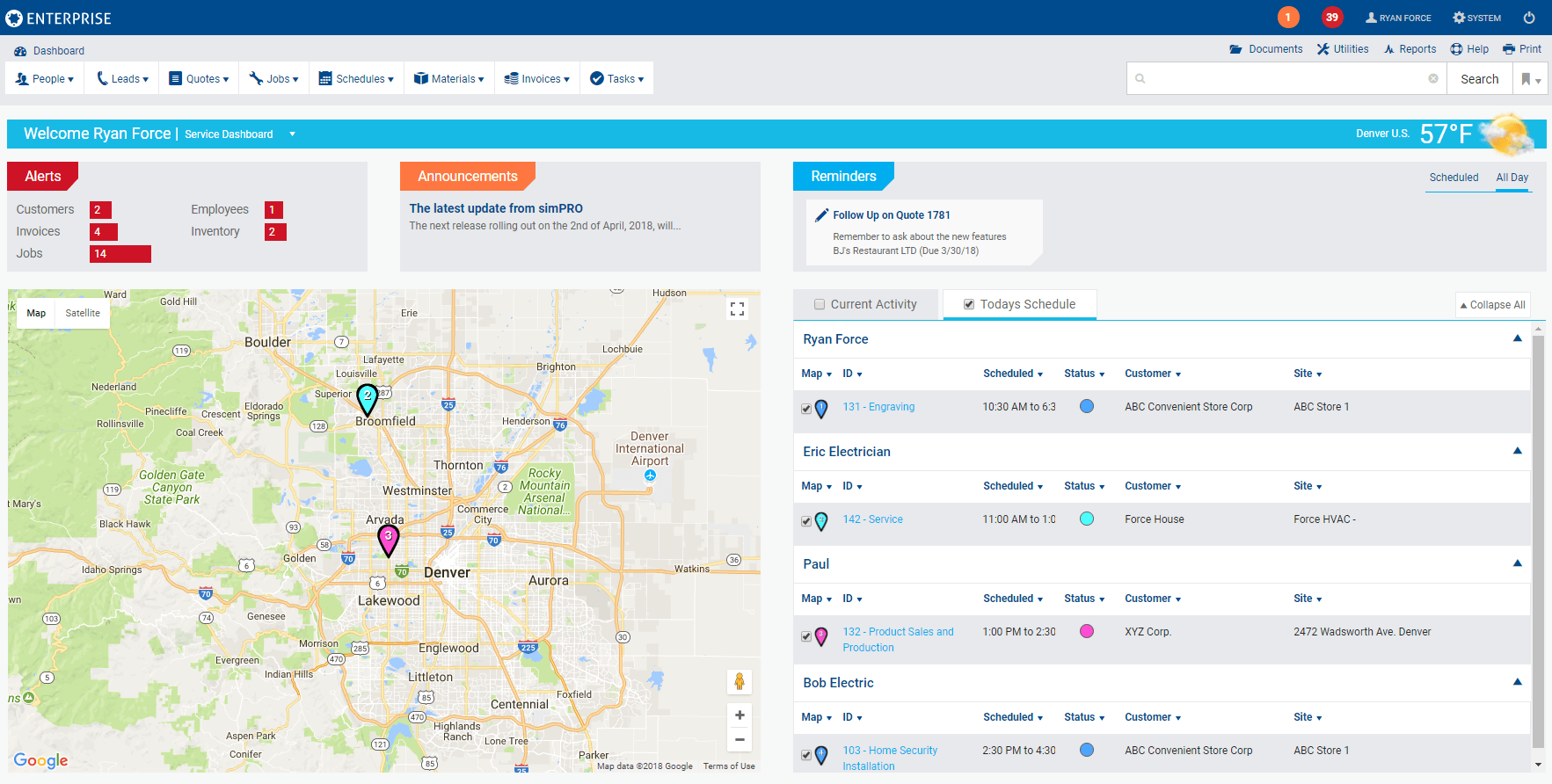 Workiz
Workiz is a full-service field service management solution that covers you from job scheduling to tracking and office work. The scheduling and reporting tools offer custom fields to track customers. The drag-and-drop functionality of Workiz's interface makes applying and editing jobs a clear and simple affair.
Standout feature
Workiz provides a website widget that gives customers the ability to schedule appointments directly through your website. Giving your customers the agency to schedule their own appointments opens your lines of communication and streamlines the process of business-to-customer communication. This also cuts out much of the potential for miscommunication with customers, keeping internal schedules tidy and giving customers the flexibility to easily schedule appointments without slowing down work.
Vcita
Vcita is a lightweight software solution for client management. It is not specifically designed for field service, but it includes features for scheduling, customer relationship management, online payments, and a customer portal. It's perfect for startup field service companies with a few mobile technicians.
Standout feature
Vcita, while not a field service management app, is suited to tackling the administrative aspects of FSM. Its built-in event scheduling feature pushes event (or delivery) scheduling to the forefront. Building and maintaining a calendar is simple with Vcita, as multiple team members can easily be added to and manage calendar events, keeping everyone on the same page with minimal fuss.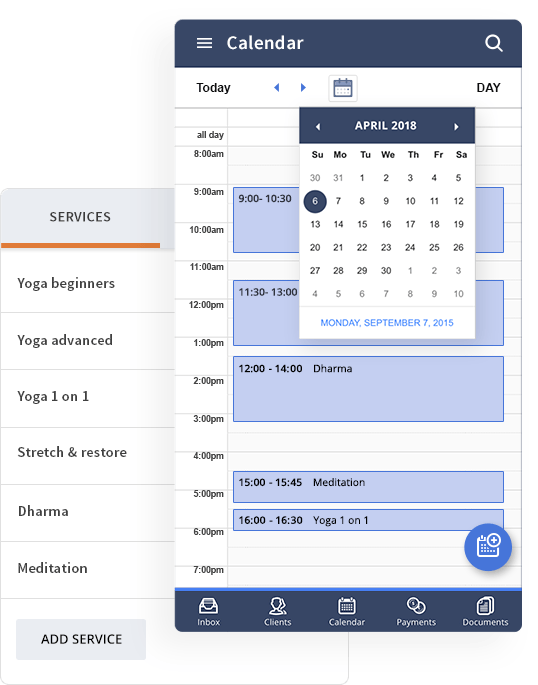 Kickserv
Kickserv is a full-featured field service management solution for growing companies. Use the resource calendar and dynamic scheduling to ensure you don't overschedule or under-schedule technicians. The office dashboard provides insight into current jobs, leads, and potential revenue all in a single interface.
Standout feature
Keeping project managers in the loop is crucial to maintaining an efficient field service workflow. Kickserv does this by combining project management software with its field service scheduling. Kickserv has also bundled in the ability to add multiple team members and events to every job, giving team members a holistic view of every task.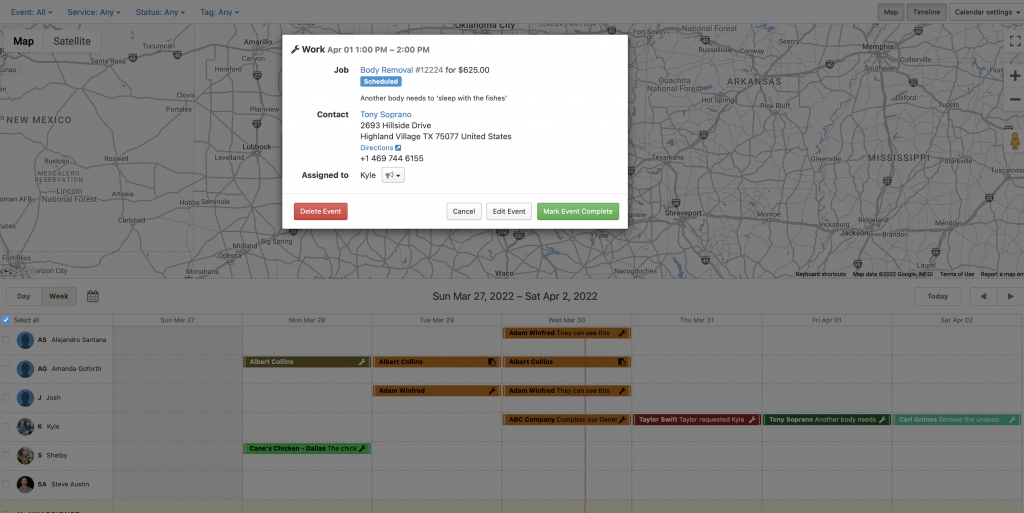 MHelpDesk
MHelpDesk automates as many field service management processes as possible. The scheduling options provide recurring jobs and technician views. The scheduling syncs directly with a mobile Google calendar. Choose from many industry-specific products for the option that best fits your company.
Standout feature
MHelpDesk is perfect for teams that thrive on detail. MHelpDesk gives field technicians access to incredibly detailed briefings of their jobs and details on any mobile device. Details like job type, location, and task are easily accessible to the technician, so they can dive straight into newly assigned jobs. This keeps things moving from job to job and opens communication avenues right away.
RazorSync
RazorSync is a multi-featured field service management solution with Quickbooks integration and mobile payment capability. Use drag-and-drop scheduling to quickly line up appointments and follow up with branded forms. RazorSync also offers the ability to schedule recurring jobs, which helps to build your maintenance programs.
Standout feature
Flexibility and time-management-oriented teams will get a lot out of RazorSync and its priority tags. Tasks can be assigned different priority levels, allowing teams to tackle tasks in order of priority and giving them the flexibility to find and tackle low-priority tasks between scheduled appointments. This optimizes the amount of time spent on high-priority tasks while keeping low-priority tasks out of the way until the schedule clears up.
How to Choose the Right FSM Software
FSM software acts as the nerve center of a field service management service enterprise. It can be difficult to narrow down which FSM software is best suited for your business. We suggest taking stock of your bottlenecks over the course of a week and seeking out one of the above features. Offloading some of the tedium and clearing up lines of communication will improve the ability your team has to tackle jobs while out in the field.
Top Field Service Management Software Recommendations
Jobber provides industry-leading software for growing home service businesses that helps organize their operations, impress their customers, and power their growth. Unlike pen and paper or single feature apps, Jobber replaces daily operational tasks and duplicate entries with streamlined, tailored automation. Since launching in 2011, businesses using Jobber have serviced nearly 15 million people, delivering over $9 billion in services to their customers.
Zuper is the most flexible and customizable field service management platform offering fast-growing service businesses with comprehensive features, best-in-class app integrations, and industry-leading service and support. With Zuper, you can bring your customers, field technicians, and back-office staff together to deliver an exceptional field service experience every time.
All-in-one field service management software that provides enterprise-level features at a small business price. Run your business from anywhere by creating estimates & jobs, schedule & dispatch, invoice & process credit cards. Track customer equipment history, run sales revenue and commission reports. Send text message and email reminders to customers. Integrated with Quickbooks and zero per-user fees, zero setup fees. Request a Free Demo Today!
Need a Little Help?
Talk with a software expert for free. Get a list of software that's great for you in less than 15 minutes.
Real-time interaction with your mobile workers. All kinds of businesses and industries leverage Synchroteam's power to mange their mobile workers efficiently, simplify business processes and optimize costs.
Synchroteam Field Service Management software works great for SMB, medium-sized business and enterprises in HVAC, Electrical, Inspection, Pest Control, Plumbing, Maintenance, Scheduling, & Security.
Learn more about Synchroteam - Field Service Management solution
Housecall Pro is a top-rated, all-in-one business solution that helps home service professionals work simpler and grow smarter. With easy-to-use digital tools for scheduling and dispatching jobs, managing payments, automating marketing efforts, and more, Housecall Pro helps Pros efficiently manage every aspect of their business all in one place.
Technology Advice is able to offer
our services
for free because some vendors may pay us for web traffic or other sales opportunities. Our mission is to help technology buyers make better purchasing decisions, so we provide you with information for all vendors — even those that don't pay us.