If there is one thing that is certain across industry, it is that whatever you do, someone will want to know what it costs and how effective it is. As business sectors are increasingly squeezed by the needs of the customer – usually price or delivery-driven – against the requirements of the business, almost everything becomes dependent on producing the best using the lowest possible cost model, thereby maximizing profits.
Manufacturing and production industries employ a wide range of measures to allow measurement of the system to drive business performance forward and to allow almost constant analysis of certain sections of the business to ensure that they are working at optimum capacity. While a business may have a variety of success measurements that they refer to, one measure is obvious; the ultimate success of the business.
From a maintenance perspective, there is no better way of measuring the overall success of the process than by assessing certain key performance indicators (KPIs) that not only show if these goals have been achieved but also give an insight into the process behind the measure.
KPIs: What Are They?
KPIs are defined factors that illustrate specific parts of a business and offer a measure of how well they are performing against agreed benchmarks. The KPI defines what metric is being assessed, the criteria under which it will be assessed, and how well it is conforming to expectations. While they will be ongoing, KPIs generally express how well the business progresses toward a long-term business goal, and when a number of KPIs are used together they offer a credible means of assessing overall business health.
KPIs are usually fairly technical in nature, outline specific metrics that are deemed important by the company, and allow measurement on a daily, weekly, monthly and yearly basis as necessary. In order to be effective, KPIs should be assessed on a regular short-term timescale – typically days and weeks – so that any changes to the system can be found quickly and modifications made to the process as necessary.
KPIs can be applied to any department within a business and can be either basic measures of on-time delivery, completed work, or even staff absence, or can be much more highly tuned to reveal specific information about the business health of a department. In those terms, a maintenance division can use KPIs to ensure that they meet targets and serve the whole company to the best of their ability.
KPIs for CMMS
In a successful company, each department will have a set of bespoke KPIs that demonstrate whether a particular area is performing at optimum output. A strong maintenance department will have indicators based on proactive performance that limit the downtime experienced by other departments due to faulty equipment or site issues. The KPIs may also reflect the ability of the maintenance team to react to and spur proactive performance.
Because maintenance is such a broad department that spans the entire company, it is difficult to generalize what KPIs can be derived and should be measured. To achieve a range of credible measures, CMMS-orientated reports can be used to develop KPIs. Of these, some of the most important indicators are:
Current Open Works Orders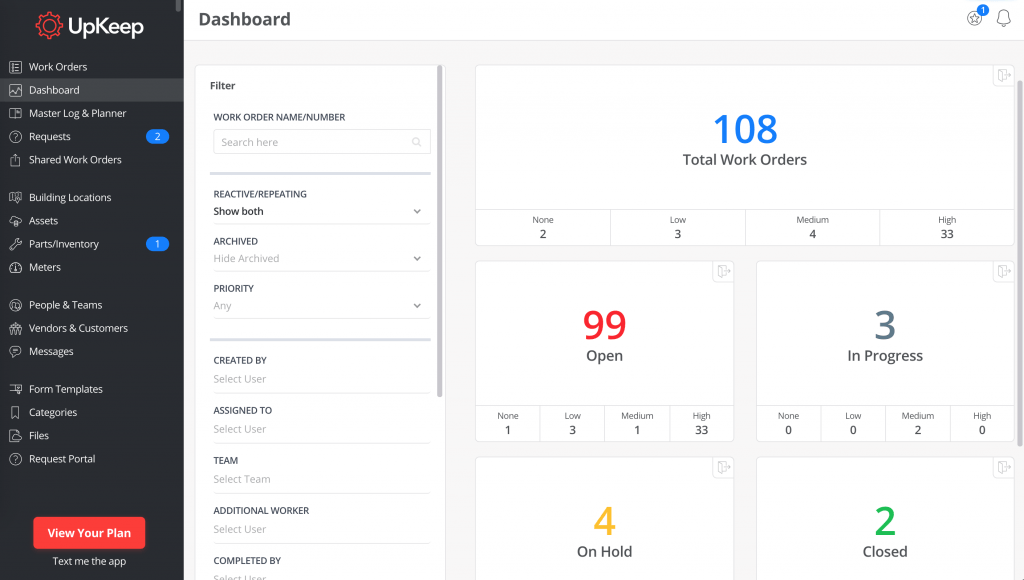 Open work order measure the workload across the department. While quite a blunt measurement, it gives senior management a good indication of not only the breadth of work but also the level of work. If lots of machines needing maintenance, further questions may determine whether new equipment is needed.
Maintenance Backlog
A maintenance backlog is a report that tells what work needs to be completed by the maintenance department. This can be further honed to show only work that has slipped past an agreed completion date and is now outstanding. This report gives a strong picture of how well the maintenance department is coping with a workload.
Mean Time Between Failures (MTBF)

MTBF is an essential measure that shows the health of production and ancillary machinery. If you have a piece of equipment that is regularly failing – and in doing so adsorbing maintenance resources – this measure will show it.
Mean Time to Repair (MTTR)

Allied to the maintenance backlog, MTTR will show where major problems exist due to either the need for off-site parts or specialist personnel. MTTR can show weak areas of the production environment, and highlight areas where management may want to build in contingencies.
Preventive Maintenance Compliance (PMC)
This measure demonstrates the level of proactive work happening across the maintenance department and shows how much preventive work is being carried out. PMC usually employs the 10% rule, which dictates that tasks should be completed within 10% of the scheduled maintenance interval. For example, if the maintenance plan is monthly – usually taken as thirty days – then planned tasks should be completed within 3 days of the due date. Any difference in that figure can be highlighted and discussed.
Planned/Unplanned Maintenance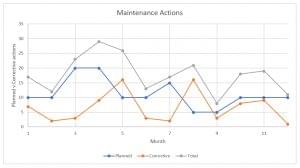 Almost every company has some level of planned maintenance, and then finds themselves having to react to general failures too, which impacts the delicate balance of planned work. Planned/Unplanned maintenance is a useful, backward looking KPI that shows the level of planned work together with the extra effort required to cope with breakdowns.
This measure is effective because it not only shows what you planned to do, but how much extra work your team had to deal with when unplanned work was added in.
Conclusions
A robust CMMS should enable users to create a master set of KPIs and drill down to find the factors driving certain results. In this way, teams can interrogate the system each month to generate an overview report that shows the state of the maintenance department, highlights any issues such as excessive unplanned jobs, and identify trends. Mining data from the CMMS can help managers answer those questions and improve results with minimum effort, making the collection of KPI data not only important, but actually imperative for your company.
Arjun Patel is a Growth Marketing Manager for UpKeep Maintenance Management. Arjun has been a founder and CEO of previously funded startup and is now helping change the way maintenance teams streamline their workflow by running growth initiatives at UpKeep. UpKeep is asset and maintenance management — done the right way. We take a mobile-first approach to the traditional desktop-based enterprise software. We keep technicians out in the field working on the most pressing issues — saving valuable time and money. Tracking the costs of assets over their lifetime is now easier than ever. We keep businesses more efficient and streamline their workflow by eliminating paper work orders.
Technology Advice is able to offer
our services
for free because some vendors may pay us for web traffic or other sales opportunities. Our mission is to help technology buyers make better purchasing decisions, so we provide you with information for all vendors — even those that don't pay us.