Maintenance operations can be a daunting and overwhelming task. From tracking workflows to practicing preventative maintenance, overseeing a company's systems and processes involve various moving parts that can be challenging to follow—even for large enterprises. Studies have shown that organizations spend approximately 80 percent of their time reacting to maintenance issues rather than proactively preventing them. Statistics like these have led to the adoption of computerized maintenance management systems (CMMS).
If you're looking for a CMMS specific to your needs, use our Product Selection Tool. You'll get a list of software tailored to what you need from our unbiased Technology Advisors.
What is a CMMS?
A CMMS is a software tool that centralizes and streamlines maintenance information while also facilitating maintenance operation processes. 
In a world where exceptional customer experiences depend on excellent logistics, inventory management, and supply chain systems, CMMS system features have become essential for companies. 
A CMMS allows companies to:

Track employee and equipment certifications

Store important asset information like manufacturer model, cost, location, related documentation like manuals and warranties, and IoT capabilities

Manage work orders 

Manage inventory

Promote preventative maintenance

Analyze assets and create performance reports 
A CMMS is a one-stop-shop for handling all the processes associated with managing a company's operational systems while also allowing users to conduct daily tasks. 
These tools are typically used by companies in industries where physical infrastructure and machinery plays a massive role in how the business is run. 
Read also: The Essential KPIs for CMMS
The benefits of a CMMS 
CMMS tools are catching on; a Plant Engineering 2016 Maintenance study found that 51 percent of manufacturing facilities are using them. The software gives companies advantages that their competitors shouldn't ignore.
Decrease maintenance costs
A CMMS records performance statistics and downtimes while also streamlining work order management, preventing unexpected and costly repairs. Implementing a CMMS can improve the reliability of equipment by as much as 35 percent to 50 percent, which drastically decreases costs. 
Increase team productivity
CMMS tools can also be used for project management, task delegation, and decreasing workflow disruptions. Additionally, features like work order automation free up teams to handle more advanced responsibilities and strategies that benefit the entire company. 
Extend the life of the equipment
Preventative maintenance can extend the life of equipment by monitoring wear and tear to repair equipment before it breaks. Users can automate work orders and trigger them based on an asset's age or usage so machinery can get needed repairs. 
Improve customer service and customer experiences
All of the above measures can prevent machinery downtime, promote better inventory management, strengthen supply chains, and improve product delivery to customers. 
CMMS tools are instrumental in promoting growth and continuous improvement within maintenance operations while also increasing overall efficiency. However, while it's clear that CMMS software tools are necessary, it can be challenging to know which tool is best. 
Types of CMMS software tools
Your facility's needs and the complexities of your operation will determine which of the three types of CMMS solutions you choose. 
Simple facilities
A CMMS product in the simple facilities group tracks basic maintenance and operation processes. These systems track work orders, ensure compliance, and support single-site facility locations. 
Asset and equipment groupings
Does your business revolve around depreciating assets? If so, an asset and equipment grouping-based CMMS is going to be a top option for you. These tools use automation and preventative maintenance to track the performance and usage of machinery and equipment. 
Complex facilities
Larger companies with more sophisticated workflows that include multiple locations, work areas, and intricate work environments will likely use a complex facility CMMS software option. 
Popular Products on the Market
There are various CMMS options on the market, and Fiix, eMaint, and Upkeep are three widely-used tools in this space. All three incorporate many of the standard features associated with CMMS systems: work order management, preventative maintenance, inventory management, and workflow automation.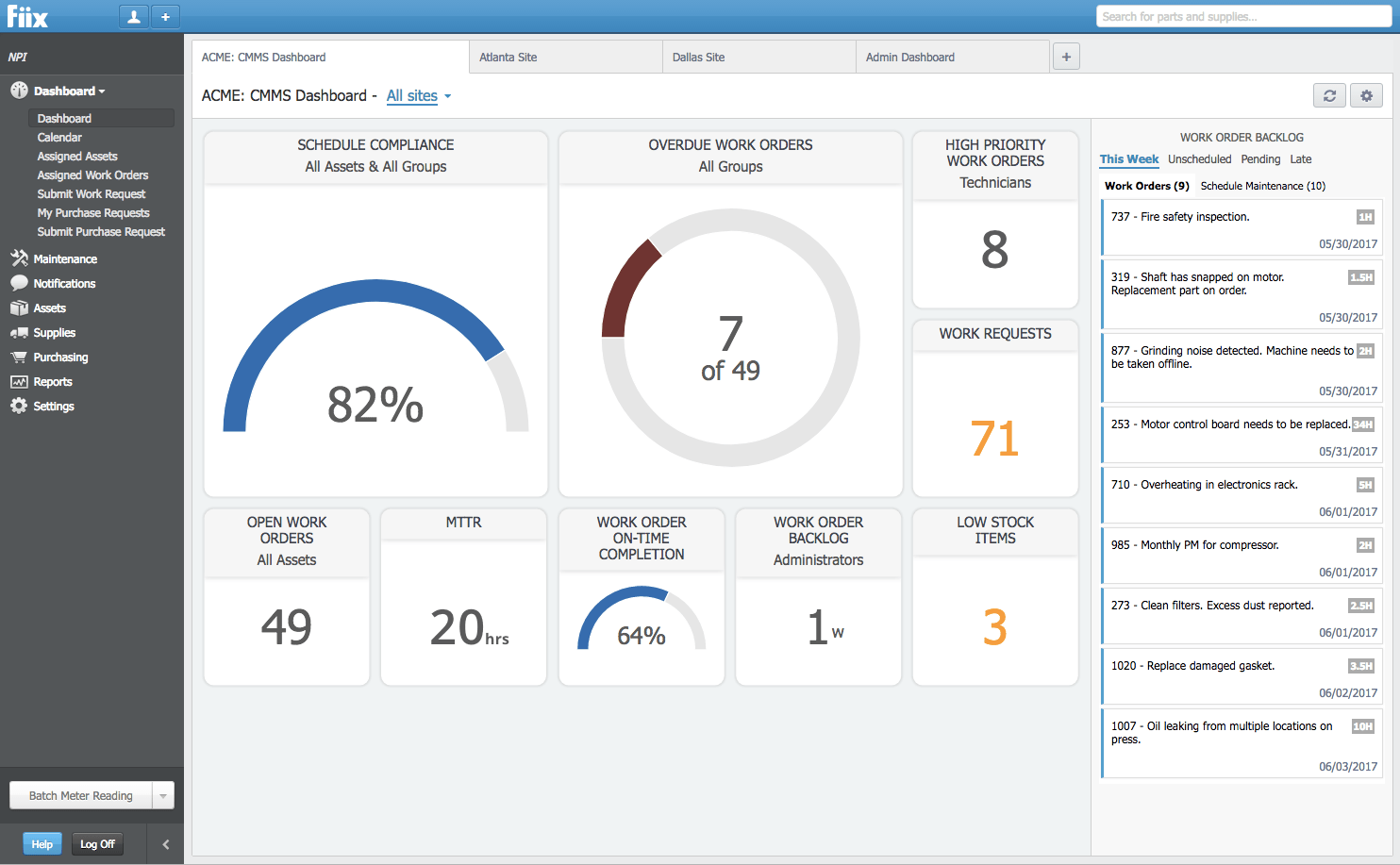 Nevertheless, each one has unique aspects that allow it to stand out. For example, Upkeep enables users to develop task-based checklists to keep workers focused, while eMaint has interactive plans and site maps for workflow visualization. Fiix even allows users to manage maintenance options on a mobile app. 
How do you pick the best CMMS for your company?
Buying needs vary from company to company, but consider these factors as you research: 
Price –

What is your company's budget? This information will likely be at the top of your list. Sit down with leadership and involve the accounting and finance team to see how much you can spend monthly or annually on software tools. You may also want to run an opportunity cost analysis before this meeting to discuss how you can offset the price of implementation.

Deciding between cloud or on-premise implementation –

 Do you need your product to be implemented on a specific worksite, or does your company need cloud-based support? With the rise of location-independent work, you may likely need a hybrid solution to service onsite staff while ensuring offsite teams can still conduct maintenance operations.

Storage needs –

 How much digital space will you need for documentation? If your storage needs are high, you may need an integration with a cloud-based storage service.

Focus needs and goals

– How small is your company? How complex are your operations? The answer to these questions will decide whether you need a software tool in the simple facilities, asset/equipment, or complex facilities group. Additionally, the focus you choose should also align with your goals—whether it's to manage operations or better monitor your machinery.

How many people will be using the system?

– Who will be involved in managing the system? Will the CEO and CIO be using it, or will project managers be the primary users? You need to determine this to know what CMMS tool you need to satisfy as many people on your team as possible. 
Read also: How a Mobile CMMS Can Double Productivity for Facility Teams
CMMS allows you to take control of your maintenance processes
Changing consumer preferences and more dynamic technologies are making CMMS tools essential for companies with a lot of maintenance and operational processes to manage. If you are considering implementing this system, you need to first understand what a CMMS can do for your company. Look at factors like budget, executive buy-in, goals, and team needs to determine your company's best option. 
Ultimately, making the selection of a CMMS your top priority can significantly enhance your maintenance operations in the short and long-term.  For a detailed look at CMMS software options to help you make your choice, use the  TechnologyAdvice CMMS product selection tool. Enter your requirements, and our expert advisors will give you a list of the top CMMS products for your company.