Asana and monday.com are two similar solutions for project management and workflow automation. Both software include a variety of project-tracking tools for businesses and teams of all sizes. That said, Asana and monday.com have different strengths. It offers better task management features, while monday.com provides a better all-in-one work management tool.
We'll help you compare pricing, integrations, workflow management, and software setup to decide if Asana or monday.com will work better for your business.
Asana vs. monday.com: Which is better?
|   | Asana | monday.com |
| --- | --- | --- |
| Free Plan | Yes | Yes |
| Pricing | From $10.99 per user/month | From $8 per user/month |
| Integrations | 200+ integrations with unlimited actions | 50+ integrations with monthly action limits |
| Workflow Management | List, calendar, Gantt, and kanban views | Calendar, chart, Gantt, kanban, map, and timeline views |
| Setup | Task, project, and dashboard templates | Templates and prebuilt products for specific use cases |
|   | Try Asana | Try monday.com |
Asana: Better for task management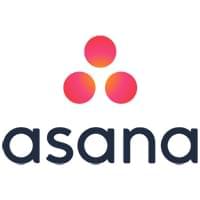 Asana is an online work management software that focuses on project management and task management tools. All Asana plans let you manage as many projects as you want. They also let you break down projects not just into tasks but also subtasks. In fact, Asana lets you create multiple levels of subtasks, letting you divide projects into very granular parts.
The software has other useful task tools, like task dependencies, task approval, and batch task actions. So if you need to track lots of moving parts, Asana's task management features could make it the best project management tool for your team.
monday.com: Better for comprehensive management software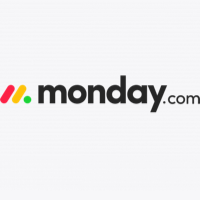 monday.com bills itself as a "work OS," or a platform that can manage workflow for everything from HR to design to software development. The platform includes lots of project management tools, but you can also use it as a CRM, workflow automation tool, or collaboration tool.
You can use monday.com to build custom dashboards and workflows. Or, if you don't want to deal with the setup, monday.com offers pre-built products like monday work management and monday sales CRM. These come with out-of-the-box tools for managing projects and work in specific verticals. Either way, you can tailor monday.com's platform for all kinds of business needs or project management styles.
Asana vs. monday.com: A detailed comparison
Pricing
Like most project management software out there, Asana and monday.com both charge per user. That can make them pretty affordable for a small business or small team. They both offer discounts for annual billing, meaning you can save money by paying for a year at a time.
With different plan tiers and features, both Asana and monday.com can work within many budgets. You just need to figure out which one offers the best combination of features and price for your team.
|   | Asana | monday.com |
| --- | --- | --- |
| Discount for annual billing | ✔ | ✔ |
| Free viewers | ✔ | ✔ |
| Functional free plan | ✔ | ✘ |
|   | Try Asana | Try monday.com |
Asana
Asana has three plans:
Basic: Free
Premium: $10.99 per user per month
Business: $24.99 per user per month
The free plan allows up to 15 users, which means it could work for your small team. It offers all the essential project and task management tools.
Most teams, though, will want at least the mid-tier Premium plan. It gets you workflow automation, unlimited free guests, a Gantt Chart, and more.
Teams juggling multiple projects may want to upgrade to the Business plan, which offers portfolio management, time tracking, and resource management.
monday.com
monday.com offers five plan tiers for its basic work OS:
Individual: Free
Basic: $8 per user per month
Standard: $10 per user per month
Pro: $16 per user per month
Enterprise: Contact for quote
monday also offers comparable plans for each of its pre-designed products (like monday work management and monday dev).
While monday.com does offer a free plan, it's too limited for most teams. (You can only have two users.) Even the cheap Basic plan lacks essentials like software integrations and calendar views.
Most businesses should expect to pay between $10 and $16 per user per month for the mid-tier Standard or Pro plans. Those both get you software integrations, workflow automation, and more project views―but the Pro plan gives you more of all of those.
Which to choose for pricing?
It's a tie. Here's why: Asana and monday have comparable pricing for their mid-tier plans, with neither having a clear edge. And while Asana gets points for its workable free plan, monday.com offers the cheaper advanced plan.
Integrations
Asana and monday.com let you use software integrations to add more features to your project management software and sync it with other essential apps you use.
The right integrations can save your team time, and they can keep your data current and accurate. You may, for instance, want to look for integrations with any other project management, team collaboration, budgeting, or workforce management software your business uses.
|   | Asana | monday.com |
| --- | --- | --- |
| Integrations on all plans | ✔ | ✘ |
| Unlimited integration actions | ✔ | ✘ |
| 50+ software integrations | ✔ | ✔ |
|   | Try Asana | Try monday.com |
Asana
With Asana, you get access to more than 200 integrations, including popular software like Adobe Creative Cloud, Google Workspace, Jira, Microsoft Teams, Slack, and Zoom.
All Asana plans let you use integrations―and use them as much as you want.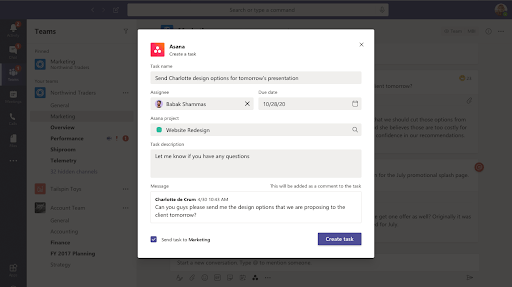 monday.com
monday.com has around 50 integrations. That includes many essential business tools, from Adobe Creative Cloud to Zoom. One important caveat, though: you need at least the Standard plan to use them.
Even then, monday plans limit how often you can use integrations. The Standard plan gets you 250 integration actions per month, while the Pro plan bumps you up to 25,000.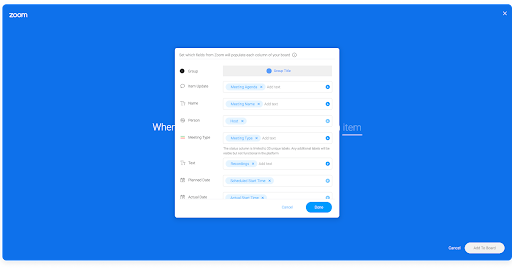 Which to choose for integrations?
Asana. Here's why: it integrates with more software than monday. Even better, Asana integrations work on any plan―not just premium ones―and you don't have to worry about hitting an action limit.
Workflow management
Different teams like to manage workflows in different ways. Asana and monday, like other project management tools, let you customize the way you look at your workflow, break down projects into small parts, and create project assignments.
Ideally, your project management tool will help simplify and automate your team's existing workflow.
Asana
Asana lets you use several project views, including a chart, calendar, and kanban board.
It also lets you break down projects into units that make sense for your team―whether that's tasks, subtasks, or even sub-subtasks. Likewise, Asana lets you create task dependencies, to make sure tasks get done in the right order.
Paid Asana plans also give you workflow automation tools, so you can spend less time managing recurring tasks.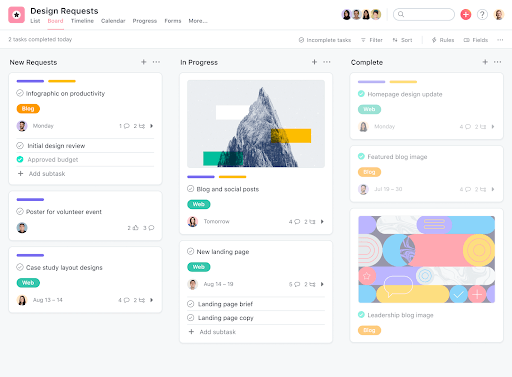 monday.com
monday.com has common project views like a Gantt chart and kanban board, but some plans get you less-common views like a map.
And while monday doesn't offer as many task controls as Asana, it does let you assign multiple people to one task.
monday.com also includes automation tools on mid- and high-tier plans. As with its software integrations, though, Monday limits the number of automation actions you can run per month.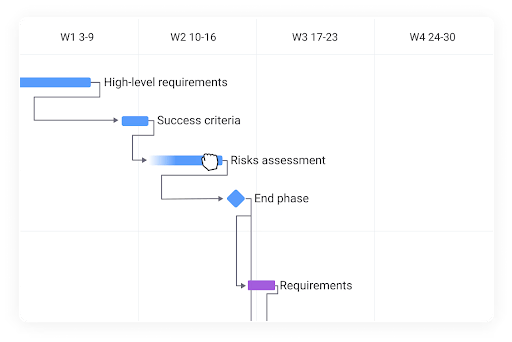 Which to choose for workflow management?
It's a tie. Here's why: If you care more about managing nitty-gritty tasks, Asana gives you more control. If you prefer a higher-level view, though, monday's additional project views may be more helpful.
Software setup
While it's worth investing some time to tailor software to your team, you want to start managing projects as soon as possible.
monday.com and Asana both have extensive help centers with guides to setting up and using their programs. They also offer paid onboarding, if you want to let someone else handle the setup. You can definitely set things up yourself, though. Just consider how much time you have to invest and how much help you might need.
Asana
Asana has lots of templates to get your project management tool up and running. Whether you're in marketing or operations, looking for agile sprint planning or new employee onboarding, you can find a template to help.
The hardest part is simply finding the right template for your needs.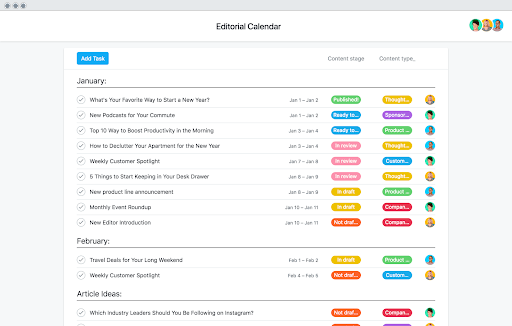 monday.com
monday.com has templates too―and more than Asana. So for whatever use case you have in mind, you can likely find a monday template to help you get going quickly.
Plus, monday.com has products like monday marketer and monday dev that come pre-designed and ready to go. Those can help you start managing projects even faster.
And if you run into trouble, all monday.com plans include 24/7 customer support. That way, you can get help with your product setup.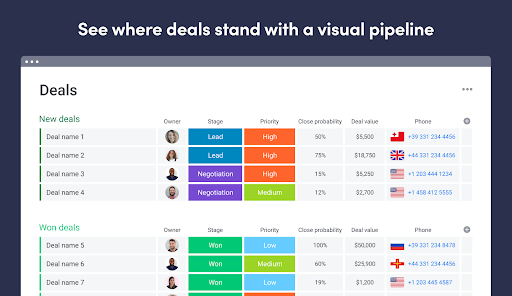 Which to choose for software setup?
monday.com. Here's why: monday.com lets you use prebuilt products that require less setup on your part. Plus, it has more templates and customer support if you decide to build your own workspace.
Asana vs. monday.com: Ready to choose?
Both Asana and monday.com are popular project management tools that can help your team plan workflows, automate tasks, and track projects and tasks.
Asana offers more robust task management tools overall. It also offers a better free plan that small teams can actually use, and it gives you more access to software integrations.
monday allows for more flexibility, thanks to a work management platform that can be fine-tuned to meet all kinds of work management needs. It also offers better out-of-the-box solutions.
If neither Asana nor monday sounds quite right for your small business, check out popular alternatives with our Project Management Software Guide.
FAQs
What are the core features of Asana and monday?
The core features of Asana and monday.com include project management, task management, and workflow automation.
What is the difference between Asana and monday.com?
The difference between Asana and monday.com is that Asana offers more granular task management tools while monday.com's platform offers greater flexibility for work management.
Featured partners: Project management
1

monday.com
monday.com Work OS is the project management software that helps you and your team plan, execute, and track projects and workflows in one collaborative space. Manage everything from simple to complex projects more efficiently with the help of visual boards, 200+ ready-made templates, clever no-code automations, and easy integrations. In addition, custom dashboards simplify reporting, so you can evaluate your progress and make data-driven decisions.
2

Wrike
Tackle complex projects with Wrike's award-winning project management software. Break projects into simple steps, assign tasks to team members, and visualize progress with Gantt charts, Kanban boards, and calendars. Manage resource allocation and forecasting with software that's easy to launch. Automation and AI features strip away time-consuming admin tasks so you can do the best work of your life. Streamline your practices, align your team, and ensure you hit deadlines and stay on budget.
3

Smartsheet
Smartsheet is an online work execution platform empowering organizations of all sizes to plan, manage, automate, and report on work. Over 80,000 brands rely on Smartsheet for project and work management.
Methodology and selection process
At TechnologyAdvice, we assess a wide range of factors before selecting our top choices for a given category. To make our selections, we rely on our extensive research, product information, vendor websites, competitor research, and first-hand experience. We then consider what makes a solution best for customer-specific needs.
By defining business needs, we can determine the essential PM dashboard features various sectors require, and select platforms that will cover all bases. Reputable providers known for their ease of use and customer satisfaction are added to our compilation list for further analysis.
We then evaluate each solution on the list based on the features they offer, considering the platform's usability, integration capabilities, customization options, mobile access, and any other relevant functionalities. Price plans, hidden fees, customer reviews, and customer support are also assessed in the selection process.
Technology Advice writers will often take advantage of free trials and demos to get a first-hand user experience of available software. Finally, we curate a comprehensive list based on the previously stated factors, ensuring readers have the necessary tools to make an informed decision.
Technology Advice is able to offer
our services
for free because some vendors may pay us for web traffic or other sales opportunities. Our mission is to help technology buyers make better purchasing decisions, so we provide you with information for all vendors — even those that don't pay us.