Public cloud storage gives your business the freedom to share, edit, and collaborate on work assets in real-time, from any location. And if you lose a corporate device or your office is submerged by the flood of the century, all your data is safe and secure.
It's no wonder businesses across the globe are making cloud storage part of their virtual IT environment.
The public/private cloud storage market will surpass $56 billion by 2019, according to MarketsandMarkets, and two of the biggest players on the field are Box and Dropbox. The 2016 Intel report on cloud adoption and security "Building Trust in a Cloudy Sky" stated that 93 percent of those surveyed used cloud software, with 59 percent stating their belief that public cloud can reduce cost of ownership. If you're considering a solution for your business, you've likely wondered about the difference between Box v. Dropbox. On the surface, they seem to offer a similar solution for business customers: secure cloud storage with collaborative and administrative tools.
While that's true, there are some clear distinctions in packaging, functionality, user experience that set them apart.
Before we get into specific features, let's take a look at Box vs Dropbox from a 10,000-foot view.
Box, Inc. released its IPO (initial public offering) early this year and enjoyed a period of significant growth, now valued by Hoovers at $216 million. Their user base includes 37 million people and 47,000 organizations.
Dropbox hasn't gone public yet, so it's hard to put a number on their revenues. According to recent reports, they now have over 500 million users, which dwarfs Box's user base. But then 200 million of those users are paying customers who purchase Dropbox Pro or Dropbox for Business.
Both vendors are about 10 years old, and both offer multiple plans for business and personal accounts. But it's important to note how Box and Dropbox uniquely position themselves in the market. It wouldn't make much sense if they offered the same product, targeted toward the same customer, for different prices — which is why they don't.
While Box does offer two personal storage plans, their product is first and foremost an enterprise solution. Consequently, its features and user experience are tailored to the needs of the CIOs and IT departments:
"We're a 100 percent enterprise-focused company. 

All the technology we're building goes toward asking how do we make it easier, or more scalable, or simpler, and just a better way for businesses to share and manage and access this data."  

—

Aaron Levie, Box CEO 
Dropbox, on the other hand, began as a consumer-facing product and gradually made its way into the workplace as a form of "consumerized IT." In other words: people liked Dropbox; people used Dropbox at work; workplaces saw the benefits of Dropbox; workplaces adopted Dropbox as a business solution.
"We're solving really important problems for a big chunk of the world, not just Silicon Valley. 

Our users are trapeze artists, high school football coaches . . . physicists who collaborate across the world."

—

Drew Houston, 

Dropbox 

CEO
These different approaches to file management pose unique challenges to each vendor.
For Box, that might mean improving the user experience on an individual level, making their platform easier to use and easier to administrate. For Dropbox, it might mean providing deeper administrative control.
Let's take a closer look.
Platforms and Pricing
The first thing you'll need to consider is the core product: how much does it cost, and what are you getting for the money?
Box offers three pricing tiers for businesses. Their "Starter" package, aimed at 3-10 person teams, provides 100 GB of storage. The "Business" tier — for medium-sized teams with more advanced needs — provides unlimited storage; and the "Enterprise" tier adds some advanced features like help desk, workflow automation, and metadata management.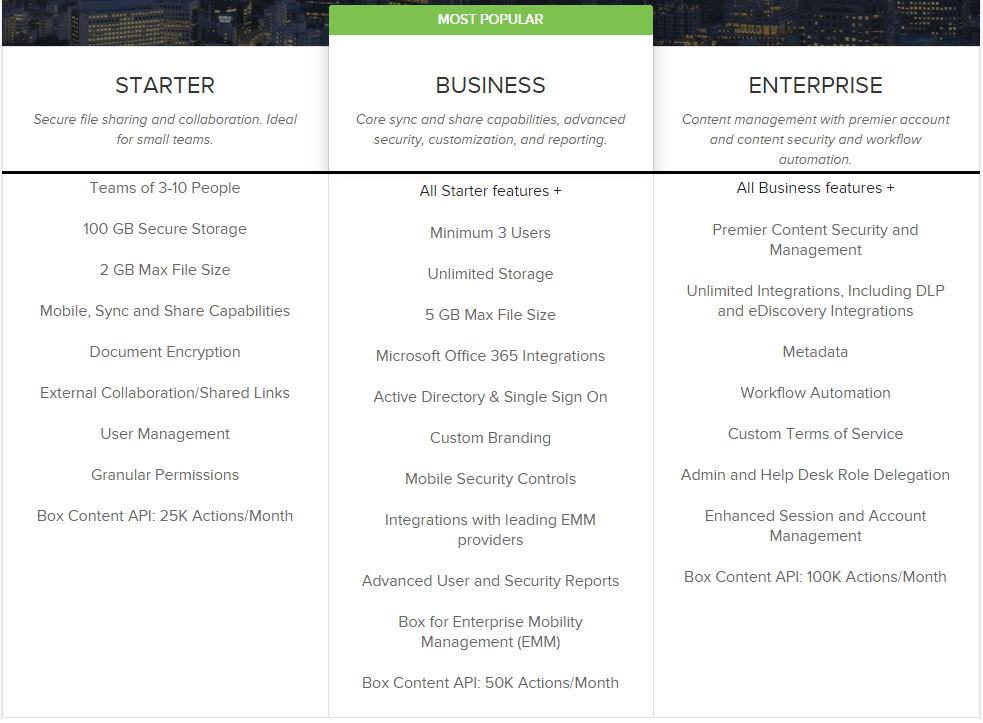 Dropbox offers three plans for businesses with 5 users and up: Dropbox for Business at the Standard, Advanced and Enterprise. The Standard plan includes most business capabilities and 2TB of storage. Users who want more granular administration, IT, and domain controls should upgrade to a higher plan. This is a departure from the former one-plan business approach, but gives companies of different sizes and needs options without paying enterprise-grade prices. 

Security and Administrative Control
Box provides a full suite of advanced security features, from file encryption to custom data retention rules and enterprise mobility management (EMM). Administrators can decide which users are granted access to files and folders and create user groups for easier assignment. There are seven levels of access control, which address access, preview, editing, and sharing.
Files themselves are protected by TLS and multi-layered encryption, file versioning, and expiration controls, as well as custom content security policies. Users can also apply passwords to confidential files as needed.
Features:
SSL and At Rest Encryption

File locking

Two-factor authentication

Single sign-on, with custom password strength requirements

Secure sharing

Auto-expiration

Granular permissions

Enterprise key management (as an add-on)

Data retention rules

Mobile security controls

Account and user management

Access stats and reporting
Dropbox includes standard security for a public cloud server — more than enough for the average business to protect their sensitive data. With Dropbox for Business, you'll get 256-bit AES encryption (same as Box), group management and sharing restrictions,  and the ability to remotely wipe data in the case of a compromised account or hostile termination.  
Administrators can use the admin dashboard to track user and team access stats, including logins, devices, and sharing, as well as add and remove team members. Dropbox for Business does not offer data retention policies, which could be a drawback if you're in a highly-regulated industry, but probably won't affect most users. 
Features:
256-bit AES and SSL encryption

Sharing controls

User and team activity tracking (logins, devices, sharing)

Active directory and single sign-on integrations

Remote data wiping

User management

Team usage stats

File recovery
Collaboration
Collaboration is one of the biggest selling points of cloud storage for a business, so it's important to consider how a given solution will help your team work together. What tools do vendors offer, beyond basic file sharing?   
Both vendors perform pretty well in this category. First, they both offer flexible sharing options including link sharing, invite-only sharing, and external sharing. Second, they both enable teams to collaborate in real time using team or group folders. Users can comment on files, work directly from Outlook, and access their storage account through native mobile apps for most devices. Not only that, but both vendors have built-in file recovery and versioning to keep users from losing their work.
Dropbox unique feature: Request files from internal or external personnel through the "File Request" tool; shared files automatically show up in your folder
Box unique feature: Create new documents inside of the application using  Box Notes (the editing tools are fairly basic, so most users will still need a third party application)
Both platforms integrate with Office 365, DocuSign, and other content apps.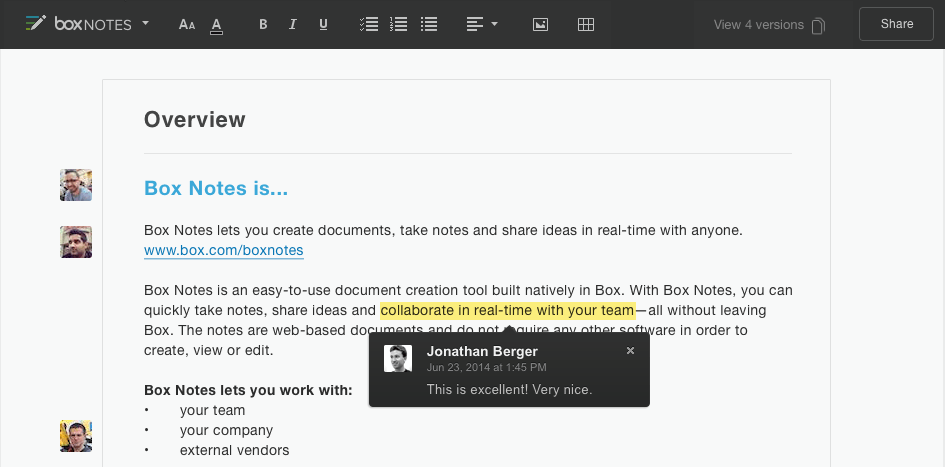 Project and Task Management 
Obviously, neither of these products are designed to be a full-fledged project management solution.
But they can support existing project strategies by helping your teams manage work in an orderly, repeatable fashion — especially files and documents directly related to the project, such as RFPs, budgets, gantt charts, media assets, and so forth.
With Dropbox, you can use team folders and groups to collaborate on shared assets in real time. Each user can customize their notification preferences to stay up-to-date without being inundated. Dropbox also has a built-in photo organizer (Carousel), which makes it easy for teams to share multimedia files associated with a project.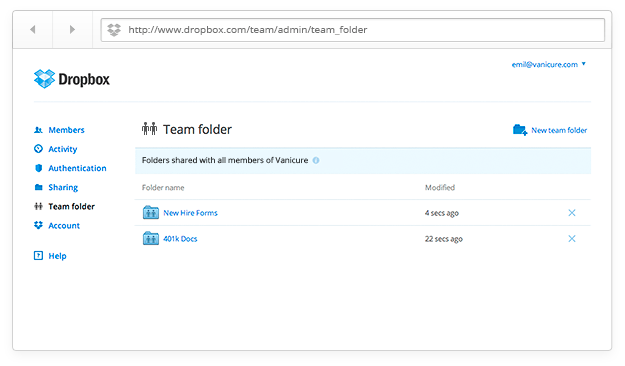 With Box, you can create workflow automation rules to manage files based on certain conditions (e.g. 

if a file in Folder X is edited by a certain user or team, send the file to another specified user for review and approval). 
This level of task management admittedly primitive, but it can still be helpful for teams that manage a cyclical review process, such as editorial or design teams.
Integration with Third-Party Business Apps
Almost every business has a system or set of systems that support their core business operations. In sales, this might be a CRM database. In the medical field, it might be an EHR system. Whatever the case, it's crucial that your file management tools integrate seamlessly with your enterprise software. That means you need to be able to upload, download, and sync files from directly within the application.
How do Box and Dropbox line up with this standard?
For starters, they both integrate with Office 365 and Outlook. This is important since Outlook, in many ways, is still the gold standard for work email and calendaring (and since almost 80 percent of Fortune 500 companies have used or are using SharePoint).
Beyond that, each platform uses APIs to integrate with a variety of third-party applications.
Dropbox claims a list of 300,000 connected apps; Box, a mere 1,000.
Dropbox's universality, in large part, can be attributed to its role as a consumer and business app. Box, on the other hand, mainly focuses on business-critical apps such as CRMs and marketing platforms. Here are some out-of-the-box highlights (not a comprehensive list):
Box Integrations

Project Management

Trello

Wrike

Asana

Smartsheet

AtTask

Clarizen

Marketing and Sales

Marketo

Netsuite

Oracle Marketing Cloud

Salesforce

 Productivity

Microsoft Office 365

DocuSign

EchoSign

Dropbox Integrations

Project Management

Trello
Wrike
Asana
Smartsheet

Communication

Productivity

Microsoft Office 365
DocuSign
Wufoo
Zapier

Marketing and Sales
The verdict?
Box and Dropbox both offer solid solutions for public cloud storage — including versatile file sharing, mobile access, and reliable security. The "better" product will depend on your unique priorities and budget. If you're still having trouble deciding, give us a call. We'd love to help.
And remember, Box and Dropbox aren't the only public cloud storage solutions. Other options for private cloud storage run within your company's firewall, but these bring along with them the problems of build, manage, and upkeep throughout the cloud's life cycle. Public cloud storage provides the ease of SaaS with most of the security.  To see a list of options sorted by industry, features, and operating system, check out our product selection tool.
This article was updated March 30, 2017 to include Dropbox Business updates and more recent information regarding cloud usage.