The enterprise resource planning (ERP) software market isn't known for dramatic year-over-year growth, but it's already a huge vertical. The ERP market is expected to hit approximately $43.4 billion dollars by 2021.
Historically, ERP was a pursuit reserved for global enterprise — an expensive, taxing project that only the biggest companies could leverage. But cloud innovation and the advent of subscription-based software pricing have brought a surge of new interest from companies that may have previously been excluded.
You might represent one of these companies. You might be thinking about how a cloud-hosted ERP could bring your small business's accounting, HR, inventory, and customer management processes together in a single system and save you the headache of server provisioning and data backup.
Or you might be a large company, with offices and distribution centers in multiple countries and revenues with seven or eight zeros. Maybe you already have an ERP system, but it hasn't been updated in years, and your current vendor stopped providing technical support. Or maybe you need something that better aligns with your operating model.
Either way, you decide to venture out into the world of ERP shopping with high spirits and every reason to anticipate success.
But the first thing you notice is that a select few vendors are hogging the spotlight, and they all seem remarkably similar. We're talking about the mega-vendors with the biggest market presence: SAP, Oracle, Sage, Infor, and Microsoft, in that order: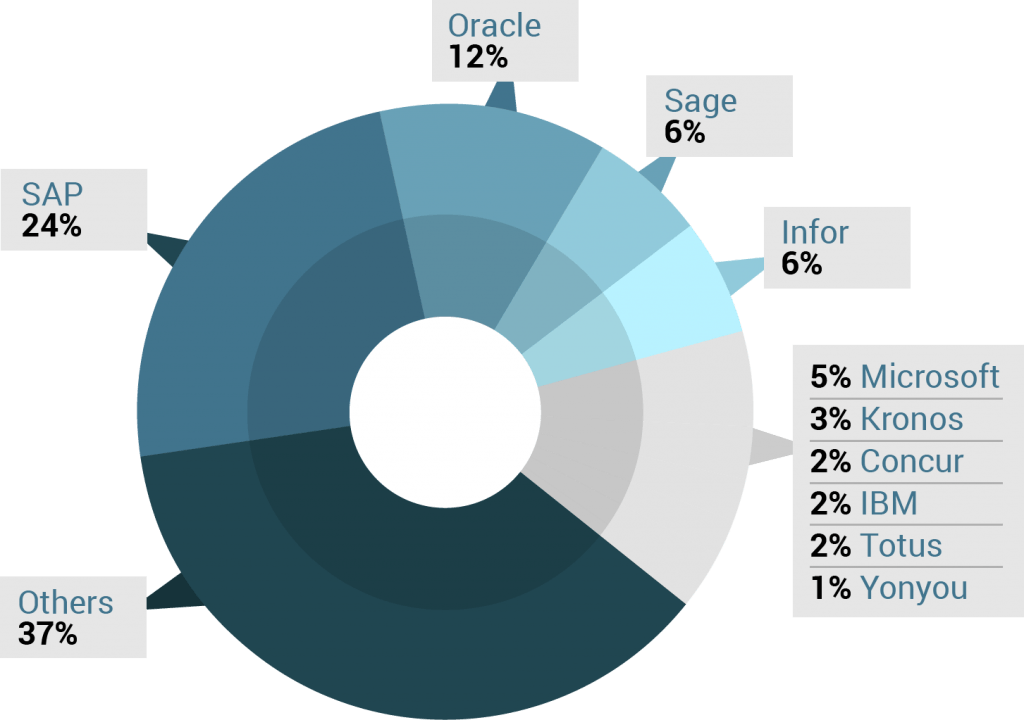 Should you go with one of these five vendors, just because they seem to be the most popular, or should you consider some of the lesser-known solutions?
No, and yes, respectively.
But the more important question isn't about which one to choose; it's about how you should choose it. After all, you're not just deciding on the wall color for a new office. You're making a long-term investment in a system that will be the new management engine of your business. Market presence and colleague referrals are certainly important to consider, but ultimately you need to make an empirical decision:
A product you can justify to executive stakeholders
A product that will minimize inconvenience and maximize return
During your ERP software comparison, you should ask yourself these five questions about each solution:
1) What Can it Do?
One of the most important considerations for choosing an ERP is functionality. Most systems are licensed in modules, with financial management as the backbone and a suite of peripheral tools for human resources, inventory, supply chain, project management, and other areas. In contrast with best-of-breed software, an ERP suite is a unified platform in which all modules share information. You'll need to define which features are necessary for your organization and which you don't need to pay for.
Beyond basic features, an ERP should provide tools that enable convenient access and the ability to analyze data. For example, a business intelligence module (often listed as "analytics," or "reporting") helps decision-makers draw insight from multiple ERP lines at the same time. Many vendors also offer mobile access to these same reporting tools, so your leadership team can stay connected to real-time data and insights.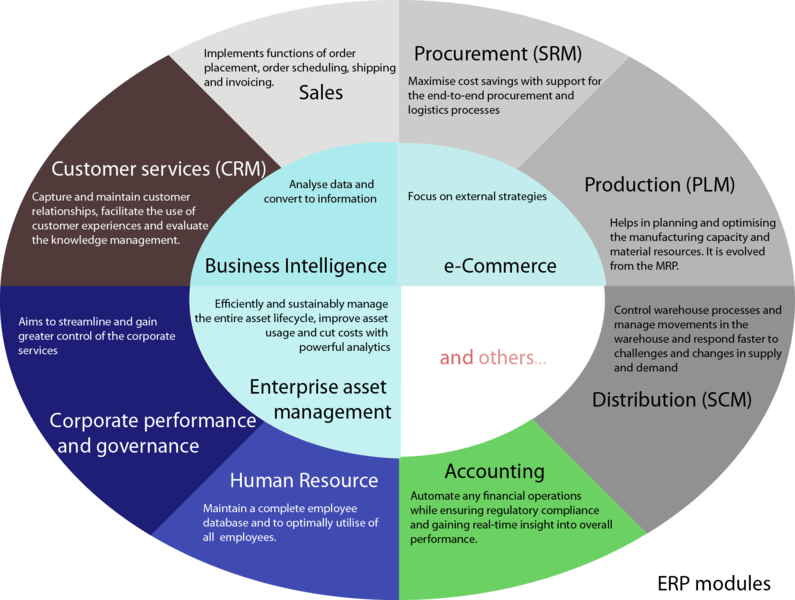 2) How Much Does it Cost, Now and Later?
Next, determine how much a given ERP solution will cost and whether or not it falls within your company's budget. To add up the total cost of ownership, your calculations should include the system's licensing costs, as well as consulting fees, data migration costs, IT maintenance, and any other projected expenses.
Since implementation can look drastically different from one client to the next, very few vendors offer a public pricing guide. Instead, they ask buyers to work with an account manager or implementation partner to get a custom price quote based on deployment model (cloud, on-premise, hybrid), number of users, selected features, customizations, and add-ons. As a result, making financial projections for an ERP project can be much more challenging than for other business software.
3) Can it Scale as Your Business Grows?
A product might look like a good deal for the money now, but will it still meet your needs in three years? Software's ability to evolve under the weight of an increasing workload is sometimes referred to as "elasticity." An ERP system with good elasticity will be able to accommodate more employees, more sites, new product lines, markets, and advanced supply chains. Unless you don't plan on growing, your business will encounter at least one of these realities in the near future, and if your ERP doesn't withstand the new demands, it will have been a wasted investment.
Here are some factors to look for that indicate elasticity:
An app marketplace stocked with compatible ERP add-ons
Flexible APIs for manually connecting other data sources
Features for global use (multi-language, multi-currency support)
A development community that is responsive to user feedback
4) What Kind of Support Does the Vendor Offer?
Although there are some simple, small-business ERPs on the market that are easier to set up, most solutions aren't plug-and-play. In many cases — especially if you're deploying across an entire enterprise — an ERP implementation can take a year or longer. That's why it's crucial to select a vendor who offers first-rate IT support, starting with implementation services (or let them refer you to a third-party implementation partner, as is the case with Microsoft Dynamics). These services can include custom configuration, transferring data from old systems, integrating bolt-on apps, and even user training sessions.
After the implementation phase, you may rely on the vendor for data backup and recovery, routine updates, help desk support, and more. Some ERP providers offer support as part of your standard contract, while others may charge a fee for services. Remember, you're not just buying software; you're also buying a relationship with the software vendor.
5) What is the Vendor's Track Record?
Choosing an ERP solution certainly isn't a popularity contest, but popularity can sometimes be an indicator of success, at least in the software world. One of the best ways to predict how a vendor will deliver on your ERP project is to dig up information on past projects. Do they produce measurable benefits and leave customers satisfied, or do their projects run over budget and fail to deliver on key promises?
There are several ways to put in your due diligence:
Read case studies from the vendor's portfolio and from outside sources.
Consult online user reviews and ratings.
Ask unbiased third-parties for recommendations.
* * *
Last but not least, make sure you book a demo of any products that make your shortlist. With ERP software, a product expert will usually walk through the demo with you. This is a good way to get a feel for user experience, workflows, dashboards, and the functionality between different modules.
If you need some help deciding which vendors to compare, head over to our ERP Product Selection Tool to get a custom list of ERP recommendations based on your needs.
Top ERP Software Recommendations
Wrike is an enterprise resource planning software trusted by 20,000+ companies worldwide. Improve your enterprise resource planning using resource management and allocation, performance reports, Gantt charts, time tracking, workload overviews, and company-wide visibility all in one place. Integrate Wrike with 400+ applications to accelerate your everyday processes. Customize workflows and reduce the need for emails, meetings, status updates, and more. Work smarter, not harder with Wrike.
Acumatica Cloud ERP offers best-in-class functionality for small and mid-sized businesses to thrive in the new digital economy.

Born in the cloud, Acumatica's business management system is built for remote collaboration and rapidly integrates with mission-critical third-party applications.

Its consumption-based licensing charges for resources used, rather than per individual user, and its future-proof platform drives value and delivers flexibility, efficiency, and continuity of operations.