Any enterprise organization looking for a human capital management (HCM) solution should compare Workday vs. SAP SuccessFactors. These vendors are titans of the cloud-based HCM space. And given the mission-critical tasks you'll need such a system to perform, you shouldn't skimp when it comes to researching an HCM purchase. We provide this in-depth comparison to help you make a more informed decision about whether or not Workday or SuccessFactors is right for you, but there's an easier way.
If you'd rather speed up your research process without forgoing quality of research, we're here to help. Use our Product Selection Tool to receive five personalized HCM software recommendations, delivered straight to your inbox. It's free to use our tool, and it takes less than five minutes to get your vendor shortlist. Get started by clicking the banner below.
Table of contents
Top HR software
Workday and SuccessFactors are both great HR software options, but they may not work for every business. To find the right fit for you, here's a list of the top HR software.
What is Workday?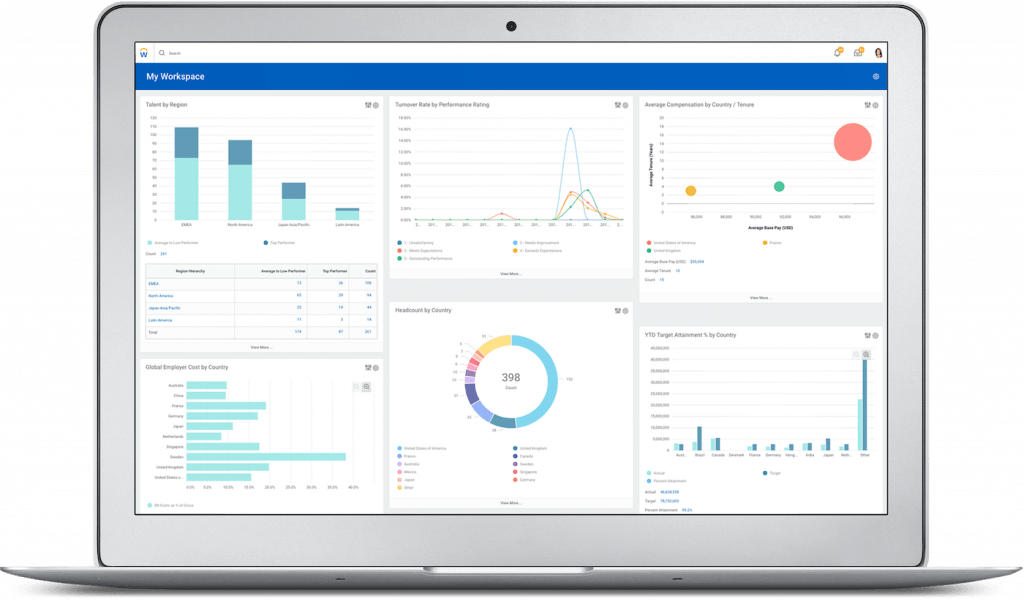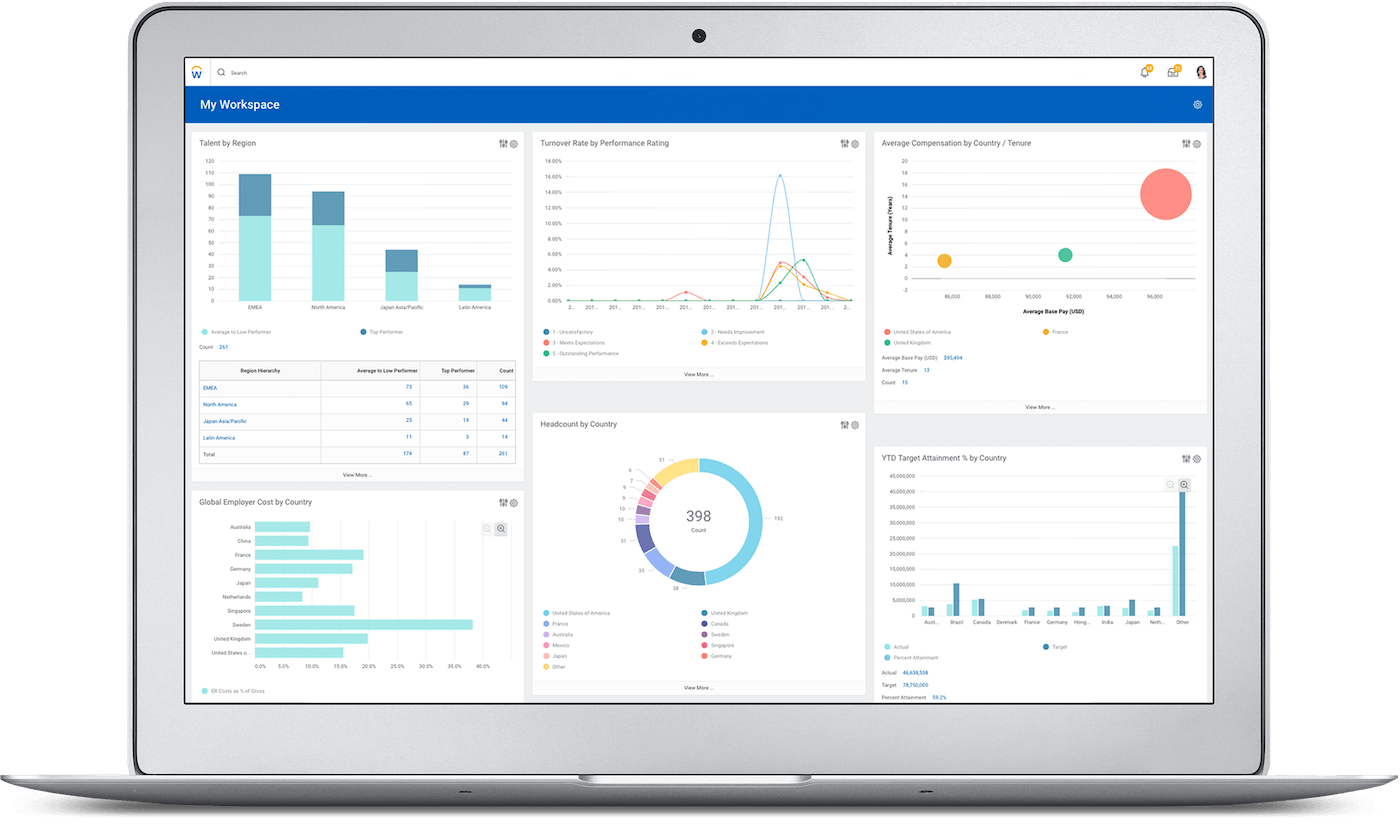 TechnologyAdvice rating: 4.5/5
Workday is a cloud-based ERP software provider that describes itself as a "…single system for finance, HR, and planning." A software-as-a-service (SaaS) pioneer, Workday was built by the same brains behind what is now Oracle PeopleSoft. It works best for medium and large enterprises. Workday offers many different products, but for the sake of this article, we'll focus exclusively on its HCM solution, which performs functions like human resource management (HRM), reporting and analytics, talent management, compliance, payroll management, and learning and development. Workday is a publicly-traded company and is trusted by major brands such as National Geographic, Netflix, and AirBnB.
What is SAP SuccessFactors?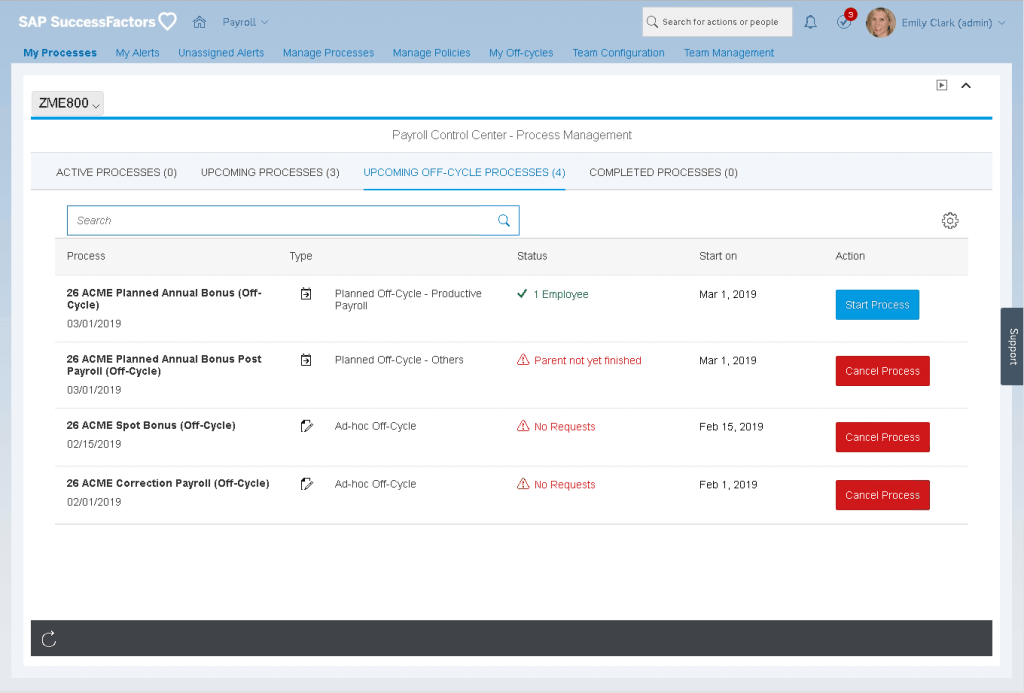 TechnologyAdvice rating: 4/5
From the massive ERP software company SAP comes SuccessFactors, a cloud-based HCM solution for organizations of all sizes. SuccessFactors is one of Workday's top competitors, and it works well for companies with a global presence. Inside the system, you'll find many of the same features offered by similar products in the HCM space: a human resources information system (HRIS), time and attendance, recruiting and onboarding, learning and development, and workforce planning and analytics. Organizations from around the world trust SuccessFactors as their HCM, from the San Francisco 49ers in the United States to Jaguar Land Rover in the United Kingdom.
Comparison table of Workday vs. SuccessFactors
Workday
SAP SuccessFactors
TechnologyAdvice rating
4.5/5
4/5
Works best for
Medium and large enterprises
Any sized business
HCM features
HRIS

Yes

Yes

Analytics

Yes

Yes

Global compliance

Yes

Yes

Audit and internal controls

Yes

Yes

Workforce planning

Yes

Yes

Visa and permits management

No

Yes

Recruiting and onboarding

Yes

Yes

Talent management

Yes

Yes

Learning and development

Yes

Yes

Benefits

Yes

Yes

Compensation

Yes

Yes

Payroll management

Yes

Yes

Time-off requests

Yes

Yes

Travel and expense management

Yes

No

Employee experience management

Yes

Yes

Globalization
Languages supported
35
40+
Global payroll
4 countries
40+ countries
Regulation library

Yes

Yes

Deployment
On-premise

No

No

Cloud-based

Yes

Yes

iOS

Yes

Yes

Android

Yes

Yes
Human resource management (HRM)
At the heart of any HCM system is an HRIS that performs basic functions like managing benefits, time-off, compensation, and org charts. Both Workday and SuccessFactors include an HRIS, but they function a little bit differently for each vendor.
Workday
Workday presents users with a dashboard view when they access the system's HRIS tool. Here, you can see quick stats such as new hire turnover rate, headcount by country, and employer cost by country. Workday's HRIS includes task management tools for HR professionals, workflow management, and simple org charts for visualizing the company's hierarchical structure.
Also read: UltiPro vs. Workday: HCM Software For Global Companies
For employees, there's a self-service portal for submitting time-off requests, logging sick days, and updating contact and banking information, among other functions. Overall, this HRIS is intuitive and easy to use while still giving HR pros access to powerful insights about better managing talent.
SuccessFactors
SAP SuccessFactors also features an employee self-service portal for submitting time-off requests and updating personal information. This portal can be accessed through SuccessFactors' web-based app or through its mobile apps for iOS and Android.
HR pros using SuccessFactors can view and edit company org charts, ensure legal compliance with automatically updated local and global regulations, administer benefits around the world, and customize dashboard views to get a quick overview of your company's operations. The system also allows for task management, compensation management, and rewards and recognition.
Payroll management
Accessing the payroll feature in Workday takes you to a dashboard overview of all your payroll processes. Here you can view stats like headcount by pay group, payroll taxes by month, and more. Workday bills itself as a global solution, and while you can process international payroll, it's currently limited to four countries at the time of publishing: the United States, Canada, the United Kingdom, and France. If you need to run payroll in any other countries, you can integrate Workday with your third-party payroll provider to generate payroll reports in Workday.
If you need to run payroll in more countries than those Workday supports, SuccessFactors might be a better fit for you. SuccessFactors lets you run payroll in over 40 countries, and it stays up-to-date on local payroll processes and regulations. You can view payroll analysis in real time with reports like total employer taxes, total net and gross comparisons of payroll by period, and total employee taxes. Alerting is another useful feature that notifies you of payroll issues or anomalies.
Compliance
Workday helps to keep you compliant around the world by letting you set location, date, time, and privacy preferences unique to each location where you do business. The software encrypts your data and automatically translates apps and data into 35 languages, and you can control the level of visibility other employees have into the system based on their geographic location. For regulatory updates, Workday offers a global library of regulations for you to review, and the system automatically notifies you of new legislation that might affect your business.
SAP SuccessFactors also supports global compliance through time zones, date formats, currencies, and custom fields by geographic location. The system lets you collect all the necessary employment information from new hires depending on local regulations and local best business practices, and the software even displays information differently based on local customs to make employees feel at home. For translation of apps and data, SuccessFactors works with over 40 languages and various dialects. For new regulations, SuccessFactors keeps track of legal changes and notifies you accordingly.
Learning and development
Workday's learning module presents employees with curated content and learning paths to help them stay sharp on new practices, technologies, and ideas in business. The software can tailor articles specifically to each employee's career path interests, but employers can also recommend certain learning materials and make others required. Video and peer-generated content is included with Workday, and users can access third-party offerings that would normally be gated thanks to Workday's partnerships with LinkedIn Learning, Skillsoft, and Udemy for Business, among others.
SAP SuccessFactors also offers a learning management system (LMS) within its HCM. This includes educational articles and videos, recommended learning, and required learning, but it also includes learning paths for succession and development to help employers fill management and more senior-level positions internally. SuccessFactors lets you source from their Open Content Network of elearning sites, which includes Harvard Business Publishing, edX, LinkedIn Learning, Coursera, and more. If you need third-parties to complete learning curriculum, SuccessFactors also lets you share access with other groups such as contractors or partners.
Which right for you, Workday or SuccessFactors?
Ultimately the decision to go with Workday or SAP SuccessFactors lies with you, but based on what we've covered in this comparison, we recommend the following:
If you're an enterprise that operates in a few different Western countries and in-depth reports and visualizations about your company data are important to you, Workday might be your best bet.
However, if you do business outside the US, the UK, France, or Canada, consider SAP Success Factors. The user interface isn't as clean and modern-looking as Workday, but it's a powerful system that supports operations in many countries all over the world.
If you're still not sold on either of these solutions, we can help. Use our Product Selection Tool to get a free list of HR software recommendations tailored specifically to your business needs. It takes less than five minutes to tell us about what you're looking for and to receive your vendor shortlist.