Key takeaways:
Workday HCM and SAP SuccessFactors HXM are two enterprise-grade HCM solutions that align internal workforces with overall company objectives.
Workday HCM is best for midsize to large businesses prioritizing reporting analytics to understand company inefficiencies and drive change.
SAP SuccessFactors HXM is best for international companies that need a unified way to manage employees and work processes across different countries.
If you're not convinced an HCM platform is right for you, check out our HR Software Guide for a complete list of solutions to fit your needs.
Workday vs. SAP SuccessFactors: Which is better?
Workday HCM and SAP SuccessFactors HXM are two human capital management (HCM) solutions with comparable modules in core HR, compensation and succession planning, and learning and development. As HCMs, they analyze data to help businesses achieve their objectives and nurture their diverse workforces.
Workday HCM
SAP SuccessFactors HXM
Pricing
Jump to comparison ↓
Module-based quote.
Module-based quote.
Payroll
Jump to comparison ↓
Global payroll limited to U.S., U.K., France, and Canada.
Payroll support for over 48 countries.
Benefits administration
Jump to comparison ↓
Full ACA compliance help included.
ACA compliance tools require the Benefitfocus add-on.
Workforce management
Jump to comparison ↓
Focus on up-skilling and recruiting internal teams to cover workforce skills gaps.
Recruiting capabilities in over 80 countries with 4000+ source channels.
Performance management
Jump to comparison ↓
Emphasis on analytics and AI to identify top performers and flight risks.
Emphasis on on-the-go goal completion and learning through mobile app.
Visit Workday HCM
Visit SAP SuccessFactors HXM
Workday: Best for mid-to-large businesses requiring in-depth reporting analytics
Workday Human Capital Management is one of the most popular cloud-based HCM platforms in the U.S., with modules supporting the entire employee life cycle. Outside of core HR functions like document retention, payroll, and benefits administration, Workday also features the following:
Talent acquisition
Employee health and wellbeing
Workforce time tracking and scheduling
Career learning and development
Although Workday has started to expand its capabilities beyond human resources (HR) to include finance and IT, it remains a very U.S.-centric HR software compared to other HCM solutions.
Nevertheless, large companies looking for meaningful insights on employee performance, benefits, and workforce data should consider Workday. With its user-friendly analytics and reports, Workday makes it easy to strategize for future company endeavors.
Pros
On-demand pay capabilities (in the U.S. only).
Manager and employee onboarding checklists.
Integration with Workday's VNDLY for independent contractor and vendor tracking and support.
Industry-specific support for businesses in specific industries like education, finance, healthcare, hospitality, manufacturing, entertainment, retail, and nonprofit.
Cons
Global payroll support is limited to the U.S., the U.K., Canada, and France.
Users report difficulty when resolving system errors.
Limited tax advisory support with payroll processes.
Watch our Workday demo:
SAP SuccessFactors: Best for global enterprises looking to consolidate their HR tech stack
SAP SuccessFactors Human Experience Management Suite is a cloud-based HCM solution comprised of several stand-alone HR products for global, enterprise-level businesses. In addition to all of Workday's features, SAP offers a vast library of enterprise resource planning (ERP) software to support company operations, including:
Finance and spending
Manufacturing
Customer relationships and sales
Sustainability
Marketing
However, what differentiates SAP SuccessFactors from Workday is its features specifically for multinational corporations. With multiple language capabilities in its payroll, recruiting, and benefits administration modules, companies with SAP SuccessFactors do not have to rely on various HR solutions to support core HR functions for their international teams.
Moreover, SAP SuccessFactors' array of solutions can help executives and HR leaders consolidate their entire companies' tech stack into one. With APIs and connectors for enterprises juggling on-premises and cloud software, SAP SuccessFactors can streamline the business and workforce experience into a single source of truth.
Pros
Recruiting and onboarding support in up to 46 languages.
International payroll support in almost 50 countries.
Integrates with all SAP products and 300+ partners.
Supports domestic and global time and attendance.
24/7 customer service support via online chat, phone, email, or Twitter.
Recruiting support in over 80 countries.
Cons
Affordable Care Act (ACA) compliance is an add-on feature.
Few integrations with other HR software outside SAP products and partners.
Steep learning curve for users new to SAP products.
SAP isn't the only ERP system on the market — check out our Top 6 SAP ERP Alternatives for comparable products for your business.
Workday vs. SAP SuccessFactors: A detailed comparison
Workday
SAP
Subscription cost
Module-based
Per-user, per-month model
Domestic payroll

Yes

Yes

Global payroll

Yes




(limited native options)

Yes

Recruiting

Yes

Yes

Onboarding

Yes

Yes

Time-tracking

Yes

Yes

Performance management

Yes

Yes

Employee engagement

Yes

Yes

Sentiment analysis

Yes

Yes




(Qualtrics partnership)

Reporting and analytics

Yes

Yes

Advisory services

Yes

Yes

Mobile app
Included
Included
Support for contractors

Yes




(VNDLY integration)

Yes
Watch our video comparison of Workday and SAP SuccessFactors:
Pricing
Like most HCM solutions, neither Workday nor SAP discloses their prices for Workday HCM or SAP SuccessFactors HXM Suite. Additionally, neither company offers trials or free versions.
You'll have to contact the sales department of the respective companies for a detailed quote based on your number of employees, required modules, software implementation requirements, and advisory services needed.
Need a better idea of how to budget for your HR software investment? Read: How Much Does HR Software Cost?
Workday
If you're interested in Workday HCM, you have to get in touch with the company's sales team for a custom quote.
Pro tip
Third-party sources indicate that a Workday HCM subscription costs anywhere from $45-$62 per employee per month, billed quarterly or annually. Other sources state Workday can cost upward of $99 per user per month.
At its core, Workday HCM includes modules for HR management, payroll, recruiting, time and attendance, scheduling, and employee performance. However, you can add and remove modules based on your needs.
SAP SuccessFactors
Like Workday, SAP hides its prices for its SAP SuccessFactors HXM Suite. Customers are encouraged to contact SAP directly to receive a custom-built solution.
Pro tip
Third-party sources estimate the subscription fee for SAP SuccessFactors HXM Suite to be between $25-$38 per employee per month, billed annually.
However, unlike Workday, SAP indicates which individual products compose their HXM Suite. Although you can mix and match which products you want, the total cost will fluctuate based on the customizations and advanced features you need.
The table below lists the individual HXM products according to their HR function and starting price.
HR Function
SAP Product
Starting Price
Workforce management
SAP SuccessFactors Time Tracking
Quote-based
​​SAP SuccessFactors Onboarding
$1/user/month
SAP SuccessFactors Recruiting
$3/user/month
SAP SuccessFactors Succession and Development
$2.33/user/month
SAP SuccessFactors Workforce Analytics
$6.17/user/month
Performance management
SAP SuccessFactors Performance and Goals
$4.17/user/month
SAP SuccessFactors Learning
$2.17/user/month
SAP SuccessFactors Compensation
$2.33/user/month
SAP Qualtrics Employee Engagement
Undisclosed
Employee document management and self-service
SAP SuccessFactors Employee Central Service Center
Quote-based
SAP SuccessFactors Document Management by OpenText
Undisclosed
Payroll
SAP SuccessFactors Employee Central Payroll
$5.29/user/month
Benefits administration
​SAP SuccessFactors Employee Central
$6.30/user/month
Which to choose for pricing?
SAP SuccessFactors. Here's why: Despite non-transparent pricing, SAP SuccessFactors' stand-alone product prices and data from third-party sources indicate that it is a more competitive option than Workday HCM.
In addition, SAP's array of products, plus its multinational capabilities, means companies can customize an all-in-one solution for their enterprise-grade business without resorting to several HR software to save money.
Payroll
Workday HCM and SAP SuccessFactors include payroll as a core HR feature in their software. However, where Workday HCM focuses on providing the tools and guidance for employees to remain in control of their pay, SAP SuccessFactors emphasizes its global payroll functionality to support multinational corporations.
Payroll
Workday
SAP
International payroll support

Yes




(U.S., Canada, U.K., and France included, third-party add-on needed for all other countries)

Yes




(support in over 48 countries)

Employee self-service

Yes

Yes

On-demand pay

Yes

No




(requires 3rd-party integration)

Paycards

No




(requires 3rd-party integration)

No




(requires 3rd-party integration)

Tax compliance

Yes

Yes

Mobile app

Yes

Yes
Workday
Workday provides companies with basic functionality for payroll, including accommodating multiple payroll schedules and structures while keeping companies up to date with tax and payroll compliance in varying jurisdictions.
However, compared to ​​SAP SuccessFactors, Workday's native global payroll capabilities are limited to U.S., Canada, U.K., and France. Workday payroll compliance support is also limited to those countries.
Suppose your company requires payroll support in countries other than those four, or you already use a local payroll provider in certain countries. In that case, you will need either Workday Global Payroll Cloud or Workday Cloud Connect for Third-Party Payroll. With these, you can deploy, integrate, and manage payroll in an additional 100 countries.
Despite Workday's lackluster global payroll, its payroll reports and employee-focused payroll features set it apart from SAP SuccessFactors. For example, Workday utilizes a continuous payroll functionality, where any HR changes that affect payroll are immediately recalculated and viewable in pay reports, such as the payroll calculation pipeline.
In addition, Workday allows U.S. employees to take advantage of on-demand pay from their mobile app, an excellent perk for employers to attract and retain talent.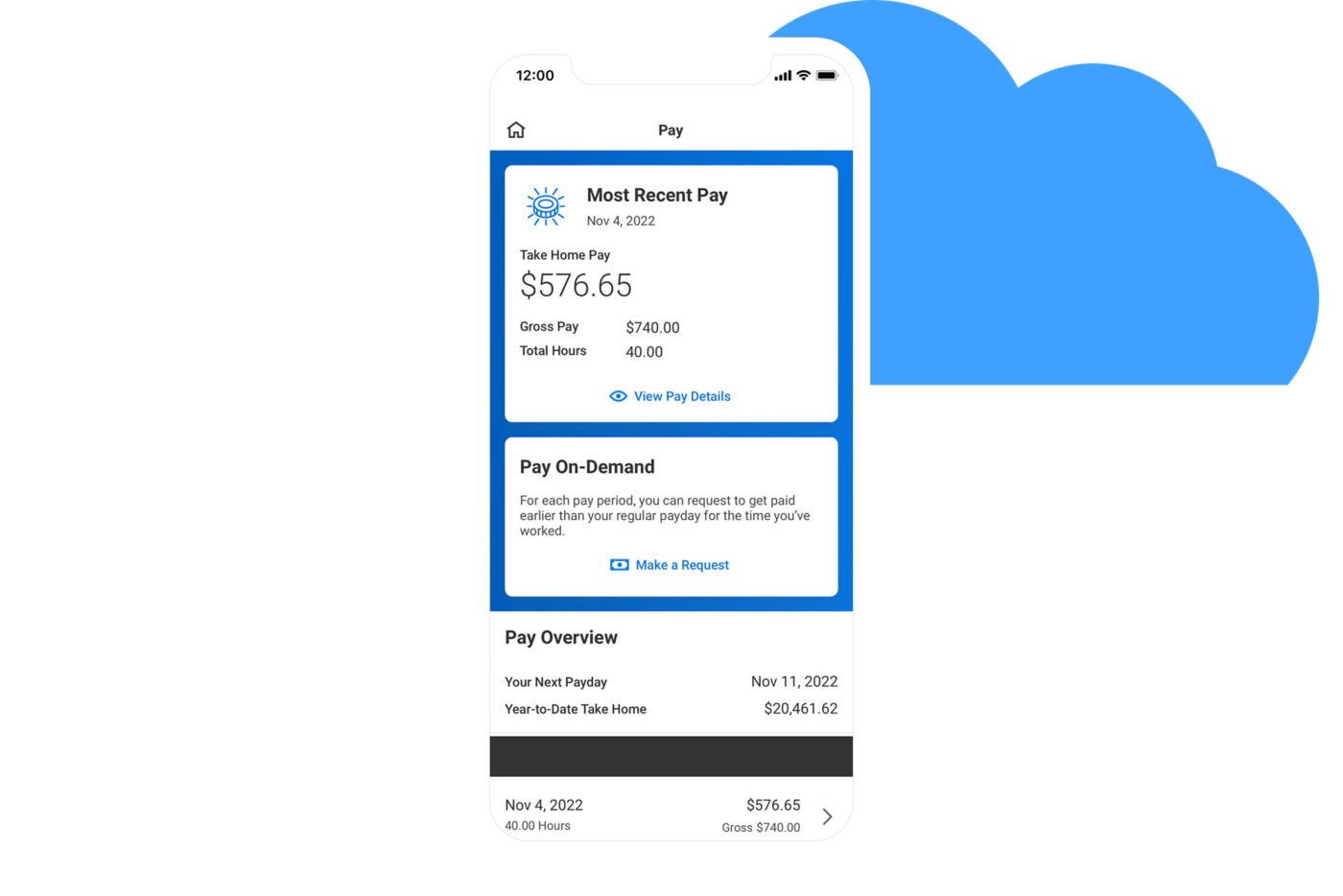 SAP SuccessFactors
SAP SuccessFactors HXM Suite includes all of the payroll capabilities of its stand-alone SAP SuccessFactors Employee Central Payroll product, including automatic tax calculations and compliance updates in multiple jurisdictions and off-cycle payroll support.
Like Workday, SAP SuccessFactors also offers continuous payroll functionality to reduce payroll processing time for company HR teams.
However, SAP SuccessFactors payroll features are more global-friendly than Workday. It has native, embedded payroll support for over 48 countries.
Moreover, SAP provides companies access to multiple, country-specific data during payroll, including seamless integration of global time tracking and benefits information to simplify cross-company payroll processing. International employees, in turn, receive a localized payroll feel while companies ensure compliance with varying countries' laws and norms.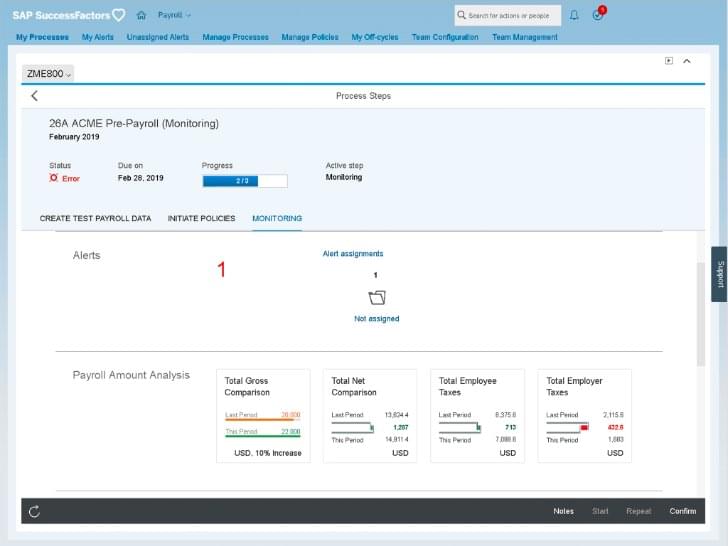 Which to choose for payroll?
SAP SuccessFactors. Here's why: ​​​​SAP SuccessFactors offers comparable payroll features to Workday, plus additional global options. Despite Workday's native on-demand payroll option that SAP SuccessFactors lacks, users can easily leverage a third-party partner integration for this employee benefit.
Moreover, unlike Workday's pre-built option, scaling companies can add international payroll support as needed with SAP SuccessFactors. That way, companies can save money by only paying for what they need as their payroll needs evolve.
Benefits administration
Workday and SAP SuccessFactors provide similar experiences for companies and employees wanting to take control of their benefit offerings, such as employee self-guided enrollment. But the main difference between Workday and SAP SuccessFactors benefits administration lies in the number of native benefits compliance support for U.S. versus international teams.
Benefits Administration
Workday
SAP
Global benefits support

Yes




(through Workday partners)

Yes

Employee guided enrollment

Yes

Yes

Financial wellness

Yes




(through "journeys")

No




(requires 3rd-party integration)

ACA compliance

Yes

Yes




(with Benefitfocus)
Workday
Although Workday HCM can provide global compliance updates, companies must partner with a third party for international benefits administration. Workday can, however, centralize global benefits data on companies' benefits dashboards to understand their benefits programs' impact quickly.
Workday excels, however, in its medical, dental, vision, 401(k), COBRA, and FSA administration offerings for U.S.-based employees. HR teams can leverage Workday Cloud Connect for Benefits to automatically share and update employee benefits information with over 300 benefits providers and reduce the work associated with manually notifying these providers of benefits changes.
Likewise, companies can stay ahead of ACA compliance requirements for their variable-hour employees through Workday's Affordable Care Act Dashboard. For the same functionality, SAP SuccessFactors' customers must add on SAP U.S. Benefits Administration by Benefitfocus, making Workday an ideal solution for companies primarily operating out of the U.S.
SAP SuccessFactors
SAP SuccessFactors caters to global enterprises by making it easy to manage international employees' insurance plans, pensions, savings, and reimbursements all in one place. ​​With compliance support in over 100 locales, SAP SuccessFactors can unify benefits management without resorting to multiple governance systems.
For example, ​within SAP SuccessFactors, companies can customize their benefits workflow processes to accommodate open enrollment in the U.S. or superannuation plans in Australia. SAP SuccessFactors even supports electronic data interchange (EDI) with overseas carriers to diminish data exchange administrative work for HR professionals.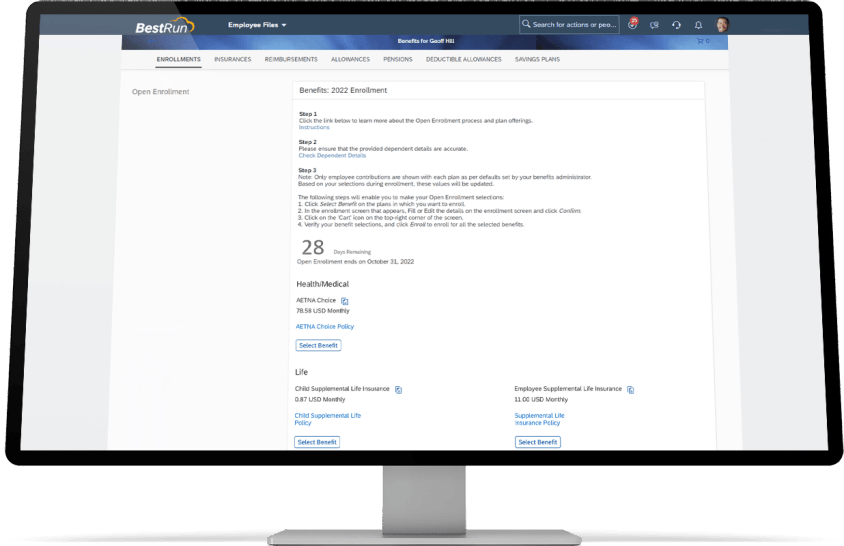 Which to choose for benefits administration?
SAP SuccessFactors. Here's why: Although companies with U.S.-based employees will have to purchase SAP U.S. Benefits Administration by Benefitfocus for additional ACA administration and compliance support, ​​SAP SuccessFactors' customizable international benefits administration capabilities are great for companies with diverse workforces. This versatility is valuable for companies that expect to expand and leverage talent in global markets.
Workforce management
Workday and SAP SuccessFactors provide advanced recruitment, onboarding, and time-tracking features. Each vendor makes it easy to visualize and track changes at every point of the employee's tenure while giving insight into workforce changes and process bottlenecks.
Workforce Management
Workday
SAP
Native recruiting

Yes

Yes

Native onboarding

Yes

Yes

Career site

Yes

Yes

Job posting distribution

Yes

Yes

Social recruiting

Yes

Yes

Job board integrations

Yes

Yes

Interview management

Yes

Yes

Mobile recruitment app

Yes

Yes

Self onboarding

Yes

Yes

Time and attendance

Yes

Yes

Reporting and analytics

Yes

Yes
Workday
Workday includes talent management features to simplify day-to-day employee processes, including geofencing capabilities for time-tracking and voice-activated time-off requests. However, Workday's contingent talent management features are especially attractive for enterprises with varying worker classifications.
For instance, through Workday's VNDLY, companies can analyze their skill gaps and automate job requisition creation to source candidates quickly for varying projects. In addition, gig workers, independent contractors, and freelancers receive unified sourcing to offboarding experiences.
Finally, companies can monitor their budget spending and headcount to ensure their labor costs align with their bottom line.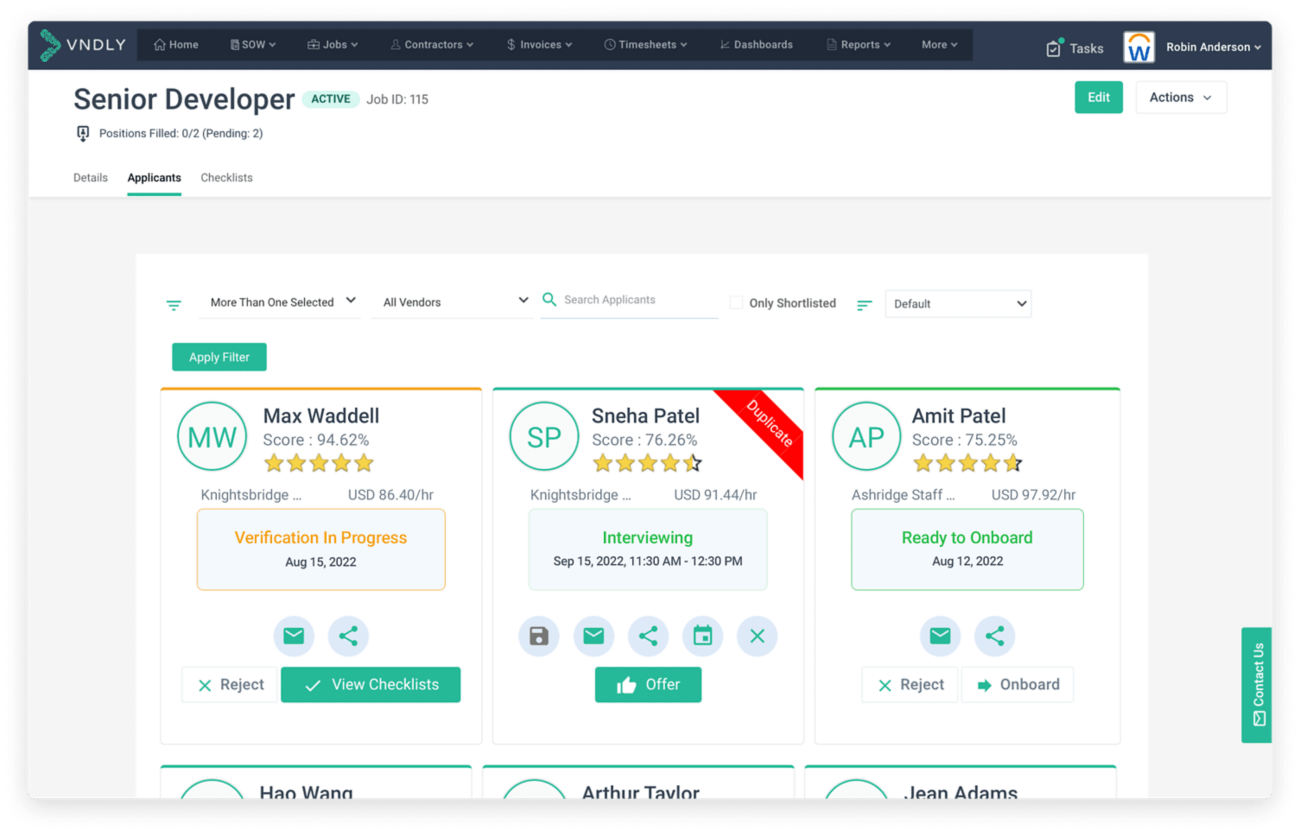 SAP SuccessFactors
SAP SuccessFactors' talent management features, like its payroll and benefits administration, are heavily global-focused. For instance, SAP SuccessFactors' time-tracking features are dynamic and based on the employee's profile location. This allows companies to comply with differing break rules, overtime, and on-call regulations by country.
Recruiting teams also have an easier time with remote or global talent acquisition, as SAP SuccessFactors provides companies with access to 4,000 source channels in over 80 countries. Recruiting and onboarding practices are also supported in over 46 languages so that companies can source quality talent while accommodating local languages and customs.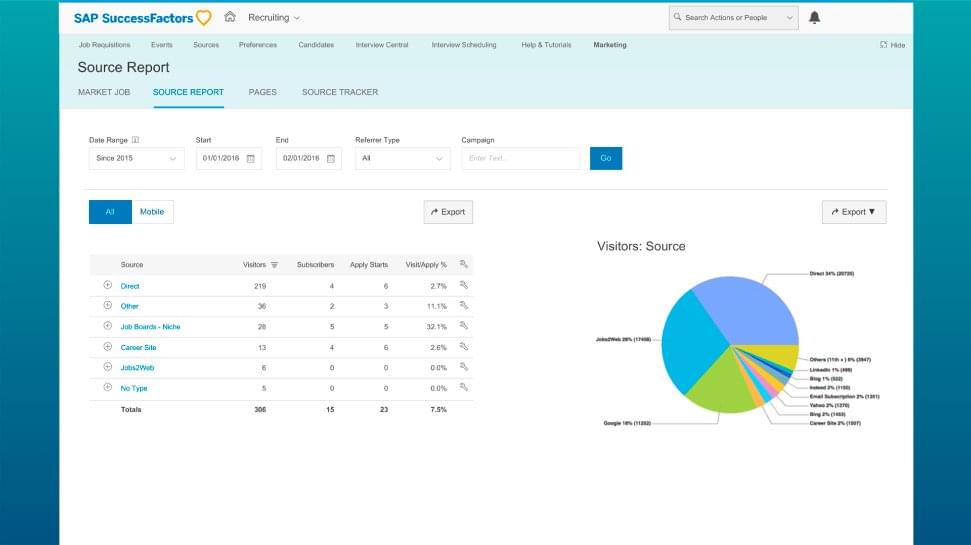 Which to choose for workforce management?
Workday. Here's why: Workday can accommodate global workforces in both time-tracking and recruitment, even if it is less intuitive than SAP SuccessFactors. However, Workday's worker-focused features and compliance monitoring across worker classifications make it an appealing choice for companies with complicated worker dynamics.
Performance management
Like most HCM solutions, Workday and SAP SuccessFactors invest in their talent optimization capabilities so companies can monitor and up-skill their internal workforces and stay ahead of the competition. Both provide performance tracking, goal setting, employee feedback, and learning modules but differ in their approaches.
Performance Management
Workday
SAP
Performance review cycles

Yes

Yes

Goal setting and tracking

Yes

Yes

Continuous feedback

Yes

Yes

Career development support

Yes

Yes

Compensation management

Yes

Yes

Sentiment analysis

Yes

Yes

Succession planning

Yes

Yes
Workday
Workday leverages AI and machine learning to organize and make sense of employee data from performance review cycles, employee feedback, and skills assessments to help companies identify top performers and align them with appropriate opportunities. Workday's AI even monitors potential employee flight risks based on performance and feedback so companies can prepare necessary succession strategies.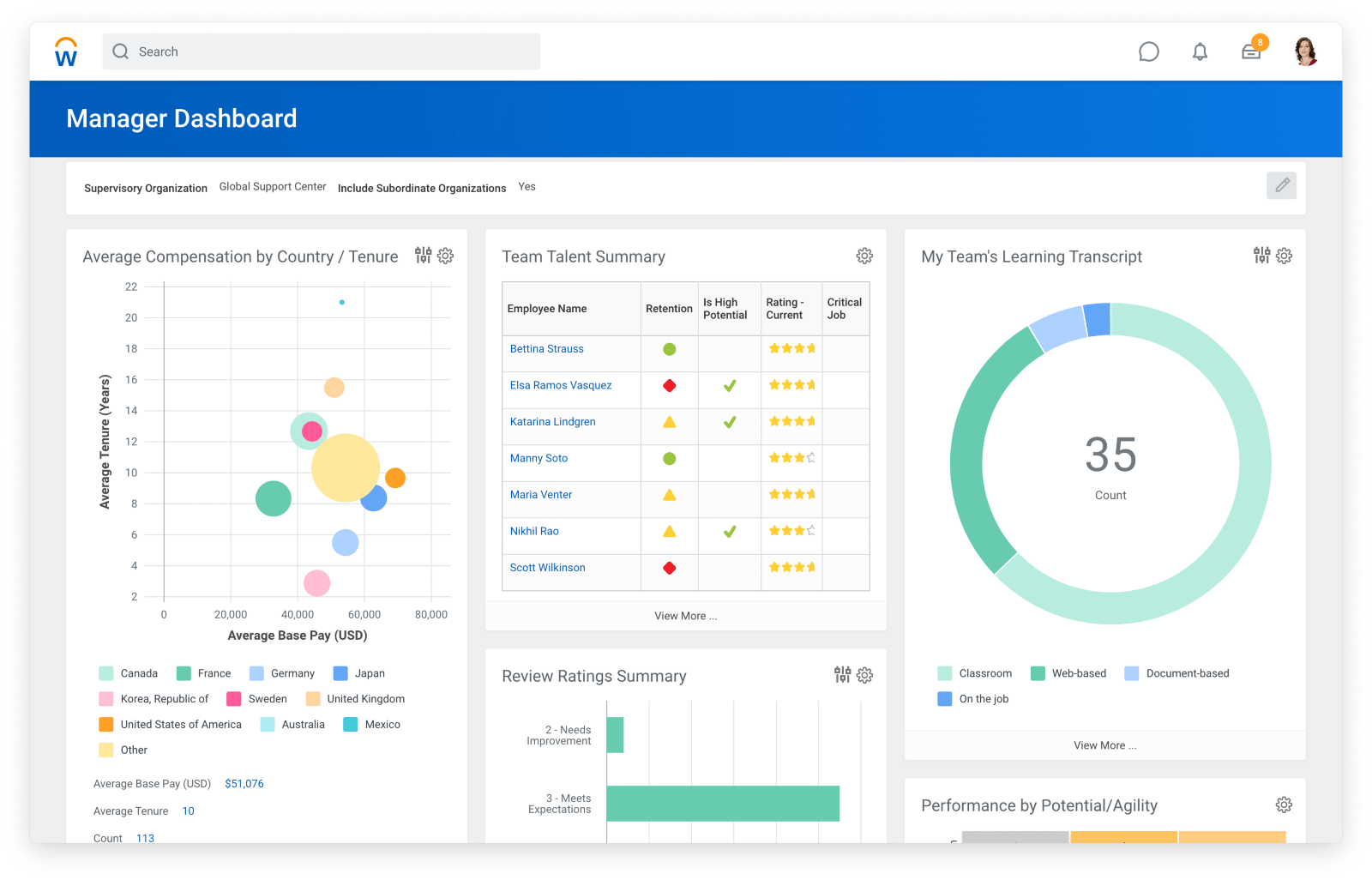 Additionally, Workday software allows employees to record their skills so managers can track and validate skill sets over time. With this data, companies can quickly pinpoint skill deficiencies and provide upskilling opportunities aligning with an employee's career goals. In doing so, businesses can close skill gaps and strengthen ties with employees by investing in their professional development.
SAP SuccessFactors
Where Workday focuses on bigger-picture performance and engagement monitoring, SAP SuccessFactors focuses on optimizing these processes for more efficiency. Take, for example, the features embedded in SAP SuccessFactors' performance management modules below.
Mobile app: Employees can add, change, and update their progress on company goals through their mobile devices, allowing managers and HR teams to remain apprised of goal progression at any time.
Goals library: Employees can choose from a library of over 500 ready-to-use SMART (specific, measurable, attainable, realistic, and timely) goals for simple career development.
Writing assistant: During review cycle, continuous feedback, or 360-degree feedback sessions, managers can use the writing assistant to provide a well-rounded and constructive response to their direct reports.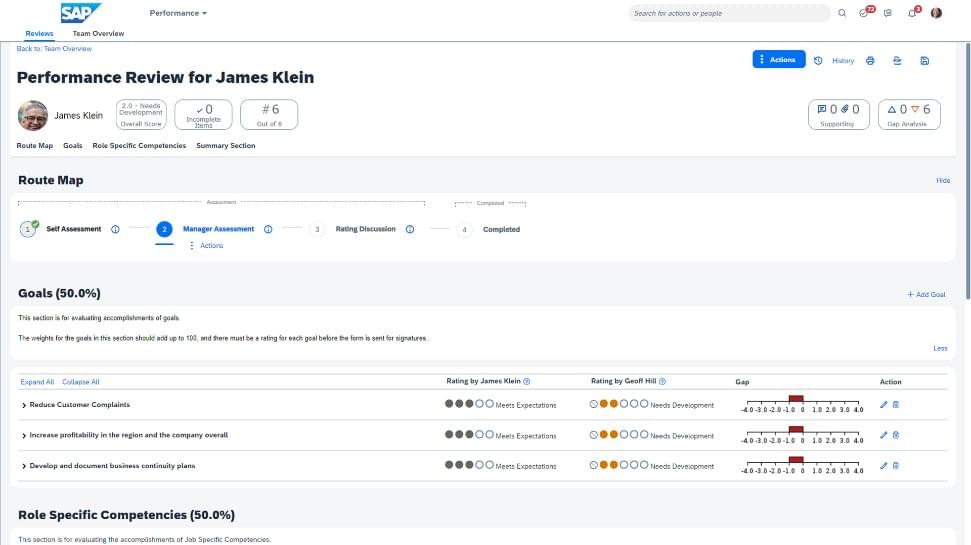 Along with reporting adaptive insights to reduce bias, performance, and pay disparity, SAP SuccessFactors ensures businesses maximize their workforce potential and minimize administrative workloads.
Which to choose for performance management?
SAP SuccessFactors. Here's why:​ Besides its time-saving functions, SAP includes a much more robust selection of products and features that promote continuous employee learning and development, such as mentoring and fellowship opportunities.
Businesses might appreciate Workday's user-friendly performance analytics for quick insights into employee satisfaction and talent gaps. However, SAP SuccessFactors' performance management features make it easy for employees to track goals and develop skills for a more holistic career development experience.
Workday vs. SAP SuccessFactors: Ready to choose?
Workday HCM and ​​SAP SuccessFactors HXM Suite each have benefits and drawbacks that could make or break it as your business's HCM solution.
Choose Workday if your company is based primarily in the U.S. and values data-rich, insightful reports across your workforce and finances. However, if you need to manage workforces and company HR processes across the globe, choose SAP SuccessFactors for its international support and diverse products.
If you're still undecided with Workday or SAP SuccessFactors is the right fit for your company, take a look at our HR Software Guide for other solutions.
---
1

BambooHR
BambooHR is an award-winning HR platform that helps your growing organizations automate, centralize, and connect your people data all in one place. It gives you a one stop shop to manage data, hire talent, run payroll, and help employees grow.
2

Rippling
Rippling is the first way for businesses to manage all of their HR, IT, and Finance — payroll, benefits, computers, apps, corporate cards, expenses, and more — in one unified workforce platform. By connecting every business system to one source of truth for employee data, businesses can automate all of the manual work they normally need to do to make employee changes.
3

Bob
Meet Bob, the modern HR platform for modern business. With Bob, HR teams get everything they need to operate efficiently and engage employees in one HRIS. Use automation and workflows to save hours on HR admin time. Connect employees from anywhere with a social media-like homepage that drives culture with communications, kudos, and recognition. Centralize all people data in one place for a holistic view. Share accurate reports for stronger insights and better decision-making.
Technology Advice is able to offer
our services
for free because some vendors may pay us for web traffic or other sales opportunities. Our mission is to help technology buyers make better purchasing decisions, so we provide you with information for all vendors — even those that don't pay us.