One recruiting software product can be vastly different from the next. After all, small businesses have completely different recruiting needs from massive global corporations. They each need a different software solution when it comes to streamlining their hiring processes.
Comparing Workable vs. ZipRecruiter proves these vast differences right out of the gate. Here are some analogies I came up with:
ZipRecruiter = hammer; Workable = tool shed
ZipRecruiter = apple; Workable = apple tree
ZipRecruiter = microphone; Workable = audio soundboard
ZipRecruiter = a tube of paint; Workable = the art supply store
You get the picture. What's important to remember here is that each of these products is useful in its own right, but your talent acquisition team is not going to use them for the same purpose. Both are in the recruiting software category, but that's about where their similarities end.
Workable calls their product "the most popular applicant tracking software." Although they don't define a sample group, there are quite a few five-star reviews on the web. Hiring managers and recruiters seem pretty happy using Workable's complete, end-to-end applicant tracking system.
ZipRecruiter, on the other hand, provides coverage for your job posts on major job boards and a searchable database of candidates. Think of it as a job posting tool, rather than a full-service applicant tracking system for hiring managers.
Just to warn you from the outset: This is going to be an unbalanced comparison when you look strictly at the number of features. That aside, both products have high satisfaction ratings for what their features provide.
Candidate Sourcing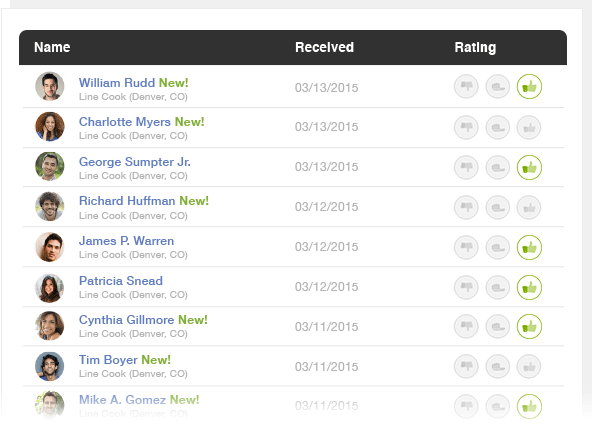 Candidate sourcing is ZipRecruiter's primary feature, and it does this really well. Upload your job listing to their platform, and ZipRecruiter will push that description to hundreds of paid and free job postings. You do have to provide a ZIP code or other location identifier, but you can source qualified candidates from anywhere in the world.
ZipRecruiter boasts a database of over nine million job seekers, where you can search for active and passive candidates and go after the best fit for your job opportunity. The service also sends a daily email to job candidates, and your opening can feature prominently as a paid job ad.
Some of ZipRecruiter's extras in this category include a hosted Careers page you can easily add to your website, social media sharing, and "boosted" posts that rise higher in the overall listings.
For its part, Workable provides technology resources to help you promote your job opening on your site and within your social network. The platform offers a hosted Careers page that automatically updates when you make a change to the position in Workable, and you can build a custom jobs tab on your Facebook page.
You can also use the Workable People Source browser app to source candidate information from social media and public online data into a central view. Workable also provides syndication to multiple job boards, but you pay per applicant rather than per job post. They also provide a shortlink for every job, so hiring managers can post to a job board outside of the Workable network.
When choosing between these pieces of software, you should consider how strong your current network of candidates is, and whether you want to source from outside that network.
ZipRecruiter can post to 100 job boards at once and connect you with candidates that you might otherwise not reach. Workable gathers potential job applicants from the corners of your network or who already have some knowledge of your company.
Resume Handling
Both of these recruitment tool options provide pre-screening questions that your applicants must answer prior to submitting their resume and job application. These questions immediately remove candidates who don't meet the job requirements, which cuts down on the amount of time you spend reading unqualified resumes.
Both Workable and ZipRecruiter have features to organize, tag, and view your candidates' resumes. They also offer automated and personalized email responses to send to candidates when they apply for a position.
ZipRecruiter lets candidates upload resumes to keep on file, and their overall profile helps you search the database. However, ZipRecruiter's capabilities do not extend beyond resume organization.
If your hiring managers have a current workflow for scoring and interviewing qualified candidates — very common for a bigger employer — then you'll need to export your data and upload it to that system. That said, if you're a small business looking for an easy job posting tool, then ZipRecruiter might be exactly what you need.
As the more comprehensive recruitment tool, Workable has a resume parsing feature that can pull experience and education data from a resume and upload it into a candidate profile that houses all of the applicant's data.
Thus, Workable streamlines the recruitment process for your talent management team, helping to reduce redundant work so you can get to the hiring stage faster.
Interview and Beyond
After sourcing your candidates, Workable effectively turns into a CRM for your applicant pool. Workable integrates with your calendars and email, as well as your actual CRM — you can provide a single view of candidates across all systems, no matter what job site they came from.
With these capabilities, you can schedule interviews, provide feedback, email candidates, and score responses. A mobile app provides easy access to the Workable CRM and interview functions, so you can update your potential candidate profiles and give feedback to your entire talent team from any location.
If they want, your recruiters can also run your entire hiring process through Workable, including background checks through the Checkr app and even EEO compliance auditing. Built-in analytics and reporting help you find your most reliable sources of job candidates, speed your hiring process, and build better human capital.
All of these features means that your hiring manager can work within a single system, from sourcing candidates to extending an offer letter.
Conclusions
Workable vs. ZipRecruiter is hardly a fair comparison, as the two recruitment software products address different aspects of the hiring process. Both are worthy in their own right; it just depends on what your recruitment team needs and what your budget is.
Workable is a great product for managing sourcing, applicant tracking, and hiring. ZipRecruiter is a job posting solution for expanding your hiring network.
If you still have questions, visit our software category page, or call one of our unbiased Technology Advisors for a free consultation.
Top Applicant Tracking Software Recommendations
Tracker is an Integrated ATS, CRM and Recruitment Automation Software. We help staffing & recruiting firms save hours and place candidates quicker in our all-in-one platform so they can increase revenue while cutting operational costs.
Breezy HR is a modern recruiting and applicant tracking tool to simplify your hiring process. From advertising jobs to making offers, get everything you need to attract and hire the best employees, faster.
Find the best candidates with Workable's applicant tracking software. Workable helps you source, track, and hire candidates, all in less time. Whether you're hiring Employee #2 or 200 new employees, Workable's scalable tools, know-how, and support comes wrapped in enterprise-grade tech that's as easy to use as your favorite app.
Need a Little Help?
Talk with a software expert for free. Get a list of software that's great for you in less than 15 minutes.
Technology Advice is able to offer
our services
for free because some vendors may pay us for web traffic or other sales opportunities. Our mission is to help technology buyers make better purchasing decisions, so we provide you with information for all vendors — even those that don't pay us.