For managers of hourly employees, scheduling can be time-consuming and frustrating. Balancing employee availability with time-off requests can leave you buried in emails and Post-its if you're still working by hand. Employee scheduling software, on the other hand, helps simplify the planning process and gives you a centralized tool for handling requests. 
Most employee scheduling software includes the following features:
Schedule templates that transfer from week to week or month to month

Shift swap and update notifications

Timesheet exports to payroll software

Calendar view by shifts and employee
ALSO READ: 7 of the Best Payroll Management Tools for Your Business
A great scheduling tool sets itself apart from your basic calendar app with automated approval workflows and intelligent reporting. Ready to buy one for your business? Check out these seven options:
NimbleSchedule made its name with a simple user interface. Drag-and-drop capabilities let you easily build, update, and change schedules and job assignments. You can also create templates based on previous schedules, which means the longer you use NimbleSchedule, the less time you'll spend planning each week. The software is browser-ready, and off-site employees can use the mobile app for clocking in and out. Optional location tracking lets you see where your workforce is when they access the app. Notifications are built in, so employees can receive instant schedule updates and clock-in reminders in the app, via email, or text message.
NimbleSchedule's capabilities don't stop at scheduling. A reporting dashboard helps you track staffing costs and overtime, and the software integrates directly with several different payroll solutions. A developer API is available for custom integrations and updates. 
WorkSchedule.net differs from its competitors with a dual focus on in-app support and automation. Support text is built into the user interface, giving you helpful instructions as you build your first schedule. Once employee data is uploaded, internal rules help build your schedule automatically with the "Get Best Fit" feature. By taking into account employee qualifications, overtime, and availability, the software provides suggestions for available time slots. This helps simplify job planning and avoid the back-and-forth of schedule conflicts. 
If you manage multiple schedules or worksites, the time block editor allows bulk editing of multiple schedules. Employees can check their schedules, swap time slots, and receive updates on the mobile app. WorkSchedule.net also offers a white label calendar solution for visual customization. 
ShiftPlanning's combines a simple calendar interface with schedule drafting, which means you can make edits and push your published version to the team only after it's ready. Bulk editing is guided by rule-based customizations that you select when you add employees. Once you've finalized the schedule, employees receive notifications in-app or via text message.
ShiftPlanning has built a lot of extras into their basic scheduling software that make it an great tool for managing multiple worksites. GPS and IP verification, as well as a biometric webcam clock (whoa, creepy), verify location and prevent buddy check-in. In addition to online support and video training for the ShiftPlanning platform, HR departments can upload their own on-boarding and training tools. API access is available for customizations and integrations.  
When I Work is a great choice for those who prefer browser and mobile-based access. The calendar screen gives users a clear view of the current schedule, and real-time notifications give employees more opportunities pick up shifts when they're available. Manager shift-change approval is standard. When I Work comes with pre-loaded templates for all types of schedules, including variable views that let you see who's working at any given moment. Employee qualification settings make sure the right person is scheduled for each shift.
When I Work comes with a couple of extras that are worth mentioning:
Developer APIs for custom integration

On-boarding and continued training w/free HR document templates

Analytics dashboard where you can track employee attendance, time clocks, and payroll

Easy exports to payroll software
When I Work is free for companies with 100 employees or less, but they also offer custom pricing for larger deployments.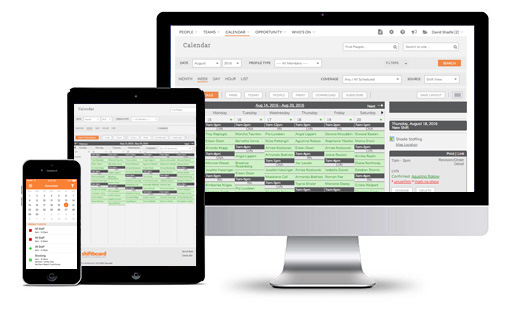 ShiftBoard integrates your scheduling, time clock, HR, and payroll analysis into one platform. The scheduling app uses templates and automation for easy scheduling, with built-in alerts that remind your employees when they're scheduled to work. You can setup the platform to also provide stakeholders with calendar reminders and keep them informed of changes with company-wide bulletins.
ShiftBoard recognizes that building a schedule is about more than availability; it's also about compliance. To that end, you can upload union hour requirements and employee-specific scheduling rules to inform the automated builder. The scheduler doubles as a time tracking tool, and uses location services as a double-check. An analytics dashboard makes reporting for labor forecasting and payroll easy.

The basic Homebase plan (which happens to be free) offers plenty of features for the average user — automated scheduling, mobile app integration, image capture upon clock-out, shift trade capabilities, scheduling templates, and in-app messaging.
But Homebase really shines in its premium features, available with Essential and Plus plans. Employees can receive alerts via SMS or email, in addition to the in-app message, and managers gain access to powerful reporting tools, like schedule forecasting and budget analysis. Optional tip and break tracking features are great for restaurant and hospitality industries, while shift feedback is ideal for job-based and medical worksites. All time sheets from paid plans are available for export to your existing payroll system.  
Tsheets scheduling is a powerful addition to the Tsheets timesheet organization software. The scheduling calendar uses a drag-and-drop builder to help you create job or shift schedules based on employee-specific rules. Customizable notifications keep everyone aware of current shifts, remind employees of upcoming shifts, and remind employees to clock in on time. All of these capabilities are available to integrate with your existing calendar systems including iCal, Outlook or Google Calendars.
Tsheets supports payroll integrations for many widely-used systems including Square, Paychex, and Quickbooks, and custom payroll integrations are available for a one-time fee. Built-in scheduling and timesheet analytics provide easy payroll forecast reports and DCAA-compliant auditing. 
* * *
Building team schedules is tedious, but important. The right employee scheduling software can ease the burden of workforce management and further automate routine tasks like time sheets and payroll.
Don't see what you need? Schedule a conversation with one of our Tech Advisors for pressure-free advice on the best employee scheduling software.