If you work in healthcare, you've heard of Cerner and Epic. Combined, these EHR vendors own 55 percent of the market share for acute care hospitals in the United States. That percentage goes even higher when you narrow in on the 500+ bed hospital market.
These are big, costly systems, so there's little room for forgiveness when it comes to choosing the one your organization will use. Contracts frequently run into the millions — even billions — of dollars, and implementing the software itself can take anywhere from six months to over a year, not to mention the time it takes staff to learn the new system.
Table of contents
Top EHR systems
While Cerner and Epic are two of the most recognizable names in the EHR software space, they aren't the only options. To help you find the right tools for your practice, here's a quick list of the top EHR systems.
athenahealth, ranked #1 by Best in KLAS in 2023 for three of our top-performing product solutions, athenaOne Small Practice Ambulatory, athenaClinicals Ambulatory EMR, and athenaCollector Practice Management, connects care with cloud-based services and mobile tools for medical groups and health systems, helping providers thrive through change and focus on patient care.
Domo puts data to work for everyone so they can multiply their impact on the business. Underpinned by a secure data foundation, our cloud-native data experience platform makes data visible and actionable with user-friendly dashboards and apps. Domo helps companies optimize critical business processes at scale and in record time to spark bold curiosity that powers exponential business results.
Is Epic or Cerner Better?
Cerner and Epic are both makers of health information technology and electronic health record (EHR) software, but they serve organizations of different sizes and offer vastly different workflow experiences. The size and nature of your organization should therefore be a major factor in deciding which solution to go with.
Both vendors offer cloud-based software solutions for acute and ambulatory care, though Cerner is the far more popular choice for ambulatory care and clinicals. When it comes to larger healthcare organizations, most healthcare providers go with Epic. Neither vendor discloses pricing information publicly, but news about contract deal sizes seems to indicate that Epic is slightly more expensive than Cerner, though this also depends on how well you plan implementation.
For example, Becker's Hospital Review reports that after University of Illinois Health sent out an RFP for a new health records system, it received a bid of $60.5 million from Cerner and a proposal of $62 million from Epic. For a different RFP, Cerner won a $10 billion contract with the Department of Veterans Affairs. However, this grew into a $16 billion contract in March 2018 after more considerations about implementation, maintenance, management, and rollout were made.
In terms of software solutions offered, you'll find both systems to be fairly similar. They both offer interoperability, revenue cycle management, population health management, mobile access, telehealth, and artificial intelligence.
| | | | | |
| --- | --- | --- | --- | --- |
| | CRM | Consulting | Dental | Real-time Data |
| Cerner | No | Yes | No | Yes |
| Epic | Yes | No | Yes | No |
Cerner and Epic also offer services for implementation, training, IT, and support, to name a few.
This article is designed to help you choose with confidence between these two solutions, but we can help take even more pressure off this decision. Use our Medical Product Selection Tool to request a free, personalized shortlist of the best EHR-EMR software for you. We'll ask a few questions to determine your needs and then send you five systems that meet them the best.
Is Epic or Cerner Easier to Use?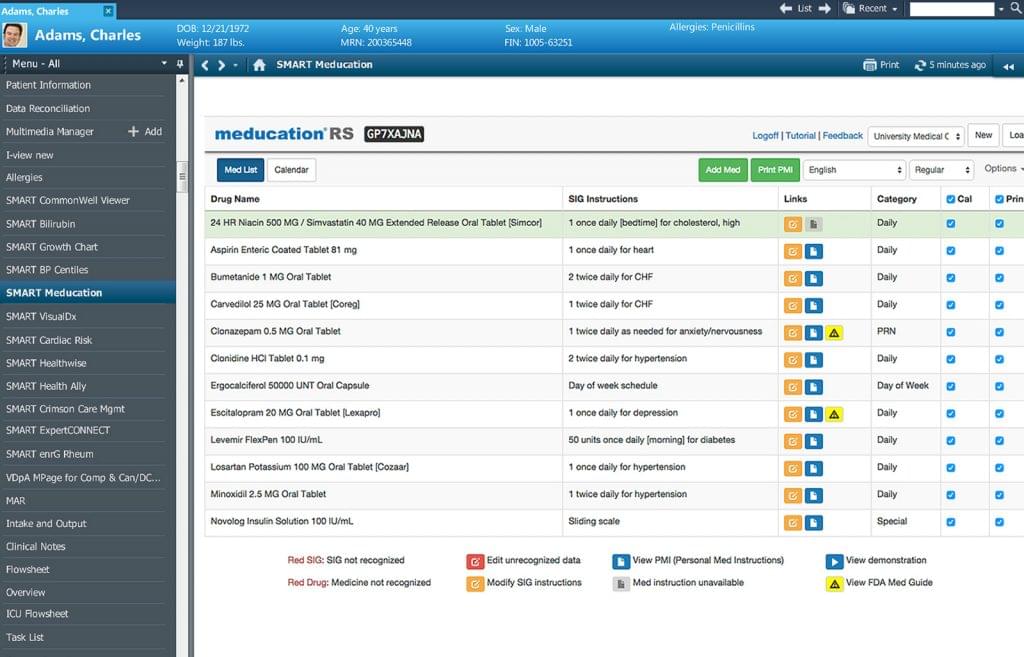 Cerner (pictured above) offers a well-designed graphical user interface (GUI), but this doesn't necessarily translate to good ease of use. Many users report long, repetitive workflows for even simple tasks with many users saying the system is not intuitive to use. While you could certainly do worse when looking for a usable EHR, Cerner will still require a decent amount of training before staff feel comfortable working in it.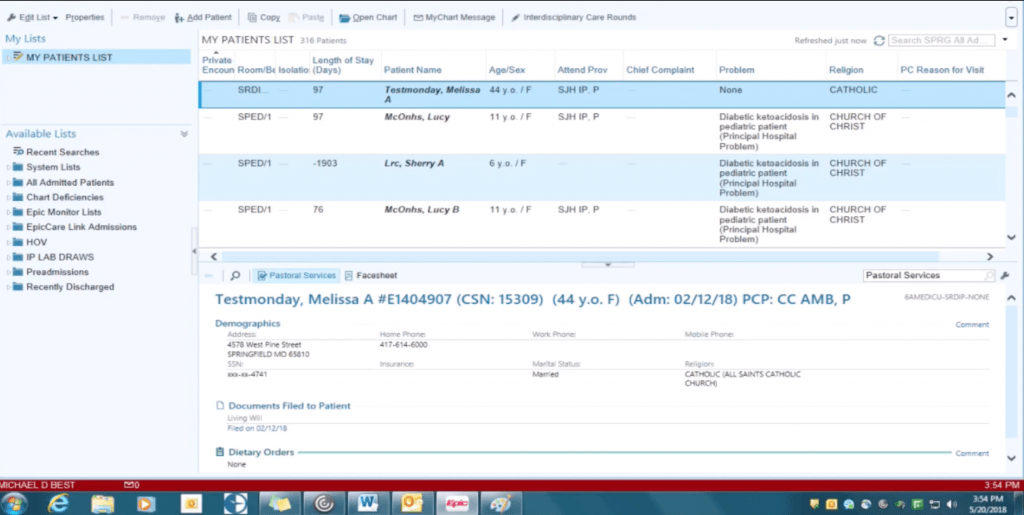 Epic (pictured above) may not be as aesthetically pleasing as Cerner, but many users report good ease of use. This EHR is intuitive, so staff are usually able to figure out how to perform tasks without having to go through extensive training. Built-in shortcuts speed up work even more, though the number of on-screen functions at any given time can feel a bit overwhelming at first.
Also read: What Doctors Want From Medical Technology
Interoperability in Cerner vs. Epic
Interoperability, the ability for the system to share information with other software, should be a key consideration when choosing between Cerner and Epic. Here's how both systems stack up when it comes to sharing patient data.
Cerner
Cerner enables interoperability in several different ways. The first and perhaps most well-known is through CommonWell Health Alliance, a not-for-profit industry trade association that Cerner co-founded along with six other competitors. CommonWell Health Alliance provides a set of standards and policies that make it easier for members to share and access patient data.
Additionally, Cerner provides Cerner Ignite APIs to let healthcare organizations integrate third-party apps with the EHR. Reference Lab Network lets providers connect to multiple acute and reference labs without having to make connections with every single lab. Later this year, Cerner plans to unveil Seamless Exchange, a new innovation to interoperability in the platform.
Also read: 5 Cerner EHR Competitors for Hospitals and Small Practices
Epic
Epic allows for interoperability in three different ways. First, you can connect to the Carequality network, a public-private network that connects healthcare providers from all over the United States. Another way is the EpicCare Link, which lets non-Epic users view information about patients from an Epic user. Think of it like the shareable collaboration links Google Drive and Dropbox utilize. Share Everywhere is a third interoperability feature that lets patients share their own health information with outside providers. This allows providers to see patient information without connecting to Epic through an EHR.
How Cerner and Epic have responded to EHR innovations
The COVID-19 pandemic introduced some major innovative needs for both the healthcare industry as a whole and EHR systems. Take a look at how Cerner and Epic have responded to these challenges.
Telehealth
With limits placed on how many people could gather indoors, practices had to limit what they could see patients for in-office. However, people didn't stop needing to see doctors, so clinics had to find creative ways to help their patients. Telemedicine allowed doctors to safely examine their patients while offering a more accessible (and possibly cheaper) option for people to take advantage of post-COVID.
Cerner collaborated with Amwell, a telehealth company, to help their clients schedule, conduct, and chart telehealth appointments. Additionally, they're beginning to offer digital care plans to mitigate the workloads their practices are facing. These plans help patients self-monitor their symptoms and automatically identify patients that need a physician to intervene.
Epic embedded a new telemedicine platform into its system, allowing physicians to connect with patients right from the EHR. By adding the service to their system, Epic has made it easier for doctors to view patient history and search symptoms while video-chatting with their patients.
User-friendly patient portals
Limits on in-person groups also made it more difficult for patients to schedule appointments and get information over the phone. Because of this, doctors' offices and hospitals needed patient portals that were easier for their clients to use. Moving forward, these new patient portals make it easier for patients to request prescription renewals, schedule appointments, and ask their doctor follow-up questions.
Cerner's patient portal includes a secure, HIPAA-compliant messaging application where patients can safely chat with their doctors to ask questions and ensure they're following the right steps in their care plan. The system also enables online prescription refills and allows patients to schedule virtual appointments.
Epic's patient portal not only allows patients to schedule appointments and view their medical records securely, but they can also get information on what certain procedures might cost them. The patient portal supports virtual consultation scheduling as well.
Work balance
As clinics and hospitals become busier, doctors are spending more time in front of their computers and less time with patients. Many practices look to their EHR systems to help them rebalance their time and reduce burnout.
Cerner's system improves the efficiency of the communication between clinical and billing teams to optimize billing and claims processes. The platform also includes AI-enabled workflows to optimize charting and other behind-the-scenes processes and allow doctors to spend more time with their patients.
Epic used to include alerts for everything, but they've since worked on streamlining their platform to keep from overloading doctors with alerts and pop-ups. The system helps doctors optimize their workflows to improve their work-life balance.
How to request software recommendations from TechnologyAdvice
Typically, Cerner is more attractive for smaller clinics and hospitals due to the services they offer in IT and implementation management. Larger hospitals tend to prefer Epic because it usually takes less training to get started with. Even so, each practice is unique and both have features that would be appealing to clinics of any size.
If you're still not convinced whether Cerner or Epic is right for you, we can save you hours on researching other vendors. Use the Medical Software Product Selection Tool on our website to request a free, personalized shortlist of the best EMR-EHR software for you. We'll ask a few questions to identify your biggest needs and then match you with the vendors that will work best.
Technology Advice is able to offer
our services
for free because some vendors may pay us for web traffic or other sales opportunities. Our mission is to help technology buyers make better purchasing decisions, so we provide you with information for all vendors — even those that don't pay us.