If you work in healthcare, you've heard of Cerner and Epic. Combined, these EHR vendors own over 50 percent market share for acute care hospitals in the United States. That percentage goes even higher when you narrow in on the 500+ bed hospital market.
These are big, costly systems, so there's little room for forgiveness when it comes to choosing the one your organization will use. Contracts frequently run into the millions—even billions—of dollars, and implementing the software itself can take anywhere from six months to over a year, not to mention the time it takes staff to learn the new system.
This article will help you choose with confidence, but we can help take even more pressure off this decision. Use our Product Selection Tool to request a free, personalized shortlist of the best EHR-EMR software for you. We'll ask a few questions to determine your needs and then send you five systems that meet them the best.
Table of contents
Major differences between Cerner and Epic
Cerner and Epic are both makers of health information technology and electronic health record (EHR) software, but they serve organizations of different sizes and offer vastly different workflow experiences. The size and nature of your organization should therefore be a major factor in deciding which solution to go with.
Free download: What Doctors Want from Medical Technology
Both vendors offer cloud-based software solutions for acute and ambulatory care, though Cerner is the far more popular choice for ambulatory care and clinicals. When it comes to larger healthcare organizations, most healthcare providers go with Epic. Neither vendor discloses pricing information publicly, but news about contract deal sizes seems to indicate that Epic is slightly more expensive than Cerner, though this also depends on how well you plan implementation.
For example, Becker's Hospital Review reports that after University of Illinois Health sent out an RFP for a new health records system, it received a bid of $60.5 million from Cerner and a proposal of $62 million from Epic. For a different RFP, Cerner did win a $10 billion contract with the Department of Veterans Affairs. However, this grew into a $16 billion contract in March 2018 after more considerations about implementation, maintenance, management, and rollout were made.
In terms of software solutions offered, you'll find both systems to be fairly similar. Cerner sells the following software solutions:
Analytics
Population health management
Clinical solutions
Interoperability
Revenue cycle management
Services
Epic offers:
Patient experience
Mobile device software
Managed care
Community connect
Clinicals
Telehealth
Population health
Interoperability
Specialties and ancillaries
Revenue cycle management
Artifical intelligence (AI) and analytics
Government regulations
Cerner and Epic also offer services for implementation, training, IT, and support, to name a few.
Ease of use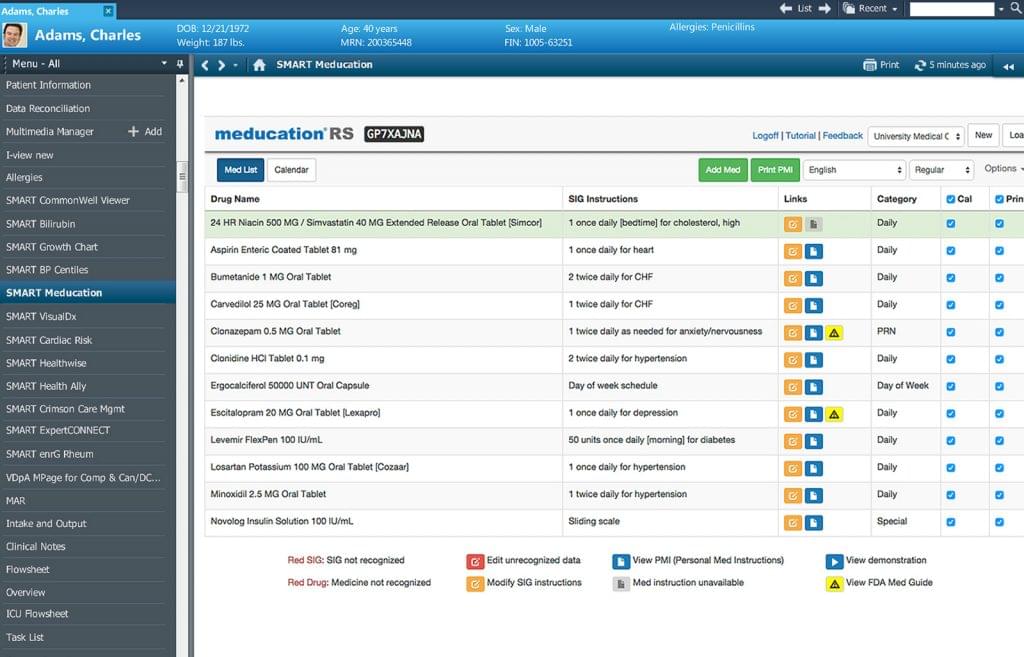 Cerner (pictured above) offers a well-designed graphical user interface (GUI), but this doesn't necessarily translate to good ease of use. Many users report long, repetitive workflows for even simple tasks with many users saying the system is not intuitive to use. While you could certainly do worse when looking for a usable EHR, Cerner will still require a decent amount of training before staff feel comfortable working in it.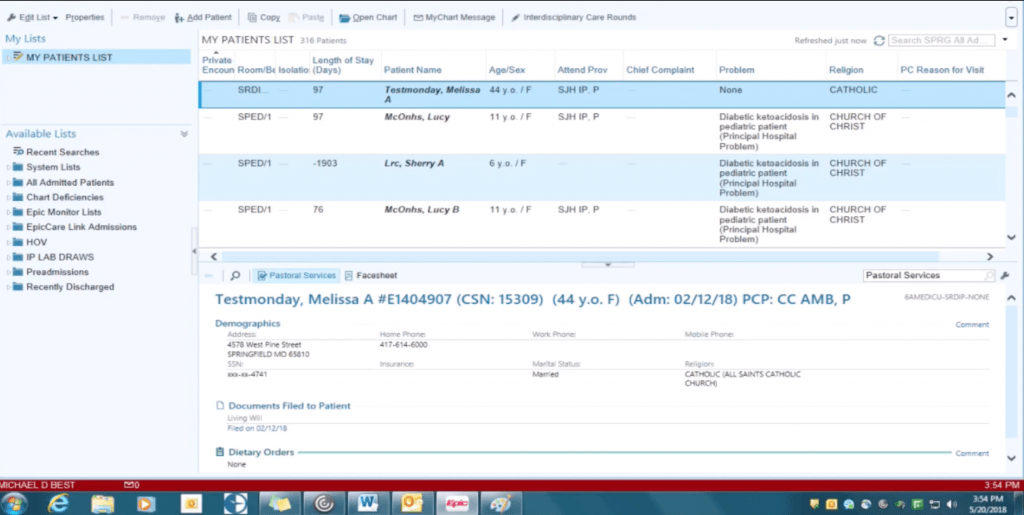 Epic (pictured above) may not be as aesthetically pleasing as Cerner, but many users report good ease of use. This EHR is intuitive, so staff are usually able to figure out how to perform tasks without having to go through extensive training. Built-in shortcuts speed up work even more, though the number of on-screen functions at any given time can feel a bit overwhelming at first.
Interoperability in Cerner vs. Epic
Interoperability should be a key consideration when choosing between Cerner and Epic. Here's how both systems stack up when it comes to sharing patient data.
Cerner
Cerner enables interoperability through several different ways. The first and perhaps most well-known is through CommonWell Health Alliance, a not-for-profit industry trade association that Cerner co-founded along with six other competitors. CommonWell Health Alliance provides a set of standards and policies that make it easier for members to share and access patient data. Additionally, Cerner provides Cerner Ignite APIs to let healthcare organizations integrate third-party apps with the EHR. Reference Lab Network lets providers connect to multiple acute and reference labs without having to make connections with every single lab.
Epic
Epic allows for interoperability in three different ways. First, you can connect to the Carequality network, a public-private network that connects healthcare providers from all over the United States. Another way is the EpicCare Link, which lets non-Epic users view information about patients from an Epic user. Think of it like the shareable collaboration links Google Drive and Dropbox utilize. Share Everywhere is a third interoperability feature that lets patients share their own health information with outside providers. This allows providers to see patient information without connecting to Epic through an EHR.
Comparison of market share
According to a 2019 KLAS Research report, these vendors control 85 percent of market share for hospitals with 500 beds or more. Of this, Cerner has 27 percent and Epic has 58 percent of the market. That number decreases when you look at acute care hospitals—Cerner and Epic's combined market share accounts for 54 percent. Cerner currently holds about 26 percent of market share for acute care while Epic holds a slight edge at 28 percent.
2018 was a busy year for EHR purchases, and most organizations went with one of these two vendors. However, Epic saw more net growth despite Cerner closing more deals. This was due to Cerner losing over 60 hospitals, many of whom switched to Epic. It's tempting to read into this, but mergers and acquisitions may be the real culprit behind Cerner's drop in business.
Also read: 5 Cerner EHR Competitors for Hospitals and Small Practices
Interoperability is a major concern for healthcare providers, and it's usually made easier when everyone uses the same system. While Epic did start out with more market share than Cerner at the beginning of 2018, various hospitals and health systems also engaged in a number of mergers and acquisitions that gave Epic a leg up on interoperability. This created a sort of positive feedback loop that made Epic a more enticing system to many hospitals around the country.
How to request software recommendations from TechnologyAdvice
If you're still not convinced whether Cerner or Epic is right for you, we can save you hours on researching other vendors. Use the Product Selection Tool on our website to request a free, personalized shortlist of the best EMR-EHR software for you. We'll ask a few questions to identify your biggest needs and then match you with the vendors that will work best.