Key Takeaways
If you need to access your CRM on the go, SugarCRM and SuiteCRM also offer mobile apps for iOS and Android.
Being an open source software, SuiteCRM is free to download. It's free to use, too, as long as you take care of hosting yourself.
---
If you're looking for a Salesforce alternative, you should compare SugarCRM vs. SuiteCRM. Both of these CRM solutions bill themselves as Salesforce alternatives, but there are some pretty big differences between them. Taking a closer look at each system's features, pricing, and deployment options will help you make a more informed decision about which one is right for you.
What is SugarCRM?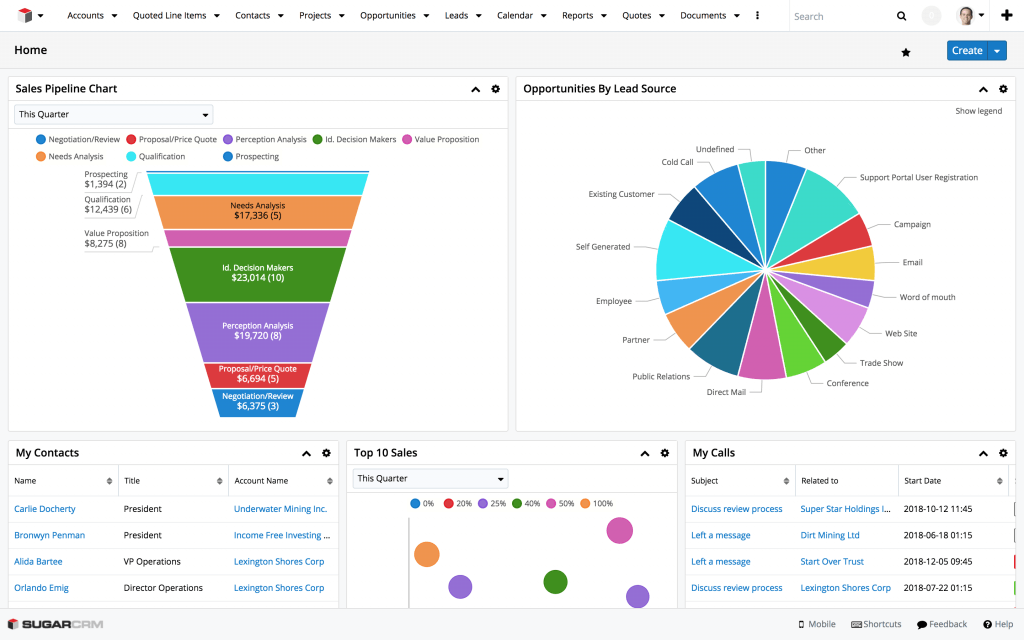 TechnologyAdvice rating: 4/5
SugarCRM is one of the most popular customer relationship management (CRM) alternatives to Salesforce. Previously an open source solution, SugarCRM is now a proprietary software used by businesses of all sizes. Marketers and customer experience professionals also use SugarCRM. Users can purchase SugarCRM's solutions as standalone options or as a comprehensive package. Pricing plans vary by features, number of users, and level of customer support.
Also read: Salesforce Alternatives: Top 5 CRMs
What is SuiteCRM?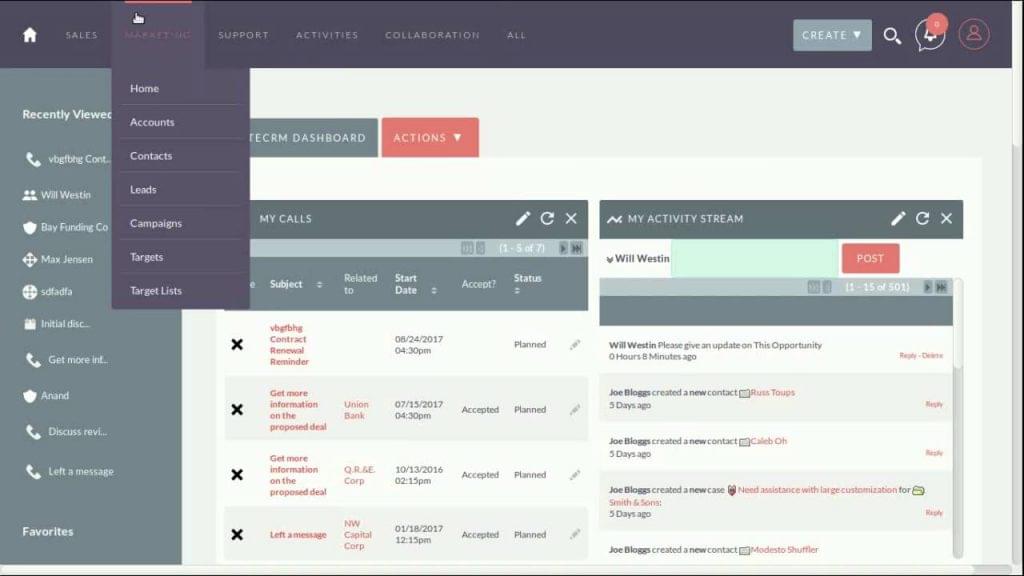 TechnologyAdvice rating: 4.5/5
SuiteCRM is an open source CRM developed and maintained by SalesAgility, a CRM developer that also offers consulting, migration, and support services. Organizations of all sizes use SuiteCRM, from enterprises to startups to non-profits. Anyone can download and use SuiteCRM for free as a self-hosted solution, but you can also pay to have SugarCRM host the software for you. Many users see SuiteCRM as a high quality, less expensive alternative to popular CRM vendors like Salesforce, Microsoft Dynamics, Oracle, and SugarCRM.
Comparison Table of SugarCRM vs. SuiteCRM


SugarCRM
SuiteCRM
TechnologyAdvice rating
4/5
4.5/5
Works best for
Any sized business
Any sized business
CRM features
Contact management

Yes

Yes

Lead segmentation

Yes

Yes

Pipeline management

Yes

Yes

Lead scoring

Yes

With extra add-on
Gmail integration

Yes

Yes

Outlook integration

Yes

Yes

Task management

Yes

Yes

Territory management

Yes

Yes

Workflow automation

Yes

Yes

Social media integration

Yes

With extra add-on
Document storage

Yes

Yes

Mobile app

Yes

Yes

Pricing
Free trial

Yes

Yes

Monthly plans

Yes

Yes

Unlimited users

No

Yes

Support included

Yes

No

Deployment
On-premise

Yes

Yes

Cloud-based

Yes

Yes

iOS

Yes

Yes

Android

Yes

Yes
SugarCRM vs SuiteCRM Features
In many ways, you'll find SugarCRM vs. SuiteCRM very similar, but upon closer look, you'll notice there are subtle yet important differences.
Contact management
Contact management is the most basic function a CRM performs, so it's a good idea to see how these systems handle contacts before you buy. SugarCRM lets you create contact records individually or by importing a .csv file. Records are formatted like cards in an address book, and you can toggle subpanels on each record to see more or less information, such as recent activity.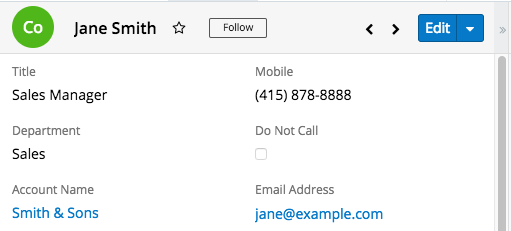 You can convert leads to contacts and add contacts to different target lists for email marketing if you want to. Additional functionality includes the ability to edit, merge, mass update, delete, and export contacts. For sharing contacts, export them individually or in groups, or share individual contacts via email as vCards.
SuiteCRM lets you create contacts individually and by importing multiple contacts at once from a .csv file or from Google Contacts. You can also create contacts from vCards and by converting leads.
Just like SugarCRM, SuiteCRM lets you edit contacts individually or en masse, delete, merge, add to target lists, print as PDF, and export as a .csv. You can also map contacts, which lets you plot your contacts in Google Maps.
Opportunity management
Every CRM should offer opportunity management. Opportunities allow sales teams to track individual sales, and they can be tied to a lead, quote, or account.
SugarCRM lets you create opportunities in a number of ways. You can create an opportunity from scratch from the Opportunities dropdown menu, or you can create an opportunity by converting a lead or a quote. Import opportunities from a .csv file to create many at once.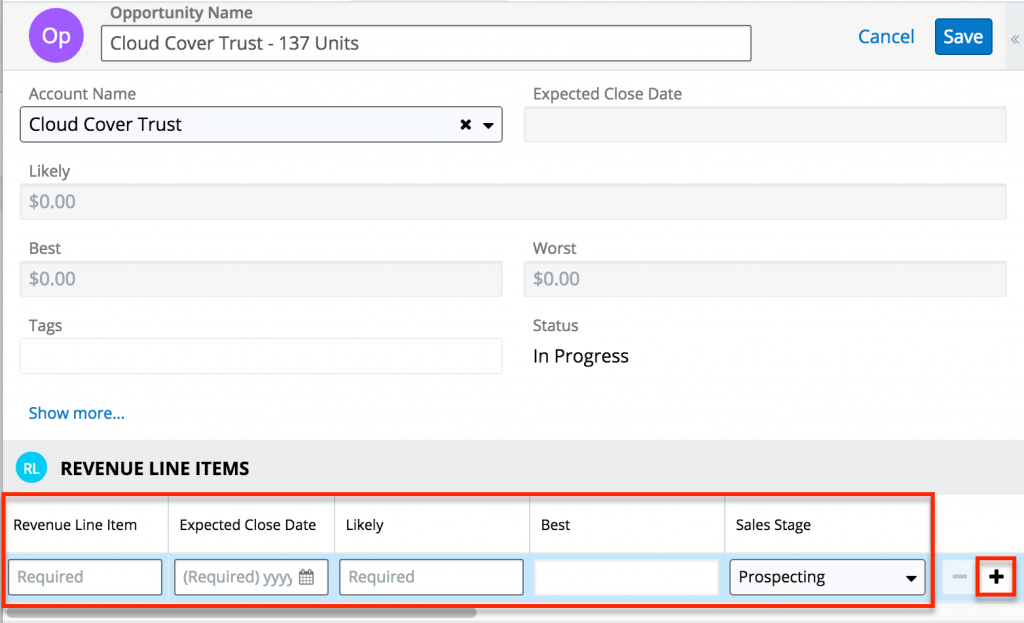 Using SugarCRM, you can add revenue line items to each opportunity. Choose a product or service from your organization's database, set an expected close date, estimate how much you think the opportunity is worth, and keep track of opportunity progress by selecting a sales stage.
SuiteCRM handles opportunity management similarly, but it doesn't allow the same degree of granularity as SugarCRM. You can create opportunities from scratch or by importing them from another CRM or a .csv file, but you can't create opportunities by converting leads or quotes.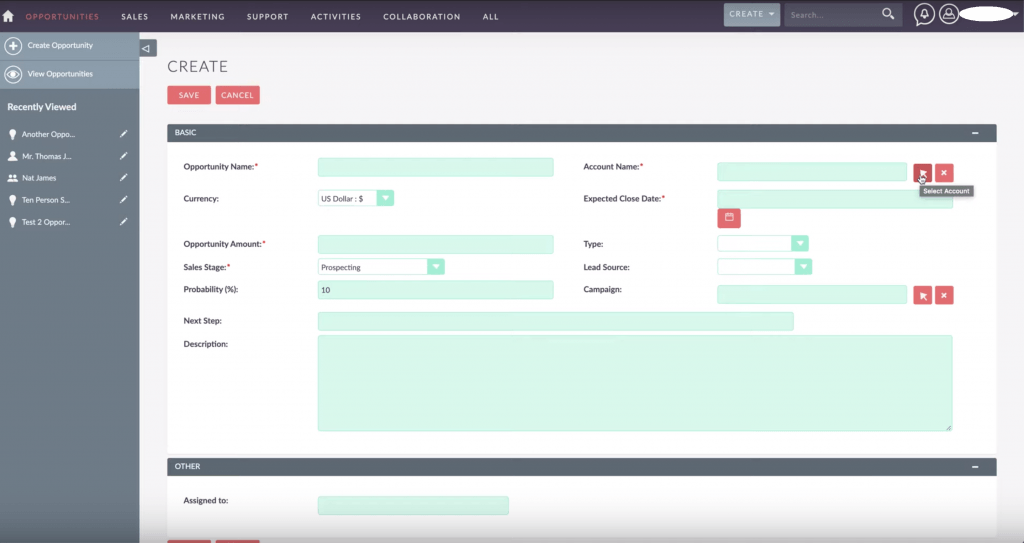 SuiteCRM stores basic information about opportunities, such as account name, value, sales stage, and expected close date, but you can't add a revenue line item from a list of products or services. You can still list a revenue line item in the opportunity description, but this detracts from the level of detail you can see in reports later on.
Workflow automation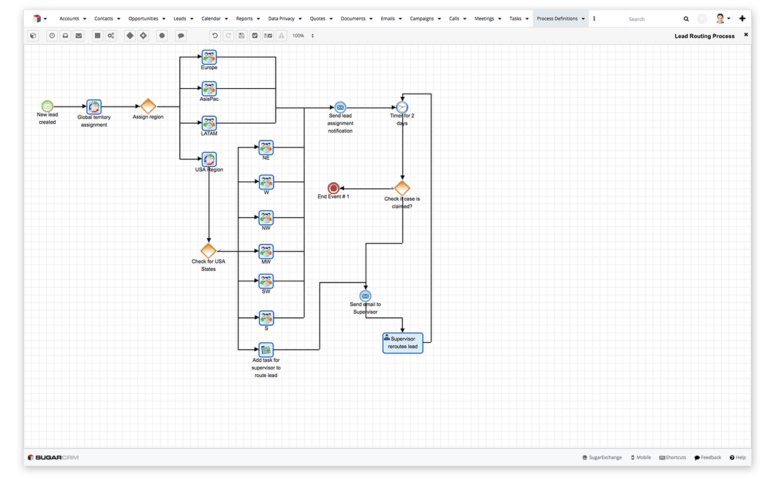 If you go with the Sugar Enterprise or Sugar Ultimate Editions, you can access SugarBPM, an automation tool that works using a visual drag-and-drop builder. Use SugarBPM to create rule-based business processes, email templates, and automations for customer service, like call triaging. All workflows in SugarBPM follow a certain format, beginning with a start event then moving to an activity, a gateway, and end events. Users commonly build workflows to automate lead routing, quote approvals, escalations, and reminders.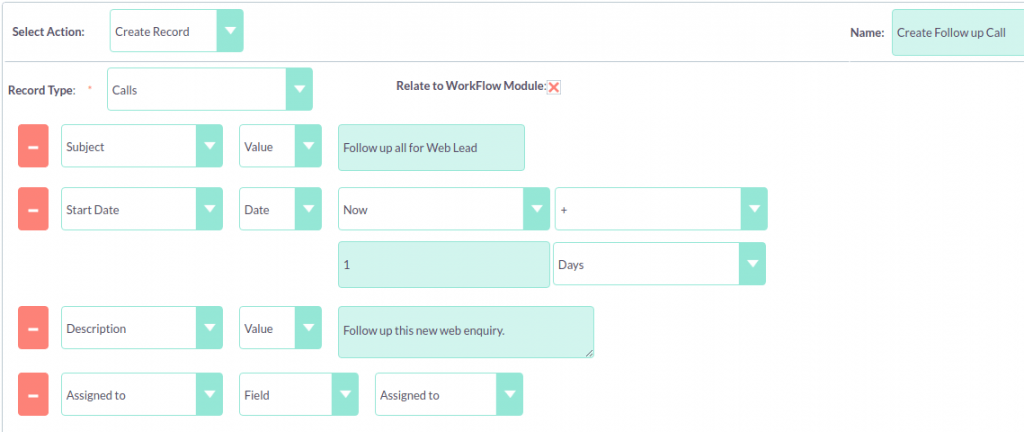 SuiteCRM doesn't offer a visual workflow builder, but you can use its Workflow module to create rule-based processes for any SuiteCRM module. Workflow allows a wide variety of functionality using condition-based triggers to perform certain actions, like automatic reminders, emails, lead routing, and quote approvals. SuiteCRM's Workflow module will help improve efficiency, but don't expect to get the same level of control as you would get with SugarCRM.
SugarCRM vs SuiteCRM Pricing
Pricing is a huge point of different for SugarCRM and SuiteCRM. SugarCRM's pricing model is more of what you'd expect from a proprietary software vendor, but SuiteCRM's pricing is built on hosting and services.
SugarCRM
SugarCRM comes in six different plans. These plans differ based on the solution, number of users, and level of support. To use all three solutions together — Sugar Market, Sugar Sell, and Sugar Serve — you'll need to contact their sales team for a custom quote. Otherwise, SugarCRM's solutions are sold as standalone solutions with two upgraded tiers for Sugar Serve.
Keep in mind that, while Sugar Sell is priced per user, per month, it has a 10 user minimum. You can try Sugar Sell out with a seven day free trial, and you can pay extra for optional products like integrations to LinkedIn Sales Navigator and Customer Journey, respectively.
SuiteCRM
Being an open source software, SuiteCRM is free to download. It's free to use, too, as long as you take care of hosting yourself. But if you'd prefer to have SuiteCRM host the software for you in the cloud, you can choose from three different hosting plans.
There are no differences between these plans in terms of number of users and features. Instead, SuiteCRM offers unlimited users on all plans and access to all of the software's features, though they offer recommendations for which plan you should consider depending on how you intend to use the software and how many users you will have. Each plan is one flat rate per month, and you can test drive hosting with SuiteCRM with their 30 day free trial.
In addition to hosting, SuiteCRM also offers services. These include customer support, configuration consultation, migration help, and training. Users pay for customer support in one payment that's good for 12 months, and plans differ by number of support hours and response speed. Configuration consultation, migration help, and training are all by custom quote only.
Deployment
Both SugarCRM and SuiteCRM offer two deployment options for their software: on-premise or cloud-based. There aren't many major differences here. If you opt for cloud hosting, you'll either use SugarCloud or SuiteCRM's own cloud hosting, depending on which vendor you choose. You handle hosting yourself if you opt for on-premise — just keep in mind that SuiteCRM is free to download and use if you want to host the software on-premise. If you need to access your CRM on the go, SugarCRM and SuiteCRM also offer mobile apps for iOS and Android.
TechnologyAdvice can help
SugarCRM and SuiteCRM are both worthy contenders for your next CRM, but that doesn't make either of them a perfect fit for everyone. If you're an enterprise with deep pockets that needs more granular reporting and advanced workflow automation features, SugarCRM might be a good choice.
On the other hand, many mid to large-sized companies, non-profit organizations, and startups might choose SuiteCRM for its ability to deliver an impressive amount of flexibility and functionality at a much lower price point than many of its competitors. Ultimately, the decision is yours.
Looking for the latest in CRM solutions? Check out our CRM Software Buyer's Guide.
Technology Advice is able to offer
our services
for free because some vendors may pay us for web traffic or other sales opportunities. Our mission is to help technology buyers make better purchasing decisions, so we provide you with information for all vendors — even those that don't pay us.