When someone says tissue, you think "Kleenex." If you scrape your knee, you ask for a Band-Aid before you think "bandage." If you're looking for a CRM, Salesforce probably comes to mind before any other brand.
But Salesforce can do so much more than managing contacts — you can also use it to bring more of your project management tasks into the application you use the most.
Use our Product Selection Tool to request a free shortlist of the best CRM software for your needs. In less than five minutes, we'll match you with five CRM vendors we think you'll love. Click the banner below to get started.
Using Journey Builder to automate customer onboarding
Journey Builder is a Salesforce app that helps you manage your customer journeys, but you can also use it for managing customer onboarding. The app works by using behavior-based triggers to send messages that nudge prospective customers toward buying your product. Using the same approach, you can also use Journey Builder to guide your new customers through onboarding.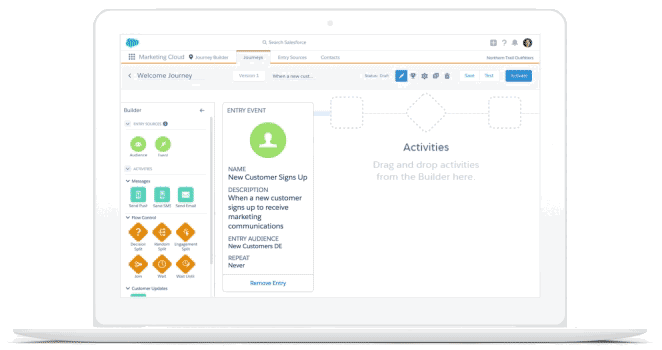 The first few days following new customer sign ups are critical. For companies to provide the best customer experience possible, customers should be able to get value from their purchase as soon as you can deliver it.
One easy way to do this is by creating an onboarding drip campaign with Salesforce Journey Builder. Send your new customers one new email or push notification each day with tips on how to get the most out of your software. Depending on what seems more relevant, you can trigger emails to send after customers engage with the previous email or if they access certain features within your software.
Automating your customer onboarding means one less project for you to manage, and it definitely makes for a better customer experience.
Enable task notifications
Like most CRM solutions, Salesforce supports simple to do lists. These are helpful for keeping track of what you need to do, but they aren't necessarily meant to replace the task management features typical of project management software.
Also read: How To Use Tableau For Project Management
However, if you have Salesforce Lightning, you can set reminders and enable notifications on your to do list items. This makes Salesforce function a little bit more like a project management tool and keeps your team on-track. To ensure your team members receive reminders about upcoming taks, have them check to see if Universal Notification Service (UNS) is enabled. UNS should be enabled by default, but if you're going to rely on Salesforce for more task management duties, it's not a bad idea to look.
Use Chatter to collaborate in real time and share files
Chatter is Salesforce's enterprise social media app. Unlike most social media platforms, though, Chatter is designed to boost productivity, not detract from it.
Anyone who uses Chatter can create a new post, and teams can use these to organize around projects. Chatter posts are not analogous to Facebook posts — think of them more as cards in Trello or Asana. The post itself defines the task or project, and users can comment on posts to share relevant files, ask questions, and provide status updates.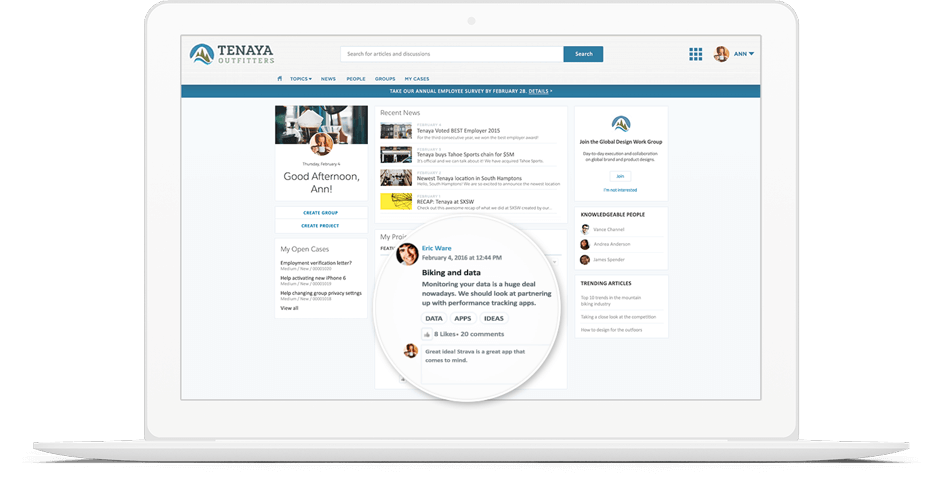 You can create groups within Chatter so that the entire company doesn't see posts that are only relevant to a handful of people. From there, add topics to posts to organize by role, campaign, or location. If you use it correctly, Chatter can be a great tool for bringing more of your project management activity into Salesforce.
Browse Salesforce AppExchange to find project management apps
In addition to offering several project management features of its own, Salesforce hosts many project management apps from third-party developers on its AppExchange. Doing a simple search for "project management" returns nearly 400 app results, some of which you'll recognize. Mavenlink, Asana, and Clarizen, for example, all offer apps on Salesforce AppExchange.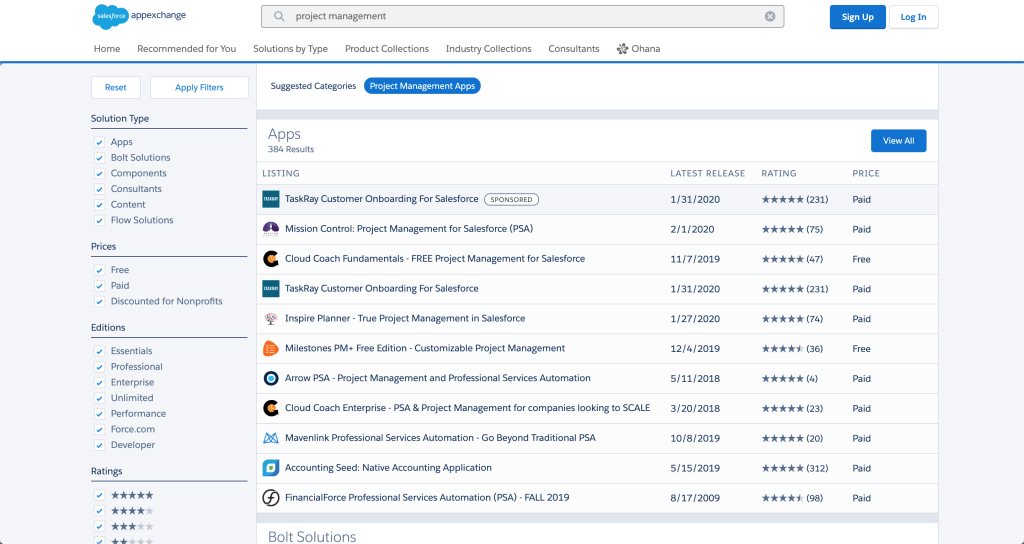 This is a great way to integrate the project management software solutions you already use, but there's no need to worry if you don't use a PM tool. Plenty of developers make apps just for Salesforce, though they usually come at an additional cost.
That being said, if you only want a way to make Gantt charts in Salesforce, for instance, it will probably be less expensive to pay for a third-party app on AppExchange than to buy a standalone project management solution for every team member who needs access.
If you're more of a visual learner, check out this video:

Find a CRM with the features that are right for you
Salesforce is a comprehensive and powerful system, but it isn't the only CRM solution on the market that also supports project management features. Use our CRM Product Selection Tool to request a free shortlist of the best CRM software for your specific needs. We'll ask a few questions to get a sense of what you're looking for, then we'll send you five vendors that we think you'll love. Getting started is easy and takes five minutes or less.
Top CRM Software Recommendations
Freshsales is a full-fledged sales force automation solution for sales teams. It provides everything a salesperson needs to- attract quality leads, engage in contextual conversations, drive deals with AI-powered insights, and nurture customer relationships. With built-in email, phone, chat, and telephony, Freshsales empowers sales teams with more time for selling by automating the sales process and increases efficiency and productivity in their daily activities.
Zendesk Sell is sales CRM software that helps you close more deals. This sales platform tracks all your customer interactions in one unified interface. It's quick to implement and easy to use: 70% of companies are able to get Sell up and running in 7 days or less. Your teams will be able to focus on selling not admin work and can spend less time on data entry. 80% of customers agree that Zendesk has made their teams more efficient.
Kintone's no-code platform lets sales teams easily build a custom CRM to track prospect data, task handoffs, and pipeline insights in one central place. Create database apps outfitted with the unique information you need to know about your prospects–and then connect those apps with customizable workflows that let you assign and track those future customers from lead capture to close. Over 23,000 companies trust Kintone to achieve their business goals.
Need a Little Help?
Talk with a software expert for free. Get a list of software that's great for you in less than 15 minutes.