Sales dashboards are centralized, visual representation of sales data. Any customer relationship management (CRM) system worth its salt will include a sales dashboard as part of its platform. In this guide, we'll talk about why sales dashboards are important and what elements they should include before diving into a comparison of 10 of the most popular sales dashboard examples.
Finding a sales leaderboard that works for your company is key to deciding on the right CRM for your needs, and comparing different sales dashboards can help your sales team make a final selection.
What are the best sales dashboard examples?
Sales performance dashboards are an integral part of customer relationship management (CRM) software and can make or break the sales team's experience. To help you make a decision, we've rounded up examples from 10 of the most popular and highly rated CRMs on the market today.
To help you make a decision, we've rounded up examples from 10 of the most popular and highly rated CRMs on the market today:
Salesforce: Best for enterprise
HubSpot: Best for pre-built support templates
Oracle NetSuite: Best for specificity
SAP CRM: Best for sales tracking
Monday.com: Best for simplicity
Zoho CRM: Best for integrations
Freshsales: Best for easy-to-read
Zendesk: Best for widget customization
Insightly: Best for overall customization
Pipedrive: Best for deep metrics
Salesforce — Best for Enterprise
Since Salesforce is one of the best-selling CRMs, it's no surprise that the system comes with multiple pre-built dashboard templates, and users can also customize them. One of the most popular is their "State of the Union" dashboard, which provides a high-level view of important metrics for sales executives.
The dashboards include key performance indicators (KPIs) like total closes, open pipelines, sales rep performance, sales cycle length, and top deals to give executives a real-time view of the most important metrics. Other Salesforce dashboard templates include the "Forecast" dashboard to review future revenue targets and the "Clean Your Room" dashboard to see if your sales reps are making the most of the CRM.
Why we chose Salesforce
Salesforce's real-time data visualization is capable of displaying everything from pipeline stages to individual rep performance, creating a proverbial magnifying glass over sales operations. Topped off with customizable reports and forecast accuracy tracking, Salesforce's dashboard is a maestro conducting the orchestra of sales data, transforming it into an actionable insight masterpiece.
HubSpot — Best for pre-built report templates
HubSpot gives your sales team access to 90+ essential pre-built reports that cover basically every major sales KPI you could want to track. Choose from one of these templates or build up to three custom dashboards to get all your essential sales insights in one place.
The HubSpot sales dashboards can include metrics ranging from forecasted revenue to deal stages to contacts worked to number of calls made. The simple design puts the focus on the metrics and makes it easy for salespeople to make data-driven decisions based on real-time numbers instead of spending time assembling a spreadsheet.
Why we chose HubSpot
HubSpot's dashboard offers real-time visibility into key metrics like deal revenue, sales funnel activity, and individual sales rep performance, providing granular insights for strategic decision making. HubSpot's ability to easily integrate with other tools and customize the dashboard to meet specific business needs makes it a versatile powerhouse solution for driving sales.
Oracle NetSuite — Best for specificity
Oracle NetSuite offers over 50 standard sales reports that come pre-loaded in the CRM, including pretty specific topics such as customer aging history and sales by promotion code. The level of specificity makes it easy for your sales team to track their progress towards their goals and see exactly what sales activities are most effective.
The screenshot above comes from the monthly sales dashboard template, which features metrics like sales rep conversion rate, quotes expiring this month, new opportunities, top sales reps by sales, and more. This summary makes it possible for sales managers to track the performance of their team and make sure they are on track to hit their monthly targets.
Why we chose Oracle NetSuite
Oracle NetSuite's real-time dashboards provide comprehensive visibility into the sales pipeline, from lead generation to revenue realization, with key performance indicators at your fingertips. With the ability to customize views views and automate reporting, Oracle NetSuite offers a dynamic platform for tracking sales performance, optimizing processes, and driving strategic decision making.
SAP CRM — Best for sales tracking
SAP Sales Cloud might not offer the most visually appealing CRM dashboard, but it covers the most important metrics that your sales managers will want to track, including revenue by individual rep and the length of the average sales cycle over the past 12 months.
For an even more powerful dashboard experience, connect your SAP Sales Cloud with SAP Analytics Cloud (shown above) to get access to additional report styles including lead analysis, geographic sales metrics, and more. And if none of SAP's native sales dashboards are to your liking, then you can browse third-party options on the SAP store to find the perfect one for your needs.
Why we chose SAP Sales Cloud
SAP Sales made a compelling case for itself. Its robust dashboard provides real-time insights into essential metrics, such as deal progress, team performance, and customer engagement. SAP Sales Cloud also stands out for its predictive analytics, which harness AI to forecast sales success and identify potential opportunities, making it a strategic tool for data-driven decision making in sales.
Monday.com — Best for simplicity
Formerly known as dapulse, Monday.com has made the dashboard an integral part of the platform's design, not just for sales but also for project management, marketing, and more. The widget-based dashboard design features simple, colorful charts that are visually appealing and present sales data in a way that is easy to understand. Widgets for the sales dashboards include qualified leads, deals won, revenue won, revenue per rep, and annual recurring revenue.
The screenshot above shows the platform in dark mode, which is available not just on the dashboards but across all of Monday.com to make it easier to work in low light situations. A traditional light mode is also available for those who prefer a white background for their sales growth dashboard.
Why we chose Monday.com
Monday.com is the epitome of simplicity and efficiency when it comes to sales dashboards. Its visually engaging interface allows for easy tracking of sales pipelines, team performance, and customer relationships. The platform's intuitive design, coupled with customizable workflows and automation capabilities, makes Monday.com a top choice for those seeking a straightforward, yet powerful, solution to manage their sales data.
Zoho CRM — Best for integrations
Zoho enables users to make dashboards for all sorts of functions by pulling data from other products into Zoho Analytics. Zoho CRM does offer pre-built templates for common sales metrics such as pipeline, sales by account, and campaign vs. revenue.
The dashboard templates currently available are leads, accounts and contacts, cases and solutions, products, inventory, campaigns, and territory; these pre-built dashboards are public for every Zoho CRM user by default. The sales overview dashboard (pictured above) includes metrics like won deals, lost deals, conversion rate, sales pipeline, sales trend with forecast, sales target progress, and more.
Why we chose Zoho
Zoho stood out for its exceptional integration capabilities. Its dashboard seamlessly integrates with a host of other Zoho apps and external platforms, creating a unified, comprhensive view of sales operations. With its ability to collect data from multiple sources and present actionable insights, Zoho demonstrates its prowess as a top choice for businesses seeking a well-connected, integrative sales dashboard solution.
Freshsales — Best for easy-to-read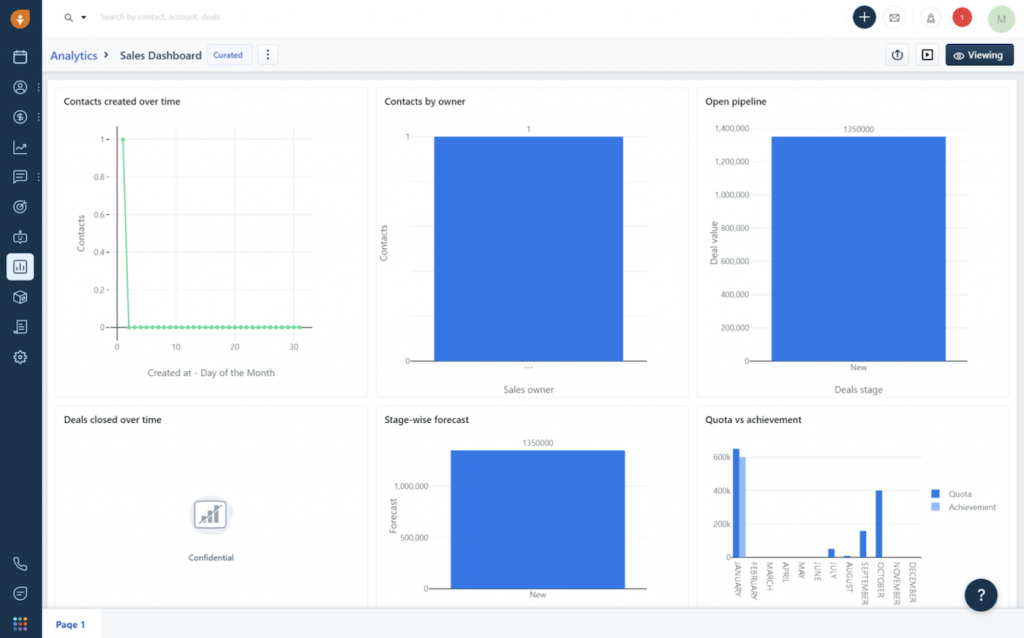 Freshsales is the CRM offered by Freshworks, and its dashboards can be found under the sales analytics function. Freshsales provides lots of different reports for sales and marketing activities, including email campaigns, team activities, historical sales trends over time, future sales forecast, and more.
As the screenshot of the sales overview above shows, the dashboard includes contacts created over time, contacts filtered by owners, open pipeline, deals closed over time, quote vs. achievement, and more. All of the modules feature easy-to-read charts in Freshworks' signature blue shade to provide a unified look.
Why we chose Freshsales
The platform's uncluttered, visually appealing interface provides a clear view of critical sales metrics, from deal stages to individual team member performance. The straightforward design, coupled with its robust features, has made Freshsales an indispensable tool in any sales arsenal, enabling users to make data-driven decisions with confidence and ease.
Zendesk — Best for widget customization
Zendesk actually offers two different kinds of sales dashboards: one directly through the CRM platform Zendesk Sell and another through the analytics platform Zendesk Explore. The basic Zendesk Sell performance dashboard (dashboard example above) includes up to 10 widgets about revenue, forecast, new deals, active deals, pipeline coverage, sales goal attainment, top deals, my smart lists, tasks, and appointments.
Meanwhile, the Zendesk Explore pre-built sales dashboard includes five tabs—deals, leads, calls, projects, and activities—each featuring a selection of different data modules that cover all the main sales metrics you would want to track.
Why we chose Zendesk
Zendesk's clean, visually engaging interface presents crucial sales data in an easily digestible format, making it simple to track sales activities, monitor team performance, and manage customer relationships. The simplicity of Zendesk Sell, combined with its powerful features, makes it an excellent choice for organizations seeking an efficient, easy-to-navigate sales dashboard solution.
Insightly — Best for overall customization
The Insightly CRM comes with standard dashboard cards, and the advanced plans have the ability to build their own customized dashboards too. There are three standard dashboards for opportunities, projects, and leads; the opportunities dashboard (pictured above) is the one that contains the most data, with a total of 10 chart "cards".
The charts include total sales, total value by opportunity state, lost opportunities by reason, sales pipeline funnel, number of opps by state, opportunity state by value, top sales reps, win rate, sales pipeline weighted, and total sales by rep. Meanwhile, the projects and leads dashboards feature four data cards each to round out Insightly's selection of standard dashboards.
Pipedrive — Best for deep metrics
The Pipedrive Insights center enables you to add up to 25 metric modules (which Pipedrive calls "reports") to a single dashboard. A sales leader can change the size of the report blocks to take up only a small portion of the dashboard, like the example pictured above, or enlarge the widget to take up the full screen.
The drag-and-drop function makes it easy to reorder the dashboard at a moment's notice so that the most important numbers always stay above the fold. Possible metrics that you can add to the dashboard include deals started, deals lost, average value of won deals, emails sent and received, deal duration, and more.
Why we chose Pipedrive
Pipedrive stand out for its profound focus on in-depth metrics. Its dashboard offers deep insights into the sales pipeline, tracking everything everything from deal progress to individuals rep perfromance. With its powerful analytics and customizable reports, Pipedrive surfaces deep, actionable insights, making it an excellent choice for businesses seeking a comprehensive understanding of their sales operations.
Why are sales dashboards important?
Sales dashboards provide a high-level view of the most important aspects of sales performance. They allow sales managers and team members to highlight accomplishments, identify opportunities for growth, and recognize areas for improvement so they can intervene before it becomes a serious problem.
Dashboards track sales performance and help the team measure how much progress they are making towards their various goals. This provides more accountability and visibility and improves motivation across the team. These sales dashboard examples showcase titles which provide real-time data to help sales reps make evidence-based decisions quickly, without having to hunt down individual reports and documents, which saves them time and effort.
Sales dashboards also improve collaboration and communication across the organizations by providing a quick summary of sales performance that can be sent around to other teams. Sales leaderboards are easy to understand and contain only the highlights, making them more accessible to non-sales people. The data contained in these dashboards help sales leaders plan for headcount, track forecasted revenues, and more.
What should a sales dashboard include?
Sales dashboard is a broad term, and what elements are included depends a lot on the specific type of dashboard. Some of the most common types of sales dashboards include:
Sales activity dashboard
Sales opportunity dashboard
Account manager dashboard
Sales product performance dashboard
Sales KPI dashboard
What modules and metrics you include in your sales dashboard will also vary depending on individual, team, and industry needs. For instance, a sales manager will likely want to keep an eye on overall revenue and average deal size for the year, while an individual sales representative might want to watch their personal conversion rate and monthly quota. Some common metrics to include are quota attainment, conversion/win rate, average deal size, actual revenue, forecasted revenue, sales funnel leakage, customer churn rate, sales cycle length, and more.
When considering a variety of dashboard examples, the most important sales process metrics should go above the fold (i.e. the bottom of the computer screen) so that you do not have to scroll to see them. Make sure that the modules are big enough that you can clearly see all relevant data; don't cram in so many tiny modules that you have to zoom way in just to read the text. Experiment with different types of charts to find the one that displays the data in a way that makes sense to you and your sales managers.
Choosing the right sales dashboard
These sales dashboard examples should give you a good cross-section of what is available on the market. Whatever your specific needs or the nature of the business, there is almost undoubtedly a tool for you. From HubSpot all the way down to Zoho, the choices showcased above are among the most commonly used sales dashboards in business.
Looking for the latest in CRM solutions? Check out our CRM Software Buyer's Guide.
How we choose our top picks
At TechnologyAdvice, we assess a wide range of factors before selecting our top choices for a given category.
To make our selections, we rely on our extensive research, product information, vendor websites, competitor research and first-hand experience. We then consider what makes a solution best for customer-specific needs.
For our Sales Dashboards list, we looked at 30 options before whittling them down to the 10 that cover dashboard needs for startups all the way up to enterprises.
---
1

monday Sales CRM
monday sales CRM is the customizable, no-code CRM that allows you to control your entire sales funnel and close more deals, while simplifying communication and collaboration. Automate manual work, capture and import leads, and centralize deal and contact info, all in one place.
2

Zoho CRM
Fully-customizable Zoho CRM provides unified solutions for businesses of all types and sizes. Conduct your Sales & Marketing analytics to gain insights using Dashboard views and Automate your daily routines. Customize your CRM theme based on your industry needs using Canvas, Omnichannel communication for streamlined communication between teams and customers, handle customer support from within the platform to improve customer relationships. Get Started with Zoho CRM now!
3

Pipedrive
Pipedrive is a sales-focused customer relationship management tool that teams of all sizes love using. It visualizes your sales pipeline and helps to make sure important activities and conversations won't get dropped. It also sports built-in forecasting, integrations with other software such as Google Apps, MailChimp and Zapier and an API for those who like to "roll their own" software solutions.
FAQs
What is a sales dashboard?
A sales dashboard is a tool that visualized key sales data and KPIs. It helps track perfromance, understand trends, and make data-driven decisions. Examples of metrics tracked include sales revenue, sales rep performance, and deal progress.
Why use a sales dashboard?
A sales dashboard provides real-time insights into sales operations. It enables teams to monitor and analyze their performance, identify bottlenecks, and uncover opportunities for growth. It's a valuable tool for optimizing sales strategies and improving overall performance.
Technology Advice is able to offer
our services
for free because some vendors may pay us for web traffic or other sales opportunities. Our mission is to help technology buyers make better purchasing decisions, so we provide you with information for all vendors — even those that don't pay us.