When it comes to collecting customer data and potential leads, your team does everything right:
You build and optimize forms on your website. 

You connect your forms to your CRM database.

Your team updates account and prospect information as you learn of changes.

Your marketing automation platform automatically updates your CRM.
And yet, somehow, a lot of your data is still incorrect, outdated, or duplicated, even if it's brand new. Marketo suggests that a 10 percent increase in a lead quality can lead to a 40 percent jump in revenue, but the fight against data degradation doesn't end. According to LeadGenius, 1-6.5 percent of your customer data loses validity every month due to turnover rates. Data enrichment tools are designed to solve this problem without a lot of manual work from your team.
ALSO READ: How Data Enrichment Jump-Starts B2B Sales
Data enrichment tools will:
Go beyond job title entries to understand the lead's actual position and responsibilities at a company. Similar titles can mean very different things.

Build deep and complex account views to understand the decision-makers and contacts structure.

Sanitize data lists to include up-to-date information, discount bad email addresses, or update listings based on job changes.
CRM and marketing automation data is constantly decaying, so you need to stay vigilant to keep it current. A data enrichment tool can do that. The options on this list gear their tools specifically to help lead generation, sales, and marketing professionals do their job without spending too much time on data cleansing.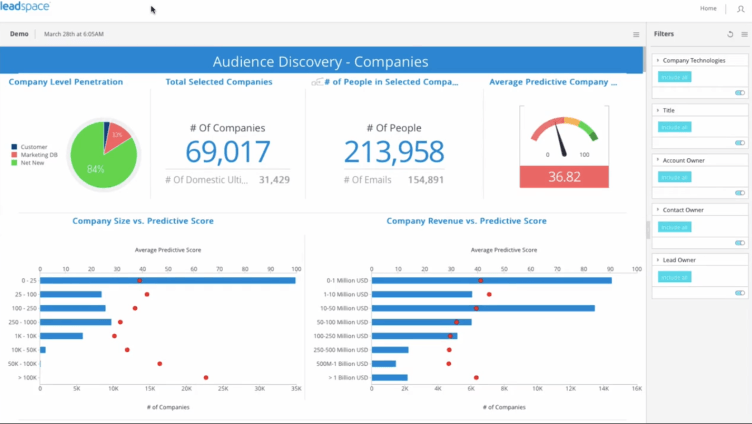 Leadspace looks at electronic records from across the web and builds that data into your existing customer and prospect database. The web data combines with predictive analytics to help you understand which customers are most likely to purchase based on previous customer actions and your picture of the ideal customer.
Social media, blogs, and actions on competitor websites all come together to build a complete picture of your leads. Fill in phone numbers, email addresses, company, and job functions to round out each profile. You can even add company revenue and benchmarking data to help you further segment target accounts.
Leadspace offers lead scoring and data enrichment in a single platform, and connects directly to your marketing automation platform. These powerful tools work together to reduce the amount of manual lead enrichment you have to manage and increase your segmentation abilities.
This platform-agnostic data tool can help all of your current lead data platforms run better. Data enrichment finds data for leads based on named accounts or target companies and fills in data that you already have to make it cleaner and more useful. Fill out sparse prospect data for an entire target account, or find new prospects within your current accounts through discovery and enrichment tools.
When connected to your marketing automation and email marketing platforms, LeadGenius claims to make your outbound process more efficient and less expensive than inbound by contacting the right leads and updating your positive response records in real time.
Openprise offers data enrichment that fills blank data fields based on current customer information and readily accessible online data. The platform compares your customer data against internal and government sources to find missing values and discover new leads for target accounts. Openprise can help you find the right person in the account through intelligent job title search and comparisons with your internal buyer personas.
Connect your third-party apps and build discovery rules to find the most information available. Pull reference data from any of your apps, or build your own database, and then create custom rules to cleanse that data for future use. These features help sales, marketing, inbound, and outbound to align their data and ensure they target the right people at the right times to streamline the funnel.
InsideView offers a full-service platform for sales, marketing, and data needs across an organization. Data offerings include:
Data Cleanse: InsideView's data cleansing can delete redundant and outdated data in your existing lists, then push updated data into your marketing and sales platforms. Once your original cleanse completes, the tools will automatically update and fill missing fields for new prospect data as it comes in, saving you time later.

Lead Enrichment: Use shorter forms to increase conversion rates, and the lead enrichment tools will complete those data fields you leave off. The fields automatically update as the lead comes in to give you instantly actionable data.

Customer Data Validation: Use customer data validation to ensure accuracy by dropping inaccurate data from profiles and de-duplicating your sources.
InsideView creates a single source of truth for all of your data that all departments can use to increase engagement with customers and shorten the buyer's journey for leads.
* * *
Lead generation is hard enough without constantly battling with your CRM and marketing automation platform to find and fix lead data. Data enrichment tools can ease some of the pressure and discover new leads that your team may have overlooked.
Technology Advice is able to offer
our services
for free because some vendors may pay us for web traffic or other sales opportunities. Our mission is to help technology buyers make better purchasing decisions, so we provide you with information for all vendors — even those that don't pay us.