Airtable and Asana both have a ton to offer and can break down tasks—though in different ways.
For data-focused teams, Airtable can accommodate all kinds of details, giving you more ways to break down your project data in a built-in Airtable dashboard. And you can create customized views for even simpler task management for the team as a whole or individual team members.
Asana can cut down tasks into more granular bits, so you can follow task progress more easily. You can also assign one task to multiple boards with a few clicks of a button, making collaboration across different teams a dream.
So without further ado, let's get into how these two compare.
Airtable vs. Asana: Which is better?
Airtable
Asana
Free trial
14 days
30 days
Starting price (paid plans)
$10.00/seat/mo.
$10.99/user/mo.
Free plan
✔
✔
Integrations
1,000+ possible integrations
100+ integrations
View options
Grid, kanban, Gantt, calendar, list, form, gallery, and timeline views
List, kanban, calendar, timeline, portfolio, and goal views
Setup
Project templates and Airtable Interface layouts
Dashboard, project, and task templates
Try Airtable
Try Asana
Pricing and details up to date as of 4/17/2023.
Airtable: Better for tasks with lots of details
Airtable is a spreadsheet-based project management tool with a wide variety of options for managing your task and workflow. Even on just the free plan, you can set up grid, kanban, list, gallery, and calendar views—along with forms. And with a paid plan, you can access the timeline and Gantt views and Airtable's section feature, which helps group up views to make it easier to find what you need in a long list of views.
Also Watch: Airtable Demo
Airtable also has a robust filtering and grouping system so you can more easily divide your tasks to make them a bit more manageable. The grouping feature is particularly useful—you can group tasks by any field you'd like and even create subgroups that are easily adjustable with a few clicks. For example, one day, you could group tasks first by status then by task owner. The next, you could group it by owner first then by priority.
But because Airtable is spreadsheet focused, it can also sort and process data beautifully. It has fields for metrics like time durations, percentages, dates, prices, and quite a bit more.
Pros
Capable free plan
Strong filtering and grouping features for complicated projects or workflows
Lots of field options
Effective data dashboards
Cons
Bit of a learning curve
Grid can be somewhat overwhelming visually
Difficult cross-board collaboration
Asana: Better for breaking down tasks
Asana is fantastic for breaking down larger tasks into smaller subtasks—and even sub-subtasks—so teams can more easily tackle the work. This is especially helpful if your tasks's subtasks can be tackled simultaneously, making it easier to keep track of scattered work and maintain tidier timelines.
Asana also has a project assignment field where you can tag project boards to pull the same task into multiple boards. So if you have a task that multiple departments or teams touch, it's super simple to pull the task into the right boards to keep items from getting lost.
It also has a pretty simple setup, with sections that stand as statuses, and team members simply drag tasks from one section to the next to move it along the pipeline. The filters are somewhat limited to keep task management from getting too out of hand or overcomplicated, but it's easy to onboard new team members and get right to the work.
Pros
Helpful task and subtask setup
Easy cross-team collaboration
Automatic varying views for each project (calendar, kanban, etc.)
30-day free trial
Cons
Some field limitations
Minimal task filtering
Pricier plans
Airtable vs. Asana: Plans and pricing
When it comes to price, Airtable and Asana are fairly similar—to a point. Asana's plans are a touch more expensive, more so as you move up in tiers, but with a per-user price, that can add up if you have a larger team.
Comparing plan features, Airtable has more numerical limitations than Asana across their plans, but on the other hand, Airtable has more features and customization capabilities starting with their Free plan.
So, in a word, Airtable's price tiers offer more space to grow while Asana's plans come with an increasing number of features.
Airtable
| | Free | Plus | Pro | Enterprise |
| --- | --- | --- | --- | --- |
| Price | $0.00/seat/mo. | $10.00/seat/mo. | $20.00/seat/mo. | Contact for quote |
| User limit | 5 users with unlimited viewers | Unlimited | Unlimited | Unlimited |
| Base limit | Unlimited | Unlimited | Unlimited | Unlimited |
| Record limit (per base) | 1,200 | 5,000 | 50,000 | 250,000 |
| Attachment storage limit (per base) | 2 GB | 5 GB | 20 GB | 1,000 GB |
| View options | Grid, kanban, gallery, list, calendar, and form | Same as free plan | Free plan options + timeline, Gantt, and personal and locked views | Same as Pro plan |
| Revision history | 2 weeks | 6 months | 1 year | 3 years |
Pricing and details up to date as of 4/17/2023.
Airtable already starts off strong with its Free plan. You have quite a few view options and capabilities, including Airtable dashboards that provide an easy view at project details and KPIs.
But as with any free plan, there are limitations, the main one being the user limit. You can have only five creators or editors with unlimited commenters and viewers—so if you have a small team, you can get a lot out of Airtable's free plan.
From there, you're essentially paying for more space. Starting with the Plus plan, you can have unlimited users with the per-user cost. Each tier adds more storage, records, revision history, automations, integrations, and more.
Asana
| | Basic | Premium | Business | Enterprise |
| --- | --- | --- | --- | --- |
| Price | $0.00/user/mo. | $10.99/user/mo. | $24.99/user/mo. | Contact for quote |
| User limit | 15 | Unlimited | Unlimited | Unlimited |
| Project limit | Unlimited | Unlimited | Unlimited | Unlimited |
| Task limit (per base) | Unlimited | Unlimited | Unlimited | Unlimited |
| Storage limit | Unlimited* | Unlimited* | Unlimited* | Unlimited* |
| View options | Board, list, and calendar | Basic plan options + timeline | Premium plan options + goals and portfolio | Same as Business plan |
| Activity log limit | Unlimited | Unlimited | Unlimited | Unlimited |
Pricing and details up to date as of 4/17/2023.
*100 MB limit per file
Asana gives you a lot of space to work with from the very start, as their Free plan accommodates up to 15 users with unlimited projects, tasks, storage, and activity logs. However, compared to Airtable, the capabilities are pretty limited.
You don't have access to custom fields, which can make it difficult to manage complicated projects or workflows. You can assign owners, deadlines, simple tags, project tags, and priorities to tasks—and you can add subtasks to help break up the work. But there's not too much beyond that.
So if you need more, you'll probably have to invest in a paid plan. With the Premium plan and beyond, you get more customization options. With the Premium plan, you get custom fields, custom templates, task dependencies, and a workflow builder. With the Business plan, you'll have access to custom rules, forms, proofing, and approvals.
The Enterprise plan comes with a greater number of privacy and security features, like data loss prevention, cross-regional backups, and mobile data controls. It's also the only plan that offers 24/7 support.  
Airtable vs. Asana: Feature comparison
Task management
Our Pick: Both
Airtable and Asana both have excellent task management features, but they lean into different strengths:
Use Airtable if you need strong filtering or grouping options to organize long lists of tasks or if you need to manage tasks with lots and lots of details.
Use Asana if you need to break up your tasks into tinier chunks or need to have the same tasks pull into multiple team boards.
If your tasks usually come with a ton of details, Airtable is perfectly capable of handling all that information with all kinds of fields, colors, filtering, and grouping. Tons of tasks and information can live in one place, and your team can create personal views with their own filtering settings to trim back information overwhelm. In fact, while testing the free version, we found ourselves creating fields solely for filtering purposes so we could create valuable views and avoid creating new boards.
And while Airtable doesn't have the best setup for subtasks, you can create a way around this using statuses so tasks touch all the right points in a linear path.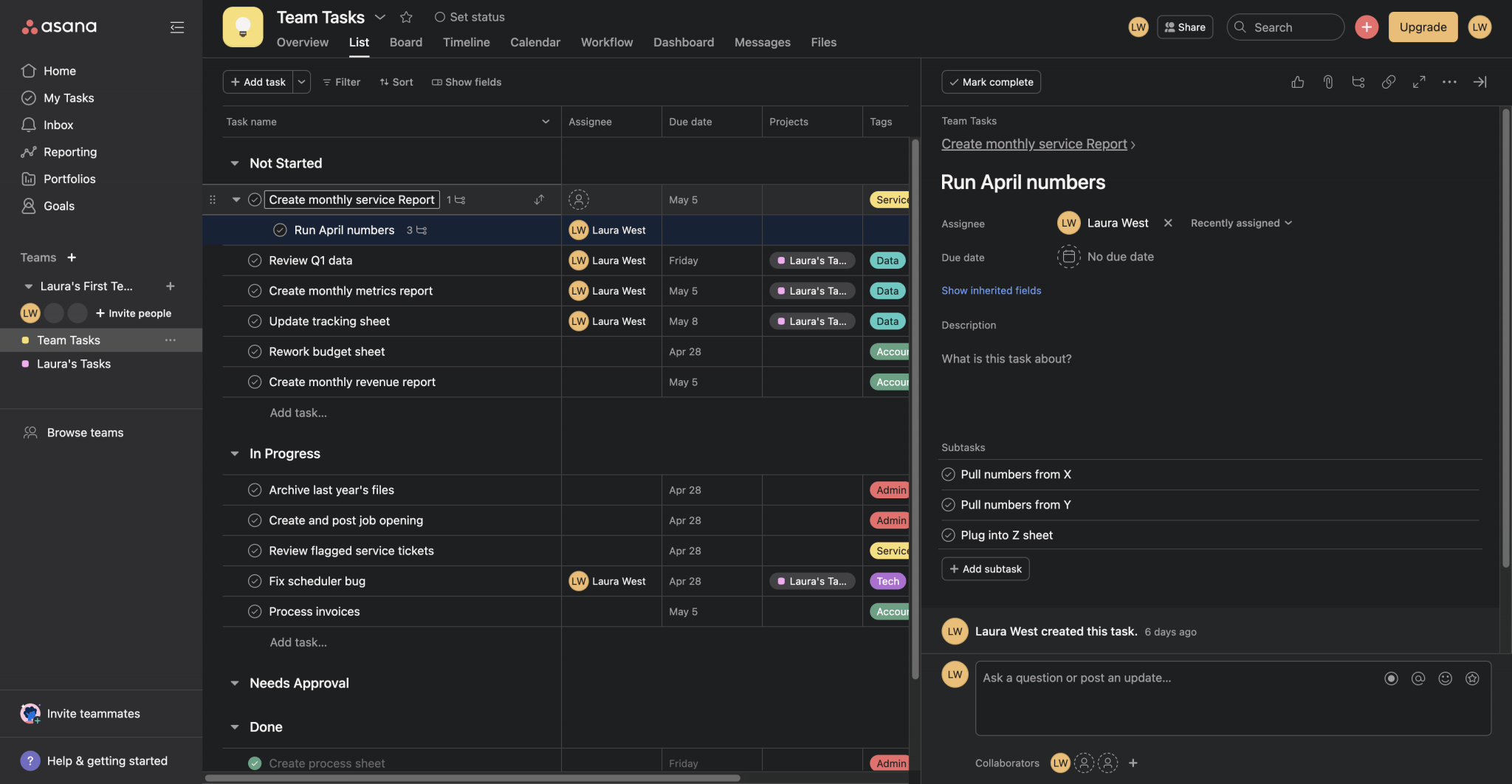 With Asana, you can also include quite a few details—though not quite as easily as Airtable. Team members can manage their own tasks in a personal "My Tasks" view, and you can add tags to tasks to pull them into various project boards for cross-team collaboration. You can also easily split tasks into subtasks with due dates and subtask owners, which are also pulled into individual team members' "My Tasks" view for easy management.
You just have to be wary of overcomplicating tasks or it can be difficult wading through the subtasks and can create daunting task lists for your team members.
Customization
Our Pick: Airtable
Airtable offers a ton of options to help you better customize individual or team views for one project board, and you can do a lot more field customization starting from the Free plan, including field, color, and view customizations. Your reporting view and your task view can pull from the same pool of information, and it's quite easy to build Airtable around your workflow, rather than fit your workflow into a set framework.
For example, if you have scheduled tasks for the month and more flexible tasks that can be pulled in to fill gaps, you can create a checkbox field for those loose tasks and mark them accordingly. You can then set up a custom view that filters out everything but flexible tasks without an assignee. Then team members can hop into the view and claim a task by setting themselves as the assignee, which would pull that task out of the view and keep it tidy for everyone else.
Asana has a pretty rigid system for views and boards with some filtering options. You can change colors for certain field options and create some custom fields, but because Asana sets its plan tiers by available features, you'll have to pay by what features you need.
And should you want tailored views, you'll just have to put in a little extra effort to get it all set up how you need with new boards or by manually filtering at any given moment.
Project views
Our Pick: Airtable
Airtable offers quite a few project view options. You can set up your main grid view how you like with the fields and info you need, then create kanban, calendar, list, gallery, timeline, or Gantt views that pull from the main view. And you don't have to stop there—team members can create their own personal views with saved filters. 
Plus, you can save views for specific needs or purposes, such as reporting views, functional views, planning views, and anything else. This way, you can keep all the project and task information in one board but make it a lot more manageable for the whole team.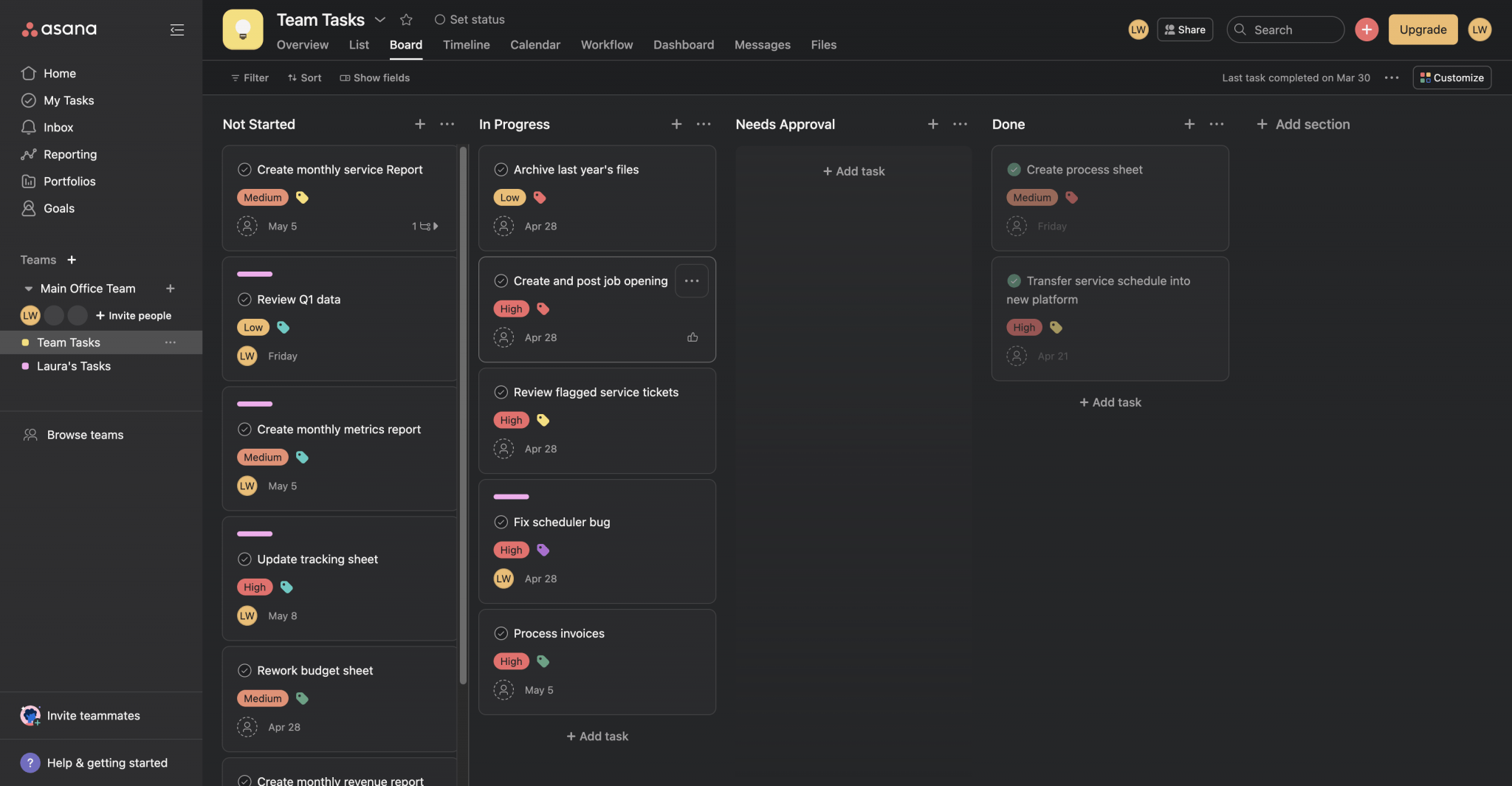 Asana also offers numerous view types, such as list, calendar, timeline, and kanban, but there's some limitations to individual view creation. You can create project boards for each department, team, or person and use the Projects field to pull the same tasks into multiple boards, but it can complicate the task-by-task process some if you don't have automations in place.
Data management
Our Pick:  Airtable
As mentioned, Airtable makes it simple to store tons of details and data connected to your various tasks. You can then create data dashboards that pull from the main project board to visually present your task data by whatever settings you decide, such as task owners, status, priorities, and so on. And for a more in-depth look at the details, you can filter and group your tasks to find what you need more quickly to get into the nitty-gritty.
Asana is much simpler in comparison, especially if you have the free or lower-tier plan. You may be limited by the field customization options, and filtering isn't quite as robust, which could make it more difficult to sift through the details for what you need. However, Asana does have a data dashboard option—but it's not available with the free option.
Airtable vs. Asana: Which is best for your business?
As with any software decision, the right solution depends on your business needs. Both can be used for a variety of projects, and both offer a number of useful tools and features to help you organize your tasks. But let's try and break it down into the simplest terms.
Try Airtable if you have a lot of task information and need a way to sort through all of it quickly and efficiently. This can also be really helpful if you have varying specialists on one team that each need their own fields and views.
Try Asana if you have departments that occasionally collaborate on one task. With Asana, you can assign the same task to multiple project boards and break up the task into subtasks and sub-subtasks to make cross-team and cross-departmental collaboration easier.
If you're still not sure, go ahead and take each for a spin with a free trial, or take a look at our project management guide for some other PM solutions.
Methodology
We researched both products' capabilities by scouring brand sites, digging into user reviews, and reviewing related discussions in the project management space. To get a feel for the software, we also tested the free plans of each product—and took our own screenshots to record our experience.
Related articles
---
1

Wrike
Wrike is the ultimate solution for managing projects.
Discover the power of Wrike's award-winning project management software. Maximize productivity using Gantt charts, Kanban boards, and calendars. Streamline resource allocation, drive team alignment, and enhance forecasting. Benefit from AI-driven automation to save time on admin. Deliver impressive results, hit deadlines, and stay within budgets while elevating your team's performance.
2

Smartsheet
Smartsheet is an online work execution platform empowering organizations of all sizes to plan, manage, automate, and report on work. Over 80,000 brands rely on Smartsheet for project and work management.
3

Rocketlane
Rocketlane is purpose-built to run customer facing projects. It uniquely ties project management, document collaboration, and communication to help teams hit their project goals, accelerate time-to-value, and elevate the customer experience.
Technology Advice is able to offer
our services
for free because some vendors may pay us for web traffic or other sales opportunities. Our mission is to help technology buyers make better purchasing decisions, so we provide you with information for all vendors — even those that don't pay us.